Apple iPhone shipments slumped in Q1 due to coronavirus, Gartner says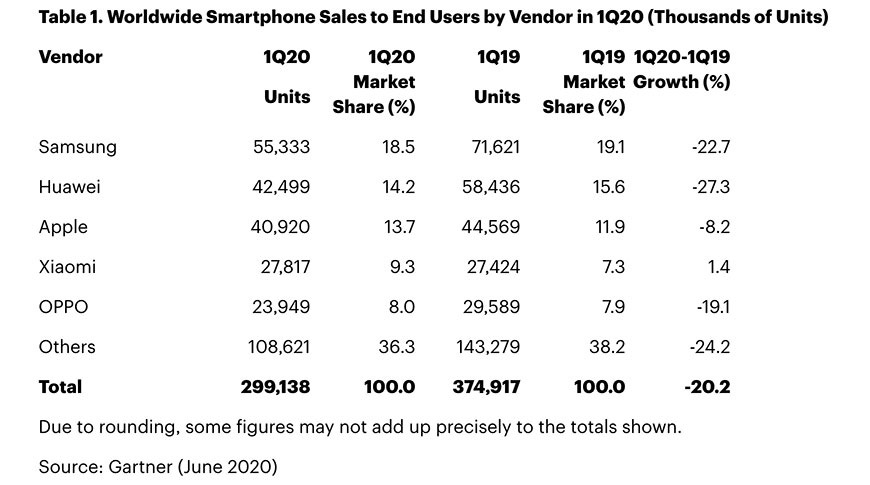 Global shipments of Apple's iPhone suffered a year-over-year decline in the first quarter of 2020, but the downturn was not as severe as dips felt by other major smartphone manufacturers during a period impacted by fallout from the coronavirus pandemic.
According to the latest estimates from Gartner, Apple shipped 40.9 million iPhone units during the three-month period ending in March. The figure represented 13.7% of the global smartphone market, down 8.9% from the year ago quarter.
"Apple had a strong start to the year thanks to its new product line up that saw strong momentum globally. If COVID-19 did not happen, the vendor would have likely seen its iPhone sales reached record level in the quarter. Supply chain disruptions and declining consumer spending put a halt to this positive trend in February," said Annette Zimmermann, research vice president at Gartner. "Apple's ability to serve clients via its online stores and its production returning to near normal levels at the end of March helped recover some of the early positive momentum."
In reporting earnings for its second fiscal quarter of 2020, Apple in May noted iPhone generated $28.96 billion in revenue for the period, down from $31 billion in 2019. The slump was blamed on COVID-19, which wreaked havoc on iPhone's supply chain and led to decreased demand in key segments like China.
Top-two vendors Samsung and Huawei experienced major disruptions to their respective handset businesses. The Korean tech giant shipped an estimated 53.3 million units for an 18.5% slice of the pie, down 22.7% year-over-year. Huawei saw the sharpest drop in the top-five, as it shipped 42.5 million smartphones for a 14.2% marketshare, down 27.3% from the same time last year.
Fourth-place Xiaomi eked out growth during the tough quarter on shipments of 27.8 million units for a 9.3% stake, up 1.4% from 2019. Oppo, which came in fifth overall, saw its share of the market shrink from 38.2% to 36.3% on shipments of 108,621 units, down 24.2% year-over-year.
Overall, the smartphone market dipped 20% from last March.
It should be noted that firms like Gartner do not have insight into Apple's supply or retail chains and provide estimates based on independent research. The methodology, and more importantly results, of market research firms have been brought into question in the past, with Apple executives dismissing the data as largely incorrect.