How to use a Canon camera as a webcam for your Mac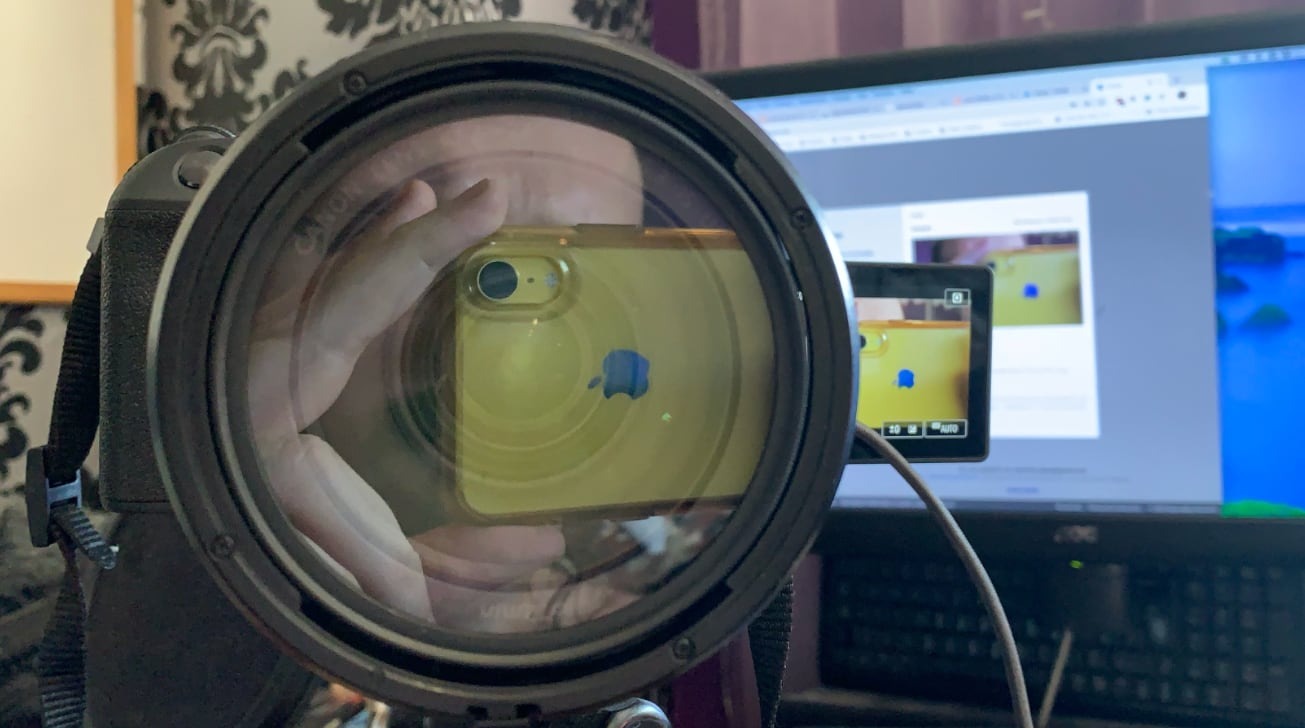 Canon recently made it possible to use some of its DSLRs and mirrorless cameras as an upgraded webcam on a Mac. Here's how to use the high-quality imaging devices to improve your video conferencing image.
The ongoing COVID-19 pandemic has forced many people to temporarily work from home, a situation that is likely to continue for quite some time. As many organizations are moving to include video conferencing as a replacement for physical meetings on a regular basis, it has become more important for meeting participants to put more effort into their appearance.
While backgrounds can be adjusted and the user's clothes tweaked to be as presentable as possible, one thing holding back many people is the use of a poor quality webcam. While the built-in camera of the MacBook Air and MacBook Pro may be sufficient for occasional use, those who undertake regular meetings or care more about how they look will want to move to something better.
Many users get around this by using their iPhone for the meeting, taking advantage of the higher-resolution camera with a mobile app, but in some cases this may not be available.
After an initial launch on Windows, Canon released a version of its webcam software for macOS on May 28. The EOS Webcam Utility Beta enables a selection of the company's high-quality DSLRs, mirrorless, and PowerShot cameras to be repurposed as a webcam, one that typically offers a far better image than usual.
As well as being able to take advantage of a larger and better sensor, using a proper camera instead of a webcam can also provide extra benefits, on top of superior image quality. This can include being able to zoom the camera optically to perfectly frame the shot, or to point something out to other video chat participants without sacrificing the image.
How to download the Canon EOS Webcam Utility Beta
Head to Canon's dedicated support page for the utility.
Scroll down and click the model of camera you have.
Click the Drivers & Downloads tab.
Click Software.
Select the version of macOS in use on the Mac it will be installed to.
Click Select next to EOS Webcam Utility Beta.
Click Download.

How to Install Canon EOS Webcam Utility Beta
Double-click the zip file to extract the package file.
Double-click the extracted package file to start the installation.
On the Introduction page of the installer, click Continue.
On the Software License Agreement page, read the text then click Continue, followed by Agree on the pop-up notice.
Confirm the place it will be installed to by clicking Install.
If there are any applications running that will interfere with the installation, a pop-up notice will offer to close them. Click Close Applications and Install. You may also have to approve the installation at this point.
A notice warns the Mac will restart after the installation process completes. Click Continue Installation.
After seeing the confirmation the installation was successful, click Restart.
How to Use Canon EOS Webcam Utility Beta
Insert a USB cable into the Canon camera. The port is usually located on the left-hand side of the camera, under a flap.
Connect the USB cable to the Mac.
Set the camera into Movie Mode if one is available.
Enter the settings menu of your video conferencing app and select the EOS Webcam Utility Beta from the list of webcam sources.
Beta teething issues ahead
As is the nature of beta software, the release of the utility at the time of publication is version 0.9.0, and so is not entirely fully functional. While some will expect to install the software and immediately have their high-priced camera working with the Mac, it is certainly not the case at present, though this is likely to change in newer versions.
Release notes for the latest version indicate there are a large number of instances where the webcam utility simply won't work with applications that could benefit from such a camera, though this is also dependent on which version of macOS is being used.
Canon advises the tool isn't compatible with FaceTime and Photo Booth at this time, across macOS Catalina, Mojave, and High Sierra. Nor is it compatible with browser-based conferencing apps via the Safari browser.
On all three versions, it is however able to work fine with Google Hangouts, Google Meet, and Microsoft Teams.
While it will work with the desktop apps for Zoom, WebEx, and Skype in High Sierra, it won't work for the native apps under Catalina and Mojave. Instead, Canon recommends users of those apps to use the web app versions through Google Chrome.
It is also worth investigating other video conferencing apps for compatibility. In testing, it was found that the native app for Discord accepts the utility as a webcam source, and functions normally.
Other camera brands and options
Canon is not the only camera vendor to offer utilities for their imaging devices to be used as webcams, though whether your particular camera brand offers such a tool is another story.
Fujifilm has recently started to provide similar software, but only for Windows PCs for the moment. Nikon does not offer its own application, but instead suggests the use of paid software like Ecamm Live. Though there are some tools available for Sony cameras to remotely control it from a desktop, it has yet to release its own dedicated webcam utility.
For cameras that offer HDMI outputs, there is also the option of using an HDMI capture device, like the Elgato Cam Link 4K. These devices can accept the live video output from a camera and allow it to be used just like a webcam within applications.