Intel's Xeon NUC 9 Pro kit is what we want to see in a 'Mac Pro mini'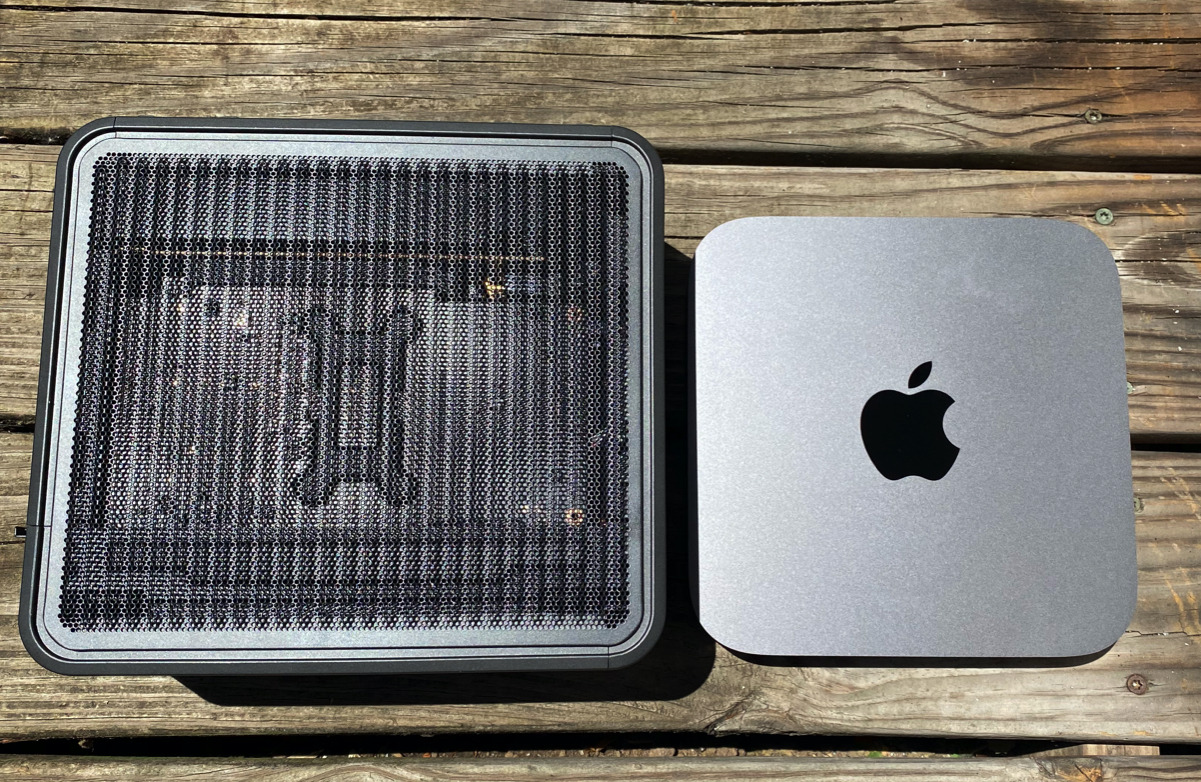 Intel's introduction of the NUC 9 Pro kit continues the rivalry with Apple's Mac mini in the compact computing field — but this time, it brings PCI-e to the table.
In January, AppleInsider compared Apple's 2018 Mac mini against the Intel NUC 8 Home model, with both offering end users a highly-capable yet still small computing setup. While the Mac mini is a clean and powerful device, the barebones Intel kits showed the NUC lineup can be smaller and just as powerful as its Apple rival.
During CES 2020, Intel showed off its NUC 9 lineup for 2020, boasting new "Ghost Canyon" architectures and both consumer and a Xeon-equipped Pro Kit variant. More importantly, Intel increased the customization options for the new models, giving users the ability to add a PCI-e card. And, those are now shipping.
With the release of the new NUC 9 Pro models, AppleInsider is reexamining the situation, as this extra upgradability is something power users may want to consider for their next desktop.
For the purposes of an even comparison, Intel has provided a NUC 9 Pro Kit with incorporated eight-core E2286M processor, Windows 10 Pro, a Quadro P2200 PCI-e video card, 32GB of DDR4 RAM, and 512GB of M.2 storage for an approximate street price of $2500.
Our Mac mini is the i7-8700B configuration running at 3.2GHz, with 32GB of RAM, and 512GB of storage that retails for $1899 from Apple. However, using the same RAM vendor as used in the NUC and performing a half-hour long procedure cuts this price down to $1500 — and potentially lower if other vendors are chosen.
NUC 9 Pro Kit versus Apple Mac mini i7 - specs
| | Mac mini Core i7 | Intel NUC 9 Pro Kit (NUC9VXQNX) |
| --- | --- | --- |
| Price | $1,899 | $2800 |
| Dimensions | 197mm x 197mm x 36mm | 238 x 216 x 96mm |
| Processor | Intel Core i7 3.2GHz 6 cores, Turbo Boost to 4.6GHz | Intel Xeon E-2286M 2.4GHz 8 cores, Turbo Boost to 5GHz |
| Storage | 256GB, 512GB, 1TB, 2TB SSD | None, 2xM.2 2280 Slots |
| Memory | 8GB, 16GB, 32GB, 64GB 2666MHz DDR4 | None, Support for up to 64GB 2666MHz DDR4 |
| Video | HDMI 2.0 | HDMI 2.0a |
| Connectivity | 4x Thunderbolt 3, 2x USB 3.0 | 2x Thunderbolt 3, 6x USB 3.1g2, 2x USB 2.0 internal headers, 1x Internal USB 2.0, SDXC card reader |
| Networking | Wi-Fi 5 802.11ac, Gigabit Ethernet, Bluetooth, option for 10Gb Ethernet | Wi-Fi 5 802.11ac, 2x Gigabit Ethernet, Bluetooth |
| Internal Expansion | RAM upgradeable by user | Storage and RAM provided by user, double-wide PCI-e X16 slot |
NUC 9 Pro Kit versus Apple Mac mini i7 - size
The dimensions of the Mac mini continue to be amazingly small for most computer users, measuring 7.7 inches square and 1.4 inches thick. While last time the NUC's entire footprint including the power adapter took up less space than the Mac mini, things have changed this time around. At 9.3 inches by 8.5 inches and 3.8 inches thick, the new model is physically larger than the Mac mini in all directions, but it is still reasonably sized for those wanting a compact computer setup.
The NUC 9 Pro kit is no longer as small as its name implies, but the extra size enables some other features new to the product line, which we will get to later.
Both of the units have incredibly small form factors for the delivered power. But, in our day-to-day use of the mini, and our trials of the NUC 9 Pro, the latter is far, far louder under load.
In our office environment, and under full load the Mac mini hits about 41 dBa with a Kanomax model 4431 audiometer and a baseline of 26 dBa of ambient noise. The NUC hit 52 while running a CPU-only load, and 55 with the Quadro K2200 video card loaded simultaneously.
NUC 9 Pro Kit versus Apple Mac mini i7 - ports and connectivity
The Mac mini has the familiar setup on the rear, providing an HDMI 2.0 port, two USB 3.1 type-A ports, four Thunderbolt 3 ports, a 3.5mm headphone jack, and a Gigabit Ethernet port that can be upgraded to a 10-gigabit version. Again, much like its slim profile, putting all of the ports on the rear makes it easy to position the chassis out of the way, while still allowing access to the connections.
Intel continues to divide up the positioning of its ports on two sides of the NUC. To the front are a pair of USB 3.1 Type-A ports, along with an SDXC memory card reader with UHS-II support. Around the back are four more USB 3.1 type-A ports, two Thunderbolt 3 ports, two Gigabit Ethernet connections, HDMI 2.0a, and the headphone jack. Intel also has an internal USB 2.0 port and a pair of USB 2.0 internal headers inside the NUC.
And, all of this in the NUC is before you take into account the PCI-e expansion, which can provide even more connectivity options depending on the user's needs.
Both models also offer Wi-Fi 5 connectivity and Bluetooth 5.0 support. While the Mac mini's 10-gigabit Ethernet upgrade is an extra $100 at the time of purchase, the NUC requires the addition of an adapter plugged into a Thunderbolt 3 port, or a PCI-e card, both of which retail for around $150. Neither 10-gigabit Ethernet option are included in this comparison in any way, other than this pricing discussed here.
NUC 9 Pro Kit versus Apple Mac mini i7 - CPU speed
The Mac mini can be configured to have an eighth-generation six-core Intel Core i7 processor, with a base clock speed of 3.2GHz, rising to 4.6GHz under Turbo Boost. The chip also includes 12MB of shared L3 cache and provides integrated graphics in the form of Intel UHD Graphics 630.
Though the base memory of 8GB DDR4 memory can be reconfigured up to 64GB at the time of purchase, Apple has made the RAM an upgradable component, which can help save money for users wanting high quantities. It also opens up the opportunity for memory upgrades down the line when needed.
Storage starts from 256GB and can rise to 2TB, though only through the configuration menu when ordering. Unlike earlier models, you cannot upgrade the storage in the Mac mini.
The Intel NUC ships with a Xeon E2286M processor, an eight-core chip with base and boosted clocks of 2.4GHz and 5GHz respectively. Given the higher core counts and boosted clock speed, along with 16MB of Intel Smart Cache, this in theory gives the NUC a considerable advantage in both single-core and multi-core workloads.
The NUC is effectively a barebones kit, so several elements are either supplied by the user or a system builder, and can be upgraded after purchase. Though the processor stays put, users can put in 64GB of DDR4 memory, equalling the Mac mini's capacity.
However, the use of two M.2 2280 slots in the NUC means users can not only upgrade the storage later on, but they can also go for higher quantities than the Mac mini supports. These can even be configured in RAID 0 or RAID 1, giving striping for speed and mirroring for redundancy.
The integrated graphics in the NUC is Intel UHD Graphics P630, which is the professional version of the 630 in the Mac mini. For all intents and purposes, it is of a similar level of performance, though depending on the hardware installed by the user — likely a video card like in our evaluation unit — this is likely moot.
NUC 9 Pro Kit versus Apple Mac mini i7 - Benchmarks
Benchmarks are controversial. They are relative measures, given the tests included, and they aren't universal. We use two — GeekBench 5.1.1 CPU and Cinebench R20. The former represents the overwhelming majority of computing uses, with the latter representing heavy CPU loads for extended times better than the former.
The i7-8700B processor in the six-core Mac Mini scores an 1142 single-core result, with a 5466 multi-core. The NUC 9 Pro Kit with E2286M eight-core Xeon processor delivered a 1222 single-core result, with a 7870 multi-core.
For comparison's sake, the $5999 Mac Pro eight-core models deliver a 993 single-core score, and a 7986 multi-core
Geekbench Compute leverages the GPU for heavy computational tasks. The Mac mini has the UHD 630 GPU chipset, and it delivers a 5127 on the OpenCL compute benchmark. The NUC delivers a score of 32,552 with the Quadro K2200 workstation card that was provided to us.
For that $1000 price difference between the Mac mini and the NUC 9 Pro kit, That same Mac mini can be outfitted with a Radeon VII eGPU that delivers a 146,193 OpenCL score. The Mac Pro with the Radeon VII internal delivers a 161,212. At present, any Radeon VII is far too long to be installed in the NUC 9 Pro.
Not every task, even graphical processing ones, are accelerated by a fast GPU — which is one of the perils of straight benchmark compares. Before deciding if an eGPU, or for that matter, a PCI-e GPU upgrade, is right for you, it's probably worth figuring out what the specific performance hang-ups are for your particular workflow.
Using the Cinebench R20 benchmark, our Mac Mini i7 scored 2996 — which is about the same speed as a 2013 12-core Mac Pro. The NUC 9 Pro kit delivered a 3610.
The Promise of PCI-e
The key addition to the NUC 9 is the option to use PCI-e cards. A double-wide PCI-e X16 slot is available, shared with a PCI-e X4 slot, with a maximum card length of 8 inches, which can be a bit of a handicap. This means a short graphics card could be installed, providing a considerable performance boost compared to the onboard graphics as demonstrated by the Mac mini versus NUC 9 Pro kit compute results above.
This expansion is the primary reason why the NUC is much bigger than the Mac mini this time around, and it is arguably a great addition for those who need the option.
The Mac mini is also able to accept PCI-e cards, as we've suggested with the benchmarking testing above, though it only does so with the addition of a Thunderbolt 3 external enclosure. This adds a secondary — and large — enclosure to the Mac computing setup that consumes a considerable amount of space.
It's a trade-off. The NUC itself is larger than the Mac mini. The Mac mini with an eGPU enclosure is much larger than the NUC, but can accommodate full-length GPU cards.
xMac? Mac mini Pro? Mac Pro mini?
AppleInsider staffers unsurprisingly prefer macOS and iOS to alternatives. But, we know that there are benefits to the Microsoft Windows platform as well — benefits that many of us here at AppleInsider partake in in parallel to our Apple gear. We've said it before, if you need or want Windows hardware and have no particular need for macOS or iOS, you generally buy Windows. If you need or prefer macOS, then that's what you buy.
But, Apple can learn from the NUC 9 Pro kit — or at least be shown a direction to take — from a long-time hardware partner.
The existence of the Intel NUC 9 Pro Kit and its expansion capabilities is a product market and a price point that Apple doesn't serve very well at this time — Macs with built-in PCI-e expansion. The approximately $300 it costs above and beyond a video card for an eGPU is a tough ask as it stands. It is an even tougher ask for users to spend thousands of dollars for a Mac Pro just so they can put a graphics card into a Mac case.
The NUC 9 Pro kit is also available in i5, i7, and i9 options, starting as low as $999 with nothing but the computer itself — and the core of this idea is what we want to see in a PCI-e expandable "xMac." We're confident that Apple can design a Mac mini evolution that is large enough to accommodate a PCI-e card in a similar way to this NUC. We are aware, though, that it probably chosen to not do so because of an evolving computing market.
We've said it before — Apple didn't set out to make this "xMac" with the Mac Pro and just miss. Apple aimed that Mac Pro It is aimed precisely at who the $9,900 Mac IIfx was targeted back in the day, who $6199 Xserve hardware was tailored for, and who the $3299 G5 quad-core in 2005 was sold to.
We'd like to see a computer like a complete NUC 9 kit, aimed hit the same market segment that the original $1599 Graphite G4 tower was for. Following the same pattern, the Mac Pro should stay, for those same folks who paid $3499 for the machine that was 20% faster.
Even if they did follow this pattern, though, we'd also argue that Apple wouldn't sell a lot of this "xMac" because of that changing market we spoke about a few paragraphs ago. But, it would probably sell more of this "Mac Pro Mini" or "xMac" than the new Mac Pro.