Alleged 'iPhone 12' molds hint at appearance of 2020 models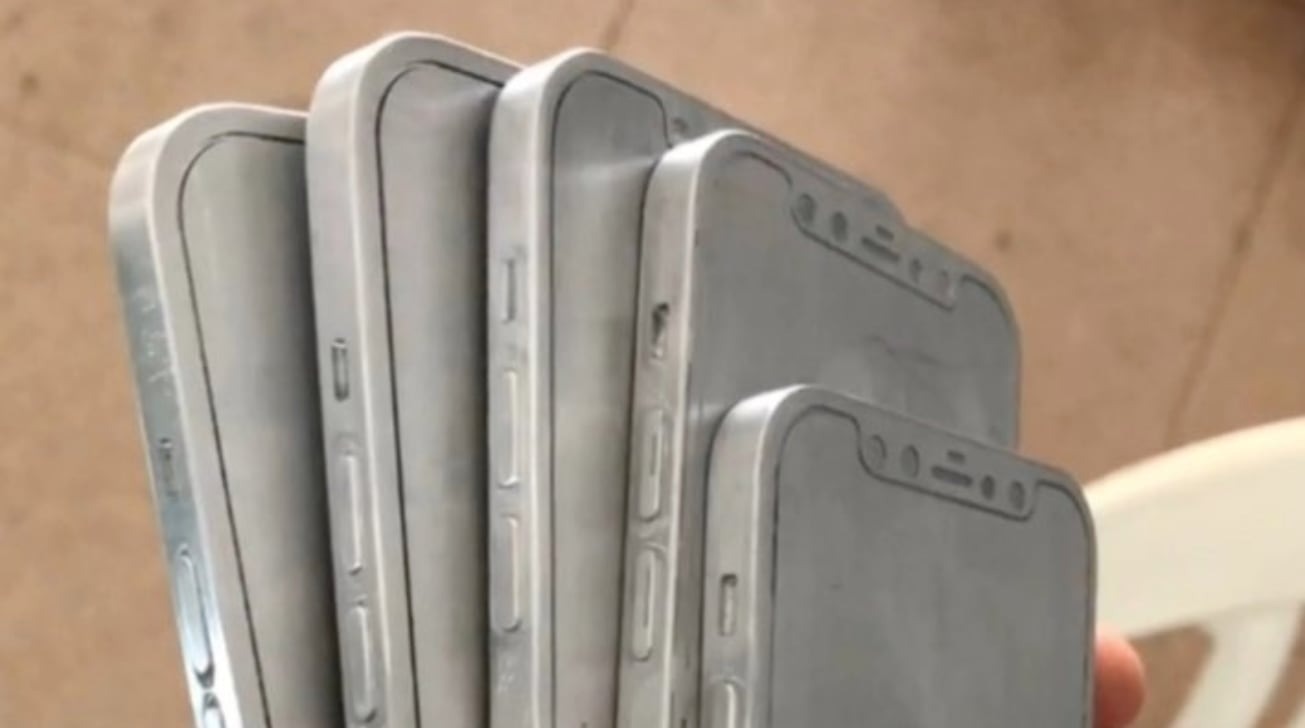 Photos of alleged molds for the "iPhone 12" have surfaced, physical props that offer a hint at what to expect from the 2020 iPhone refresh in the fall.
The molds, posted to Twitter by @Jin_Store, show off three different screen sizes of what could be the "iPhone 12." Made from metal, the molds offer a highly detailed and fairly plausible visualization of how the new models could look like compared to each other at launch.
While three sizes of display are used, there are five models depicted in one of the images. Rumors have pointed to screen sizes of 5.4 inches, 6.1 inches, and 6.7 inches, with the middle screen size being used for both "iPhone 12" and "Pro" variants. The differing camera counts also warrants the creation of multiple models for the same phone size.
Across the range, the models show the standard volume buttons and the Silence switch on the left-hand side, a single side button on the right, and a camera bump on the rear. The notch is also visible along with the TrueDepth Camera array, but while rumors suggest it could be shrunk down, it seems to be at its normal size in the models.
The styling of the models is one with flat edges, seemingly going along with rumors that Apple would use a band similar to the iPhone 4. The iPhone 4 used a glass cover on the rear, with the band around the edge being flat in design.
Other CAD images shared by the tweeter give a better look at the camera section of the models, specifically showing a model with three camera lenses and a space for a flash. Depending on the model it is supposedly showing, it could mean one of the lenses is for the rumored depth-mapping LiDAR sensor in the non-Pro models, or that the LiDAR is incorporated in the Pro editions slightly differently from what was shown with its introduction in the iPad Pro line.
Despite being convincing, and something that surfaces regularly in iPhone rumors, the existence of such models is no guarantee of a finalized design. Accessory producers often create models of soon-to-launch devices to help with the production of new products, such as cases.
As these models can derive from leaked CAD images and be based on rumors and speculation, it is somewhat plausible for the models to be incorrect in some fashion.
These are also not the first models of the iPhones to surface in June, with a collection of mockups released at the start of the month being quite similar in appearance, albeit with a fake screen installed.
More clearer details about the iPhone 12 range will almost certainly surface ahead of its launch, with the accuracy also expected to increase as time draws near.