Alleged 'iPhone XI,' 'XI Max,' 'XE' case molds surface with square camera bumps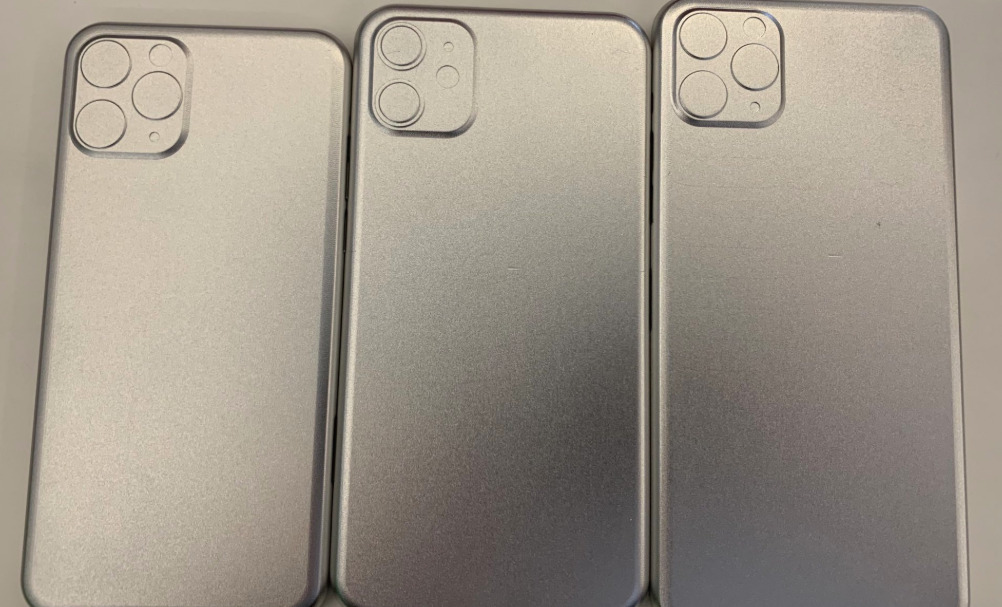 AppleInsider is supported by its audience and may earn commission as an Amazon Associate and affiliate partner on qualifying purchases. These affiliate partnerships do not influence our editorial content.
The rumor Apple will be incorporating a square camera bump into the designs of the 2019 iPhones has been given more fuel, after a photograph surfaced allegedly showing a set of three molds for the rear glass casing, complete with sections for the raised bump.
Recent renders have appeared throughout May supposedly depicting this year's lineup of iPhones, consisting of the iPhone XR's replacement the "iPhone XE," the iPhone XS and XS Max followups the "iPhone XI and iPhone XI Max," and even a case. While unconfirmed, the images offer a hint as to what could be unveiled by Apple in September.
A new photograph posted to Twitter by Bloomberg's Mark Gurman seemingly suggests the renders may be true. The photograph, showing three different sizes of mold, have raised sections in one corner that matches the camera bump from the renders, as well as sections for each of the camera lenses and the flash to be fitted.
This is not the first time a photo of a physical item relating to the 2019 iPhones' manufacture has circulated. In April, a photograph of manufacturing "dummies" showed two units made from worked metal, complete with the camera bump and lens position.
Alleged next iPhone case moldings show what we discussed in our story last week in terms of new cameras. 3 on the high end, 2 on the new XR. Plus all models apparently getting a square, at least based on this one mold floating around. https://t.co/BhAFTZZL6u pic.twitter.com/QlNJTsApzX

— Mark Gurman (@markgurman) May 13, 2019
The camera bump is thought to be part of the glass rear casing of the iPhones for this year, instead of being a separate section inserted into a cutout section. A mold would be required not only to shape the glass but to make the camera bump in that style of design.
The top-flight iPhones are expected to have three cameras rather than two, with the wide-angle and telephoto lenses accompanied by a third that could be a super-wide lens or one enabling 3D depth mapping. The "iPhone XE" upgrades from the iPhone XR's single lens to two.
While renders and photographs may be convincing, there is no guarantee that the images are really for the new iPhones, with the only guarantee of what Apple will release for 2019 being what it puts on stage in its September iPhone event.
Few other changes have been brought up in rumors, with the single-piece glass rear covers and square camera bumps largely dominating speculation for the moment. There have been discussions about whether there will be Lightnting or USB-C ports, the front-facing cameras switching to an improved 12-megapixel system, and that the "A13" chip at the heart of the devices has allegedly entered mass production.
There has been the suggestion the addition of Ultra Wide Band support would enable indoor positioning and navigation, as well as a frosted glass casing option and larger batteries. More interestingly, "bilateral" wireless charging would enable the iPhones to provide charge to other devices wirelessly, acting as a charging pad of sorts for accessories.