Microsoft President calling for antitrust review of Apple App Store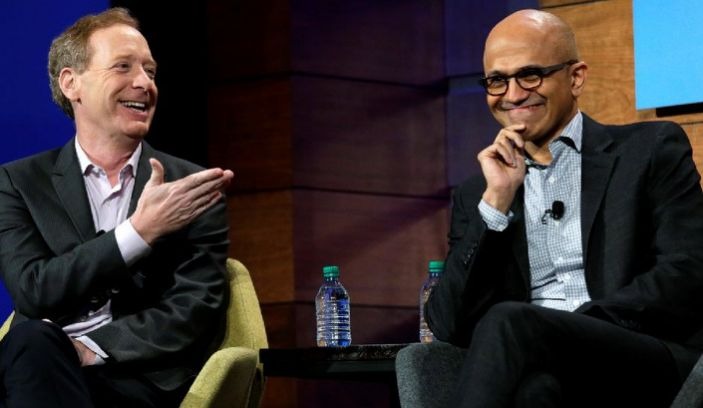 Following a week of controversy about App Store pricing and policies, Microsoft President Brad Smith has chimed in and says that it is past time for antitrust regulators to turn their eyes to Apple.
In a wide-ranging discussion about issues of the day, Smith says that it is time for Apple's App Store — and app stores in general — to be regulated.
"I do believe that the time has come, whether we are talking about D.C. or Brussels, for a much more focused conversation about the nature of app stores, the rules that are being put in place, the prices and the tolls that are being extracted and whether there is really justification in antitrust law for everything that has been created," Smith said.
Smith claims that times have changed since Microsoft faced its own antitrust battles, and in many ways, he appears to believe that the present environment is worse. In the event hosted by Politico, Smith called for international agencies to look at Apple, specifically.
"Contrast that with what we're seeing in terms of other app store practices," Smith proposed. "They impose requirements that increasingly say there is only one way to get on to our platform and that is to go through the gate that we ourselves have created. In some cases they create a very high price or toll — in some cases 30% of your revenue has to go to the toll keeper."
Microsoft has its own app store, as Smith pointed out. If a user installs an app through a campaign ID link, like a link hosted on the developer's site, developers have to pay a 5% fee. However, if the user installs an app through discovery on Microsoft's app store, that fee grows to 15%. But he notes that the situation is different for mobile platforms.
"If you look at the industry today, I think what you find is increasingly you're seeing app stores that have created higher walls and far more formidable gates than anything that existed in the industry 20 years ago," Smith said.
After spending decades as Microsoft counsel, Smith was named President of Microsoft in 2015. He was central to dealing with Microsoft's antitrust battles that began at the turn of the century.
Smith now serves as Microsoft's President, and chief legal officer at the same time. From 2016 to 2017, Smith served on the US Commerce Department's Digital Economy Board of Advisors.
Antitrust, and the Apple App Store
Two major events have developed recently, shining a new light on Apple's App Store practices and fees. On Monday, the European Commission launched a formal investigation into Apple's potential abuses in the App Store and with Apple Pay.
Specifically, the European Commission is looking into fees and practices on the App Store, including restrictions on apps that duplicate Apple's services. Additionally, the Apple Pay investigation will look into Apple's control over the NFC system that is central to the Apple Pay technology.
Nearly immediately thereafter, Basecamp founder and Ruby on Rails creator Heinemeier Hansson complained that Apple rejected an update to the "Hey" email client because of a lack of in-app purchases. App Store reviewers told Hey's developers that the app violated section 3.1.1 of Apple's guidelines, which states that developers are required to use Apple's in-app purchase system for digital goods or services.
"Hey" is a $99 per year email service. There is a web client for the service, and the iOS app was intended to be solely to read "Hey" email.
Hansson also reported that Apple's App Store team will remove the app unless an in-app purchase option is introduced. He added that Apple doesn't regard Hey as a "Reader" app, which are allowed to skirt the in-app subscription requirements.
According to section 3.1.3 of Apple's guidelines, "Reader" apps allow users to "access previously purchased content or content subscriptions" as long as apps don't persuade or point iOS users toward a purchasing method outside of the App Store. That provision of the guidelines is what allows popular apps like Netflix and Spotify to avoid offering in-app purchases. But although those apps don't point users toward a separate sign-up page, neither does Hey.
Apple has since said that the original app approval was in error. Apple Senior Vice President Phil Schiller said that the app doesn't do anything without a subscription, and said that wasn't allowed for email applications. He further defended Apple's moves, and says that there are no rule changes coming.
"Thank you for being an iOS app developer. We understand that Basecamp has developed a number of apps and many subsequent versions for the App Store for many years, and that the App Store has distributed millions of these apps to iOS users. These apps do not offer in-app purchase — and, consequently, have not contributed any revenue to the App Store over the last eight years," Schiller wrote. "We are happy to continue to support you in your app business and offer you the solutions to provide your services for free — so long as you follow and respect the same App Store Review Guidelines and terms that all developers must follow."
In a discussion with Hansson, House antitrust chairman David Cicilline said that Apple's fees are "highway robbery."
"Because of the market power that Apple has, it is charging exorbitant rents — highway robbery, basically — bullying people to pay 30 percent or denying access to their market," Cicilline said. "It's crushing small developers who simply can't survive with those kinds of payments. If there were real competition in this marketplace, this wouldn't happen."