Apple pressures email app 'Hey' to integrate in-app purchase option [u]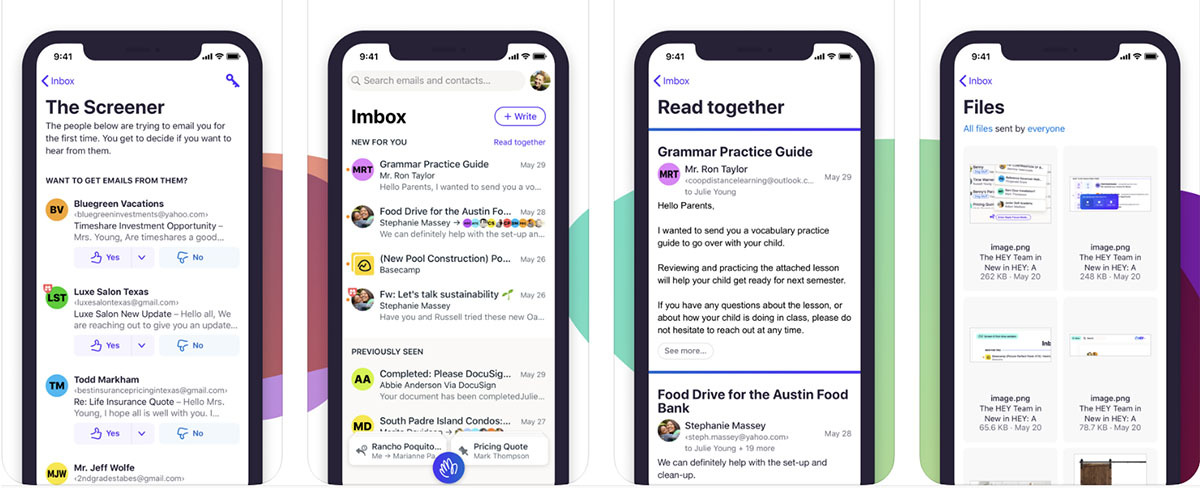 Apple has halted updates for and is threatening to remove new iOS email client Hey because it doesn't offer the ability for customers to purchase subscriptions from within the app.
Hey, which launched on Monday, was developed by the creators of Basecamp to be a streamlined email service on both web and mobile. Access is priced at $99 a year, but customers must purchase that subscription outside of the App Store.
The lack of an option to buy a subscription — which keeps Apple from getting its 30% cut — is at the heart of the dustup between its developers and Apple, Basecamp co-founder and CTO David Heinemeier Hansson said.
Wow. I'm literally stunned. Apple just doubled down on their rejection of HEY's ability to provide bug fixes and new features, unless we submit to their outrageous demand of 15-30% of our revenue. Even worse: We're told that unless we comply, they'll REMOVE THE APP.

— DHH (@dhh) June 16, 2020
According to Protocol, Apple originally approved version 1.0 of the app but rejected two new versions that contained bug fixes. That has essentially halted Hey's ability to issue updates to its app.
Instead of offering an in-app purchase option, Hey users must sign up for the subscription on the company's website and then log in through the app. That allows Hey to avoid paying Apple the 15 to 30% cut of subscription costs. App Store reviewers told Hey's developers that the app violated section 3.1.1 of Apple's guidelines, which states that developers are required to use Apple's in-app purchase system for digital goods or services.
As Heinemeier Hansson went on to explain, Apple's App Store team also said that they will remove the app unless an in-app purchase option is introduced. He added that Apple doesn't regard Hey as a "Reader" app, which are allowed to skirt the in-app subscription requirements.
According to section 3.1.3 of Apple's guidelines, "Reader" apps allow users to "access previously purchased content or content subscriptions" as long as apps don't persuade or point iOS users toward a purchasing method outside of the App Store. That provision of the guidelines is what allows popular apps like Netflix and Spotify to avoid offering in-app purchases. But although those apps don't point users toward a separate sign-up page, neither does Hey.
Despite the threat of removal, Basecamp's creators have no intention of backing down. Heinemeier Hansson told Protocol that "there is never in a million years a way that I am paying Apple a third of our revenues."
Apple has come under fire in the past for alleged anticompetitive practices. Spotify's CEO Daniel Ek has been an outspoken critic of the company's App Store policies, and even lodged a formal complaint with the EU.
The Spotify CEO appears to have since softened his stance in light of Apple taking steps to "open up" it platforms.
Apple is also facing a big tech investigation in the U.S., with matters of interest ranging from App Store policy to the "Sherlocking" of third-party software features. CEO Tim Cook has been asked to testify on behalf of the company.
Coincidentally, Heinemeier Hansson called attention to Apple's iron fist App Store tactics in testimony to the House Antitrust Committee earlier this year.
The seemingly heavy-handed application of App Store guidelines runs counter to Apple's attempts to brand itself as a friend to all developers. As part of an ongoing public relations campaign, the tech giant this week touted its App Store ecosystem as generating half a trillion dollars in commerce during 2019.
"In a challenging and unsettled time, the App Store provides enduring opportunities for entrepreneurship, health and well-being, education, and job creation, helping people adapt quickly to a changing world," Cook said in an accompanying statement.
Update: Apple in a statement to Protocol said Hey's initial approval was a mistake. There appears to have been some confusion around the client app and its intended audience. Apple allows client apps marketed as business services, like Basecamp, onto the App Store, but but does not allow the same for consumer apps like Hey.