Mythic Quest cast and crew field questions from developers at WWDC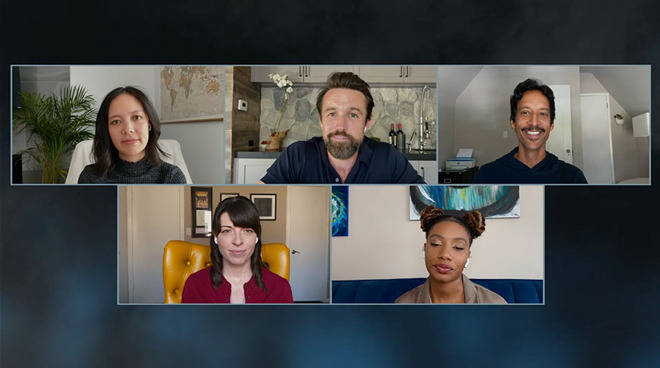 AppleInsider may earn an affiliate commission on purchases made through links on our site.
In a special WWDC 2020 presentation, the stars and creators of Apple TV+ original series Mythic Quest: Raven's Banquet answer questions about the show from fans and developers.
Aired as a standalone video posted to Apple's WWDC portal, the special features executive producer, co-creator and "Mythic Quest" star Rob McElhenney, executive producer and co-creator Megan Ganz and cast members Charlotte Nicdao (Poppy), Imani Hakim (Dana) and Danny Pudi (Brad).
In a remote group chat session, the crew discuss filming the show's "quarantine" episode, which was also shot remote using 40 iPhones and 20 pairs of AirPods. Asked what apps were used to film the episode, McElhenney said iPhones were loaded with FiLMiC Pro for camera work and ShurePlus MOTIV to go with the Shure mics used to capture sound.
Also discussed was the Zoom setup, which forced the actors to take cues from and play off of audio piped through AirPods. The experience was a challenge, but opened the door to fresh acting methodologies, McElhenney said.
Apple plans to submit the episode for Emmy consideration.
Another fan asked many consultants were brought in to make the series, which focuses on a game developer and the struggles of bringing software to market, as true to life as possible. Ganz said that show producer and partner Ubisoft offered significant input and connected the crew with programmers, monetization experts, writers and other industry professionals. Ubisoft also assists with script development in the form of inserting language coders use on a daily basis.
One developer asked what the actors found most bizarre about tech culture. Nicdao, in response, said power dynamics are particularly odd, specifically the relationship between McElhenney's Ian and Poppy. In the show, Poppy is the lead software engineer who brings Ian's visions to life. Nicdao later in the conversation said she signed up for free coding lessons at Codeacademy to prepare for her role, but didn't follow through with the program.
Other topics discussed range from favorite episodes to film, behind-the-scenes trivia and viewer response to the series, among others.
Apple asked developers and fans of the show to submit questions for McElhenney and crew earlier this week.