'Mythic Quest' co-creators detail filming during a pandemic using 40 iPhones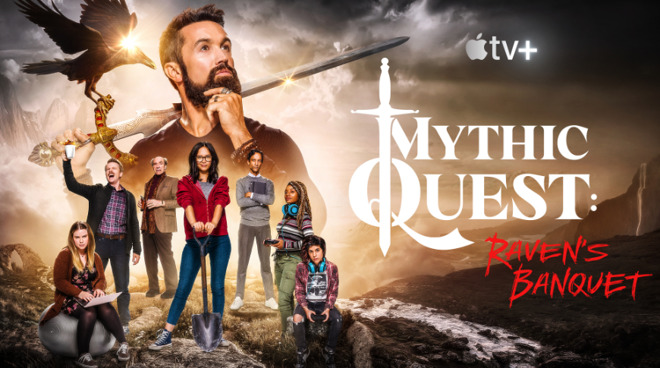 AppleInsider may earn an affiliate commission on purchases made through links on our site.
While the co-creators of "Mythic Quest" doubted that there would be any support to film an episode during the coronavirus pandemic, they pitched it as a creative choice, not a limitation — and that won Apple over.
"Mythic Quest" will return for a single episode special about the quarantine, which was shot remotely using only iPhones. This episode came to be while the creators of the show were attempting to re-write scripts for the unfinished season 2.
McElhenney, who also plays the main character in the show, pitched the concept of the episode to Apple with low hopes for success. Apple embraced the concept, responding swiftly, even getting iPhones and other relevant equipment to the actors and staff the same afternoon.
The pitch for the episode was simple — cover how this is affecting the fictional company and its employees, with each of them going through various relatable situations. Skits including struggles with teleconferencing, characters breaking quarantine, and even a donation plot line were thrown in.
Three weeks later, a fully crafted episode shot remotely with 40 iPhones and 20 sets of AirPods was ready to air. Apple was so impressed by the episode, they intend to submit it for an Emmy.
Sometime during the creation process, the cast and crew made the donations real. They raised $300k among the cast and crew, which was matched by Rob McElhenney and his wife, Kaitlin Olson. The donation is being made to NGO Mercy Corps.
The idea was originally to ask the viewers to donate, but instead Megan Ganz had a different approach. "Wouldn't it be cool if we made this whole story about a donation," Ganz proposed, "and then at the end of the episode it was like, That money has been donated,'?" And that is exactly what they did.
While McElhenney took inspiration from specials created by "SNL" and "Parks and Recreation," he wanted to ensure they didn't make the same jokes and tread the same ground. Ganz had actually shot an episode of TV using only Apple products before, the 2015 episode of "Modern Family" which took an entire three months to edit. The methodology used to film the "Mythic Quest" episode sped up production, however, as each actor used three iPhones to film a scene.
For scenes where the actors would use their laptop webcams, they placed an iPhone in the laptop to film using that camera instead. Actors performed scenes by talking directly to each other via AirPods.
The co-creators say that having an episode about the coronavirus and quarantine makes it real in the fictional show too. "The entire world has changed," says McElhenny. "When we get back up and running— and we have no idea when that is going to be— this is an office environment and we'll have to figure out what an office is going to look like. None of us know yet."
The "Mythic Quest: Quarantine" episode is due to air on May 22 on Apple TV+.