Unreal Engine releases an app that uses Face ID to capture 3D facial animations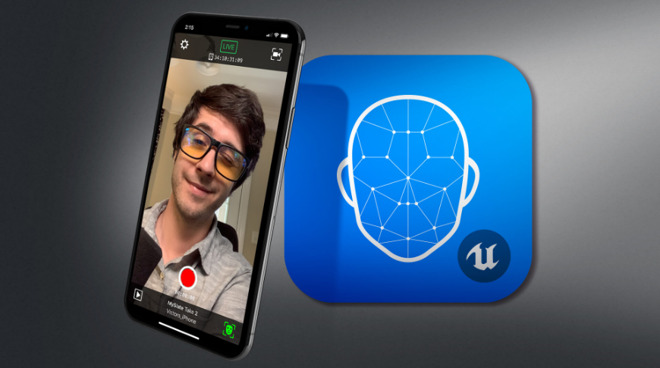 AppleInsider may earn an affiliate commission on purchases made through links on our site.
Unreal Engine's new Live Link Face app brings big-budget movie-style effects to the iPhone, with Face ID able to animate 3D characters in real time or capture face tracking data for later use.
The company announced the new Live Link Face app on Thursday morning and boasted the usefulness of Face ID's TrueDepth Camera and ARKit for 3D animation capture. The app can be used to capture live performances or be used to animate digital avatars for live streams.
#UE4 has their Live Link Face iOS app available now for free!! You can capture realtime facial data straight into sequencer or save the takes for later. Do what you will with this knowledge :D #gamedev pic.twitter.com/7CXPh1oCIq

— Chase Shields (@chaseanimation) July 8, 2020
The app can intelligently adjust based on how it is being used due to utilizing the motion coprocessors in the iPhone. If the iPhone is attached to the user's head, it will only record facial movements into the data, where if it on a desk it will capture head and neck movements as well.
It is built for professional collaborative environments, which will allow the app to sync up to the Multi-User Editor used in Unreal productions. Other syncing features will ensure timecodes are perfectly in sync with the other recordings by connecting to the stage master clock using bluetooth.
Addy Ghani, Director of Animation Technology at Verizon Media praised the app's usefulness.
"The Live Link Face app harnesses the amazing facial capture quality of iPhone ARKit and turns it into a streamlined production tool. At RYOT we believe in the democratization of capture technology and real time content and this solution is perfect for a creator at home or a professional studio team like ours."
Unreal Engine is known for its cross platform gaming engine used by developers to make games on iOS, macOS, and game consoles. The technology has also been used to create digital movie sets for media like Disney's "The Mandalorian."
The Live Link Face app is available on the App Store for free with no in-app purchases. The app needs to be connected to professional software used in Unreal Engine production to utilize the data.