Review: Evutec's smart audio sunglasses offer great battery life at the expense of sound quality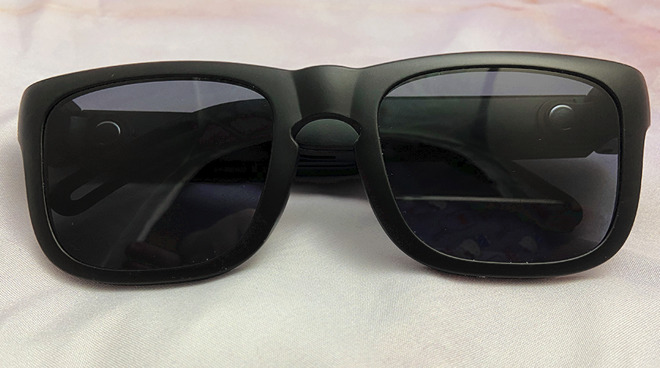 Evutec Smart Audio Sunglasses
AppleInsider may earn an affiliate commission on purchases made through links on our site.
Evutec brings its version of smart audio glasses to market, offering a cheaper alternative to other high-end brands.
If you're in the market for a pair of audio sunglasses, you can always choose to spring $200 for a pair of Bose Frames. If that price point is a bit high, Evutec's audio sunglasses are available for $120 — but how do they stand up?
Fit, feel, and appearance
When comparing them to our Bose Frames, the Evutec audio sunglasses feel quite similar. We were also surprised to find out that the Evutec glasses were more comfortable.
With our Bose frames, we found that sometimes the top of the earpiece would dig uncomfortably into our ear — a problem solved by gluing a bit of silicone to the spot where it connects with your ears. Evutec, on the other hand, has done a great job making an earpiece that was comfortable for long-term wear.
We were sent a black-frame, black-lens combo, though the company offers four other colors: white with mirrored blue lenses, black with mirrored blue lenses, and orange with mirrored yellow lenses.
While they performed well as sunglasses, we were disappointed at the overall look of the black lens/frame combo. It seemed that no matter who put the glasses on, they seemed like post-cataract surgery glasses, rather than a pair of everyday sunglasses.
Because these lenses are not replaceable in the same way the Bose Frames lenses are, we suggest that anyone who plans to buy these audio sunglasses wait until they restock the other colors. Currently, only the black version is available.
Performance and sound
The controls for the Evutec audio sunglasses are located on the right arm of the frame, consisting of a power on/Bluetooth button and a volume up/down button. The power button can be tapped twice to call up Siri, while a long press on either volume button will allow you to move forward and backward through your tracklist.
We had no issues connecting to either our iPhone 11 or our MacBook Pro. Bluetooth audio prompts make it easy to know when pairing with the device of your choice.
When it comes to sound quality, unfortunately, these fall short of the Bose Frames. The audio is a bit flat, missing any sort of bass. We also had to turn the audio up to hear it, which led to a significant amount of sound bleed.
One of the most impressive features of the Bose Frames is the minimal sound bleed — when we wear them, other people can rarely tell if we're listening to additional audio.
With the Evutec audio glasses, everyone in the room will likely be able to hear what you're listening to. They may be okay if you're wearing them out on a bike ride or a walk in an uncrowded area, but a total no-go for public transit or casual hangouts with friends.
Battery life
If you're wondering where the Evutec audio glasses strength lie, it's in their battery life. Again, we'll compare them to the Bose Frames, which feature a two and a half to three-hour battery life at best, which means that you'll have to charge them repeatedly throughout the day.
However, the Evutec audio glasses get a minimum of eight hours of listening time before they need a recharge. We found that we were able to get over nine hours of playback at a medium-low volume before we had to scramble for a charger. This makes them ideal for long hikes, bike rides, or for chilling in your back yard.
Charging is done via the include magnetic charging cable, similar to the Bose Frame's charging cable, or that of the Snapchat Spectacles. Charging is relatively easy, though the charging cable is a bit short.
Overall
While we appreciate that more audio glasses are coming to market, we were still a bit disappointed in Evutec's showing. While we think their controls, battery life, and comfort are better than Bose's, the sound quality is significantly less.
If you're interested in getting your own pair, they're available for preorder only from Evutec's site for $120.
Rating: 2.5 out of 5
Comfortable, even when worn for an extended time
Excellent battery life
Great on-device controls
Medicore sound quality
Significant sound bleed
Boxy design does not flatter the face