Apple researching using two iPads simultaneously for notebook-style computing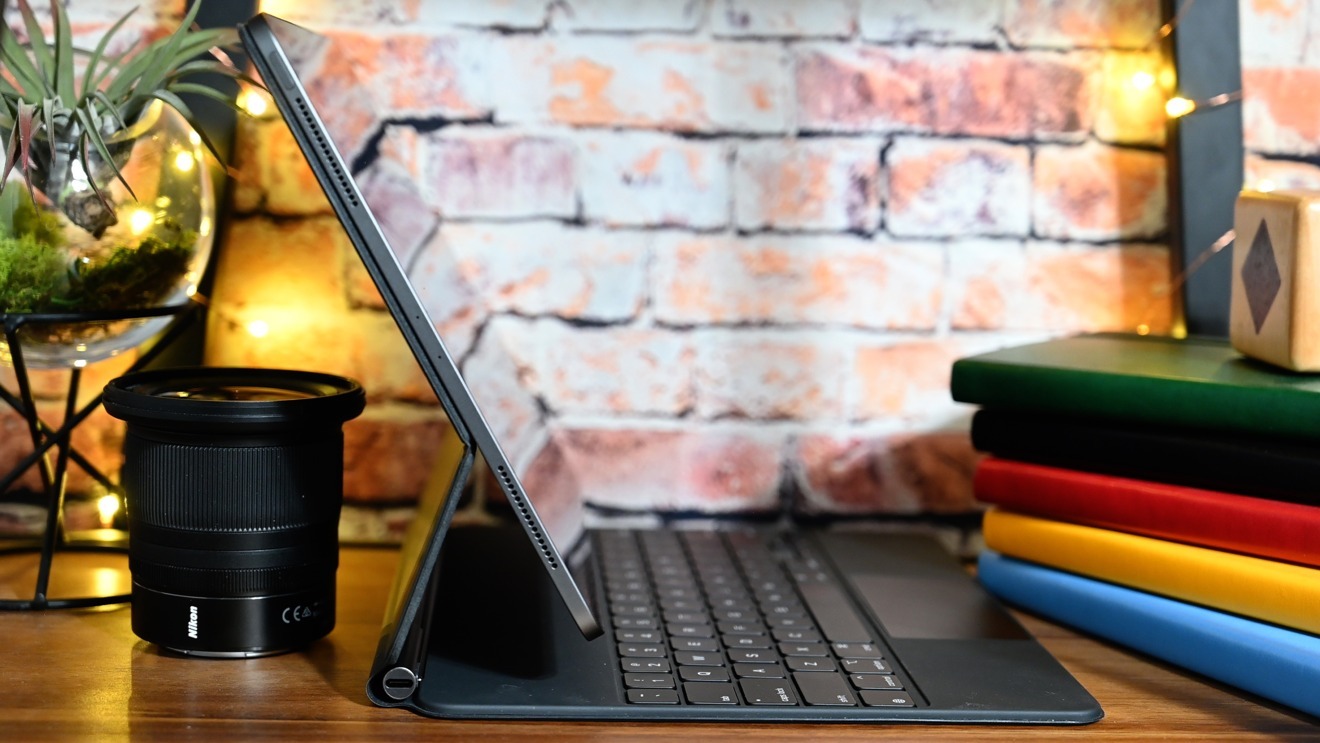 Apple may offer a future accessory that allows an iPhone and iPad or two iPads to connect together, with one iPad as the display for the joined unit, and the other as a dynamic keyboard.
People who are using iPads and the iPad Pro as a workstation instead of acquiring a MacBook Pro or MacBook Air often acquire a keyboard accessory, enabling them to type without using the on-screen keyboard. Using a separate accessory, like the iPad Pro's Magic Keyboard, allows for the entire display to be used as there is no need to use the software keyboard at all.
While this is useful, this does mean an extra accessory has to be carried around by the user if they wish to continue working in that way. The extra space and weight may not be desirable, especially if they already carry around an iPhone and an iPad.
In a patent granted by the US Patent and Trademark Office on Tuesday titled "Modular multiple display electronic devices," Apple suggests a solution to it via a new, smaller accessory. The extra hardware would consist of sections that attach to the side of a mobile device, complete with some form of connector, and a hinged element.
The connector would facilitate data transfers between the two devices, enabling a range of functions to occur. At its simplest, this could allow for work to be carried out across multiple displays as if it is one system, in a variety of ways.
Images in the patent primarily offer the idea of a notebook-style arrangement, with one device flat on a surface and the hinged connector propping up the second mobile device upward, either in portrait or landscape orientations. In this way, the lower device could act as a keyboard for the upper device.
There are also suggestions that, if attached on the longest edge of two identically-sized devices, it could be used in a book-style orientation.
The concept does not necessarily rely on using two similarly-sized mobile devices, as it is feasible to use a smaller display of an iPhone as the main screen while an iPad could be the secondary lower device. Such an orientation would be required as it would be easier to type on a larger surface like an iPad with both hands, as well as the weight of the device itself reducing any unsteadiness of reversing the two positions.
Aside from providing an extra work surface, the data connection can naturally allow for file transfers and other items to be communicated between the two devices, as well as allowing the sharing of resources. For example, if one device has a better camera than the other, or one that is better positioned for a task like video conferencing, that resource could be shared with the other device.
The filing lists its inventors as Craig C. Leong and Blake R. Koelmel.
Feasible to produce
Apple files numerous patent applications on a weekly basis, but while the existence of a patent suggests areas of interest for Apple's research and development teams, it does not guarantee the existence of such a product or service in the future.
While there have yet to be any murmorings of such an accessory in active development, the concept is potentially feasible. Both iPhones and iPads share Lightning connectors, with the iPad Pro line using USB-C, while Smart Connectors are also available on some models enabling communications with accessories.
Apple has expressed an interest in using spare mobile devices as alternate inputs before, such as in the filing for "Cross Device Interactions" in January. Second screen devices have also been a subject of some patents,such as 2018's "Dual display equipment with enhanced visibility and suppressed reflections" that proposed a flexible display being used akin to a notebook, with one screen usable as a keyboard.