Prototype iPhones bearing engraved mute button surface in photos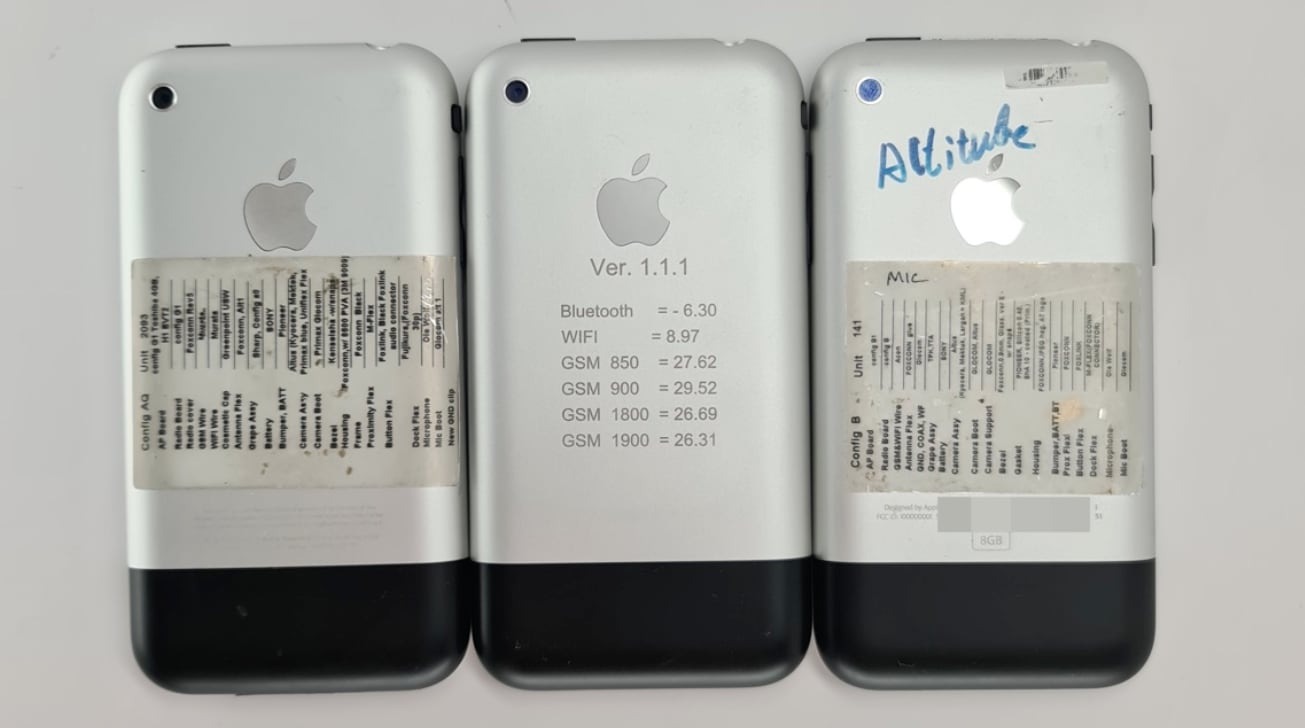 AppleInsider is supported by its audience and may earn commission as an Amazon Associate and affiliate partner on qualifying purchases. These affiliate partnerships do not influence our editorial content.
Photographs of unreleased prototypes for the iPhone 2G have been published on Twitter, indicating Apple was considering different positions for the mute switch, as well as engraving the button itself.
Apple put considerable efforts into creating what it thought was the ideal smartphone with the original iPhone 2G, with this work including the creation of prototype designs. In images shared by @DongleBookPro on Twitter, these prototypes gave Apple's designers a better idea of what the final product would be like, allowing for changes to be made before mass production commenced.
The three prototypes pictured are extremely similar in terms of size and design, with the rear including details ranging from cellular and networking details to stickers with more information about that particular unit. At this stage in production, the units included the customary Apple logo, but not all of them had the regulatory engraving or capacity indicator.
A close-up shot of the mute switch on the three devices shows a few of the minute variations between the units, with the button's position marginally changing. The surface of the button is also shown to have a little bell engraved onto it, as a hint to users as to what the button can do.
Another image shows the iPhones turned on and equipped with Apple's internal diagnostic tools, including "SkankPhone," a basic user interface that allowed for core functions to be tried out without using the final UI design. Other icons are also visible for AT Command, Burn-In, Operator, Soundwave, and Rumble, as well as a graphic suggesting users could connect the iPhone using a USB cable to a Mac or PC running iTunes.
Before the production of prototypes that look similar to the final product, engineers would usually work on more abstract prototypes. One such board surfaced in 2019, revealing an "exploded" view of the iPhone's internals and connections for easier development.
This latest batch of images from @DongleBookPro follows a similar release one week ago, which suggested the first-generation iPod touch could have had a black coating similar to the 2012 Mac Pro.