'Boys State' directors talk about working with Apple and the future of movie theaters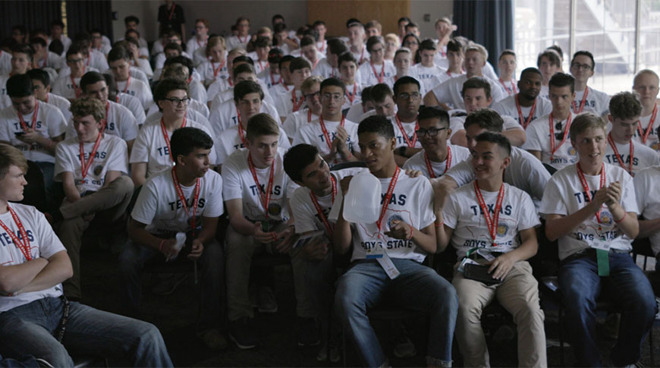 AppleInsider may earn an affiliate commission on purchases made through links on our site.
AppleInsider spoke to "Boys State" filmmakers Jesse Moss and Amanda McBaine. The pair are responsible for one of the most acclaimed nonfiction films of the year, presenting a compelling, even frightening look at power.
Back in January, Apple teamed up with A24 to acquire Boys State, the film that won the U.S. Documentary Competition Grand Jury Prize at the Sundance Film Festival. The price of the film, per the Hollywood trade press, was $12 million, which set a new record for festival documentaries.
The film is set at the annual Boys State event in Austin, Texas, in which a group of more than 1,000 teenaged boys from throughout Texas get together to vote on and form a mock government. It's a film that will give viewers hope, or perhaps terror, about what the next generation might do once they acquire the levers of power.
The original plan was for the documentary to play other festivals throughout the spring, after which A24 would release the film in theaters, before Boys Stateheaded to Apple TV+. But like everything else in 2020, that plan has since been seriously upended.
Boys State missed its planned return to Austin for South by Southwest when that festival was cancelled, though it did show, virtually, at the AFI Docs festival in June. And instead of a theatrical release, Boys State at some drive-ins on August 12, before its Apple TV+ debut on August 14.
On the eve of the Apple TV+ release, AppleInsider spoke with Jesse Mossand Amanda McBaine, the husband-and-wife filmmaking team that directed and produced Boys State, about the film, their experience directing it, and what it was like to await the release of an acclaimed movie during a global pandemic.
The following Q&A has been edited for brevity and clarity.
AI: How have the two of you been doing during the pandemic? What's it been like having this film come out during everything that's been going on?
JM: Well, I think like everybody we're just adapting to a new reality, a new normal. I think we feel very blessed, privileged really, to be able to premiere this film at a brick-and-mortar fest, at Sundance, and share it with an audience, that was very special to hear the crowd respond, to laugh, and to cry, was really moving.
And to share that experience with the subtext of the film, when we were there for the premiere, was indescribable. That being said, we were able to screen it at a drive-in, A24 and Apple presented it in five cities last night, so that was a real kind of special COVID theatrical, and memorable in very different ways.
I think we're just excited to have partners who can help us get the film out in the world, and have been very adaptive to the reality that we've been living in. I think for us personally, you know we're fortunate in so many ways, and the experience has brought us, even though we're apart from our subjects, where we would typically be together, we've had amazing conversations with them virtually, and that's exciting that we can still do that.
AI: Talk to me a little bit about the genesis of this project. How did you choose this as a film that you wanted to make, and how did it come together?
AM: Jesse and I were, I think like a lot of people, just struggling to make sense of the political divide in our country, and the sort of hyper-polarization that we found ourselves in after the 2016 election. And we read in 2017, in The Washington Post, about the Texas Boys State legislature that year voting to secede from the union, and that was kind of a scandal within Texas, enough to make national news.
We read that article, and we laughed, but we also recognized that there was more of a serious undertone to that vote, that we thought — first of all, I didn't know about Boys State, or Girls State — we grew up in California, where was also a Girls and Boys State, so none of us went.
So this article was the first time we really heard about the program, and we thought "that's really fascinating that there's a place where kids with politics on the right and politics on the left come together and face-to-face, sitting across the table, have to talk politics. And those spaces are rare, and more and more rare, so we thought, okay, well that's definitely a place we want to go visit, and we knew it would be fraught, and contentious, and all those good things you want.
AI: What was it like dealing with Apple? I know Apple and A24 bought the film together out of Sundance. How much did you deal with Apple, and what was your experience like in dealing with them?
JM: We're very fortunate that Apple — [Head of Documentaries] Molly Thompson — was able to see the film at Sundance, which was really the best way, which is with an audience. And we know Molly, from documentaries, since we've been making documentaries for 20 years, and she's been a colleague and a kindred spirit. So when Molly and Apple stepped up, to express an interest in the film, we were thrilled. Apple's an incredible company, very exciting, and a little intimidating, frankly, because it's so big.
But knowing Molly, and also [Apple Original Films executive] Matt Dentler, also at Apple, who comes from independent film, who we've known for 20 years as well, it just gave us a great deal of comfort. And it's really been an incredible process to sort of come together and build this big Boys State family, and we think of it as a family, it's A24 and Apple, and I think their sort of belief in the film.
It's hard, I think, to market a documentary. We have a cast of unknowns, we have a kind of difficult true story. We think it's kind of exciting, and surprising, and has a lot to say. But I think it's always a challenge to distribute a documentary that's not about, say, a famous person or a famous event. And Apple has stepped up to that challenge beautifully, and believed in the film, believed in us, and the young men in the film. And it's been, thus far, a really amazing partnership.
AM: I think A24, also, has an incredible track record, and I think their sort of nimbleness, through this extraordinary period we're going through, as a theatrical distributor, is also one of the joys of having gone through this. Their creativity, and they're just masters of what they do, and we're fortunate to have them on board.
AI How did you go about choosing the subjects for the film?
JM: [Laughs] I think the foundational challenge of the movie was to whittle this potential big cast of a thousand young men down to a handful. That was the storytelling approach that we were interested in, was a really kind of ground-level human kind of perspective on this experience.
And following young men of different politics, different backgrounds, we had to find them. And we had to comb the state of Texas, and interview boys who had been selected for the program. We met them all over, in their homes and in their schools and in their American Legion posts, in far-flung corners of Texas.
I think when we met Steven and Ben and Robert, we all met before the event started, and we knew instantly that they were special. They're all smart and ambitious and complicated. They are politically sophisticated, which was very important to us.
We didn't go in with a specific criteria, but they all have a kind of intangible charisma, and a complexity, that I think you see revealed in the course of the film, and also a vulnerability, which connects us and bonds us emotionally to them and their experience.
So we felt that, and we kind of bet the farm on the potential — we didn't know that they'd do well, we didn't know that their paths would intersect, but they did. And we were also really lucky to meet Rene, and he's such a grownup, amid this youthful group. And when we saw him give that great speech in the film, we instantly "cast" him in our story, because he needed to be in it.
AI: So when you were filming, did you run into resistance, from anyone who wasn't comfortable with a film crew being around?
AM: No. The program itself, once it gets started, is a real fugue. It's 1,100 involved, it's in big room and small rooms, and there's also 220 counselors, although they step back the first couple of hours, downloading a bunch of information. It goes really quickly, from 6:15 in the a.m. to 10:30 at night, and it's all over the UT campus. It is a chaotic, kind of swirling, anarchic, very energized situation. I'm sure there's people who didn't want to be in the film, but they had a pretty easy time staying clear of us, if they felt that way.
But honestly, people were pretty joyful and excited, and we tried our best to kind of stay out of their way. And we have been doing this for awhile, so we do the best we can in that sense. But we're still carrying cameras, and there were six of them, and I actually found the opposite to be true- people kind of were wanting to be in a movie, and wondering why we were so focused on these four people. It was pretty fun, actually.
JM: As independent filmmakers, it's very important for us to preserve our editorial integrity too, and the program respected that, I think they had faith in us based on their look at our previous work. They knew that we were truthful, honest, compassionate, complex storytellers, we think we are, and they took that leap of faith. It's ultimately a leap of faith on their part and on the part of the subjects of the film too. And we tried to return that trust by making a very honest and complicated film. That's what we saw, and that's we found, and that's what we showed.
And the great freedom of Boys State, unlike most conventional political documentary where you're embedded with one candidate on one side, we could move freely and really see a political contest from these different perspectives, and I think that is unusual, and they gave us the freedom to do that, and that was wonderful.
AI: As filmmakers, there's a lot of uncertainty these days about COVID, when theaters might re-open, and what the future might look like for traditional distribution. Even aside from that, and looking at what your thoughts were prior to all of this happening, how do you feel about streaming and VOD? I know a lot of documentaries end up going that route these days. Do you feel that that's the future? Are you still very tied to big screens?
JM: I think we take it all. I think streaming is an incredible platform. I think we've experienced the ability of these streaming platforms, Apple and others, to reach worldwide audiences. I think that's extraordinary. And this film, the fact that this film is going to go global with Apple's support, is truly amazing.
I think the fact that Apple is also committed to finding ways to have conversation around the film. We've had a lot of virtual screenings, with Q&As with our film subjects, we're going to continue to do that. I think we all want, when theaters reopen, to also celebrate this film on the big screen. And I think we can do all of that, and I think Apple, film lovers, filmmakers — we're all adapting.
Of course, as old-fashioned as we are, we still value the theatrical experience. That has a time and a place and I know, whether it was the drive-in last night, or Sundance, or what's to come, in a few months, hopefully we'll find ways to put the film in front of people. And that includes classrooms, to. We have an educational guide that Apple's helped us create, for teachers, I think we're going to be on a syllabus of a class at Harvard on democracy this fall. So there's all sorts of exciting ways, beyond the reach of the platform, for us to make sure that the people who want to see this, particularly young people, can come to the film.