Teardown images allegedly depict scrapped AirPower charging mat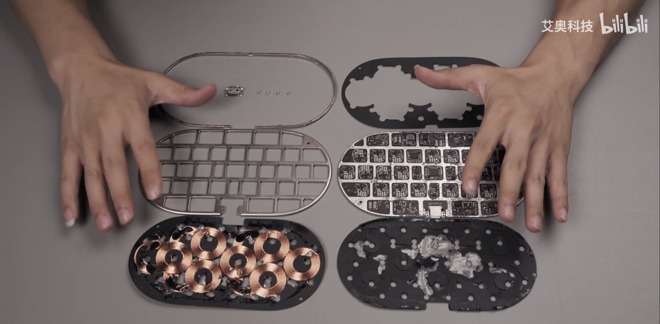 AppleInsider may earn an affiliate commission on purchases made through links on our site.
A leaker has shared alleged images of what appears to be Apple's now-scrapped AirPower wireless charging mat.
AirPower, originally unveiled at Apple's 2017 September event, was eventually scrapped in March 2019. Reportedly, the charging mat didn't meet Apple's standards and had problems with overheating.
On Friday, Apple leaker @laobaiTD shared apparent images of the AirPower charging mat to Twitter. Those images were originally sourced from a teardown clip on Chinese video sharing site Bilibili.
The images depict a wireless charging mat in the AirPower shape. Two components in the pictures include a board with multiple and overlapping wireless charging coils, as well as another board laden with chips.
Those overlapping coils were integral to AirPower's primary feature: the ability to charge an Apple Watch, AirPods, and an iPhone simultaneously.
They were also reportedly AirPower's downfall, since the complexity of the design caused issues with overheating and reliability. Other charging mats on the market do feature multi-coil designs, but none have quite lived up to AirPower's promises.
There's no concrete evidence that the images actually depict an Apple AirPower prototype or working model, however. While @laobaiTD — also known as Mr. White — has shared genuine images of leaked components and accurate details in the past, there's nothing that can verify whether the supposed AirPower prototype is authentic.
Since AirPower's cancellation, there have been some rumors that Apple is working on another wireless charging mat. In January, analyst Ming-Chi Kuo predicted that Apple would release a first-party "small wireless charging mat" in the first half of 2020.
That timeframe has come and gone, and despite other rumors from leakers such as Jon Prosser, there's still no indication of when or if Apple may take another shot at multi-device wireless charging.