Review: Ditch Your Other Chargers For Zendure's SuperTank Pro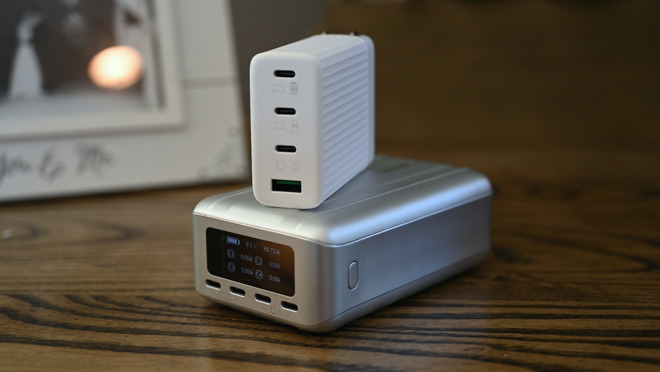 Zendure SuperTank Pro
5.0 / 5
---
AppleInsider may earn an affiliate commission on purchases made through links on our site.
Zendure has announced its latest future-forward charging gear, the new SuperTank Pro and the accompanying SuperPort S4 both cater to an increasingly USB-C world.
A couple years ago, we loudly touted the Zendure SuperTank as our favorite high-capacity battery thanks to its rugged design, four simultaneous outputs, and ridiculously fast input and output speeds. The original SuperTank looks dated compared to the new SuperTank Pro.
In short, the new SuperTank Pro ups the game as the very first battery pack we've gotten our hands on to have not one or two, but four USB-C ports. Not only that, but it is still capable of up to 138W of total output including two ports that are capable of 100W in or out. It also is equipped with an OLED display that shows real-time charging speeds per port.
design
SuperTank Pro isn't just equipped with USB-C ports, it got a whole new look. It still occupies the same footprint as its predecessor, but it is now encased in anodized aluminum with ABS plastic for the mid-frame. This gives it an even more premium feel than the all-plastic design it had.
There is a still a single button on the battery, used to wake it from sleep. When pressed, the new large OLED display illuminates, and shows the battery percentage, the remaining watt-hours, and the real-time input or output power on each of the four ports.
Since Zendure traded out the two USB-A ports for two more USB-C ports, they are now able to line up in a single clean row just below the OLED panel.
Zendure also made it a point to allow the SuperTank Pro to have upgradeable firmware. This helps it maintain support for emerging charging protocols and standards so you don't have to upgrade the battery itself — just the firmware.
One downside is, at least for the moment, firmware upgrades can only be done on a PC leaving all of us iPhone- or Mac-only users to leech off of our Windows PC-toting friends when the time comes for a firmware update. Hopefully, post-launch Zendure brings the firmware upgrade process to Mac as well.
Impressive charging speeds
While USB-C is incredibly simple in terms of charging so many different devices with a single port, maximum efficiency in charging takes a little wrangling. It isn't as simple as "every port does 100W in and 100W out."
The four ports are broken up into sets of two. The first two ports, which are designated with the picture of a laptop and a tablet, are the high power ports. The remaining two ports, designated with an iPhone and a tablet, are the slower two.
Those first two ports are both capable of 100W of output or input. That is more than enough for one of those ports to charge a 16-inch MacBook Pro at full speed. When used as outputs at the same time, the speed is slightly downgraded to only 60W max each for a combined 120W of power total output.
The second two ports are rated for 18W of power each. Easily enough to quickly charge an iPad or Fast Charge an iPhone. In total, when using all four ports, the SuperTank Pro can output 138W. There are very few battery packs out there that can do 100W of power, let alone 138W, and likely zero that can do that while sporting four USB-C ports.
Fast outputs are great, but the fast input isn't to be understated. When you have a battery as large as the SuperTank Pro, charging at 18W, 30W, or even 60W can take quite some time. SuperTank Pro, just as the original SuperTank, can handle 100W of input. In our tests, that is enough to charge the battery in just over 90 minutes. This is absolutely huge to charge the battery fast and get out the door.
Needless to say the SuperTank Pro supports USB-C Power Delivery as well as Fast Charge on newer iPhones. For those in the Samsung ecosystem, it supports up to 55W PPS charging. That's up to roughly 35W of power for the Samsung S20 Ultra & Note 10. If a new, faster standard of USB-C charging emerges, SuperTank Pro can be upgraded to support it.
Importantly, this doesn't have as much to do with the Zendure SuperTank Pro itself, as it does with the inherent nature of USB-C and high-capacity charging as a whole.
SuperPort S4
Included with the SuperTank Pro is a 100W braided USB-C cable, and no AC charger — you still need a 100W USB-C charger to power it up. This is solved with Zendure's new SuperPort S4.
Last time we looked at the original SuperPort, but the SuperPort S4 has a much more compact design thanks to its reliance on GaN tech.
Instead of two USB-C and two USB-A, SuperPort S4 has three USB-C ports and only one USB-A port. It can output a combined 110W of power when spread between all ports but both the top two each support 100W when used alone.
The third port is rated for 20W of power and the USB-A port can handle 22.5W of power. When the first two are used at the same time, the first drops to a max of 60W and the second drops to a max of 45W.
As we mentioned, the SuperPort S4 is a gallium nitride charger, or GaN. GaN replaces silicon used in traditional chargers. We did a whole write up on the benefits of GaN but the short version is that it is more efficient, generates less heat, and can handle higher currents than silicon. As a result of those, it can be much smaller in size.
If we compare the Zendure SuperPort S4 to Apple's own 96W USB-C charger, it is 30 percent smaller, supports more power draw, and has three additional USB ports. If I'm traveling and taking a charger for my Mac, this is the one I'm taking.
Should you buy the Zendure SuperTank Pro and SuperPort S4?
You should hands-down consider both the Zendure SuperTank Pro and SuperPort S4. Zendure has given you two very good reasons to ditch any other charger you own.
SuperTank Pro looks great, is rugged, has an incredible amount of power output, equally impressive power input, and an industry-leading four USB-C ports. The new display is a fantastic visual of all your devices and exactly how fast they are charging.
Its 96.5Wh capacity is also just a hair below the industry standard 100Wh maximum for flights which means you are able to fly with the Zendure SuperTank without any issues.
SuperPort S4 is also welcomed with three USB-C ports and still a legacy USB-A port for anything you haven't quite upgraded yet. A constant complaint of ours is the lack of USB-C ports on chargers. As we've started transitioning all our gear to Type-C, it has been hard to charge them as very nearly all available chargers have at most two Type-C ports.
In our setup, our GoPro, our DJI Osmo Pocket, our Nikon Z7, our iPhone, our Apple Watch, our Zendure SuperTank Pro, our iPad Pro, our AirPods Pro, and our MacBook Pro all charge over USB-C but finding that many Type-C ports is nearly a non-starter. We don't always have all these devices with us, but a regular trip sees us with our Mac or iPad alongside our, iPhone, AirPods Pro, and Apple Watch. Now, all of those can charge at once on the SuperTank Pro or the SuperPort S4.
If we had one change we'd like to see is that USB-A port gone on the SuperPort S4 but at this point in time, the industry is stubbornly hanging on to USB-A. Maybe for the next revision.
New aluminum design
100W input and output — 138W max output
Large capacity but can still go on a plane
Four USB-C ports
Low power mode without having to toggle it on
Support for PPS charging on compatible devices
New display brings transparency to charging speeds
Includes 100W charging cable
Firmware can upgraded
SuperPort S4 is a perfect companion
SuperPort S4 is smaller and more powerful than Apple's 96W brick
Firmware upgrade only works on Windows at the moment
USB-C outputs can get confusing
SuperPort S4 still has one USB-A
SuperPort S4 has less combined output than original SuperPort
Rating: 5 out of 5
Where to buy
The new Zendure SuperTank Pro is now available to back on Kickstarter. It handily surpassed its funding goal within the first 20 minutes. Early backers can save up to 40 percent and snag a SuperTank Pro for $149 during the campaign.
As a reminder, this is a crowdfunding campaign and not the same as a preorder. There is no guarantee that Zendure will deliver on their promised goals. That said, this is Zendure's 10th campaign, all of which were successfully delivered upon. We've also been able to test the SuperTank Pro to ensure the product is real and working.