Mid-size 6.1-inch 'iPhone 12 Max' & 'iPhone 12 Pro' models predicted to ship first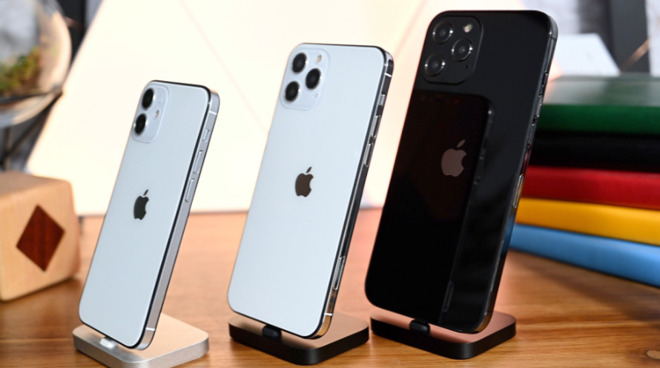 AppleInsider may earn an affiliate commission on purchases made through links on our site.
Shipments of circuit boards are suggesting that Apple could release the 6.1-inch "iPhone 12 Max" and "iPhone 12 Pro" first, with the outlying smaller and larger sizes arriving a bit later.
Rumors and speculation suggest Apple may ship the 2020 iPhones later than usual, and potentially splitting shipment dates between different models. In a report from the supply chain, this assumption seems to be correct.
According to sources of DigiTimes, suppliers of SLP (substrate-like PCB) boards intended for use in the "iPhone 12" range have been increasing their shipments of the components since July and August. While sources believe the models will debut later than normally scheduled, the higher component shipment rate may suggest Apple's suppliers are doing what they can to minimize the delay.
The sources also waded in on the matter of what "iPhone 12" models will ship first, and it seems that size will be more of a factor than whether they are standard or Pro models. It is claimed that SLP shipments meant for models with a 6.1-inch display saw growth in July, while versions intended for 6.7-inch and 5.4-inch screens grew in the second half of August.
It is speculated by the sources that the relevant mid-sized iPhones, the "iPhone 12 Max" and "iPhone 12 Pro," will ship first, followed by the "iPhone 12" and the "iPhone 12 Pro Max." This does seem to be an odd assumption, as it would be unusual for Apple not to supply an "iPhone 12" model at launch, but instead ship variants first.
Digitimes has a mixed track record pertaining to iPhones. While it does well in terms of supply chain and schedule reports, it doesn't fare as well with product features and specifications.
Apple is anticipated to be issuing a press release on Tuesday, one that is likely to offer details as to when Apple will hold its annual special event.
As well as having different sizes of OLED display, the Pro models are anticipated to have support for 10-bit color, which will improve HDR video playback, as well as ProMotion 120Hz refresh rates.
The Pro models are thought to have three 12MP cameras on the back covering telephoto, wide, and ultra-wide angles, while the non-Pro models should have just the wide and ultra-wide versions. The addition of the iPad Pro's LiDAR sensor on the "iPhone 12 Pro" should also assist with augmented reality applications and photography, due to being able to create accurate depth maps.
The "iPhone 12" range is also believed to use a 5-nanometer "A14" SoC with double the transistors of the A13, 4K slo-mo video support, an enhanced night mode, 5G connectivity, and a potentially smaller TrueDepth notch in the display.