Apple debuts one-piece Solo Loop, Braided Solo Loop along with Apple Watch Series 6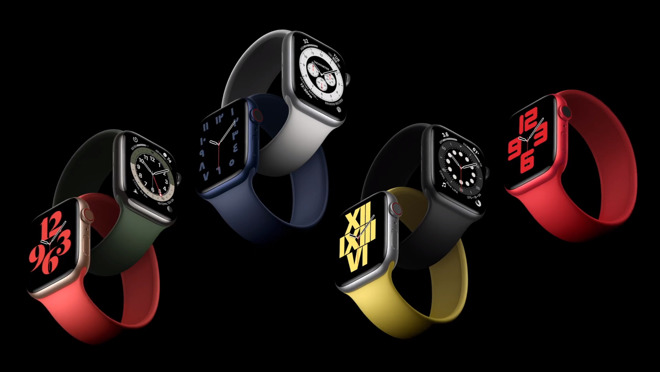 AppleInsider may earn an affiliate commission on purchases made through links on our site.
Two new one-piece stretchable bands for the Apple Watch have debuted at Apple's Time Flies event — the Solo Loop, and the Braided Solo Loop.
Apple on September 15, among its announcements about the Apple Watch Series 6, unveiled the Solo Loop, a new stretchable watchband, as well as a new Braided Solo Loop.
"Traditional watch bands have a clasp or buckle, and they're limited to a few preset sizes for fit," Apple's Jeff Williams said at the event. "Well today, we're excited to introduce something completely different. We call it the Solo Loop."
"The Solo Loop is remarkably simple- no clasp, no buckle, no overlapping parts. Just one continuous piece," Williams added. "Made from custom liquid silicone, the Solo Loop is flexible, so you can easily slip it on and off your wrist."
Williams also said that the style is so comfortable, that "we did another version called the Braided Solo Loop. It's made from 100 percent recycled yarn that's metiticulously braided with silicone threads." The Braided Solo Loop will come in five colors.
Pricing is not yet available.
"In an industry first, the ultralight Solo Loop introduces a continuous and stretchable band design that comes in two materials: soft silicone and braided yarn. A special UV treatment process used on the soft silicone of the Solo Loop creates a smooth, silky finish, while a precision-braiding machine interweaves the 16,000 polyester yarn filaments, made of 100 percent recycled material, with ultrathin silicone threads, giving unique stretchability and a distinct look to the Braided Solo Loop," Apple said of the new product.
"To ensure the best fit, a new sizing system offers nine available lengths for the Solo Loop styles. The first-of-its-kind Leather Link wraps elegantly around the wrist, effortlessly attaching on the other side with flexible molded magnets."
The two new Solo Loops are compatible with Apple Watch Series 4 and later. The (PRODUCT)RED edition will be available in October.
This story is breaking. Update for the most current information