'Apple Express' store streamlines online order pickups, Genius Bar appointments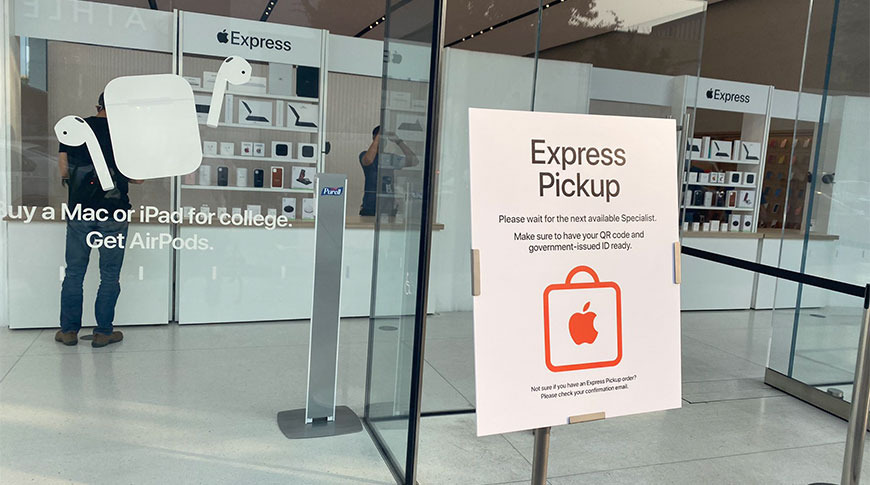 Apple is trialing a new in-and-out store concept in California as it prepares for an unprecedented annual fall hardware launch cycle set to take place in the era of coronavirus.
Dubbed "Apple Express," the reimagining of Apple's brick-and-mortar operation has whittled down the retail experience to two essentials: order pickups and Genius Bar appointments.
As seen in photos posted to Twitter by PopVox co-founder and CEO Marci Harris, Apple's Burlingame store has been transformed into a makeshift hub for express pickups of online orders and one-on-one Genius Bar sessions. Both services are available by appointment only.
A temporary partition erected just inside the store's glass doors features wood counters, display cases and room for at least four staffers. Store employees are positioned at six-foot intervals along the facade behind what appears to be plexiglass barriers. A small pass-through section is situated at counter level, while a speaker system provides a means of communication at each window.
Product display cases containing iPhone and iPad accessories, AirPods and other devices separate the service stations. Black dots on the floor indicate where customers should stand in order to stay at a safe distance from other visitors.
While not explicitly noted on store signage, occupancy appears to be limited to one customer at a time per window. Those with appointments are welcomed to queue up outside.
Customers who opted for Express Pickup when checking out through Apple's online store or app are asked to present their QR code receipt and government-issued ID to a store representative. A separate sign displays QR codes that lead to Apple's support app and Apple.com.
According to Harris, Apple Burlingame is the first store to test the new system.
9to5Mac reported on "Apple Express" without attributing Harris' tweet on Monday.
Whether Apple plans to expand "Apple Express" to other outlets remains unclear, though the company's lucrative retail operation has been severely impacted by the ongoing coronavirus pandemic. While stores in some regions have reopened, the situation is more fluid in the U.S., which has yet contain the virus.