Lawsuit claims Apple appropriated idea for diverse emoji characters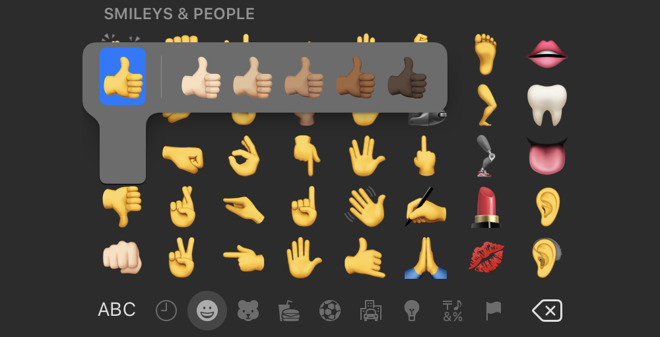 AppleInsider may earn an affiliate commission on purchases made through links on our site.
Apple has been hit with a lawsuit claiming that its ethnically diverse emoji characters willfully infringe on existing copyrights.
The complaint, filed Friday in the U.S. District Court for the Western District of Texas, claims that plaintiff Cub Club Investment (CCI) developed "the world's first diverse emoji" brand in 2013. CCI holds more than 20 copyrights covering diverse emoji, and has three pending patent applications and it launched an app, "iDiversicons," on the App Store the same year.
According to the lawsuit, Apple willfully stole the idea of diverse emoji and used it in its own platforms without permission.
Beginning in 2013, CCI said it pitched the ethnically diverse emoji idea to the Unicode Consortium — the trade organization responsible for the emoji standard. Apple, who is a member of the consortium, attended those meetings. Meetings between CCI and the Unicode Consortium took place in 2013, 2014, and 2015.
Furthermore, CCI said it met several times with Apple representatives to discuss a partnership between the two companies. Discussions fell through when Apple allegedly decided against a partnership and proceeded to develop its own diverse emoji designs.
In March 2014, Apple was said to be planning an update to its emoji characters to bring a wider selection of ethnic diversity. In November of that year, the Unicode Consortium revealed draft proposals for a range of emoji skin tones.
According to CCI's complaint, the first letter to Apple about a potential partnership was sent on March 27, 2014, two days following reports that the tech giant was considering development of diverse emoji. Apple ultimately launched the emoji designs with a five skin tone pallet selector as an addition to iOS 8.3 in 2015.
The complaint accuses Apple of copyright infringement, trade dress infringement and false designation of origin, and common law unfair behavior, among other counts.
It seeks a finding that Apple infringed CCI's copyrights; a permanent injunction preventing the company from doing so; an account of profits and advantages from the copyright infringement; and damages suffered as a result of the infringement.