Online Apple Store to launch in India on Sept. 23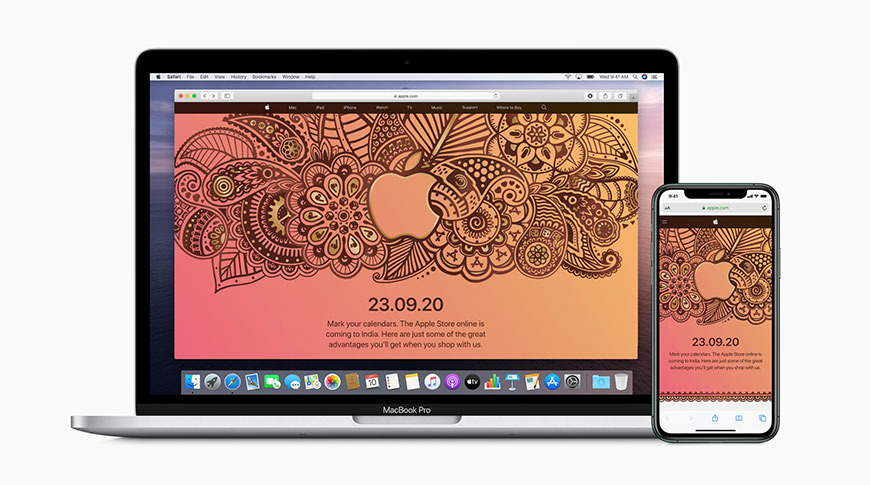 Apple on Thursday announced a major expansion to its India operations, saying it will open online sales in the country on Sept. 23.
The online storefront will deliver Apple's full array of products and support services directly to customers for the first time. Touted as a "premium experience," Apple Store online in India is set to be staffed by Apple Specialists who can offer assistance with retail orders, device set up, product information and more in both English and Hindi, the company said.
"We're proud to be expanding in India and want to do all we can to support our customers and their communities," said Deirdre O'Brien, Apple's senior vice president of Retail + People. "We know our users are relying on technology to stay connected, engage in learning, and tap into their creativity, and by bringing the Apple Store online to India, we are offering our customers the very best of Apple at this important time."
Apple's launch brings with it financing options and the company's trade-in program. While the iPhone maker's products are highly sought after, their top-tier price has inhibited significant growth in the Indian market. Programs that present affordable financing options could help Apple garner a larger slice of the pie, especially in the important smartphone segment.
Additionally, students can take advantage of special pricing on Mac and iPad products, as well as receive discounts on accessories and AppleCare+, Apple said. The company also notes it is fielding teams to support local remote learning organizations during the coronavirus pandemic.
Though Apple does not yet operate a brick-and-mortar shop in the region, the company still plans to bring informative Today at Apple sessions to customers via free digital presentations. Creative Pros are slated to deliver initial classes focused on photography and music in October.
Apple is also offering "signature" gift wrap and personalized engraving on select products. AirPods, for example, can be emblazoned with emoji or text in English, Bengali, Gujarati, Hindi, Kannada, Marathi, Tamil and Telugu. Engraving is available for iPad and Apple Pencil, but is restricted to English text.
Similar to coronavirus precautions taken in the U.S. and other countries, Apple Store orders in India will ship with contactless delivery. This means orders that do not require a signature will be left at the customer's door, while those that do replace signatures with verbal confirmation.
Apple has been active in India for more than 20 years, with investments like an iOS app design and development accelerator in Bengaluru currently supporting nearly 900,000 jobs in the country, the company said.
The coming online store opening is years in the making. Until recently, India's strict product sourcing and import regulations stood as roadblocks to an Apple foray in retail.
Apple originally planned to open the Apple Store online shortly after India relaxed commerce laws for international corporations in 2019. Following an extensive delay, reports in August claimed the company was ready to move forward with its retail plans.
As it steps further into India's retail space, Apple intends to open a flagship store in Mumbai in 2021.