Here are the 217 Emoji arriving on the iPhone and iPad in 2021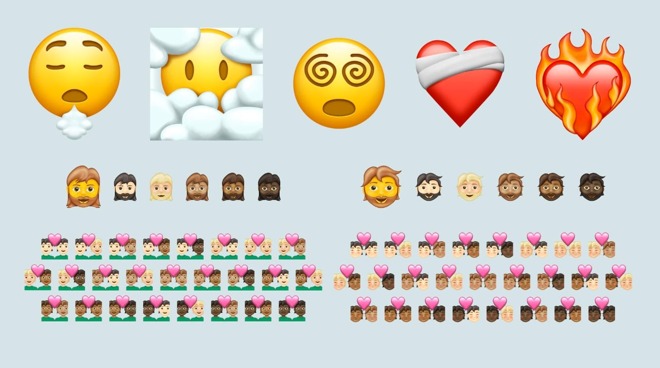 AppleInsider may earn an affiliate commission on purchases made through links on our site.
Following the introduction of new emoji as part of the recent launch of iOS 14, attention has turned to a new batch of 217 emoji characters that have been approved by the Unicode Consortium, which will be available to use on iPhones in 2021.
The approved symbols reflects a relatively minor release by previous standards, as it is a partial release for version 13.1 and not Emoji 14. The Emoji 14 release has been delayed until 2021, which equates to its inclusion in iOS in 2022.
Emoji 13.1, as previewed by Emojipedia seems to be substantial with the 217 characters, but in fact it is made up of far fewer symbols. The vast majority of the characters are repetitions, to take into account different combinations of skin tone.
The core symbols in the version without skin variations are a heart on fire, a heart in bandages, a face in clouds, a face exhaling, and a face with spiral eyes.
The rest featuring skin tone changes are for a man or woman with a beard, and a considerable number of variations of "Couple with Heart" and a couple kissing.
For the current version, Emoji 13.0, Apple has already rolled out the symbols to users, which can be included in Messages conversations and other text-based apps. The 117 symbols include gender-inclusive characters, new animal options including a black cat and a mammoth, and food emoji such as the bell pepper, flatbread, and a tamale.