Compared: Apple Watch Series 6 Graphite versus Apple Watch Series 5 Space Black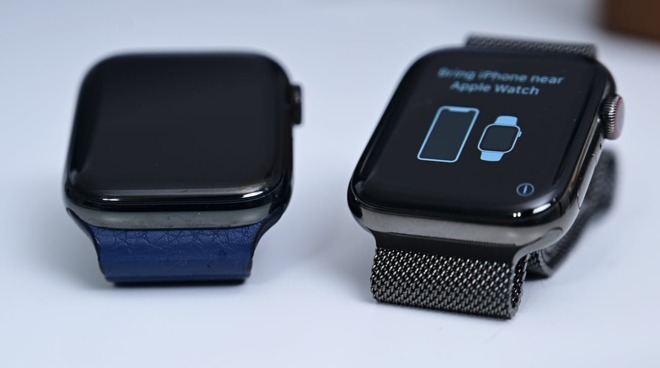 AppleInsider may earn an affiliate commission on purchases made through links on our site.
Along with specification changes, Apple also altered its darkest color option for the Apple Watch Series 6, switching out Space Black for Graphite. We check out how truly different the change is for those wanting an all-black Apple Watch setup.
The new Apple Watch Series 6 is offered in a choice of three materials, but with a wide variety of colors. While the new Red color arguably got the most attention, a quiet change was made to the stainless steel case for its black model, switching out the previously-available Space Black option in favor of a new version, Graphite.
Given the name, it is intended to be the black-colored variant of the range, but it is a departure from the Space Black offered in the Apple Watch Series 5. The change to Graphite is also unusual as it only applies to the stainless steel model, with the titanium case still offered by Apple with a Space Black coating.
There is an exception to this, as it is possible to get a Space Black Stainless Steel Apple Watch Series 6, but only when bought as one of the Hermes editions, making it relatively expensive.
This change may be a small subtle difference for many, but as some people have already acquired Space Black accessories to go with their Space Black Apple Watch Series 5, the switch to Graphite may be a bit of a problem for some.
With that in mind, AppleInsider compared the Graphite stainless steel Apple Watch Series 6 against its predecessor, the Space Black stainless steel Apple Watch Series 5, to see exactly how much of a change has taken place.
Apple Watch Series 6 vs Apple Watch SE vs Apple Watch Series 5 - Specification
Apple Watch Series 6
Apple Watch SE
Apple Watch Series 5
Price (starting)
$399
Lowest Apple Watch 6 prices
$279
Lowest Apple Watch SE prices

$399
Lowest Apple Watch 5 prices

Sizes
40mm, 44mm
40mm, 44mm
40mm, 44mm
Display
Always-On Retina
Retina
Always-On Retina
LTPO OLED
Case Materials
Aluminum,
Stainless Steel,
Titanium
Aluminum

Aluminum,
Ceramic,
Stainless Steel,
Titanium
Processor
S6
S5
S5
Heart Sensor
Blood Oxygen Sensor
With ECG
Second-generation
optical heart sensor
Second-generation
optical heart sensor
with ECG
Water Resistance
50m
50m
50m
Battery Life
Up to 18 hours
-
Up to 18 hours
Recharging
Wireless
Wireless
Wireless
Connectivity
Wi-Fi,
Bluetooth 5.0
Wi-Fi,
Bluetooth 5.0
802.11n 2.4GHz,
Bluetooth 5.0
Other Sensors
GPS
Compass
Barometric altimeter
Accelerometer
Gyroscope
Ambient light sensor
GPS
Compass
Barometric altimeter
Accelerometer
Gyroscope
Ambient light sensor
GPS/GNSS,
Compass
Barometric altimeter,
Accelerometer,
Gyroscope,
Ambient light sensor
Graphite Apple Watch Series 6 vs Space Black Apple Watch Series 5 - Case changes
Just looking at the cases alone without bands, the difference is subtle enough for people giving it a close examination, though lighting conditions will also help or hinder telling the two colors apart. Under even studio lighting, the difference is very apparent, with Graphite being lighter.
In some light, the Graphite can border on seeming silver, such as in bright sunlight. Given there's a Silver version of the Series 6 on sale, it could make some Apple Watch buyers torn between purchasing Graphite and Silver at first glance due to the vague similarity.
Even so, it is still noticeably lighter in different environments, and it really demonstrates why Apple opted for Graphite instead of a name using the term "black." If there wasn't a Series 5 in Space Black nearby to directly compare against, most would consider Graphite to be near enough black-colored for their style.
Though it is lighter than the Space Black, Graphite is still quite dark. When put against the aluminum Space Gray model, the Graphite Stainless Steel model is not only darker, but also much shinier than the matt finish of its lower-priced counterpart.
Graphite Apple Watch Series 6 vs Space Black Apple Watch Series 5 - Accessories
While the Graphite Apple Watch may not necessarily be compared against its Space Black counterpart all the time, the shade difference may be more apparent on a day-to-day basis if it is paired with existing accessories. It is likely that someone who has invested in a collection of Space Black accessories may want to use them with the new Apple Watch model.
Depending on the band, this may not necessarily be an issue, but one telltale area are the lugs that slot into the Apple Watch casing. Black lugs on a band or strap will seem much darker than the Graphite case color, which will stand out when closely examined.
Unless you're extremely particular about color matches and deep down are troubled by the mismatch of black lugs against the slightly lighter casing, there's not much to worry about, and most other people won't really notice it either.
A more obvious issue would be if the main body of the band is black, as that may make the Graphite casing stand out as lighter. For existing owners of a Space Black Milanese Loop wanting to reuse it, this may be a small problem.
The level of this can be demonstrated in reverse in this photograph, which shows the Graphite Milanese Loop on the Space Black Apple Watch Series 5. The texture does help hide the disparity, but you can still tell there's a lightness change.
Obviously, the Graphite Milanese Loop matches the Graphite Apple Watch Series 6 perfectly.
Is this a problem?
The problem of shade changes between generations of device isn't a massive issue, but it can be irksome. If you have spent a lot on accessories so you can have the perfect black Apple Watch configuration, the slightly lighter Graphite model could be a nightmare, though most will probably shake it off as a minor inconvenience.
There are ways around it for those desperate for perfection, but that typically involves considering alternative options. You could get a matching Graphite Milanese loop to get over most of the hurdle, or alternately you could pay more to shift to the titanium models or Hermes if Space Black is an absolute must-have personalization.
For the vast majority of Apple Watch owners, they will probably acknowledge the difference, embrace it, and then carry on using their existing accessories.
Apple Watch 6 pricing and deals