Delivery dates already slipping for iPhone 12 Pro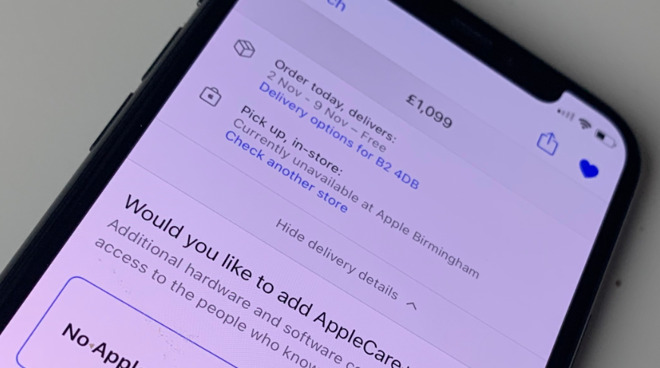 AppleInsider may earn an affiliate commission on purchases made through links on our site.
A seemingly very busy pre-order period for Apple is being reflected in how the iPhone 12 Pro, in particular, is already seeing its estimated delivery dates moving back across the world.
The Apple Store didn't start taking pre-orders for the iPhone 12 and iPhone 12 Pro until some minutes after the advertised 08:00 ET time. Then it appears to have immediately been hit with more orders than can be fulfilled by the earliest delivery date of October 23.
Customers in the UK report that within three to four minutes, some models and configurations saw delivery dates slipping back one and then two weeks. US customers appear to have fared better, but worldwide it appears that Apple is already unable to keep up with initial demand on time.
AppleInsider has taken a snapshot of the delivery times as they stood two hours after pre-orders began. Different configurations of model, capacity, and so on will be different.
For a comparative sample, though, we've checked out delivery dates for the iPhone 12 in blue with 128GB, and the iPhone 12 Pro in blue with 256GB. These are both the middle configurations available, and we checked them across the US, UK, France, and Australia.
iPhone 12
The good news for US customers is that it's still possible to get the iPhone 12 delivered by October 23, assuming you order soon. There is also an option for collecting in-store and a random sampling of possible stores from New York to Los Angeles is showing the same October 23 date, as of October 16, 10:40 AM. ET
In France and Australia, the date is no longer shown as October 23, but instead listed as 5-7 working days. That "working days" part is key, as it means the date may actually have slipped to Monday 26.
That's still better than the situation in the UK. There the iPhone 12 is now available for delivery on November 2-9 at the earliest.
However, across France, Australia, and even the UK, the iPhone 12 remains officially available to be picked up in-store on October 23. For the moment.
iPhone 12 Pro
Again, American customers are fine. An iPhone 12 Pro ordered at time of writing will still arrive for delivery on October 23, and will also be in stores then.
Curiously, the iPhone 12 Pro in this middle configuration cannot be picked up at all from any of 20+ the UK stores we checked. It's not clear whether it ever was, but right now the only way to get this model in the UK is to order it delivered.
And when you do that, currently the quoted delivery date is November 2-9. That's between just over two weeks and just over three weeks later than October 23.
Both France and Australia are showing in-store pickup available on October 23, again in the stores we checked. However, delivery times for this model are now quoted as 2-3 weeks.
There's no obvious reason why some territories will list specific dates, such as November 2-9, and others will state a number of weeks. It's possible that it's purely how each country prefers to show dates, or it could be that weeks are shown when it's not yet precisely clear when an order will ship.