Hands On: iPad Air 4's display, Touch ID change pushes the line forward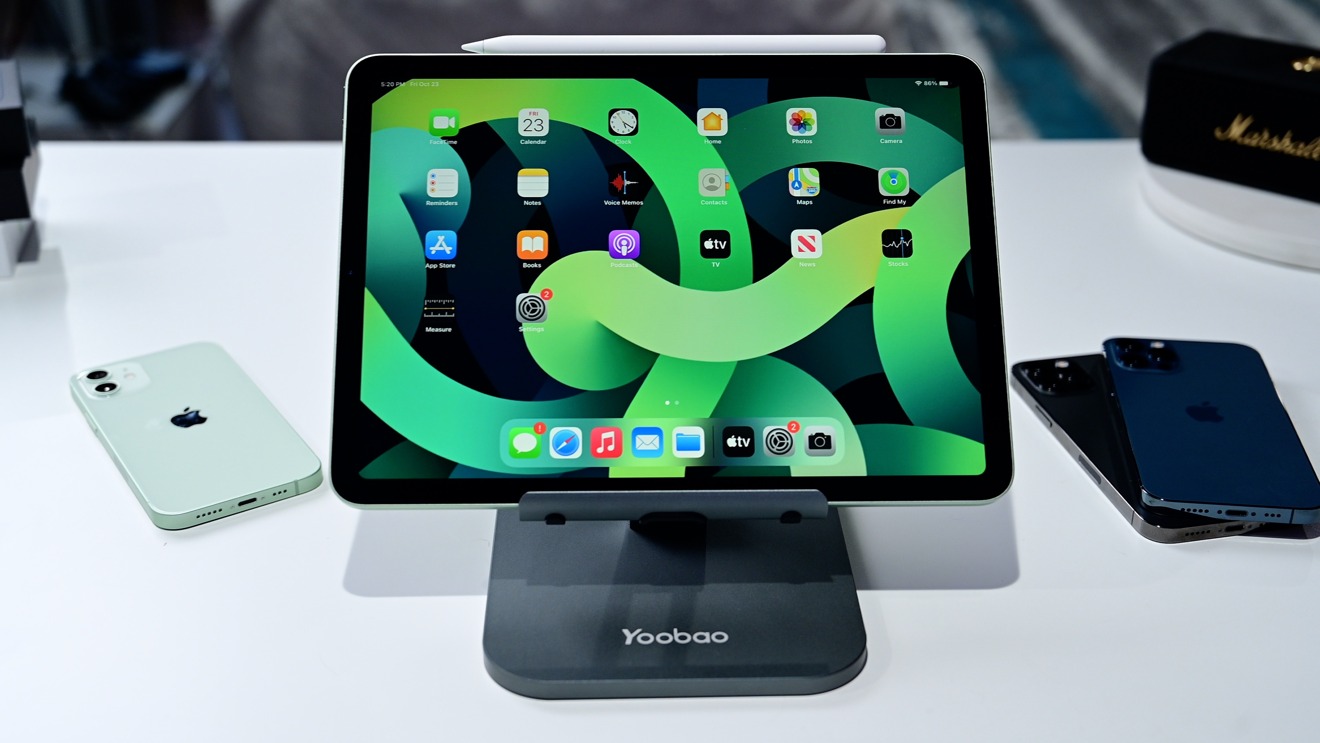 Apple's fourth-generation iPad Air is finally here after being announced at Apple's September event, with the massive overhaul of the Air including a ton of changes. We take Touch ID and other features for a spin.
We have just started to review this tablet, but even in our short time, it is very apparent that this is the new default iPad for nearly everyone. Here's our take on the biggest new features.
A 14 Bionic processor
Having a tablet that is both faster and will work for years is hugely important, especially when picking up a tablet that costs north of $500. That's why Apple didn't skimp on performance by including the A14 Bionic processor, the same found in the new iPhone 12 line.
It is faster in many operations than the current-generation iPad Pro line, with the opening of tasks and multitasking feeling fluid and effortless. The A12Z on the iPad Pro has more cores, so it is quicker when exporting videos or dealing with massive RAW images
Touch ID
The last-gen iPad Air had a dedicated Home button that featured Touch ID biometric authentication. This 2020 iPad Air still has Touch ID, but has ditched the Home button altogether by integrating it into the sleep/wake button.
Apple has included a lot of nice touches to the setup and use of the reimagined Touch ID experience. For example, during setup, there is a small pulsing box on the screen just below the physical button, to make it clear where Touch ID is. Furthermore, depending on the iPad's orientation, it asks you to rotate the iPad either horizontally or vertically to enroll another finger.
In use, you would probably use your right index finger for Touch ID when the iPad Air is vertical and you'd use the left index finger when the iPad is horizontal. It's great that this was built in to the whole onboarding process.
Another new feature in Touch ID is that you can place your finger to authenticate, then rest it a second time to open your iPad and go to the Home screen. This is very convenient because the alternative would be moving your hand to the top to authenticate with Touch ID, then moving it back down to the bottom to swipe up, making the new method appear more seamless in our time using it.
Connectivity
Connectivity took a big leap forward with the iPad Air, as both Wi-Fi and the physical port were upgraded.
USB-C arrives on the iPad Air, meaning it is no longer an iPad Pro exclusive feature. This means you can use USB hubs, USB-C storage devices, USB-C monitors, and almost any USB-C charger.
It is also possible to charge your iPhone or Apple Watch from the iPad Air's USB-C port.
Included in the box is a 20W USB-C power brick, which provides a lot of juice. This charger first debuted with the new 2020 iPad eighth-generation, while iPad Pro is still stuck at only 18W.
Wireless has been upgraded to Wi-Fi 6, which should bring improvements to battery life and faster speeds.
Display
Part of the overall redesign of the tablet is a move to the gorgeous Liquid Retina display. Liquid Retina is Apple's marketing term applied to a display that meets the Retina classification for pixel density, that also has rounded corners rather than sharp right-angles.
It looks fantastic here, and goes a long way towards making this iPad Air look like a modern machine rather than being stuck in the past. The bezels are also smaller, which benefits the new appearance that feels much more akin to the iPad Pro.
The overall size of the display has also increased, moving from 10.5-inches to 10.9-inch. This doesn't seem like a big change, but the display feels larger in use due to the small bezels.
Camera
Apple has jumped from a paltry 8MP sensor to a new 12MP camera system. This makes a big difference in photographs, which have less grain and are higher resolution than before.
We also see the difference when it comes to video modes. Instead of just 1080p, iPad Air can shoot in 4K at 24, 30, or 60 frames per second.
Slo-mo video has jumped too, going from 720p to 1080p at 120 or 240 frames per second.
It is still slightly awkward to shoot video or photos on an iPad, but when it is in your hands and you have a perfect shot of your kid or pet, it is nice to know that you won't get a garbage picture.
Accessories
For this new iPad Air, Apple has included support for Magic Keyboard, which gives users the option of going with any third-party physically connected or Bluetooth keyboard, Apple's Smart Keyboard Folio, or the Magic Keyboard. It spans the gamut from affordable to high-end which is absolutely what we love to see.
Magic Keyboard is still the cream of the crop with the levitating display, additional USB-C port, and an integrated glass trackpad.
With the Lightning port gone, so is support for the original Apple Pencil. iPad Air supports the second-generation Apple Pencil, which has a ton of additional features.
Apple Pencil 2 charges using induction by magnetically connecting to the side of the iPad Air, which works with the new flat sides.
Colors
Finally, the colors of the iPad Air are all new. We still have the same space grey and silver but they are now accompanied by sky blue, green, and rose gold. So far, we got our hands on the green and it looks striking if not a little lighter than we expected.
Apple has never done colors such as these for iPad before and it is a great way to not only show off you have the new iPad Air, but to express yourself.
Deals on Apple's new iPad Air
Apple's iPad Air starts at $599, but the lowest iPad Air price points are at your fingertips in the AppleInsider Price Guide.