HyperDrive Gen2 Thunderbolt 3 docking station provides 8K support, optical audio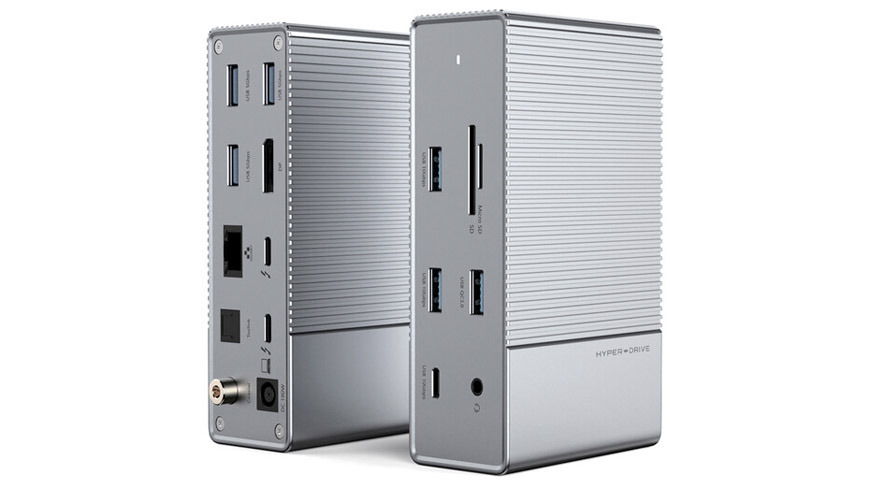 Hyper has released a new Thunderbolt 3 docking station, featuring 16 ports geared toward professional users who need unparalleled connectivity and performance from their devices.
The HyperDrive GEN2 Docking Station boasts a DisplayPort 1.4 port that supports a single 8K device for compatible hardware, or two 4K displays for Mac, allowing users to easily connect two displays for more workspace. For those who have a collection of legacy devices, this dock features multiple USB-A ports — two USB-A 10Gbps 5V/900mA ports, three USB-A 5Gbps 5V/900mA ports, and a quick-charge only USB-A QC 3.0 18W port.
A 40Gbps upstream Thunderbolt 3 port provides 85W of power delivery. In contrast, a 40Gbps downstream Thunderbolt 3 port acts as a DisplayPort 1.4, provides 15W of power, and enables users to daisy-chain up to six Thunderbolt 3 devices together. Both Thunderbolt 3 ports are backward-compatible with USB-C devices. Also included is an additional USB-C port, boasting 10Gbps transfer speeds and 5V charging capabilities.
A gigabit Ethernet port supports 10Mbps/100Mbps/1Gbps networking, while a dual MicroSD/SD 4.0 card reader cuts down on the number of adapters you need to keep track of.
The HyperDrive GEN2 Docking Station also includes 96KHz/24bit Digital Coaxial Audio, 96KHz/24bit Optical Toslink Audio, and a 96KHz/24bit 3.5mm audio jack.