Apple VPs talk new M1 Mac development, Intel relationship, and more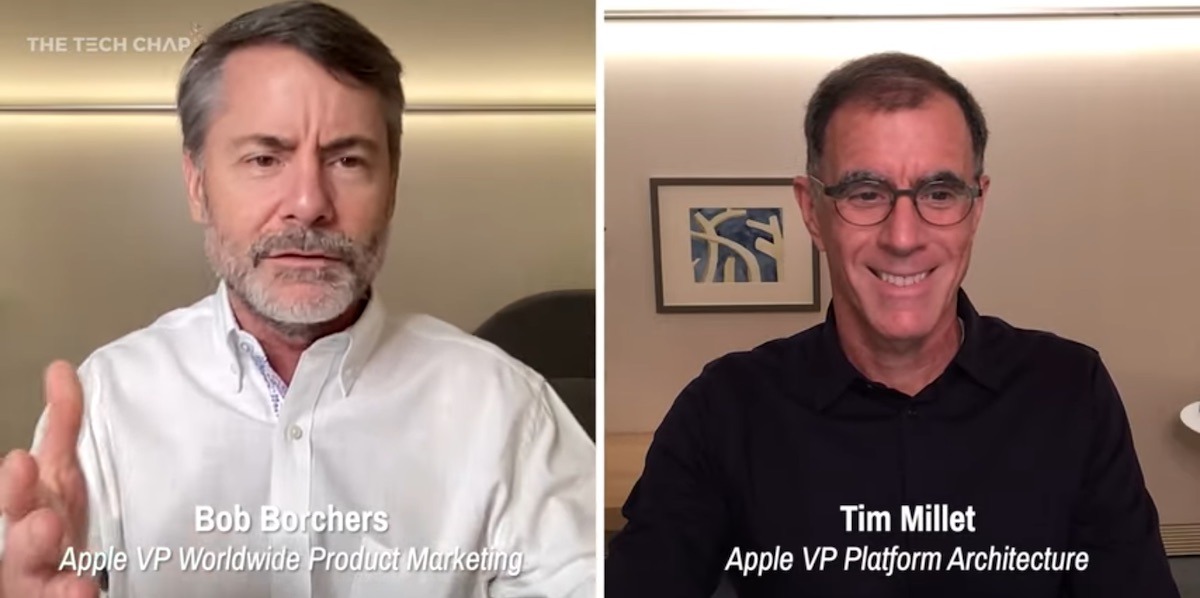 A pair of Apple vice presidents offered more details about the development and performance of the company's M1 Apple Silicon chip in a new interview.
Apple VP of Platform Architecture Tim Millet and Apple VP of Worldwide Marketing Bob Borchers sat down via video call with YouTube channel The Tech Chap to discuss some of the intricacies of the M1 and the new Apple Silicon lineup.
"M1 is a huge step forward in terms of performance for Macs," said Borchers. "And in very real ways, whether's it battery life, graphics performance, or just CPU. We are talking multiples increase over previous generations."
Millet, a part of the team who works on Apple Silicon, explained how the gains made with M1 stemmed from the Platform Architecture team's work on Apple A-series chips.
"What we knew going in when we started building chips for the phone was these were incredibly thin and light beautiful works of art that our industrial design team creates," Millet said. "We don't get to tell them to increase the size of the product, increase the battery to deliver better performance."
The job of Millet's team then was to "figure out how to deliver that performance within the constraints of the system," adding that performance that doesn't translate to the real world within those constraints "doesn't matter."
When asked about the potential confusion for consumers about the differences between Apple Silicon and Mac chips, Borchers said the first step with M1 was to bring the proprietary chip design to some of Apple's most popular models.
"It is a transition that will take time, so there are places where we wanted to continue to offer Intel processors and additional choice," said Borchers.
Some of that additional choice could be users who need four ports on their Mac portables, or users who want to upgrade internal memory up to 32GB.
When asked about whether the M1 would be a 10W or 15W chip, Millet said "I think you'll see across the different array of machines that we announced yesterday, you're gonna see M1 at its best in every one of those enclosures."
As an example, the M1 is able to fit in the enclosure of the MacBook Air. But with the addition of a fan in the 13-inch MacBook Pro and Mac mini models, users will see "a different level of performance," Millet added.
At another point in the interview, Millet also expanded on how the M1 chip's unified memory carries a number of benefits over traditional RAM.
"The CPU gets a much wider memory system to allow multi-threaded applications across our eight cores. They're going to be unconstrained by memory bandwidth," Millet added. "And the GPU has a high-capacity memory system getting its high bandwidth."
When asked about whether Apple is still "friends with Intel," Borcher said that the two companies still have a "great relationship" and that Apple still plans to ship "amazing Intel systems."
The full interview is about half an hour and is worth a watch for anyone interested in some of the more technical details about the M1.