iPhone 12 Pro has best iPhone camera yet, fourth best smartphone camera overall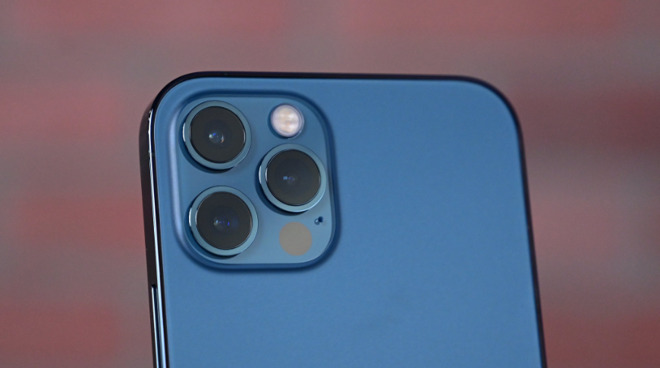 AppleInsider may earn an affiliate commission on purchases made through links on our site.
The iPhone 12 Pro scores within the top 5 smartphone cameras and beats out the iPhone 11 Pro Max in DXOMark's testing system because of consistent performance and autofocus strengths.
DXOMark is a camera grading platform that uses consistent tests across different camera platforms in an attempt to catalog the world's best cameras. The iPhone 12 Pro scored an overall 128 points, which results from 135 in photo tests and 112 in video, placing it at number 4 in their smartphone camera ranks.
The testing company's biggest complaint was related to a lack of a better zoom lens and artifact issues in some lighting conditions. The addition of Dolby Vision to video and improved stabilization makes the iPhone 12 Pro one of the best smartphones for capturing video.
DXOMark notes how they perform tests across platforms:
For scoring and analysis in our smartphone camera reviews, DXOMARK engineers capture and evaluate over 3000 test images and more than 2.5 hours of video both in controlled lab environments and in natural indoor and outdoor scenes, using the camera's default settings.
iPhone 12 pro autofocus exposure and contrast
The iPhone 12 Pro performs well in most conditions, but DXOMark notes issues with clipping in shadows and highlights. The iPhone tends to underexpose the foreground to save the background in outdoor shots, which also leads to shadow clipping in subjects.
DXOMark also notes limited dynamic range in low light situations which leads to highlight clipping and loss of detail.
iPhone 12 pro color
The iPhone does well with color and is generally accurate, though the testers note that some outdoor situations cause a blue or green cast over the image. In the example provided the iPhone has a strong blue color cast while the Samsung Galaxy Note20 Ultra 5G has a more consistent color render.
iPhone 12 pro autofocus
DXOMark says that LiDAR makes autofocus incredibly fast and accurate. In all lighting conditions the iPhone is consistently able to identify the subject and focus even in difficult situations. When compared to other models, the iPhone consistently focused around 400ms vs the Galaxy Note20 Ultra 5G at 800ms, and the Huawei P40 Pro hitting a range between 900ms and 1,400ms.
The testing goes on to cover the iPhone camera's less favorable attributes like poor noise reduction in some scenes and slight artifacting in different situations. DXOMark notes that the 2X telephoto lens is not enough when compared to what other smartphones offer, but accuracy and speed make up for that difference.
The video score shows that the iPhone camera performs well in all lighting conditions and the HDR video recording helps. Video comes out color accurate with natural skin tones and decent noise levels.
Even though the iPhone 12 Pro is not the top-of-the-line model in 2020, it beats out the 2019 iPhone 11 Pro Max in most tests and lands in the DXOMark top five. DXOMark notes that the iPhone 12 Pro Max camera review is planned for a future article.