Cyber Monday Mac App Deal: get Parallels Desktop Pro, Luminar 4, plus 10 other apps for just $42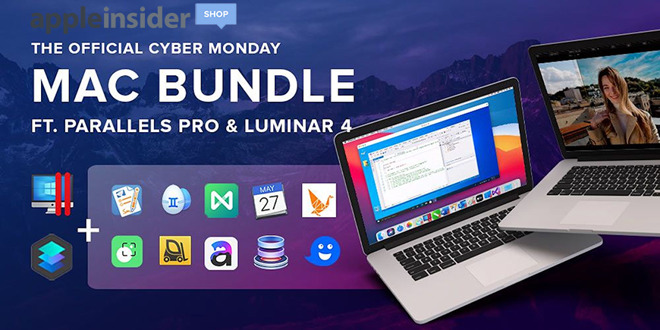 AppleInsider may earn an affiliate commission on purchases made through links on our site.
If you want to run Windows on your Intel-based Mac, you can't afford not to pick up this bundle of 12 Mac apps worth over $1,266, which includes one year of Parallels Desktop Pro. Snap up the Cyber Monday Mac app bundle for just $42 with coupon.
The collection is headed up by Parallels Desktop Pro, the well-known tool for running Windows applications on your Mac, without needing to use Boot Camp or having to acquire a separate and dedicated Windows-based computer. Given that Parallels Desktop Pro is usually $99.99, that alone makes this an astonishing deal before you take into account what else is in it. Please note: The bundle includes a 1-year license that automatically renews, but users can cancel
Another well-known Mac app in the collection is Luminar 4, a $79.99 photo editor that takes advantage of artificial intelligence to improve your photographs. The software assistance will help make your edits go faster, as it handles tasks such as sky replacement, enhancing portraits, and inserting sunrays into landscapes, among others.
Other highlights on the list include Goose VPN, language learning from uTalk, the duplicate-deletion tool Gemini 2, logo creation app Art Text 4, and calendar management app BusyCal 3.
This thousand-dollar pile can be bought for just $42 when you use the link and promo code APPLEINSIDER40 at checkout.
The bundle contains the following apps:
Parallels Desktop Pro ($99.99 value, 1-year license): Run thousands of Windows programs on your Mac
Luminar 4 Photo Editor ($79.99 value): Use the power of AI to streamline your editing workflow & create perfect photos with a single click
PDFpenPro 12 ($129.95 value): Add text & signatures, make corrections, OCR scanned docs and more, just like PDFpen
Goose VPN ($499 value): Unlimited devices, encrypted data, secure connection
BusyCal 3 ($49.99 value): Take full control of your tasks with this calendar's time-saving tools
Screen Recorder 2021 ($39.95 value): Record video instruction and tutorials
uTalk Language Learning App ($84 value): Choose two from 140+ languages to learn from any device, any time you want
Mindmaster ($129 value): Choose the best structure, style, theme, & colors to express your ideas
Gemini 2 ($39.90 value): Locate & remove duplicate files tucked away in your storage
Dropzone 4 Pro ($35 value): Open applications, move & copy files faster than ever before
ForkLift 3 ($49.95 value): Split panes horizontally or vertically, or use a single pane
Art Text 4 ($29.99 value): Create professional logos & graphics without technical design experience
Additional Apple deals