Apple developing system to filter radio stations, including AM and FM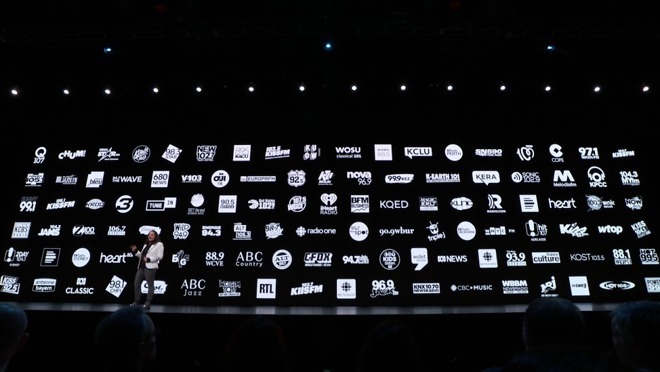 AppleInsider may earn an affiliate commission on purchases made through links on our site.
Apple is working on a system to filter both terrestrial and internet radio stations by metadata or location, hinting at plans that involve AM or FM radio hardware.
The patent application, titled "Radio station provider management systems and methods," describes a simple enough premise. Apple notes that searching through lists of hundreds or thousands of radio stations, including duplicates, "may result in a cumbersome user experience."
As such, Apple details a system that provides "efficient searching and deduplication of the accumulated audio broadcasts from multiple station providers, while taking into account playback rights, location, and/or user preferences."
There's an element of broadness to the patent application. Apple notes that different devices can receive radio broadcasts through various methods, including AM, FM, satellite, and internet. It also points out that streaming services can contract with internet provides to allow terrestrial radio station playback via an internet connection.
Apple's solution here is to provide a searchable radio station directory that eliminates duplicated stations and filters the rest based on metadata. The patent also notes that certain stations could be filtered out by playback availability. That applies to geographical, contractual, or other limitations for specific stations.
For example, a radio provider in the U.S. may not have the broadcast rights to stream in Mexico. As such, the system could filter out that station to users in Mexico. The patent also contends that some filtering could be geographically based. A radio provider could, for example, dictate a 200-mile radius where a radio station will be available. The system would filter out the station for users outside that area.
The patent drawings show off a wide array of Apple devices that could potentially receive these radio station broadcasts. They include figures that look suspiciously like an iPhone, MacBook, Apple Watch, and HomePod.
None of those products contain the necessary AM or FM receivers for terrestrial radio — they all use the internet. In fact, Apple hasn't had a device with the appropriate hardware for terrestrial radio since the iPod nano's brief dalliance with it.
Because of that, it's likely that the patent describes a system that could be easily applied to Apple's existing radio station playback options. HomePod, for example, can access radio stations via streaming providers. Users can also listen to radio stations via Apple Music on other devices.
But the patent specifically notes AM and FM radio as options for receiving a radio broadcast. That appears preemptive in case Apple does integrate terrestrial radio hardware in future devices, like an iPhone with the necessary antennas or perhaps even the vehicle infotainment system on the Apple Car. The patent does explicitly claim the vehicle infotainment system as an option, so it makes sense that AM and FM radio are included as options.
The patent lists Alan Lee, Thomas M. Alsina, and Nathaniel P. Marrin as inventors. Of them, Alsina has credited as an inventor on a previous Apple patent related to a remote control system for an Apple TV.
Apple files numerous patents on a weekly basis, and there's no guarantee that they'll end up in a consumer-facing device. With a patent like this, it's also possible that Apple could never implement the AM/FM functionality and use the directory system for internet streaming.