Here's when users can expect App Store privacy nutrition labels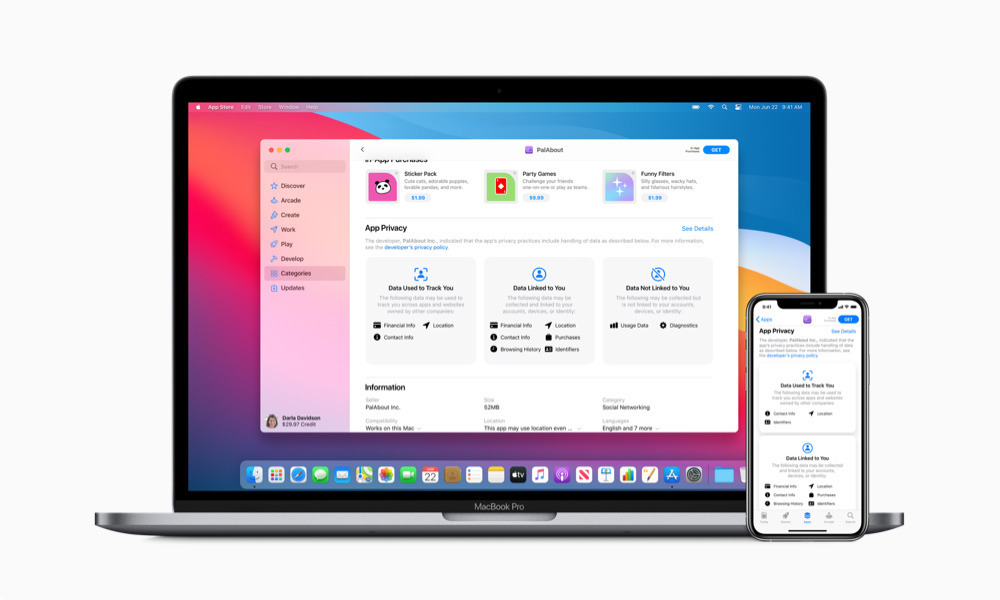 Apple will start requiring developers to include information for App Store privacy "nutrition labels" on Dec. 8. Here's what that means for users.
The privacy information, first announced as an iOS 14 feature in June, will be displayed on an app's App Store page. The goal, Apple says, is to increase the transparency around what kinds of data an app collects, and what happens to that data.
What the nutrition labels will show
Basically, the privacy information is a short and prominent overview of the types of data that an app collects, and what that data is used for.
For example, if an app or an associated third party collects names, email addresses, physical addresses, or payment information from a user, that data will be displayed on an App Store listing.
Similarly, developers will need to let users know how they or a third party use the data. Some of those usage categories include analytics, product personalization, or third-party targeted advertising.
A full list of the data types and usage categories is available here.
These disclosures must also be updated if privacy or data policies change. Apple says that developers are responsible for keeping the responses accurate and up to date. All disclosures and responses must also comply with Apple's App Store guidelines.
When users can expect the nutrition labels
As far as when users can start expecting the privacy nutrition labels to show up, that might take some time.
Apple will begin requiring developers to submit privacy information with new apps or app updates on Tuesday, Dec. 8. However, in a developer update Friday, Apple noted that existing apps will remain available to download.
What that means is that apps that are frequently updated will start showing privacy information sooner than others. Less frequently updated or abandoned apps, on the other hand, may not display that data as soon — or at all. Beyond the Dec. 8 requirement for app updates, the company also hasn't set a hard deadline requiring all apps to have that information.