Belkin's MagSafe Car Vent Mount Pro review: not as 'pro' as we'd like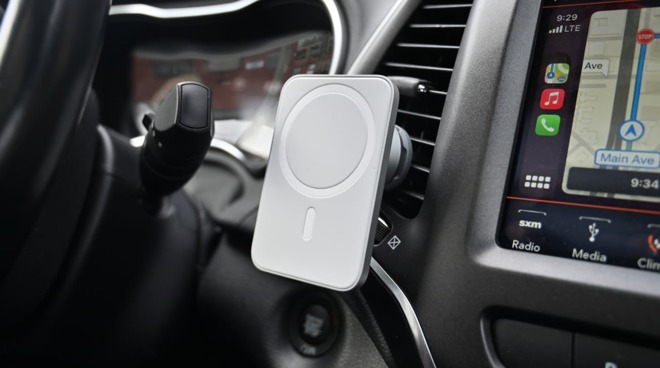 Belkin MagSafe Car Vent Mount Pro
3.0 / 5
---
AppleInsider may earn an affiliate commission on purchases made through links on our site.
Belkin's new car mount is the first official third-party MagSafe mount to start shipping, but with limited functionality, it isn't quite as "pro" as we were hoping it was.
Apple's new MagSafe technology has opened up the floodgates to a whole new ecosystem of accessories that connect to or charge iPhone 12. As the accessory world was largely surprised by MagSafe, no accessories were ready to go with the launch of iPhone 12, sans a few select Apple partners.
Otterbox debuted a line of MagSafe-enabled cases, Scosche launched a few adapters for Apple's MagSafe charger, and Belkin debuted the Car Vent Mount Pro as well as a docking station.
Belkin's MagSafe docking station is still not shipping quite yet, but its car mount has finally started shipping to customers after Apple took the wraps off on stage at the Steve Jobs Theater.
Finally something new for the car
Car vent mounts are a pretty boring accessory category. You've got the typical clips that hold the phone on the sides, and you have ones that are magnetic but require you to add a shim or a sticker to the back of your device.
Thanks to MagSafe, we now have a new option that is better than anything we've had before. The magnetic ones we had before always required the shims, and the clips could be a pain to hold your phone or were bulky.
When relying on MagSafe, no additional shim or sticker is required, and it couldn't be easier to place or remove your phone.
It is finally something new that is simple and reliable. We'd still say it is a fairly unexciting accessory, but one we use frequently enough to care about.
Belkin's MagSafe car mount
A car mount only has to do a few things well, and Belkin's offering is functionally solid, but there are a few ways it falls short.
When we first saw Belkin's MagSafe mount, we thought it was made of metal. It has a matte silver finish that looked just like anodized aluminum.
That's absolutely by design, but does leave us disappointed when we pick it up and feel the light and warm plastic.
The magnetic front panel of the mount attaches to the back on a ball head to rotate to different angles and clips onto the vent of your car. Unlike small magnetic car mounts, the large size of the mount blocks your phone from getting overheated when your car's heating is on.
Belkin's MagSafe mount is quite large, which is due purely to the design of MagSafe itself. MagSafe mounts use two parts — a circular array of magnets in the center of the phone and a vertical line of magnets towards the bottom, which is used for alignment.
If the mount only used the circle, it would be possible for your phone to rotate inadvertently.
Between the circle and the alignment magnet, it makes the whole ordeal on the large size, but it is still hidden entirely when your phone is connected.
The grip is strong and held in place well on our Jeep's driver-side air vents. The front is covered in silicone, which adds a bit of passive grip to your phone. Inset in the silicone is a circle and line to represent where the MagSafe magnets are located.
Should you buy Belkin's Car Vent Mount Pro?
If you want a MagSafe car mount, Belkin is currently your only true option. Over time, that will change as other manufacturers release their designs.
While Belkin's mount does what it says it will do, we were unimpressed with the quality. The plastic body feels rather cheap to the touch, despite the sleek metal-like appearance.
There's also something funky going on with the internal magnets. As we bring our phone towards the charger, there is a distinctive clicking that sounds like a piece of thin plastic flexing back and forth, as if the magnets are starting to engage.
Functionally there is nothing wrong with that, but it kills the "pro" moniker.
Unlike a tablet or computer, it is hard to infer what would make a car mount rated for "pros," but based on our time testing it, this doesn't quite make the mark.
The Car Vet Mount Pro works for now, but we are very much looking forward to a nicer model that could also include support for charging.
Sleek silver appearance
Strong MagSafe connection
Rotating and pivoting ball head
Strong vent clip
First MagSafe mount to be released
Much better than any magnetic alternative
Feels cheap and plastic-y
Has an odd clicking noise inside when we mount our phone
Rating: 3 out of 5
Where to buy
The Belkin Car Vent Mount Pro is an Apple exclusive at launch and sells for $39.99. It has already begun shipping to customers.