Apple's MagSafe Duo charger not compatible with first-party 29W adapter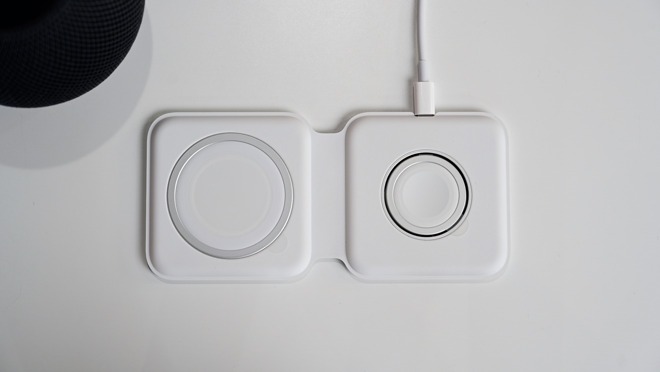 Apple on Thursday published a support document detailing best practices for its MagSafe Duo charger, noting that users will not be able to simultaneously charge an iPhone 12 and Apple Watch with the company's legacy 29W power adapter.
According to the support webpage, the Apple 29W USB-C power adapter is "incompatible" with MagSafe Duo. The company replaced the 29W model with a 30W version in 2018.
A quick look at MagSafe Duo's specifications explains why the charger doesn't work with the older adapter.
Apple notes the dual-charging accessory requires at least 15W of power (5V/3A or 9V/1.67A) to simultaneously juice up an iPhone and Apple Watch. The 29W power adapter does not meet those exact power delivery specifications.
Wireless charging rates are also noted in the document, with Apple claiming 11W of power for a 9V/2.22A power adapter and 14W for adapters rated at 9V/3A or higher. As previously reported, the iPhone 12 mini reaches a peak wireless charging rate of 12W with an adapter outputting 9V/2.62A, while adapters at or above 9V/3A will deliver a maximum of up to 14W peak power to other iPhone 12 models.
For more on power delivery profiles and why MagSafe can't charge at 15W with certain adapters, read AppleInsider's in-depth explainer.