Epic and Samsung send 'Free Fortnite' care package with jacket, Galaxy Tab S7 to influencers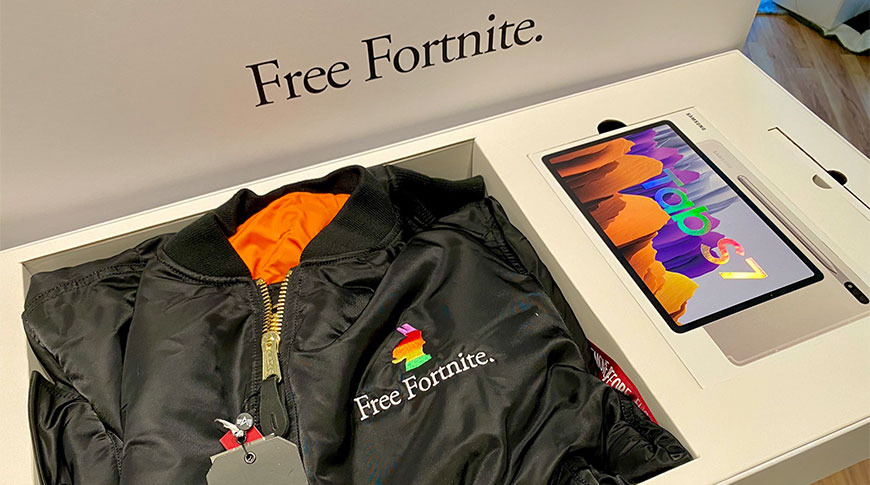 Epic Games and Samsung are teaming up on a guerilla marketing campaign that seeks to publicize the developer's legal battle with Apple over App Store policies and restrictions.
An unknown number of internet influencers were this week sent a care package that includes a "Free Fortnite" jacket and Samsung's Galaxy Tab S7. The $160 Alpha Industries MA-1 bomber jacket is embroidered front and back with a rainbow colored llama — a take on Apple's original logo — and "Free Fortnite" text. Samsung's Galaxy Tab appears to be a stock unit.
Packaged in an Apple-style box complete with llama logo, the gift contains a small insert with stickers and an informational card.
Hi there,

Fortnite was named the Samsung Galaxy Store Game of the Year for 2020. In celebration, we've teamed up with Samsung to send you a special box of #FreeFortnite gear.

While Fortnite may not currently be available on the App Store or Google Play, you can still get the latest Fornite updates directly from the Epic Games app on the Galaxy Store. Spread the word, #FreeFortnite.

Thank you,

The Epic Games Team
Care packages were sent to IGN host Greg Miller, Fortnite streamer SSN Santa, Fortnite Mobile standout MistyGod, content creator Ducky the Gamer and others. Ducky the Gamer on Sunday posted to his YouTube channel an unboxing of the swag bag that has since notched nearly 74,000 views.
The Epic v. Apple legal scrum kicked off in August when Epic quietly implemented an alternative in-app payment option for its massively popular game, Fortnite. By sidestepping the App Store's commission mechanism, Epic openly flouted Apple's developer agreement. Apple pulled the app that same day and later deactivated Epic's developer account, triggering a prepared legal thrust and polished media blitz from Epic.
An ensuing PR campaign and statements from Epic CEO Tim Sweeney paint Apple as a traditional monopolist.
Epic in its legal filings claim Apple's App Store fees and policies are anticompetitive. The company also wants Apple to change its rules regarding the restriction of third-party app stores on iOS.