Apple has the 'key ingredients' needed to disrupt the car market, analysts say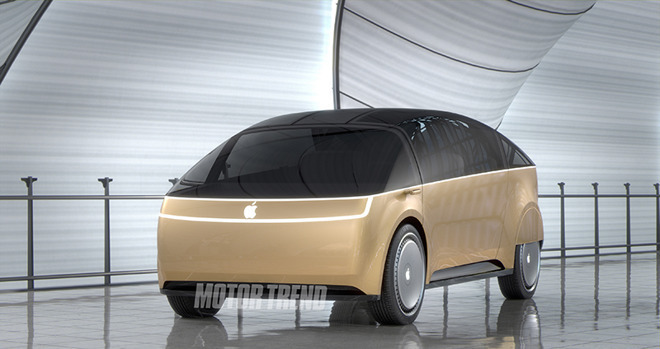 Following recent "Apple Car" rumors, investment bank Morgan Stanley said it believes Apple has the "key ingredients" that are critical for a successful entry into the car market.
In a note to investors seen by AppleInsider, the bank's automotive and tech hardware analysis teams shared some key thoughts on the so-called "Apple Car." The note follows a report from Reuters that an Apple-made vehicle, equipped with new battery technology, could head into production in 2024.
Both of the Morgan Stanley teams say that it has long been an assumption that Apple would one day try to design and produce a car. However, the analysts said that Apple isn't attempting to enter the industry "as conceived by today's auto companies."
Instead, "Apple may have an interest in enhancing the driving experience with vertical integration of hardware, software and services." The goal, the note adds, would be to "dramatically improve the user experience, while helping to solve problems."
The analysts say that Apple already has the key ingredients to make that goal happen. Those include access to capital, the ability to attract and keep talent, a track record of proven hardware design, and a "rich ecosystem to leverage."
Looking from a Tesla perspective, Morgan Stanley's auto analysts say they've long felt that technology companies — like Apple — have long represented "more formidable competition" than established automakers.
Morgan Stanley's Apple team, which includes lead analyst Katy Huberty, see the "Apple Car" as a long-term project with the ultimate goal being to disrupt through vertical integration."
"Importantly, Apple has recently invested to bring five core technologies in-house, which can aid their car development - processors, battery, camera, sensors, and display," the note reads.
The analysts also note that tech companies want to enter the auto industry because of its total available market and the amount of time consumers are likely to spend in vehicles. However, they add that the electric vehicle "arms race" is still in the nascent stages and that battery technology development isn't currently mature.
"There are some very big bets being made across the capital markets on EVs and batteries," the note reads. "We believe [the] story on Apple and Project Titan are a reminder of the potential scope of competition for capital and brains (and eventually market share) as the ecosystem evolves."
Apple has been developing vehicular technology since 2014 under the moniker "Project Titan." Although believed to be focused on the underlying autonomous systems needed for a self-driving car, there have been persistent rumors that Apple may also be planning on designing and engineering its own production vehicle.