Slack goes down as employees return to work after holidays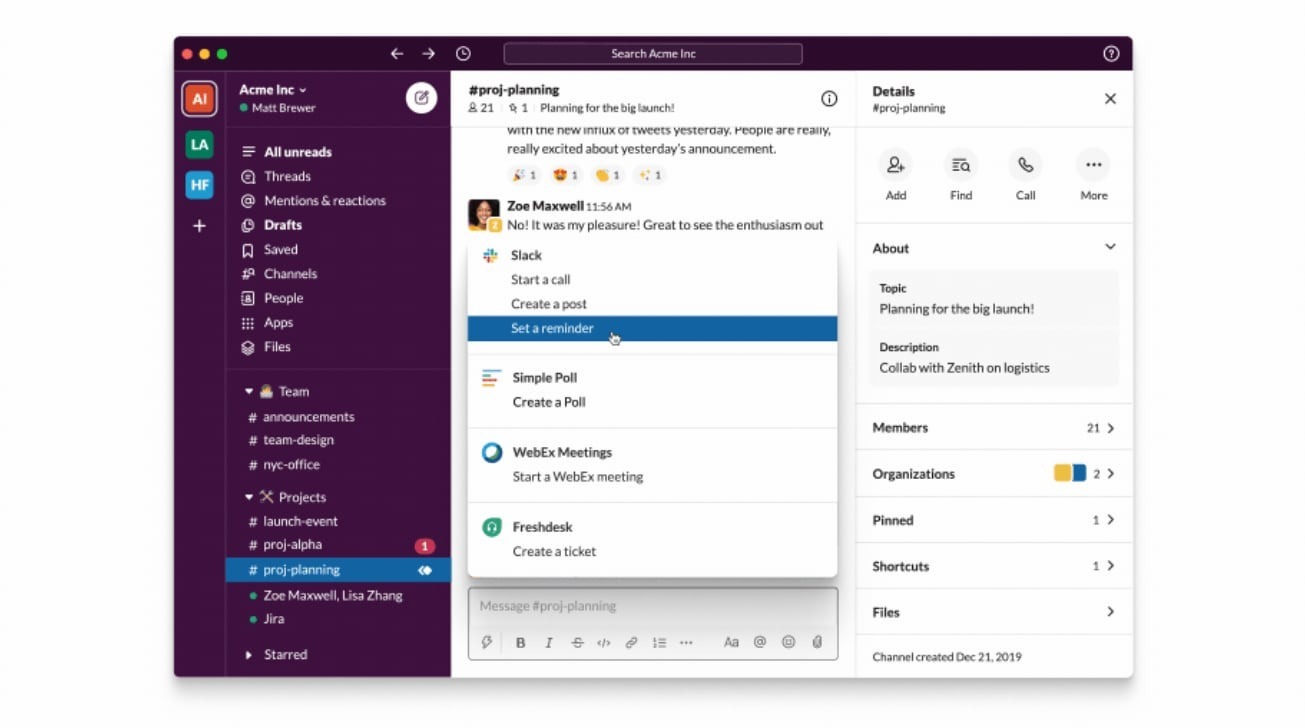 Slack has gone down on the first working day of 2021, leaving workers and employees for many companies scrabbling for temporary alternative communications systems.
On the first Monday after Friday's New Year celebrations and the subsequent weekend, millions of people are heading back to work, with many continuing to work from home. However, many will find their first day back at work after the holiday period tricky, as Slack is suffering issues.
Problems started to surface in the productivity app from 10:10 a.m. Eastern Time, with messages failing to publish correctly in channels, and not being received by a worker's colleagues. Issues are being endured on both macOS and iOS clients, indicating it is probably a server-side issue and not one with the apps.
The Slack system status website advises of an incident relating to "Connections" and "Messaging," where customers "may have trouble loading messages or connecting to Slack" at this time. Logged as starting from 10:14 a.m. Eastern, this includes the ability to load channels, the main method of group messaging within Slack.
Slack says it has a team investigating, and it apologizes "for any disruption caused."
This is not only the first major outage of Slack in 2021, but also the first since Salesforce announced in December it would acquire the company. The acquisition, valued at $27.7 billion, is expected to close in the second quarter of Salesforce's 2022 fiscal year, pending Slack stockholder and regulatory approval.
Update 10:50 a.m. Eastern: At 10:44 a.m. Eastern, Slack said it was still investigating the issue, and claimed a follow-up message on the problem would follow in 30 minutes.
Update 12:24 p.m. Eastern: An update at 11:20 a.m. Eastern had Slack upgrading the incident to "reflect an outage in service." The company is currently "all hands on deck" to investigate and fix the problem.
Update 1:33 p.m. Eastern: Slack said at 12:29 p.m. Eastern "we believe some customers may see improvement in connecting to Slack after a refresh." At 1 p.m., the update further claimed "some customers may be able to connect, but may also experience degraded performance."
Update 2:50 p.m. Eastern: An update at 2:28 p.m. claims improvements are being observed over error rates, and that affected customers "should be able to access Slack. The company is now working to resolve issues with email notifications and problems in how the app works with Google Calendar and Outlook Calendar.
Update 3:15 p.m. Eastern: Slack now shows "no issues" across most of its services. The company acknowledges that there's currently "trouble" with Google Calendar, Outlook Calendar, and email notifications.