Vissles-M portable monitor review: convenient extra screen space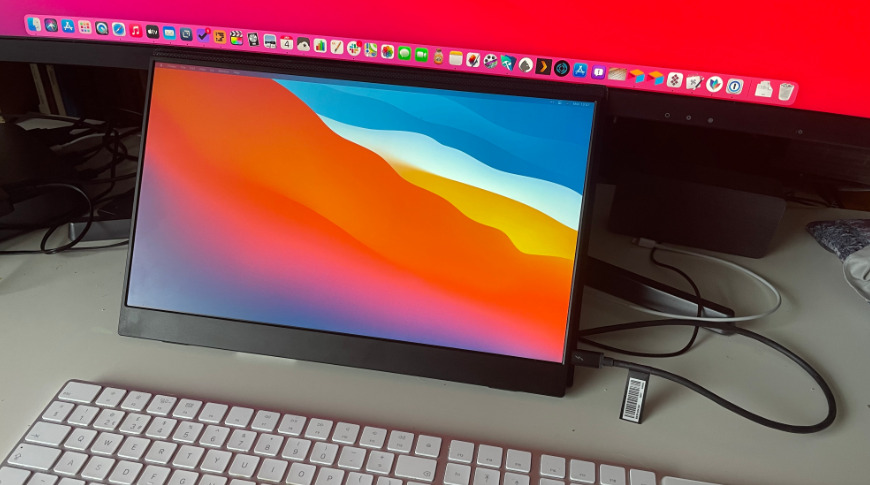 Vissles-M is a lightweight portable monitor that aims to be an extra display for your Mac at your desk, or your MacBook Pro on the go.
Sometimes you just need a little more screen space to work in. If it happens a lot, and especially on your desktop Mac, you should look into buying a full-size second monitor. Yet if you occasionally need to spread out your screens, and if you have a MacBook Air or MacBook Pro, a portable display like the Vissles-M 15.6 monitor is convenient.
For Mac users, it connects over USB-C so it will take up one of your ports. The alternative — using macOS's Sidecar feature to wirelessly connect an iPad — would save you a port. But would also mean buying an iPad.
If your iPad has a USB-C port, you can use the Vissles-M as a second display for that as easily as you can a Mac. Except it's limited to mirroring the iPad's main display.
There is a limit on the Mac, too. The Vissles-M 15.6-inch portable monitor comes in either a touch-screen or non-touch-screen version. AppleInsider tested the touch-screen edition, but for Mac users, there's no difference — touch is not well supported on macOS.
Touch would naturally be a good thing to have, but in practice, you tend not to notice its absence. Typically you'll be typing at your desktop Mac's keyboard or on the keyboard of your laptop, and the Vissles monitor will be to one side.
It's most useful for displaying information you often need but are not actively working on. So it can be the screen where you put your calendar and To-Do app on, for instance.
It is an adjunct to your main display, not a true continuation of it. Using the Display pane in System Preferences on macOS, you arrange where the monitor is positioned. So you can tell the Mac that the Vissles-M is to the right of your main screen, and then you can drag windows or icons across.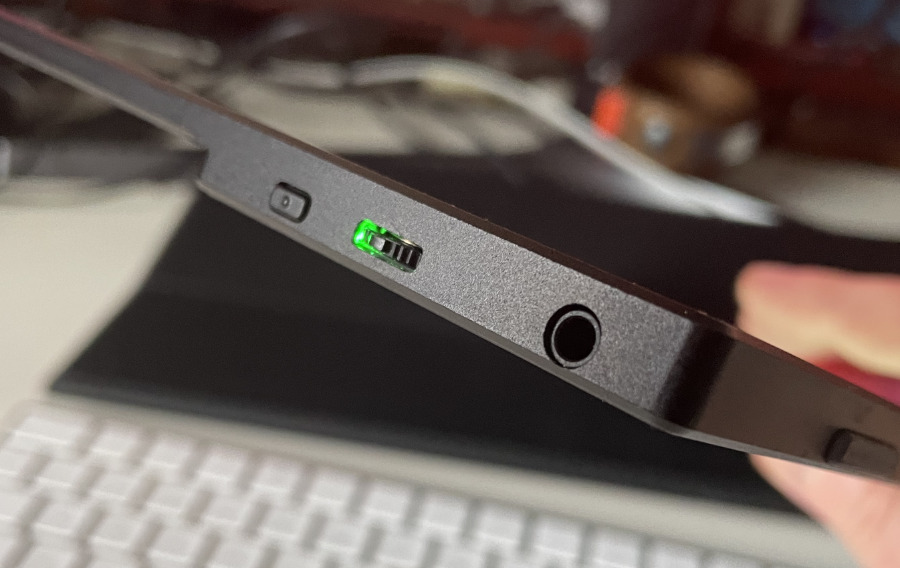 However, the Vissles-M is a little darker than a regular Mac display. It comes set to low brightness, but it is noticeably dimmer even at the highest setting.
It's rated as 220 candelas per square meter, equivalent to 220 nits. For comparison, the MacBook Air display is 400 nits, while the 13-inch MacBook Pro one is 500 nits, or more than twice as bright.
If you dragged a Pages window so that it was half on your main display and half on the Vissles-M monitor, for instance, the difference is notable. Drag a whole window — such as Mail — onto the Vissles-M, and you tend not to notice so clearly.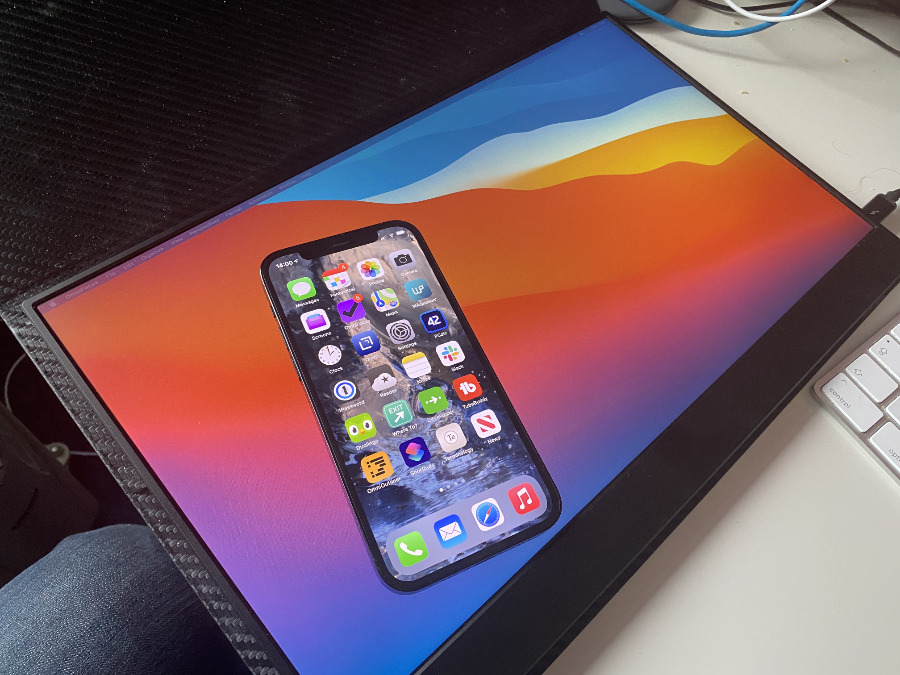 Specifications
The Vissles-M offers a 15.6-inch IPS display with 1920 x 1080 resolution. The unit is 344.16mm by 193.59mm, and without its case, weighs 0.6kg.
The case brings the weight up to 1kg. It is a cover that mostly wraps around the display and doubles as a stand. It's a bit basic and initially tricky to see how to position. But once in place, it's sturdy and prevents the monitor from slipping when propped up against your main display.
Vissles includes a USB-C cable, a USB-C to USB-A one, and an HDMI to mini HDMI cable. There's no wall adaptor included, though, so you'll power it via the USB-C connection.
That does mean one less accessory to carry around. However, if you're running the Vissles-M off a MacBook Air or MacBook Pro, their batteries will take a hit. It's hard to quantify how much it will reduce your battery life, but in this case, it may be a benefit that the screen is a little dim.
Who the monitor is for
The Vissles-M will not take the place of a second full-size monitor on your desk. Nor will it be bright enough or high enough resolution to better the display on your MacBook Air or MacBook Pro.
But it is light, it is 15.6-inches, and attaching it is merely a matter of plugging it into a USB-C port. It's good for very quickly adding a quite large display and spreading out your work.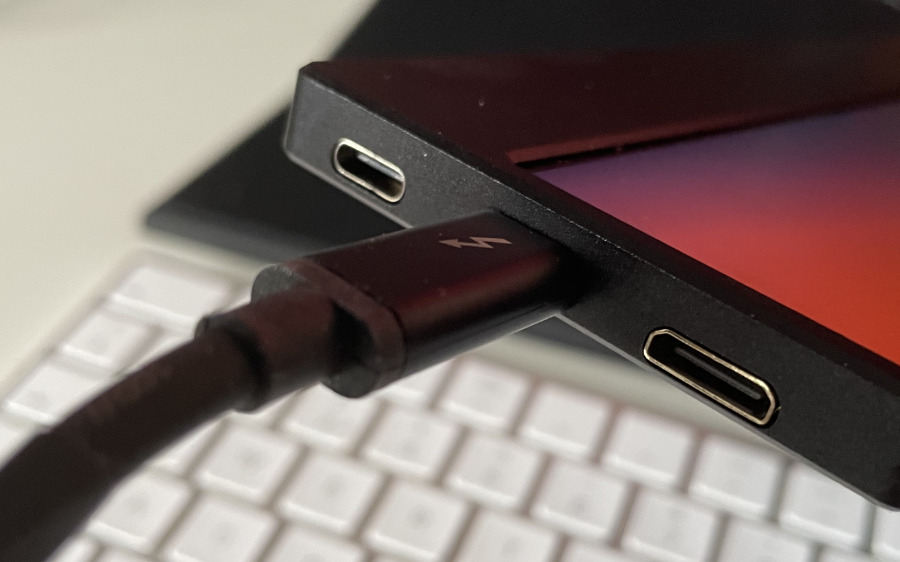 If you're traveling, the combination of that speed and its relative lightness means that the Vissles-M is useful.
These days so many of us are still working from home, too, which can mean using rooms that we have to share. If you don't have space to have a large monitor permanently, then a portable one like the Vissles-M gives you options.
Overall
The Vissles-M is more useful for a Windows or Android user because it comes in a touch-sensitive version. On the Mac, or in the non-touch edition, it's more of a basic, bare-bones extra display.
It could be brighter, but as a kind of reference display where you place apps and windows you refer to during the day, it works. The build quality is fine, and we had no issues with it bending or from continually connecting and reconnecting it to various Macs.
Pros
Lightweight
Quickly connects
Powered over USB-C
Cons
The screen isn't very bright
The stand is a little fiddly