Intel 'Alder Lake' chips take same approach as Apple's ARM designs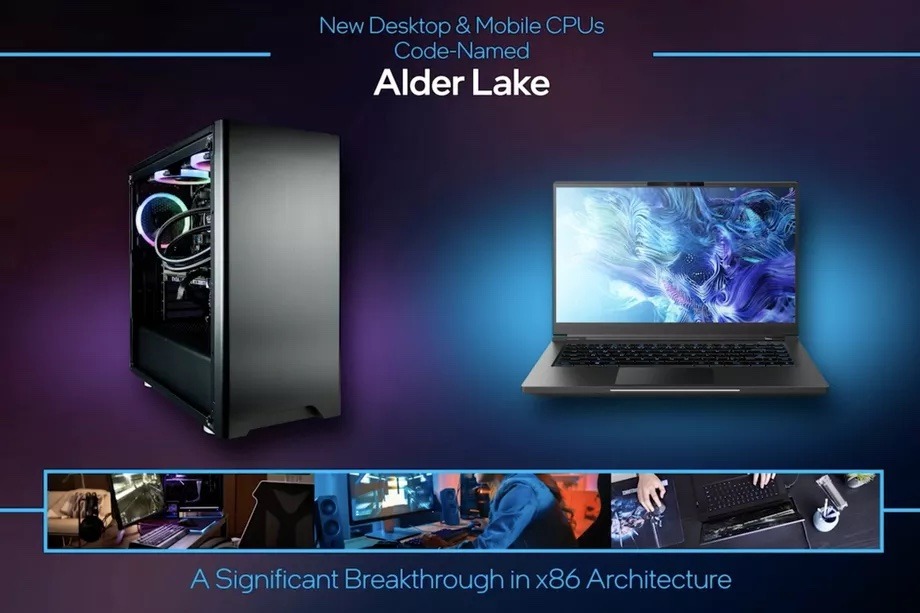 During CES 2021, Intel showed off its next-generation Alder Lake family of chips, which the company says offers a "significant breakthrough" for the x86 architecture.
The hybrid Alder Lake chipsets will use a design similar to Apple's M1 chips, incorporating both high-performance and high-efficiency cores in a single package.
That's similar to the "Lakefield" processors that Intel previewed last year. The Alder Lake family, Intel says, will be the foundation for future desktop and mobile processors.
Intel said that the first computers equipped with this "most power-scalable system-on-chip" would debut in the second half of 2021.
The 12th-generation Alder Lake chips will feature an "enhanced version" of the 10-nanometer SuperFin designs that have already shown up in Intel's Tiger Lake family. Alder Lake chips will also feature a combination of high-power "Golden Lake" cores and new "Gracemont" power-efficiency cores.
Unlike Intel's past forays into hybrid chips, the company has plans for the Alder Lake family that stretch beyond mobile devices. The move suggests that Intel is taking inspiration from Apple's own silicon success with ARM-based chips.
The announcement comes amid increasing pressure on Intel to explore strategic options in the face of losing its supremacy in the silicon industry.
It isn't clear at this point how many more Macs will use Intel chips going forward. The last time Apple released a macOS device with an Intel chip was the 2020 iMac lineup in August.
The transition to Apple Silicon, which Apple says will take about two years, is already underway. In 2020, Apple released a new Mac mini, MacBook Pro, and MacBook Air devices with proprietary chipsets. In June 2020, however, Apple made mention that it has "some new Intel-based Macs in the pipeline" that have yet to see a release.