Linksys shares new mesh Wi-Fi 6e routers at CES 2021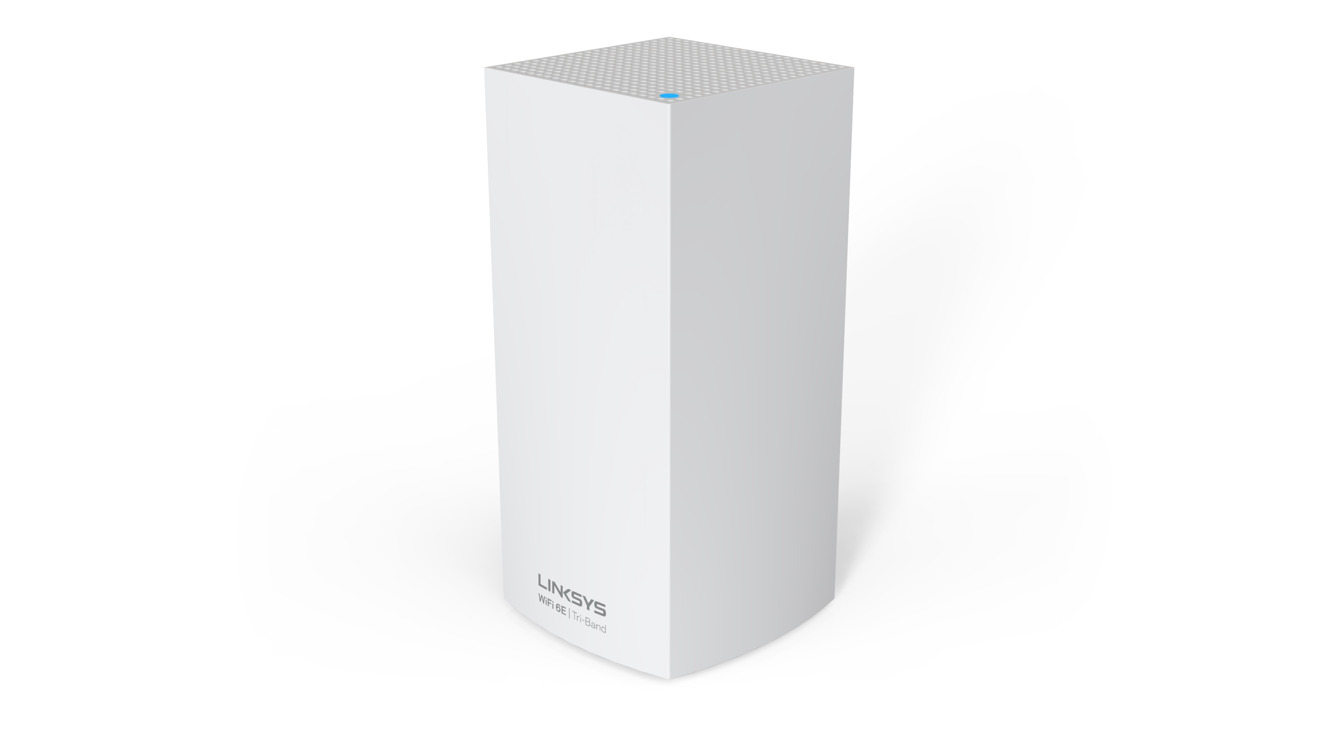 Linksys is taking the wraps off its latest mesh router offering at CES 2021, the Linksys AXE8400 Wi-Fi 6E Mesh System.
The new Linksys AXE8400 Wi-Fi 6E Mesh System is a mesh system that will yield benefits for households with both Wi-Fi 6e devices and non-Wi-Fi 6e devices alike. Each router is a stark white rectangular column, similar to its Velop routers.
Hardware-wise, it is powered by a 2.2GHz quad-core processor and 1GB of RAM. It has nine internal antennas, four LAN ports, a USB 3.0 port, and a 5-Gigabit WAN port. This router has a tri-band dynamic backhaul that allows the router to utilize the 6GHz spectrum for the backhaul between nodes even if no Wi-Fi 6e-enabled devices are in the home. At the moment no Apple devices directly support Wi-Fi 6e.
Other features include WPA3/WPA2 encryption, two-factor authentication, mobile app control, parental controls, guest network, and automatic security updates.
The Linksys AXE8400 launches in Spring to Summer and will be sold in multiple configurations. A single router can be purchased for $449.99, a two-pack for $849.99, or it can be picked up as a three-pack for $1,199.99. Following the US launch, it will be available globally in the second half of 2021.
Linksys Aware
Linksys is also announcing an update to its Aware service that uses Wi-Fi signals to detect motion in your home. With the new update, Linksys Aware will be able to use stationary Wi-Fi-enabled devices in your home for further coverage and additional accuracy.
Previously, Linksys Aware would use the mesh network between its routers to detect motion from a person or a pet. Now, Wi-Fi-connected devices like smart speakers, Apple TV, TVs, smart thermostats, and more are able to also participate. Even if they aren't made by Belkin.
After onboarding, this will allow the system to get a much better picture of motion in your home and even be able to tell you what room motion was detected in. New Motion Alerts will be configurable from the Linksys app.
Linksys Aware comes with a free 90-day trial before billing monthly at $2.99. The new update will land for users in March/April.
AppleInsider will be covering the 2021 all-digital Consumer Electronics Show starting on January 11 through January 14 where we're expecting Wi-Fi 6e devices, HomeKit, Apple accessories, 8K monitors and more. Keep up with our coverage by downloading the AppleInsider app, and follow us on YouTube, Twitter @appleinsider and Facebook for live, late-breaking coverage. You can also check out our official Instagram account for exclusive photos throughout the event.