Netgear's Nighthawk router product line gains a Wi-Fi 6E option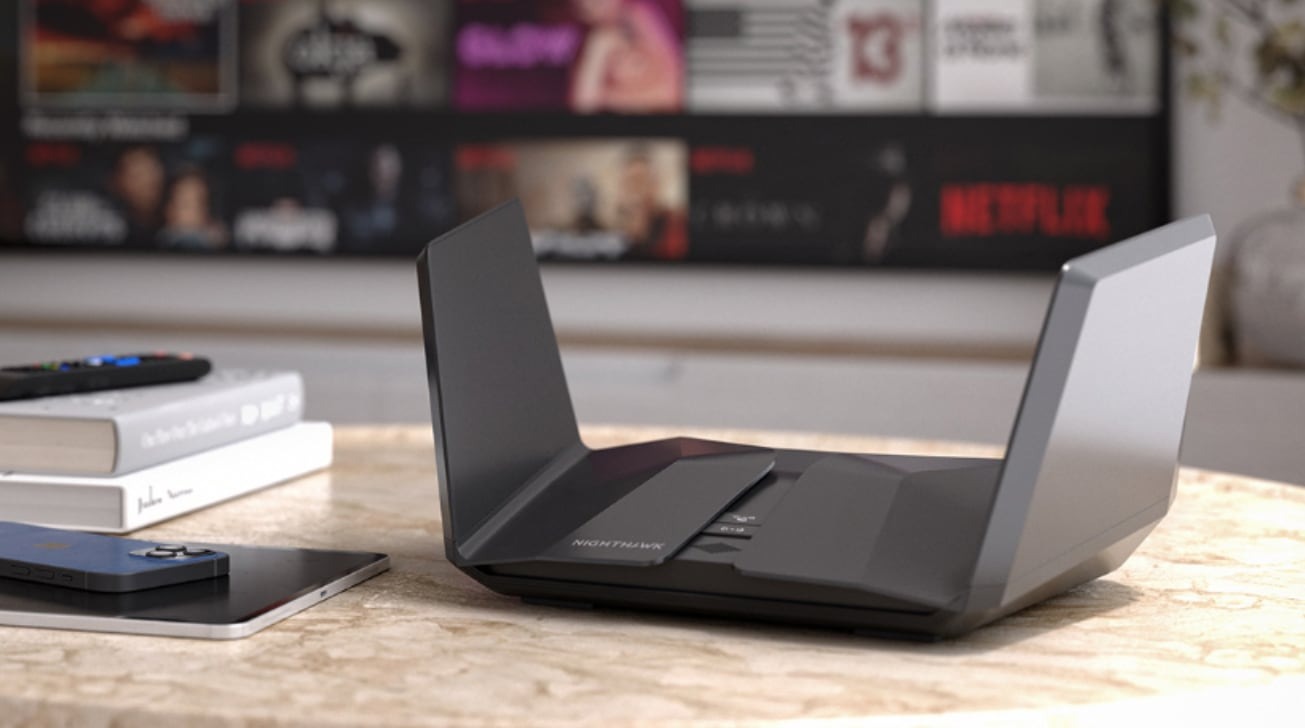 Netgear's CES lineup is headed up by the Nighthawk RAXE500, a tri-band Wi-Fi 6E router that takes advantage of freed-up 6GHz bands to offer speeds of up to 10.8Gbps.
Nighthawk RAXE500 Wi-Fi 6e router
Revealed on Monday, the Netgear Nighthawk RAXE500 is a high-performance tri-band router that operates in the usual ranges of 2.4GHz and 5GHz for Wi-Fi 4, 5, and 6. With regulators moving to make 6GHz accessible by networking appliances, Netgear has added Wi-Fi 6e support, allowing the router to communicate with more available bandwidth than previously offered.
The ability to use 6Ghz bands means there's more bandwidth available to use, which can increase speeds and the capacity for multiple networks to operate in the same space. In the Nighthawk RXAE500, Netgear claims this offers up to 200% more spectrum than dual-band Wi-Fi using 5GHz and 2.4GHz.
The router is capable of handling up to 12 streams of tri-band Wi-Fi, with four streams in each of the 6GHz, 5GHz, and 2.4GHz bands. This is said to help provide low latencies for gaming, as well as triple the number of high-bandwidth 160MHz Wi-Fi channels for streaming.
Powering the router is a Wi-Fi 6E-optimized processor, a 64-bit 1.8Ghz quad-core chip that will be able to handle 8K UHD streaming. To simplify its usage, the antennas of the router are pre-optimized, requiring users to unfold them with no further adjustments required.
Wired networking is provided by five Gigabit Ethernet ports, with the added ability to aggregate two LAN ports and two WAN ports for even faster connections. One of the Ethernet ports is a 2.5G version, providing faster-than-Gigabit connectivity.
For security, the router will include automatic firmware updates, as well as a 30-day trial of Netgear Armor, a cybersecurity system combining antivirus, anti-malware, and data protection for connected devices. Two USB 3.0 ports are also included.
Like other Nighthawk models, it can also be configured via a companion app, which can enable users to pause Internet connections for specific devices, as well as to monitor traffic usage over time, set up guest Wi-Fi connections, update the firmware, and other essential tasks.
Netgear plans to ship the Nighthawk RAXE500 Tri-band Wi-Fi router in the first quarter, priced at $599.99.
Nighthawk CAX30 AX6/6-Stream Wi-Fi 6 Cable Modem Router
Another Nighthawk product introduced at CES is the Nighthawk CAX30 AX6/6-Stream Wi-Fi 6 Cable Modem Router. Supporting DOCSIS 3.1 with its built-in cable modem, it supports two OFDM downstream and two OFDMA upstream DOCSIS channels for faster and clearer data streaming.
The router element is a dual-band router running Wi-Fi 6, complete with 3x3 multi-user MIMO and intelligent scheduling. Capable of handling Ultra HD streams to multiple devices, it can produce speeds of up to 2.7Gbps.
Running a dual-core 1.5Ghz processor said to be optimized for the router's connectivity, the device also has four Gigabit Ethernet LAN ports and a USB 3.0 port for connecting storage devices to the network.
Set-up is handled by the Netgear Nighthawk app, which can be used for installation and configuration, and to check the status of the network. The app can be used to also pause connectivity on specific devices, track Internet usage, set up separate Wi-Fi access for guests, and even run a speed test.
Again, Netgear Armor is offered for network and device protection, including notifications when malicious threats are detected as well as blocking viruses, spyware, malicious links, and scanning for smart home device vulnerabilities.
Available in January and supporting Xfinity, Spectrum, and Cox, the Nighthawk AX6/6-Stream Wi-Fi 6 Cable Modem Router costs $299.99
Nighthawk LAX20 AX4 4G LTE Wi-Fi 6 Router
The Nighthawk LAX20 AX4 4G LTE Wi-Fi 6 Router is a hybrid device, that works as both a standard router that could be connected to a modem, as well as one that can use a 4G LTE connection. The router will automatically switch over to LTE in the event normal Internet service fails, enabling users to continue to have access throughout an outage.
This would be advantageous for maintaining a connection for smart home users, such as those using HomeKit, as it will ensure connected devices will be accessible at all times.
Connecting over Wi-Fi 6, the router's ability to provide up to four streams and having 1024 QUAM enables it to run at up to 1.8Gbps across 5GHaz and 2.4Ghz bands, complete with 160MHz channel support.
For wired networking, there are four Gigabit Ethernet LAN ports along with a WAN Ethernet port. A USB 2.0 port is also included for adding an external USB hard drive for extra network storage.
Also on the back is the slot for a nano SIM card, enabling LTE connectivity. The router is supported by major carriers including AT&T, T-Mobile, and others, and can use either a carrier-supplied SIM or the one included in the box.
Support for the Nighthawk app and Netgear Armor are also included, offering ways to configure and manage the network from an iPhone or iPad, as well as protecting it from threats.
Now available in the United States, the Nighthawk AX4 is priced at $299.99.
AppleInsider will be covering the 2021 all-digital Consumer Electronics Show starting on January 11 through January 14 where we're expecting Wi-Fi 6e devices, HomeKit, Apple accessories, 8K monitors and more. Keep up with our coverage by downloading the AppleInsider app, and follow us on YouTube, Twitter @appleinsider and Facebook for live, late-breaking coverage. You can also check out our official Instagram account for exclusive photos throughout the event.