Apple Watch, AirPods beneficiaries of coronavirus-driven wearables boom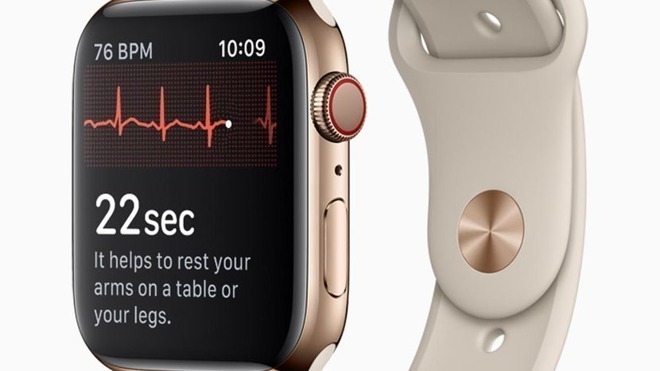 AppleInsider is supported by its audience and may earn commission as an Amazon Associate and affiliate partner on qualifying purchases. These affiliate partnerships do not influence our editorial content.
Smartwatches and fitness trackers like the Apple Watch have benefitted from the COVID-19 pandemic throughout 2020, according to Gartner, with consumer spending on wearable devices likely to continue to rise throughout 2021 and into 2022.
Tuesday's forecast from Gartner claims the total worldwide spend on wearable devices was $69 billion, an increase of 49% from sales observed in 2019, a trend that may carry on for a few more years at least. The firm's analysts forecast 2021's wearable device sales will reach $81.5 billion, representing an 18.1% rise from 2020, while 2022's sales could reach $93.9 billion.
According to Gartner, COVID-19 was a major factor in the sales boost. "The introduction of health measures to self-track COVID-19 symptoms, along with increasing interest from consumers in their personal health and wellness during global lockdowns, presented a significant opportunity for the wearables market," said Gartner senior research director Ranjit Atwal.
Increased sales of ear-worn devices, like AirPods, rose 124% in 2020 to $32.7 billion, with 2021's sales forecast to reach $39.2 billion. Gartner attributes this growth to the trend of consumers buying new headsets and headphones for video calling, as well as people acquiring earphones alongside smartphone upgrades.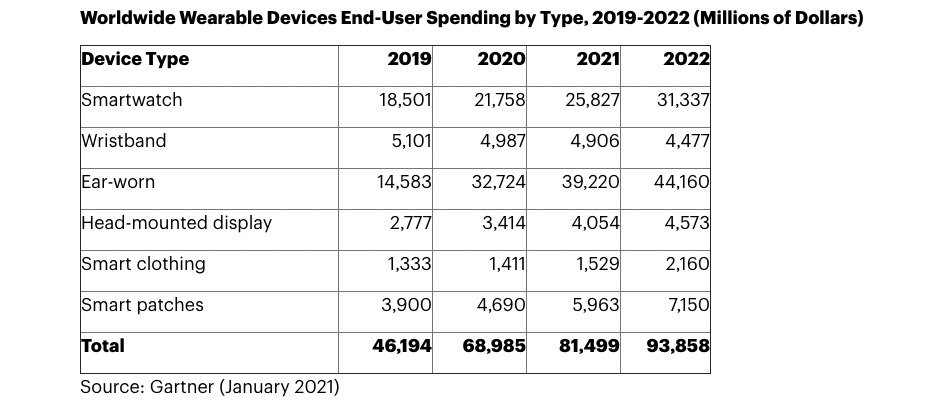 The smartwatch market, which includes the Apple Watch, saw a consumer spending increase of 17.6 billion to hit $21.8 billion in 2020, and is expected to hit $25.8 billion in 2021. It is believed the improvement was driven by "new users entering the market," while 2021's growth is anticipated to be assisted by the introduction of new processor technologies and solid-state battery upgrades to increase battery life, as well as to shorten recharging times.
Wristband trackers remained relatively flat, dropping 2.3% year-on-year to $4.98 billion in 2020, but Gartner thinks the trajectory will remain unchanged, with sales dropping further to $4.9 in 2021.
Technology improvements will further help the sector grow in the coming years, the analysts suspect, with the improved accuracy of wearable device sensors closing the gap with medical-grade hardware.
"The capability of embedded sensors is often a determining factor in the reliability and usefulness of a wearable product," added Atwal. "Given the sensor improvement trend seen over the last several years, sensors built into wearable devices will be increasingly capable of more accurate readings, driving market growth over the next 3-5 years."