Apple adds celebrity 'Time to Walk' audio workouts in Apple Fitness+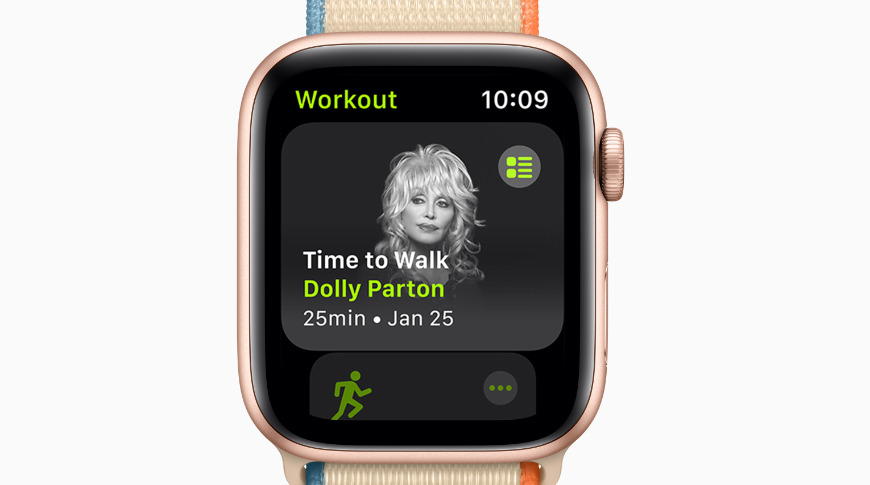 A new "walking experience" featuring celebrity guests recounting part of their life story has been added to Apple Watch for users of Apple Fitness+.
Apple has launched a new workout for Apple Watch, a weekly exclusive for users who also subscribe to Apple Fitness+. "Time to Walk" is a series of audio episodes in which a guest celebrity talks for between 25 to 40 minutes as users walk.
"Walking is the most popular physical activity in the world, and one of the healthiest things we can do for our bodies," said Jay Blahnik, Apple's senior director of Fitness Technologies, in a statement. "A walk can often be more than just exercise: It can help clear the mind, solve a problem, or welcome a new perspective."
"Even throughout this challenging period of time, one activity that has remained available to many is walking," he continues. "With 'Time to Walk,' we're bringing weekly original content to Apple Watch in Fitness+ that includes some of the most diverse, fascinating, and celebrated guests offering inspiration and entertainment to help our users keep moving through the power of walking."
"Time to Walk" launches with several episodes, which will be followed by more each Monday until the end of April. The four included at launch consist of audio talks from:
Dolly Parton, musician and businesswoman
Draymond Green, NBA player
Shawn Mendes, musician
Uzo Aduba, Emmy award winning actor
As each celebrity talks you through the importance of walking in their own lives, a series of images is shown on Apple Watch. Then as they finish talking, each celebrity guest will introduce a short playlist of songs which users can continue walking to.
The new "Time to Walk" feature requires iOS 14.3, on an iPhone 6s or later, or iPhone SE. It also requires watchOS 7.2 or later, on an Apple Watch Series 3, or later. The service appears to have been slowly rolling out, but when available, the new exercises appear in Apple Watch's Workout app.