Bonus savings: Apple's 16-inch MacBook Pro with 1TB SSD is on sale for $2,349 ($250 off)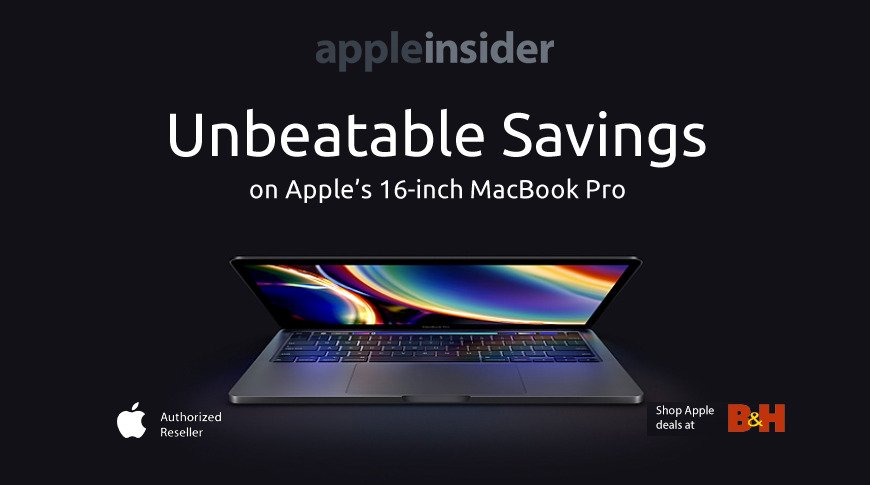 Bargain hunters looking for the best MacBook Pro deals can grab exclusive savings on Apple's 16-inch MacBook Pro with 1TB of storage at B&H Photo.
Exclusive deals on Apple
In addition to the 16-inch MacBook Pro markdowns we highlighted earlier this week, Apple's upgraded 1TB model just received a bonus discount available exclusively to AppleInsider readers.
Shop through this special activation link from a desktop or laptop and save $250 instantly* on the Core i7 model in Space Gray with 16GB of RAM, 1TB of storage and AMD Radeon Pro 5300M graphics. This particular configuration is equipped with double the amount of storage space compared to the standard model, which is also on sale.
According to the AI 16-inch MacBook Pro Price Guide, this exclusive deal is $60 cheaper than the next lowest price, with other retailers currently out of stock on the popular config. B&H has inventory in stock right now, with free expedited shipping within the contiguous U.S.

(*) Activation instructions
To activate the exclusive price, you must shop through the pricing link above or in our 16-inch MacBook Pro Price Guide using a laptop or desktop computer. We apologize, but the offer cannot be redeemed in mobile apps at this time. Need help? Send us a note at [email protected] and we'll be happy to assist.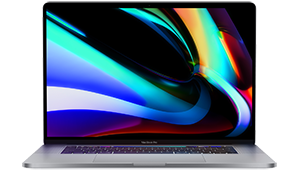 16-inch MacBook Pro Prices
---
Configurations
Discount
16" 6C (2.6GHz, 16GB, 512GB, 5300M) Gray

$2,399.00

$2,235.00

Coupon

Price with $50 promo code APINSIDER. As always, if you have any issues, you can reach out to us at [email protected] and we'll try and help.

$2,249.00

$2,227.00

$1,999.99

$2,183.00

$1,999.99

n/a
$399.01
16" 6C (2.6GHz, 16GB, 512GB, 5300M) Silver

$2,399.00

$2,199.00

Coupon

Price with $50 promo code APINSIDER. As always, if you have any issues, you can reach out to us at [email protected] and we'll try and help.

$2,249.00

$2,228.00

$2,299.99

$2,183.00

$1,999.99

n/a
$399.01
16" 8C (2.3GHz, 16GB, 1TB, 5500M 4GB) Gray

$2,799.00

$2,499.00

Coupon

Price with $100 promo code APINSIDER. As always, if you have any issues, you can reach out to us at [email protected] and we'll try and help.

$2,699.00

$2,599.00

$2,628.83

$2,599.00

$2,299.99

$2,794.00
$499.01
16" 8C (2.3GHz, 16GB, 1TB, 5500M 4GB) Silver

$2,799.00

$2,570.00

Coupon

Price with $59 promo code APINSIDER. As always, if you have any issues, you can reach out to us at [email protected] and we'll try and help.

$2,699.00

$2,599.00

$2,299.99

n/a

$2,299.99

n/a
$499.01
16" 6C (2.6GHz, 16GB, 512GB, 5500M 4GB) Gray

$2,499.00

$2,299.00

Coupon

Price with $200 promo code APINSIDER. Plus, save $50 on AppleCare with the same code. If you have any issues, reach out to us at [email protected] and we'll try and help.

$2,499.00

$2,310.10

n/a

n/a

n/a

n/a
$200.00
16" 6C (2.6GHz, 16GB, 512GB, 5500M 4GB) Silver

$2,499.00

$2,319.00

Coupon

Price with $180 promo code APINSIDER. As always, if you have any issues, you can reach out to us at [email protected] and we'll try and help.

$2,499.00

n/a

n/a

n/a

n/a

n/a
$180.00
16" 6C (2.6GHz, 16GB, 512GB, 5500M 8GB) Gray

$2,599.00

$2,399.00

Coupon

Price with $200 promo code APINSIDER. Plus, save $50 on AppleCare with the same code. If you have any issues, reach out to us at [email protected] and we'll try and help.

$2,599.00

$2,402.60

n/a

n/a

n/a

n/a
$200.00
16" 6C (2.6GHz, 16GB, 512GB, 5500M 8GB) Silver

$2,599.00

$2,410.00

Coupon

Price with $189 promo code APINSIDER. As always, if you have any issues, you can reach out to us at [email protected] and we'll try and help.

$2,599.00

n/a

n/a

n/a

n/a

n/a
$189.00
16" 6C (2.6GHz, 16GB, 512GB, 5600M) Gray

$3,199.00

$2,899.00

Coupon

Price with $300 promo code APINSIDER. If you have any issues, you can reach out to us at [email protected] and we'll try and help.

$3,199.00

$2,957.27

n/a

n/a

n/a

n/a
$300.00
16" 6C (2.6GHz, 16GB, 512GB, 5600M) Silver

$3,199.00

$2,899.00

Coupon

Price with $300 promo code APINSIDER. If you have any issues, you can reach out to us at [email protected] and we'll try and help.

$3,199.00

n/a

n/a

n/a

n/a

n/a
$300.00
16" 6C (2.6GHz, 16GB, 1TB, 5300M) Gray

$2,599.00

$2,399.00

Coupon

Price with $200 promo code APINSIDER. Plus, save $50 on AppleCare with the same code. If you have any issues, reach out to us at [email protected] and we'll try and help.

$2,599.00

$2,402.00

n/a

n/a

n/a

n/a
$200.00
16" 6C (2.6GHz, 16GB, 1TB, 5300M) Silver

$2,599.00

$2,410.00

Coupon

Price with $189 promo code APINSIDER. Add AppleCare for $299 ($80 off) with the same code! As always, if you have any issues, you can reach out to us at [email protected] and we'll try and help.

$2,599.00

n/a

n/a

n/a

n/a

n/a
$189.00
16" 6C (2.6GHz, 16GB, 1TB, 5500M 4GB) Gray

$2,699.00

$2,499.00

Coupon

Price with $200 promo code APINSIDER. As always, if you have any issues, you can reach out to us at [email protected] and we'll try and help.

$2,699.00

$2,495.01

n/a

n/a

n/a

n/a
$203.99
16" 6C (2.6GHz, 16GB, 1TB, 5500M 4GB) Silver

$2,699.00

$2,499.00

Coupon

Price with $200 promo code APINSIDER. As always, if you have any issues, you can reach out to us at [email protected] and we'll try and help.

$2,699.00

n/a

n/a

n/a

n/a

n/a
$200.00
16" 6C (2.6GHz, 16GB, 1TB, 5500M 8GB) Gray

$2,799.00

$2,579.00

Coupon

Price with $220 promo code APINSIDER. Add AppleCare for $299 ($80 off) with the same code! As always, if you have any issues, you can reach out to us at [email protected] and we'll try and help.

$2,799.00

$2,587.50

n/a

n/a

n/a

n/a
$220.00
16" 6C (2.6GHz, 16GB, 1TB, 5500M 8GB) Silver

$2,799.00

$2,579.00

Coupon

Price with $220 promo code APINSIDER. Add AppleCare for $299 ($80 off) with the same code! As always, if you have any issues, you can reach out to us at [email protected] and we'll try and help.

$2,799.00

n/a

n/a

n/a

n/a

n/a
$220.00
16" 6C (2.6GHz, 16GB, 1TB, 5600M) Gray

$3,399.00

$3,099.00

Coupon

Price with $300 promo code APINSIDER. If you have any issues, you can reach out to us at [email protected] and we'll try and help.

$3,399.00

$3,142.18

n/a

n/a

n/a

n/a
$300.00
16" 6C (2.6GHz, 16GB, 1TB, 5600M) Silver

$3,399.00

$3,099.00

Coupon

Price with $300 promo code APINSIDER. If you have any issues, you can reach out to us at [email protected] and we'll try and help.

$3,399.00

n/a

n/a

n/a

n/a

n/a
$300.00
16" 6C (2.6GHz, 16GB, 2TB, 5300M) Gray

$2,999.00

$2,759.00

Coupon

Price with $240 promo code APINSIDER. Plus, save $70 on AppleCare with the same code. As always, if you have any issues, you can reach out to us at [email protected] and we'll try and help.

$2,999.00

$2,772.00

n/a

n/a

n/a

n/a
$240.00
16" 6C (2.6GHz, 16GB, 2TB, 5300M) Silver

$2,999.00

$2,779.00

Coupon

Price with $220 promo code APINSIDER. Add AppleCare for $299 ($80 off) with the same code! As always, if you have any issues, you can reach out to us at [email protected] and we'll try and help.

$2,999.00

n/a

n/a

n/a

n/a

n/a
$220.00
16" 6C (2.6GHz, 16GB, 2TB, 5500M 4GB) Gray

$3,099.00

$2,859.00

Coupon

Price with $240 promo code APINSIDER. Plus, save $70 on AppleCare with the same code. As always, if you have any issues, you can reach out to us at [email protected] and we'll try and help.

$3,099.00

$2,864.80

n/a

n/a

n/a

n/a
$240.00
16" 6C (2.6GHz, 16GB, 2TB, 5500M 4GB) Silver

$3,099.00

$2,859.00

Coupon

Price with $240 promo code APINSIDER. Plus, save $70 on AppleCare with the same code. As always, if you have any issues, you can reach out to us at [email protected] and we'll try and help.

$3,099.00

n/a

n/a

n/a

n/a

n/a
$240.00
16" 6C (2.6GHz, 16GB, 2TB, 5500M 8GB) Gray

$3,199.00

$2,949.00

Coupon

Price with $250 promo code APINSIDER. As always, if you have any issues, you can reach out to us at [email protected] and we'll try and help.

$3,199.00

$2,957.27

n/a

n/a

n/a

n/a
$250.00
16" 6C (2.6GHz, 16GB, 2TB, 5500M 8GB) Silver

$3,199.00

$2,949.00

Coupon

Price with $250 promo code APINSIDER. As always, if you have any issues, you can reach out to us at [email protected] and we'll try and help.

$3,199.00

n/a

n/a

n/a

n/a

n/a
$250.00
16" 6C (2.6GHz, 16GB, 2TB, 5600M) Gray

$3,799.00

$3,499.00

Coupon

Price with $300 promo code APINSIDER. If you have any issues, you can reach out to us at [email protected] and we'll try and help.

$3,799.00

$3,511.97

n/a

n/a

n/a

n/a
$300.00
16" 6C (2.6GHz, 16GB, 2TB, 5600M) Silver

$3,799.00

$3,499.00

Coupon

Price with $300 promo code APINSIDER. If you have any issues, you can reach out to us at [email protected] and we'll try and help.

$3,799.00

n/a

n/a

n/a

n/a

n/a
$300.00
16" 6C (2.6GHz, 16GB, 4TB, 5300M) Gray

$3,599.00

$3,319.00

Coupon

Price with $280 promo code APINSIDER. Plus, save $70 on AppleCare with the same code. As always, if you have any issues, you can reach out to us at [email protected] and we'll try and help.

$3,599.00

$3,327.00

n/a

n/a

n/a

n/a
$280.00
16" 6C (2.6GHz, 16GB, 4TB, 5300M) Silver

$3,599.00

$3,319.00

Coupon

Price with $280 promo code APINSIDER. Plus, save $70 on AppleCare with the same code. As always, if you have any issues, you can reach out to us at [email protected] and we'll try and help.

$3,599.00

n/a

n/a

n/a

n/a

n/a
$280.00
16" 6C (2.6GHz, 16GB, 4TB, 5500M 4GB) Gray

$3,699.00

$3,399.00

Coupon

Price with $300 promo code APINSIDER. If you have any issues, you can reach out to us at [email protected] and we'll try and help.

$3,699.00

$3,419.50

n/a

n/a

n/a

n/a
$300.00
16" 6C (2.6GHz, 16GB, 4TB, 5500M 4GB) Silver

$3,699.00

$3,499.00

Coupon

Price with $200 promo code APINSIDER. As always, if you have any issues, you can reach out to us at [email protected] and we'll try and help.

$3,699.00

n/a

n/a

n/a

n/a

n/a
$200.00
16" 6C (2.6GHz, 16GB, 4TB, 5500M 8GB) Gray

$3,799.00

$3,499.00

Coupon

Price with $300 promo code APINSIDER. If you have any issues, you can reach out to us at [email protected] and we'll try and help.

$3,799.00

$3,511.97

n/a

n/a

n/a

n/a
$300.00
16" 6C (2.6GHz, 16GB, 4TB, 5500M 8GB) Silver

$3,799.00

$3,599.00

Coupon

Price with $200 promo code APINSIDER. As always, if you have any issues, you can reach out to us at [email protected] and we'll try and help.

$3,799.00

n/a

n/a

n/a

n/a

n/a
$200.00
16" 6C (2.6GHz, 16GB, 4TB, 5600M) Gray

$4,399.00

$3,999.00

Coupon

Price with $400 promo code APINSIDER. Add AppleCare for $299 ($80 off) with the same code! As always, if you have any issues, you can reach out to us at [email protected] and we'll try and help.

$4,399.00

$4,066.65

n/a

n/a

n/a

n/a
$400.00
16" 6C (2.6GHz, 16GB, 4TB, 5600M) Silver

$4,399.00

$3,999.00

Coupon

Price with $400 promo code APINSIDER. Add AppleCare for $299 ($80 off) with the same code! As always, if you have any issues, you can reach out to us at [email protected] and we'll try and help.

$4,399.00

n/a

n/a

n/a

n/a

n/a
$400.00
16" 6C (2.6GHz, 16GB, 8TB, 5300M) Gray

$4,799.00

$4,399.00

Coupon

Price with $400 promo code APINSIDER. Add AppleCare for $299 with same code ($80 off retail). As always, if you have any issues, you can reach out to us at [email protected] and we'll try and help.

$4,799.00

$4,435.00

n/a

n/a

n/a

n/a
$400.00
16" 6C (2.6GHz, 16GB, 8TB, 5300M) Silver

$4,799.00

$3,950.00

Coupon

Price with $349 promo code APINSIDER. Add AppleCare for $299 ($80 off) with the same code! As always, if you have any issues, you can reach out to us at [email protected] and we'll try and help.

$4,799.00

n/a

n/a

n/a

n/a

n/a
$849.00
16" 6C (2.6GHz, 16GB, 8TB, 5500M 4GB) Gray

$4,899.00

$4,499.00

Coupon

Price with $400 promo code APINSIDER. Add AppleCare for $299 with same code ($80 off retail). As always, if you have any issues, you can reach out to us at [email protected] and we'll try and help.

$4,899.00

$4,528.85

n/a

n/a

n/a

n/a
$400.00
16" 6C (2.6GHz, 16GB, 8TB, 5500M 4GB) Silver

$4,899.00

$4,599.00

Coupon

Price with $300 promo code APINSIDER. If you have any issues, you can reach out to us at [email protected] and we'll try and help.

$4,899.00

n/a

n/a

n/a

n/a

n/a
$300.00
16" 6C (2.6GHz, 16GB, 8TB, 5500M 8GB) Gray

$4,999.00

$4,599.00

Coupon

Price with $400 promo code APINSIDER. Add AppleCare for $299 with same code ($80 off retail). As always, if you have any issues, you can reach out to us at [email protected] and we'll try and help.

$4,999.00

$4,621.30

n/a

n/a

n/a

n/a
$400.00
16" 6C (2.6GHz, 16GB, 8TB, 5500M 8GB) Silver

$4,999.00

$4,799.00

Coupon

Price with $200 promo code APINSIDER. As always, if you have any issues, you can reach out to us at [email protected] and we'll try and help.

$4,999.00

n/a

n/a

n/a

n/a

n/a
$200.00
16" 6C (2.6GHz, 16GB, 8TB, 5600M) Silver

$5,599.00

$5,099.00

Coupon

Price with $500 promo code APINSIDER. Add AppleCare for $299 ($80 off) with the same code! As always, if you have any issues, you can reach out to us at [email protected] and we'll try and help.

$5,599.00

n/a

n/a

n/a

n/a

n/a
$500.00
16" 6C (2.6GHz, 16GB, 8TB, 5600M) Gray

$5,599.00

$5,099.00

Coupon

Price with $500 promo code APINSIDER. Add AppleCare for $299 ($80 off) with the same code! As always, if you have any issues, you can reach out to us at [email protected] and we'll try and help.

$5,599.00

$5,176.01

n/a

n/a

n/a

n/a
$500.00
16" 6C (2.6GHz, 32GB, 512GB, 5300M) Gray

$2,799.00

$2,599.00

Coupon

Price with $100 promo code APINSIDER. As always, if you have any issues, you can reach out to us at [email protected] and we'll try and help.

$2,799.00

$2,599.00

n/a

n/a

n/a

n/a
$200.00
16" 6C (2.6GHz, 32GB, 512GB, 5300M) Silver

$2,799.00

$2,499.00

Coupon

Price with $300 promo code APINSIDER. If you have any issues, you can reach out to us at [email protected] and we'll try and help.

$2,799.00

n/a

n/a

n/a

n/a

n/a
$300.00
16" 6C (2.6GHz, 32GB, 512GB, 5500M 4GB) Gray

$2,899.00

$2,675.00

Coupon

Price with $224 promo code APINSIDER. Add AppleCare for $299 ($80 off) with the same code! As always, if you have any issues, you can reach out to us at [email protected] and we'll try and help.

$2,899.00

$2,693.00

n/a

n/a

n/a

n/a
$224.00
16" 6C (2.6GHz, 32GB, 512GB, 5500M 4GB) Silver

$2,899.00

$2,749.00

Coupon

Price with $150 promo code APINSIDER. Add AppleCare for $299 with same code ($80 off retail). As always, if you have any issues, you can reach out to us at [email protected] and we'll try and help.

$2,899.00

n/a

n/a

n/a

n/a

n/a
$150.00
16" 6C (2.6GHz, 32GB, 512GB, 5500M 8GB) Gray

$2,999.00

$2,749.00

Coupon

Price with $250 promo code APINSIDER. As always, if you have any issues, you can reach out to us at [email protected] and we'll try and help.

$2,999.00

$2,785.00

n/a

n/a

n/a

n/a
$250.00
16" 6C (2.6GHz, 32GB, 512GB, 5500M 8GB) Silver

$2,999.00

$2,849.00

Coupon

Price with $150 promo code APINSIDER. Add AppleCare for $299 with same code ($80 off retail). As always, if you have any issues, you can reach out to us at [email protected] and we'll try and help.

$2,999.00

n/a

n/a

n/a

n/a

n/a
$150.00
16" 6C (2.6GHz, 32GB, 512GB, 5600M) Gray

$3,599.00

$3,299.00

Coupon

Price with $300 promo code APINSIDER. If you have any issues, you can reach out to us at [email protected] and we'll try and help.

$3,599.00

$3,340.00

n/a

n/a

n/a

n/a
$300.00
16" 6C (2.6GHz, 32GB, 512GB, 5600M) Silver

$3,599.00

$3,299.00

Coupon

Price with $300 promo code APINSIDER. If you have any issues, you can reach out to us at [email protected] and we'll try and help.

$3,599.00

n/a

n/a

n/a

n/a

n/a
$300.00
16" 6C (2.6GHz, 32GB, 1TB, 5300M) Gray

$2,999.00

$2,625.00

Coupon

Price with $224 promo code APINSIDER. Add AppleCare for $299 ($80 off) with the same code! As always, if you have any issues, you can reach out to us at [email protected] and we'll try and help.

$2,999.00

$2,785.00

n/a

n/a

n/a

n/a
$374.00
16" 6C (2.6GHz, 32GB, 1TB, 5300M) Silver

$2,999.00

$2,775.00

Coupon

Price with $224 promo code APINSIDER. Add AppleCare for $299 ($80 off) with the same code! As always, if you have any issues, you can reach out to us at [email protected] and we'll try and help.

$2,999.00

n/a

n/a

n/a

n/a

n/a
$224.00
16" 6C (2.6GHz, 32GB, 1TB, 5500M 4GB) Gray

$3,099.00

$2,849.00

Coupon

Price with $250 promo code APINSIDER. As always, if you have any issues, you can reach out to us at [email protected] and we'll try and help.

$3,099.00

$2,879.00

n/a

n/a

n/a

n/a
$250.00
16" 6C (2.6GHz, 32GB, 1TB, 5500M 4GB) Silver

$3,099.00

$2,899.00

Coupon

Price with $200 promo code APINSIDER. As always, if you have any issues, you can reach out to us at [email protected] and we'll try and help.

$3,099.00

n/a

n/a

n/a

n/a

n/a
$200.00
16" 6C (2.6GHz, 32GB, 1TB, 5500M 8GB) Gray

$3,199.00

$2,949.00

Coupon

Price with $250 promo code APINSIDER. As always, if you have any issues, you can reach out to us at [email protected] and we'll try and help.

$3,199.00

$2,970.00

n/a

n/a

n/a

n/a
$250.00
16" 6C (2.6GHz, 32GB, 1TB, 5500M 8GB) Silver

$3,199.00

$2,999.00

Coupon

Price with $200 promo code APINSIDER. As always, if you have any issues, you can reach out to us at [email protected] and we'll try and help.

$3,199.00

n/a

n/a

n/a

n/a

n/a
$200.00
16" 6C (2.6GHz, 32GB, 1TB, 5600M) Gray

$3,799.00

$3,499.00

Coupon

Price with $300 promo code APINSIDER. If you have any issues, you can reach out to us at [email protected] and we'll try and help.

$3,799.00

$3,529.00

n/a

n/a

n/a

n/a
$300.00
16" 6C (2.6GHz, 32GB, 1TB, 5600M) Silver

$3,799.00

$3,499.00

Coupon

Price with $300 promo code APINSIDER. If you have any issues, you can reach out to us at [email protected] and we'll try and help.

$3,799.00

n/a

n/a

n/a

n/a

n/a
$300.00
16" 6C (2.6GHz, 32GB, 2TB, 5300M) Gray

$3,399.00

$3,150.00

Coupon

Price with $249 promo code APINSIDER. As always, if you have any issues, you can reach out to us at [email protected] and we'll try and help.

$3,399.00

$3,155.00

n/a

n/a

n/a

n/a
$249.00
16" 6C (2.6GHz, 32GB, 2TB, 5300M) Silver

$3,399.00

$3,150.00

Coupon

Price with $249 promo code APINSIDER. As always, if you have any issues, you can reach out to us at [email protected] and we'll try and help.

$3,399.00

n/a

n/a

n/a

n/a

n/a
$249.00
16" 6C (2.6GHz, 32GB, 2TB, 5500M 4GB) Gray

$3,499.00

$3,225.00

Coupon

Price with $274 promo code APINSIDER. Plus, save $70 on AppleCare with the same code. If you have any issues, you can reach out to us at [email protected] and we'll try and help.

$3,499.00

$3,250.00

n/a

n/a

n/a

n/a
$274.00
16" 6C (2.6GHz, 32GB, 2TB, 5500M 4GB) Silver

$3,499.00

$3,299.00

Coupon

Price with $200 promo code APINSIDER. As always, if you have any issues, you can reach out to us at [email protected] and we'll try and help.

$3,499.00

n/a

n/a

n/a

n/a

n/a
$200.00
16" 6C (2.6GHz, 32GB, 2TB, 5500M 8GB) Gray

$3,599.00

$3,299.00

Coupon

Price with $300 promo code APINSIDER. If you have any issues, you can reach out to us at [email protected] and we'll try and help.

$3,599.00

$3,340.00

n/a

n/a

n/a

n/a
$300.00
16" 6C (2.6GHz, 32GB, 2TB, 5500M 8GB) Silver

$3,599.00

$3,399.00

Coupon

Price with $200 promo code APINSIDER. As always, if you have any issues, you can reach out to us at [email protected] and we'll try and help.

$3,599.00

n/a

n/a

n/a

n/a

n/a
$200.00
16" 6C (2.6GHz, 32GB, 2TB, 5600M) Gray

$4,199.00

$3,799.00

Coupon

Price with $400 promo code APINSIDER. Add AppleCare for $299 ($80 off) with the same code! As always, if you have any issues, you can reach out to us at [email protected] and we'll try and help.

$4,199.00

$3,899.00

n/a

n/a

n/a

n/a
$400.00
16" 6C (2.6GHz, 32GB, 2TB, 5600M) Silver

$4,199.00

$3,799.00

Coupon

Price with $400 promo code APINSIDER. Add AppleCare for $299 ($80 off) with the same code! As always, if you have any issues, you can reach out to us at [email protected] and we'll try and help.

$4,199.00

n/a

n/a

n/a

n/a

n/a
$400.00
16" 6C (2.6GHz, 32GB, 4TB, 5300M) Gray

$3,999.00

$3,699.00

Coupon

Price with $300 promo code APINSIDER. If you have any issues, you can reach out to us at [email protected] and we'll try and help.

$3,999.00

$3,710.00

n/a

n/a

n/a

n/a
$300.00
16" 6C (2.6GHz, 32GB, 4TB, 5300M) Silver

$3,999.00

$3,799.00

Coupon

Price with $200 promo code APINSIDER. As always, if you have any issues, you can reach out to us at [email protected] and we'll try and help.

$3,999.00

n/a

n/a

n/a

n/a

n/a
$200.00
16" 6C (2.6GHz, 32GB, 4TB, 5500M 4GB) Gray

$4,099.00

$3,799.00

Coupon

Price with $300 promo code APINSIDER. If you have any issues, you can reach out to us at [email protected] and we'll try and help.

$4,099.00

$3,805.00

n/a

n/a

n/a

n/a
$300.00
16" 6C (2.6GHz, 32GB, 4TB, 5500M 4GB) Silver

$4,099.00

$3,799.00

Coupon

Price with $300 promo code APINSIDER. If you have any issues, you can reach out to us at [email protected] and we'll try and help.

$4,099.00

n/a

n/a

n/a

n/a

n/a
$300.00
16" 6C (2.6GHz, 32GB, 4TB, 5500M 8GB) Gray

$4,199.00

$3,899.00

Coupon

Price with $300 promo code APINSIDER. If you have any issues, you can reach out to us at [email protected] and we'll try and help.

$4,199.00

$3,899.00

n/a

n/a

n/a

n/a
$300.00
16" 6C (2.6GHz, 32GB, 4TB, 5500M 8GB) Silver

$4,199.00

$3,899.00

Coupon

Price with $300 promo code APINSIDER. If you have any issues, you can reach out to us at [email protected] and we'll try and help.

$4,199.00

n/a

n/a

n/a

n/a

n/a
$300.00
16" 6C (2.6GHz, 32GB, 4TB, 5600M) Gray

$4,799.00

$4,399.00

Coupon

Price with $400 promo code APINSIDER. Add AppleCare for $299 ($80 off) with the same code! As always, if you have any issues, you can reach out to us at [email protected] and we'll try and help.

$4,799.00

$4,455.00

n/a

n/a

n/a

n/a
$400.00
16" 6C (2.6GHz, 32GB, 4TB, 5600M) Silver

$4,799.00

$4,399.00

Coupon

Price with $400 promo code APINSIDER. Add AppleCare for $299 ($80 off) with the same code! As always, if you have any issues, you can reach out to us at [email protected] and we'll try and help.

$4,799.00

n/a

n/a

n/a

n/a

n/a
$400.00
16" 6C (2.6GHz, 32GB, 8TB, 5300M) Gray

$5,199.00

$4,799.00

Coupon

Price with $400 promo code APINSIDER. Add AppleCare for $299 ($80 off) with the same code! As always, if you have any issues, you can reach out to us at [email protected] and we'll try and help.

$5,199.00

$4,830.00

n/a

n/a

n/a

n/a
$400.00
16" 6C (2.6GHz, 32GB, 8TB, 5300M) Silver

$5,199.00

$4,799.00

Coupon

Price with $400 promo code APINSIDER. Add AppleCare for $299 ($80 off) with the same code! As always, if you have any issues, you can reach out to us at [email protected] and we'll try and help.

$5,199.00

n/a

n/a

n/a

n/a

n/a
$400.00
16" 6C (2.6GHz, 32GB, 8TB, 5500M 4GB) Silver

$5,299.00

$4,999.00

Coupon

Price with $300 promo code APINSIDER. If you have any issues, you can reach out to us at [email protected] and we'll try and help.

$5,299.00

n/a

n/a

n/a

n/a

n/a
$300.00
16" 6C (2.6GHz, 32GB, 8TB, 5500M 4GB) Gray

$5,299.00

$4,899.00

Coupon

Price with $400 promo code APINSIDER. Add AppleCare for $299 with same code ($80 off retail). As always, if you have any issues, you can reach out to us at [email protected] and we'll try and help.

$5,299.00

$4,919.00

n/a

n/a

n/a

n/a
$400.00
16" 6C (2.6GHz, 32GB, 8TB, 5500M 8GB) Gray

$5,399.00

$4,949.00

Coupon

Price with $450 promo code APINSIDER. Plus, save $70 on AppleCare with the same code. If you have any issues, you can reach out to us at [email protected] and we'll try and help.

$5,399.00

$5,015.00

n/a

n/a

n/a

n/a
$450.00
16" 6C (2.6GHz, 32GB, 8TB, 5500M 8GB) Silver

$5,399.00

$5,099.00

Coupon

Price with $300 promo code APINSIDER. If you have any issues, you can reach out to us at [email protected] and we'll try and help.

$5,399.00

n/a

n/a

n/a

n/a

n/a
$300.00
16" 6C (2.6GHz, 32GB, 8TB, 5600M) Gray

$5,999.00

$5,499.00

Coupon

Price with $500 promo code APINSIDER. Add AppleCare for $299 ($80 off) with the same code! As always, if you have any issues, you can reach out to us at [email protected] and we'll try and help.

$5,999.00

$5,570.00

n/a

n/a

n/a

n/a
$500.00
16" 6C (2.6GHz, 32GB, 8TB, 5600M) Silver

$5,999.00

$5,499.00

Coupon

Price with $500 promo code APINSIDER. Add AppleCare for $299 ($80 off) with the same code! As always, if you have any issues, you can reach out to us at [email protected] and we'll try and help.

$5,999.00

n/a

n/a

n/a

n/a

n/a
$500.00
16" 6C (2.6GHz, 64GB, 512GB, 5300M) Gray

$3,199.00

$2,965.00

Coupon

Price with $234 promo code APINSIDER. Add AppleCare for $299 ($80 off) with the same code! As always, if you have any issues, you can reach out to us at [email protected] and we'll try and help.

$3,199.00

$2,970.00

n/a

n/a

n/a

n/a
$234.00
16" 6C (2.6GHz, 64GB, 512GB, 5300M) Silver

$3,199.00

$2,965.00

Coupon

Price with $234 promo code APINSIDER. Add AppleCare for $299 ($80 off) with the same code! As always, if you have any issues, you can reach out to us at [email protected] and we'll try and help.

$3,199.00

n/a

n/a

n/a

n/a

n/a
$234.00
16" 6C (2.6GHz, 64GB, 512GB, 5500M 4GB) Gray

$3,299.00

$3,049.00

Coupon

Price with $250 promo code APINSIDER. As always, if you have any issues, you can reach out to us at [email protected] and we'll try and help.

$3,299.00

$3,060.00

n/a

n/a

n/a

n/a
$250.00
16" 6C (2.6GHz, 64GB, 512GB, 5500M 4GB) Silver

$3,299.00

$3,099.00

Coupon

Price with $200 promo code APINSIDER. As always, if you have any issues, you can reach out to us at [email protected] and we'll try and help.

$3,299.00

n/a

n/a

n/a

n/a

n/a
$200.00
16" 6C (2.6GHz, 64GB, 512GB, 5500M 8GB) Gray

$3,399.00

$3,125.00

Coupon

Price with $274 promo code APINSIDER. Plus, save $70 on AppleCare with the same code. If you have any issues, you can reach out to us at [email protected] and we'll try and help.

$3,399.00

$3,155.00

n/a

n/a

n/a

n/a
$274.00
16" 6C (2.6GHz, 64GB, 512GB, 5500M 8GB) Silver

$3,399.00

$3,199.00

Coupon

Price with $200 promo code APINSIDER. As always, if you have any issues, you can reach out to us at [email protected] and we'll try and help.

$3,399.00

n/a

n/a

n/a

n/a

n/a
$200.00
16" 6C (2.6GHz, 64GB, 512GB, 5600M) Gray

$3,999.00

$3,699.00

Coupon

Price with $300 promo code APINSIDER. If you have any issues, you can reach out to us at [email protected] and we'll try and help.

$3,999.00

$3,715.00

n/a

n/a

n/a

n/a
$300.00
16" 6C (2.6GHz, 64GB, 512GB, 5600M) Silver

$3,999.00

$3,699.00

Coupon

Price with $300 promo code APINSIDER. If you have any issues, you can reach out to us at [email protected] and we'll try and help.

$3,999.00

n/a

n/a

n/a

n/a

n/a
$300.00
16" 6C (2.6GHz, 64GB, 1TB, 5300M) Gray

$3,399.00

$3,199.00

Coupon

Price with $200 promo code APINSIDER. As always, if you have any issues, you can reach out to us at [email protected] and we'll try and help.

$3,399.00

$3,155.00

n/a

n/a

n/a

n/a
$244.00
16" 6C (2.6GHz, 64GB, 1TB, 5300M) Silver

$3,399.00

$3,199.00

Coupon

Price with $200 promo code APINSIDER. As always, if you have any issues, you can reach out to us at [email protected] and we'll try and help.

$3,399.00

n/a

n/a

n/a

n/a

n/a
$200.00
16" 6C (2.6GHz, 64GB, 1TB, 5500M 4GB) Gray

$3,499.00

$3,225.00

Coupon

Price with $274 promo code APINSIDER. Plus, save $70 on AppleCare with the same code. If you have any issues, you can reach out to us at [email protected] and we'll try and help.

$3,499.00

$3,250.00

n/a

n/a

n/a

n/a
$274.00
16" 6C (2.6GHz, 64GB, 1TB, 5500M 4GB) Silver

$3,499.00

$3,299.00

Coupon

Price with $200 promo code APINSIDER. As always, if you have any issues, you can reach out to us at [email protected] and we'll try and help.

$3,499.00

n/a

n/a

n/a

n/a

n/a
$200.00
16" 6C (2.6GHz, 64GB, 1TB, 5500M 8GB) Gray

$3,599.00

$3,299.00

Coupon

Price with $300 promo code APINSIDER. If you have any issues, you can reach out to us at [email protected] and we'll try and help.

$3,599.00

$3,340.00

n/a

n/a

n/a

n/a
$300.00
16" 6C (2.6GHz, 64GB, 1TB, 5500M 8GB) Silver

$3,599.00

$3,399.00

Coupon

Price with $200 promo code APINSIDER. As always, if you have any issues, you can reach out to us at [email protected] and we'll try and help.

$3,599.00

n/a

n/a

n/a

n/a

n/a
$200.00
16" 6C (2.6GHz, 64GB, 1TB, 5600M) Gray

$4,199.00

$3,799.00

Coupon

Price with $400 promo code APINSIDER. Add AppleCare for $299 ($80 off) with the same code! As always, if you have any issues, you can reach out to us at [email protected] and we'll try and help.

$4,199.00

$3,899.00

n/a

n/a

n/a

n/a
$400.00
16" 6C (2.6GHz, 64GB, 1TB, 5600M) Silver

$4,199.00

$3,799.00

Coupon

Price with $400 promo code APINSIDER. Add AppleCare for $299 ($80 off) with the same code! As always, if you have any issues, you can reach out to us at [email protected] and we'll try and help.

$4,199.00

n/a

n/a

n/a

n/a

n/a
$400.00
16" 6C (2.6GHz, 64GB, 2TB, 5300M) Gray

$3,799.00

$3,499.00

Coupon

Price with $300 promo code APINSIDER. If you have any issues, you can reach out to us at [email protected] and we'll try and help.

$3,799.00

$3,529.00

n/a

n/a

n/a

n/a
$300.00
16" 6C (2.6GHz, 64GB, 2TB, 5300M) Silver

$3,799.00

$3,599.00

Coupon

Price with $200 promo code APINSIDER. As always, if you have any issues, you can reach out to us at [email protected] and we'll try and help.

$3,799.00

n/a

n/a

n/a

n/a

n/a
$200.00
16" 6C (2.6GHz, 64GB, 2TB, 5500M 4GB) Gray

$3,899.00

$3,699.00

Coupon

Price with $200 promo code APINSIDER. As always, if you have any issues, you can reach out to us at [email protected] and we'll try and help.

$3,899.00

$4,270.00

n/a

n/a

n/a

n/a
$200.00
16" 6C (2.6GHz, 64GB, 2TB, 5500M 4GB) Silver

$3,899.00

$3,699.00

Coupon

Price with $200 promo code APINSIDER. As always, if you have any issues, you can reach out to us at [email protected] and we'll try and help.

$3,899.00

n/a

n/a

n/a

n/a

n/a
$200.00
16" 6C (2.6GHz, 64GB, 2TB, 5500M 8GB) Gray

$3,999.00

$3,699.00

Coupon

Price with $300 promo code APINSIDER. If you have any issues, you can reach out to us at [email protected] and we'll try and help.

$3,999.00

$3,715.00

n/a

n/a

n/a

n/a
$300.00
16" 6C (2.6GHz, 64GB, 2TB, 5500M 8GB) Silver

$3,999.00

$3,799.00

Coupon

Price with $200 promo code APINSIDER. As always, if you have any issues, you can reach out to us at [email protected] and we'll try and help.

$3,999.00

n/a

n/a

n/a

n/a

n/a
$200.00
16" 6C (2.6GHz, 64GB, 2TB, 5600M) Gray

$4,599.00

$4,199.00

Coupon

Price with $400 promo code APINSIDER. Add AppleCare for $299 ($80 off) with the same code! As always, if you have any issues, you can reach out to us at [email protected] and we'll try and help.

$4,599.00

$4,270.00

n/a

n/a

n/a

n/a
$400.00
16" 6C (2.6GHz, 64GB, 2TB, 5600M) Silver

$4,599.00

$4,199.00

Coupon

Price with $400 promo code APINSIDER. Add AppleCare for $299 ($80 off) with the same code! As always, if you have any issues, you can reach out to us at [email protected] and we'll try and help.

$4,599.00

n/a

n/a

n/a

n/a

n/a
$400.00
16" 6C (2.6GHz, 64GB, 4TB, 5300M) Gray

$4,399.00

$4,049.00

Coupon

Price with $350 promo code APINSIDER. Plus, save $70 on AppleCare with the same code. If you have any issues, you can reach out to us at [email protected] and we'll try and help.

$4,399.00

$4,085.00

n/a

n/a

n/a

n/a
$350.00
16" 6C (2.6GHz, 64GB, 4TB, 5300M) Silver

$4,399.00

$4,099.00

Coupon

Price with $300 promo code APINSIDER. If you have any issues, you can reach out to us at [email protected] and we'll try and help.

$4,399.00

n/a

n/a

n/a

n/a

n/a
$300.00
16" 6C (2.6GHz, 64GB, 4TB, 5500M 4GB) Gray

$4,499.00

$4,149.00

Coupon

Price with $350 promo code APINSIDER. Plus, save $70 on AppleCare with the same code. If you have any issues, you can reach out to us at [email protected] and we'll try and help.

$4,499.00

$4,179.00

n/a

n/a

n/a

n/a
$350.00
16" 6C (2.6GHz, 64GB, 4TB, 5500M 4GB) Silver

$4,499.00

$4,199.00

Coupon

Price with $300 promo code APINSIDER. If you have any issues, you can reach out to us at [email protected] and we'll try and help.

$4,499.00

n/a

n/a

n/a

n/a

n/a
$300.00
16" 6C (2.6GHz, 64GB, 4TB, 5500M 8GB) Gray

$4,599.00

$4,249.00

Coupon

Price with $350 promo code APINSIDER. Plus, save $70 on AppleCare with the same code. If you have any issues, you can reach out to us at [email protected] and we'll try and help.

$4,599.00

$4,269.00

n/a

n/a

n/a

n/a
$350.00
16" 6C (2.6GHz, 64GB, 4TB, 5500M 8GB) Silver

$4,599.00

$4,299.00

Coupon

Price with $300 promo code APINSIDER. If you have any issues, you can reach out to us at [email protected] and we'll try and help.

$4,599.00

n/a

n/a

n/a

n/a

n/a
$300.00
16" 6C (2.6GHz, 64GB, 4TB, 5600M) Gray

$5,199.00

$4,699.00

Coupon

Price with $500 promo code APINSIDER. Add AppleCare for $299 ($80 off) with the same code! As always, if you have any issues, you can reach out to us at [email protected] and we'll try and help.

$5,199.00

$4,830.00

n/a

n/a

n/a

n/a
$500.00
16" 6C (2.6GHz, 64GB, 4TB, 5600M) Silver

$5,199.00

$4,699.00

Coupon

Price with $500 promo code APINSIDER. Add AppleCare for $299 ($80 off) with the same code! As always, if you have any issues, you can reach out to us at [email protected] and we'll try and help.

$5,199.00

n/a

n/a

n/a

n/a

n/a
$500.00
16" 6C (2.6GHz, 64GB, 8TB, 5300M) Gray

$5,599.00

$5,149.00

Coupon

Price with $450 promo code APINSIDER. Plus, save $70 on AppleCare with the same code. If you have any issues, you can reach out to us at [email protected] and we'll try and help.

$5,599.00

$5,199.00

n/a

n/a

n/a

n/a
$450.00
16" 6C (2.6GHz, 64GB, 8TB, 5300M) Silver

$5,599.00

$5,299.00

Coupon

Price with $300 promo code APINSIDER. If you have any issues, you can reach out to us at [email protected] and we'll try and help.

$5,599.00

n/a

n/a

n/a

n/a

n/a
$300.00
16" 6C (2.6GHz, 64GB, 8TB, 5500M 4GB) Gray

$5,699.00

$5,249.00

Coupon

Price with $450 promo code APINSIDER. Plus, save $70 on AppleCare with the same code. If you have any issues, you can reach out to us at [email protected] and we'll try and help.

$5,699.00

$5,290.00

n/a

n/a

n/a

n/a
$450.00
16" 6C (2.6GHz, 64GB, 8TB, 5500M 4GB) Silver

$5,699.00

$5,399.00

Coupon

Price with $300 promo code APINSIDER. If you have any issues, you can reach out to us at [email protected] and we'll try and help.

$5,699.00

n/a

n/a

n/a

n/a

n/a
$300.00
16" 6C (2.6GHz, 64GB, 8TB, 5500M 8GB) Gray

$5,799.00

$5,349.00

Coupon

Price with $450 promo code APINSIDER. Plus, save $70 on AppleCare with the same code. If you have any issues, you can reach out to us at [email protected] and we'll try and help.

$5,799.00

$5,385.00

n/a

n/a

n/a

n/a
$450.00
16" 6C (2.6GHz, 64GB, 8TB, 5500M 8GB) Silver

$5,799.00

$5,499.00

Coupon

Price with $300 promo code APINSIDER. If you have any issues, you can reach out to us at [email protected] and we'll try and help.

$5,799.00

n/a

n/a

n/a

n/a

n/a
$300.00
16" 6C (2.6GHz, 64GB, 8TB, 5600M) Gray

$6,399.00

$5,799.00

Coupon

Price with $600 promo code APINSIDER. As always, if you have any issues, you can reach out to us at [email protected] and we'll try and help.

$6,399.00

$5,940.00

n/a

n/a

n/a

n/a
$600.00
16" 6C (2.6GHz, 64GB, 8TB, 5600M) Silver

$6,399.00

$5,799.00

Coupon

Price with $600 promo code APINSIDER. As always, if you have any issues, you can reach out to us at [email protected] and we'll try and help.

$6,399.00

n/a

n/a

n/a

n/a

n/a
$600.00
16" 8C (2.3GHz, 16GB, 1TB, 5500M 8GB) Gray

$2,899.00

$2,649.00

Coupon

Price with $150 promo code APINSIDER. Add AppleCare for $299 with same code ($80 off retail). As always, if you have any issues, you can reach out to us at [email protected] and we'll try and help.

$2,899.00

$2,690.00

n/a

n/a

n/a

$2,899.00
$250.00
16" 8C (2.3GHz, 16GB, 1TB, 5500M 8GB) Silver

$2,899.00

$2,749.00

Coupon

Price with $150 promo code APINSIDER. Add AppleCare for $299 with same code ($80 off retail). As always, if you have any issues, you can reach out to us at [email protected] and we'll try and help.

$2,899.00

n/a

n/a

n/a

n/a

n/a
$150.00
16" 8C (2.3GHz, 16GB, 1TB, 5600M) Gray

$3,499.00

$3,199.00

Coupon

Price with $300 promo code APINSIDER. If you have any issues, you can reach out to us at [email protected] and we'll try and help.

$3,499.00

$3,250.00

n/a

n/a

n/a

n/a
$300.00
16" 8C (2.3GHz, 16GB, 1TB, 5600M) Silver

$3,499.00

$3,199.00

Coupon

Price with $300 promo code APINSIDER. If you have any issues, you can reach out to us at [email protected] and we'll try and help.

$3,499.00

n/a

n/a

n/a

n/a

n/a
$300.00
16" 8C (2.3GHz, 16GB, 2TB, 5500M 4GB) Gray

$3,199.00

$2,949.00

Coupon

Price with $250 promo code APINSIDER. As always, if you have any issues, you can reach out to us at [email protected] and we'll try and help.

$3,199.00

$2,969.00

n/a

n/a

n/a

n/a
$250.00
16" 8C (2.3GHz, 16GB, 2TB, 5500M 4GB) Silver

$3,199.00

$2,999.00

Coupon

Price with $200 promo code APINSIDER. As always, if you have any issues, you can reach out to us at [email protected] and we'll try and help.

$3,199.00

n/a

n/a

n/a

n/a

n/a
$200.00
16" 8C (2.3GHz, 16GB, 2TB, 5500M 8GB) Gray

$3,299.00

$3,025.00

Coupon

Price with $274 promo code APINSIDER. Plus, save $70 on AppleCare with the same code. If you have any issues, you can reach out to us at [email protected] and we'll try and help.

$3,299.00

$3,060.00

n/a

n/a

n/a

n/a
$274.00
16" 8C (2.3GHz, 16GB, 2TB, 5500M 8GB) Silver

$3,299.00

$3,099.00

Coupon

Price with $200 promo code APINSIDER. As always, if you have any issues, you can reach out to us at [email protected] and we'll try and help.

$3,299.00

n/a

n/a

n/a

n/a

n/a
$200.00
16" 8C (2.3GHz, 16GB, 2TB, 5600M) Gray

$3,899.00

$3,599.00

Coupon

Price with $300 promo code APINSIDER. If you have any issues, you can reach out to us at [email protected] and we'll try and help.

$3,899.00

$3,620.00

n/a

n/a

n/a

n/a
$300.00
16" 8C (2.3GHz, 16GB, 2TB, 5600M) Silver

$3,899.00

$3,599.00

Coupon

Price with $300 promo code APINSIDER. If you have any issues, you can reach out to us at [email protected] and we'll try and help.

$3,899.00

n/a

n/a

n/a

n/a

n/a
$300.00
16" 8C (2.3GHz, 16GB, 4TB, 5500M 4GB) Gray

$3,799.00

$3,499.00

Coupon

Price with $300 promo code APINSIDER. If you have any issues, you can reach out to us at [email protected] and we'll try and help.

$3,799.00

$3,529.00

n/a

n/a

n/a

n/a
$300.00
16" 8C (2.3GHz, 16GB, 4TB, 5500M 4GB) Silver

$3,799.00

$3,599.00

Coupon

Price with $200 promo code APINSIDER. As always, if you have any issues, you can reach out to us at [email protected] and we'll try and help.

$3,799.00

n/a

n/a

n/a

n/a

n/a
$200.00
16" 8C (2.3GHz, 16GB, 4TB, 5500M 8GB) Gray

$3,899.00

$3,599.00

Coupon

Price with $300 promo code APINSIDER. If you have any issues, you can reach out to us at [email protected] and we'll try and help.

$3,899.00

$3,620.00

n/a

n/a

n/a

n/a
$300.00
16" 8C (2.3GHz, 16GB, 4TB, 5500M 8GB) Silver

$3,899.00

$3,699.00

Coupon

Price with $200 promo code APINSIDER. As always, if you have any issues, you can reach out to us at [email protected] and we'll try and help.

$3,899.00

n/a

n/a

n/a

n/a

n/a
$200.00
16" 8C (2.3GHz, 16GB, 4TB, 5600M) Gray

$4,499.00

$4,099.00

Coupon

Price with $400 promo code APINSIDER. Add AppleCare for $299 ($80 off) with the same code! As always, if you have any issues, you can reach out to us at [email protected] and we'll try and help.

$4,499.00

$4,179.00

n/a

n/a

n/a

n/a
$400.00
16" 8C (2.3GHz, 16GB, 4TB, 5600M) Silver

$4,499.00

$4,099.00

Coupon

Price with $400 promo code APINSIDER. Add AppleCare for $299 ($80 off) with the same code! As always, if you have any issues, you can reach out to us at [email protected] and we'll try and help.

$4,499.00

n/a

n/a

n/a

n/a

n/a
$400.00
16" 8C (2.3GHz, 16GB, 8TB, 5500M 4GB) Gray

$4,999.00

$4,599.00

Coupon

Price with $400 promo code APINSIDER. Add AppleCare for $299 with same code ($80 off retail). As always, if you have any issues, you can reach out to us at [email protected] and we'll try and help.

$4,999.00

$4,640.00

n/a

n/a

n/a

n/a
$400.00
16" 8C (2.3GHz, 16GB, 8TB, 5500M 4GB) Silver

$4,999.00

$4,699.00

Coupon

Price with $300 promo code APINSIDER. If you have any issues, you can reach out to us at [email protected] and we'll try and help.

$4,999.00

n/a

n/a

n/a

n/a

n/a
$300.00
16" 8C (2.3GHz, 16GB, 8TB, 5500M 8GB) Gray

$5,099.00

$4,625.00

Coupon

Price with $474 promo code APINSIDER. Plus, save $70 on AppleCare with the same code. If you have any issues, you can reach out to us at [email protected] and we'll try and help.

$5,099.00

sold out

n/a

n/a

n/a

n/a
$474.00
16" 8C (2.3GHz, 16GB, 8TB, 5500M 8GB) Silver

$5,099.00

$4,799.00

Coupon

Price with $300 promo code APINSIDER. If you have any issues, you can reach out to us at [email protected] and we'll try and help.

$5,099.00

n/a

n/a

n/a

n/a

n/a
$300.00
16" 8C (2.3GHz, 16GB, 8TB, 5600M) Gray

$5,699.00

$5,199.00

Coupon

Price with $500 promo code APINSIDER. Add AppleCare for $299 ($80 off) with the same code! As always, if you have any issues, you can reach out to us at [email protected] and we'll try and help.

$5,699.00

$5,290.00

n/a

n/a

n/a

n/a
$500.00
16" 8C (2.3GHz, 16GB, 8TB, 5600M) Silver

$5,699.00

$5,199.00

Coupon

Price with $500 promo code APINSIDER. Add AppleCare for $299 ($80 off) with the same code! As always, if you have any issues, you can reach out to us at [email protected] and we'll try and help.

$5,699.00

n/a

n/a

n/a

n/a

n/a
$500.00
16" 8C (2.3GHz, 32GB, 1TB, 5500M 4GB) Gray

$3,199.00

$2,899.00

Coupon

Price with $100 promo code APINSIDER. As always, if you have any issues, you can reach out to us at [email protected] and we'll try and help.

$3,199.00

$2,970.00

n/a

n/a

n/a

n/a
$300.00
16" 8C (2.3GHz, 32GB, 1TB, 5500M 4GB) Silver

$3,199.00

$2,999.00

Coupon

Price with $200 promo code APINSIDER. As always, if you have any issues, you can reach out to us at [email protected] and we'll try and help.

$3,199.00

n/a

n/a

n/a

n/a

n/a
$200.00
16" 8C (2.3GHz, 32GB, 1TB, 5500M 8GB) Gray

$3,299.00

$3,049.99

Coupon

Price with $100 promo code APINSIDER. As always, if you have any issues, you can reach out to us at [email protected] and we'll try and help.

$3,278.00

$3,060.00

n/a

n/a

n/a

n/a
$249.01
16" 8C (2.3GHz, 32GB, 1TB, 5500M 8GB) Silver

$3,299.00

$3,099.00

Coupon

Price with $200 promo code APINSIDER. As always, if you have any issues, you can reach out to us at [email protected] and we'll try and help.

$3,299.00

n/a

n/a

n/a

n/a

n/a
$200.00
16" 8C (2.3GHz, 32GB, 1TB, 5600M) Gray

$3,899.00

$3,599.00

Coupon

Price with $300 promo code APINSIDER. If you have any issues, you can reach out to us at [email protected] and we'll try and help.

$3,899.00

$3,620.00

n/a

n/a

n/a

n/a
$300.00
16" 8C (2.3GHz, 32GB, 1TB, 5600M) Silver

$3,899.00

$3,599.00

Coupon

Price with $300 promo code APINSIDER. If you have any issues, you can reach out to us at [email protected] and we'll try and help.

$3,899.00

n/a

n/a

n/a

n/a

n/a
$300.00
16" 8C (2.3GHz, 32GB, 2TB, 5500M 4GB) Gray

$3,599.00

$3,299.00

Coupon

Price with $300 promo code APINSIDER. If you have any issues, you can reach out to us at [email protected] and we'll try and help.

$3,599.00

$3,340.00

n/a

n/a

n/a

n/a
$300.00
16" 8C (2.3GHz, 32GB, 2TB, 5500M 4GB) Silver

$3,599.00

$3,399.00

Coupon

Price with $200 promo code APINSIDER. As always, if you have any issues, you can reach out to us at [email protected] and we'll try and help.

$3,599.00

n/a

n/a

n/a

n/a

n/a
$200.00
16" 8C (2.3GHz, 32GB, 2TB, 5500M 8GB) Gray

$3,699.00

$3,399.00

Coupon

Price with $300 promo code APINSIDER. If you have any issues, you can reach out to us at [email protected] and we'll try and help.

$3,699.00

$3,435.00

n/a

n/a

n/a

n/a
$300.00
16" 8C (2.3GHz, 32GB, 2TB, 5500M 8GB) Silver

$3,699.00

$3,499.00

Coupon

Price with $200 promo code APINSIDER. As always, if you have any issues, you can reach out to us at [email protected] and we'll try and help.

$3,699.00

n/a

n/a

n/a

n/a

n/a
$200.00
16" 8C (2.3GHz, 32GB, 2TB, 5600M) Gray

$4,299.00

$3,899.00

Coupon

Price with $400 promo code APINSIDER. Add AppleCare for $299 ($80 off) with the same code! As always, if you have any issues, you can reach out to us at [email protected] and we'll try and help.

$4,299.00

$3,990.00

n/a

n/a

n/a

n/a
$400.00
16" 8C (2.3GHz, 32GB, 2TB, 5600M) Silver

$4,299.00

$3,899.00

Coupon

Price with $400 promo code APINSIDER. Add AppleCare for $299 ($80 off) with the same code! As always, if you have any issues, you can reach out to us at [email protected] and we'll try and help.

$4,299.00

n/a

n/a

n/a

n/a

n/a
$400.00
16" 8C (2.3GHz, 32GB, 4TB, 5500M 4GB) Gray

$4,199.00

$3,899.00

Coupon

Price with $300 promo code APINSIDER. If you have any issues, you can reach out to us at [email protected] and we'll try and help.

$4,199.00

$3,899.00

n/a

n/a

n/a

n/a
$300.00
16" 8C (2.3GHz, 32GB, 4TB, 5500M 4GB) Silver

$4,199.00

$3,899.00

Coupon

Price with $300 promo code APINSIDER. If you have any issues, you can reach out to us at [email protected] and we'll try and help.

$4,199.00

n/a

n/a

n/a

n/a

n/a
$300.00
16" 8C (2.3GHz, 32GB, 4TB, 5500M 8GB) Gray

$4,299.00

$3,949.00

Coupon

Price with $350 promo code APINSIDER. Plus, save $70 on AppleCare with the same code. If you have any issues, you can reach out to us at [email protected] and we'll try and help.

$4,299.00

$3,989.00

n/a

n/a

n/a

n/a
$350.00
16" 8C (2.3GHz, 32GB, 4TB, 5500M 8GB) Silver

$4,299.00

$3,999.00

Coupon

Price with $300 promo code APINSIDER. If you have any issues, you can reach out to us at [email protected] and we'll try and help.

$4,299.00

n/a

n/a

n/a

n/a

n/a
$300.00
16" 8C (2.3GHz, 32GB, 4TB, 5600M) Gray

$4,899.00

$4,499.00

Coupon

Price with $400 promo code APINSIDER. Add AppleCare for $299 ($80 off) with the same code! As always, if you have any issues, you can reach out to us at [email protected] and we'll try and help.

$4,899.00

$4,550.00

n/a

n/a

n/a

n/a
$400.00
16" 8C (2.3GHz, 32GB, 4TB, 5600M) Silver

$4,899.00

$4,499.00

Coupon

Price with $400 promo code APINSIDER. Add AppleCare for $299 ($80 off) with the same code! As always, if you have any issues, you can reach out to us at [email protected] and we'll try and help.

$4,899.00

n/a

n/a

n/a

n/a

n/a
$400.00
16" 8C (2.3GHz, 32GB, 8TB, 5500M 4GB) Gray

$5,399.00

$4,949.00

Coupon

Price with $450 promo code APINSIDER. Plus, save $70 on AppleCare with the same code. If you have any issues, you can reach out to us at [email protected] and we'll try and help.

$5,399.00

$5,015.00

n/a

n/a

n/a

n/a
$450.00
16" 8C (2.3GHz, 32GB, 8TB, 5500M 4GB) Silver

$5,399.00

$5,099.00

Coupon

Price with $300 promo code APINSIDER. If you have any issues, you can reach out to us at [email protected] and we'll try and help.

$5,399.00

n/a

n/a

n/a

n/a

n/a
$300.00
16" 8C (2.3GHz, 32GB, 8TB, 5500M 8GB) Gray

$5,499.00

$5,199.00

Coupon

Price with $300 promo code APINSIDER. If you have any issues, you can reach out to us at [email protected] and we'll try and help.

$5,499.00

$5,099.00

n/a

n/a

n/a

n/a
$400.00
16" 8C (2.3GHz, 32GB, 8TB, 5500M 8GB) Silver

$5,499.00

$5,199.00

Coupon

Price with $300 promo code APINSIDER. If you have any issues, you can reach out to us at [email protected] and we'll try and help.

$5,499.00

n/a

n/a

n/a

n/a

n/a
$300.00
16" 8C (2.3GHz, 32GB, 8TB, 5600M) Gray

$6,099.00

$5,499.00

Coupon

Price with $600 promo code APINSIDER. As always, if you have any issues, you can reach out to us at [email protected] and we'll try and help.

$6,099.00

$5,660.00

n/a

n/a

n/a

n/a
$600.00
16" 8C (2.3GHz, 32GB, 8TB, 5600M) Silver

$6,099.00

$5,499.00

Coupon

Price with $600 promo code APINSIDER. As always, if you have any issues, you can reach out to us at [email protected] and we'll try and help.

$6,099.00

n/a

n/a

n/a

n/a

n/a
$600.00
16" 8C (2.3GHz, 64GB, 1TB, 5500M 4GB) Gray

$3,599.00

$3,299.00

Coupon

Price with $300 promo code APINSIDER. If you have any issues, you can reach out to us at [email protected] and we'll try and help.

$3,599.00

$3,340.00

n/a

n/a

n/a

n/a
$300.00
16" 8C (2.3GHz, 64GB, 1TB, 5500M 4GB) Silver

$3,599.00

$3,399.00

Coupon

Price with $200 promo code APINSIDER. As always, if you have any issues, you can reach out to us at [email protected] and we'll try and help.

$3,599.00

n/a

n/a

n/a

n/a

n/a
$200.00
16" 8C (2.3GHz, 64GB, 1TB, 5500M 8GB) Gray

$3,699.00

$3,399.00

Coupon

Price with $200 promo code APINSIDER. As always, if you have any issues, you can reach out to us at [email protected] and we'll try and help.

$3,699.00

$3,435.00

n/a

n/a

n/a

n/a
$300.00
16" 8C (2.3GHz, 64GB, 1TB, 5500M 8GB) Silver

$3,699.00

$3,499.00

Coupon

Price with $200 promo code APINSIDER. As always, if you have any issues, you can reach out to us at [email protected] and we'll try and help.

$3,599.00

n/a

n/a

n/a

n/a

n/a
$200.00
16" 8C (2.3GHz, 64GB, 1TB, 5600M) Gray

$4,299.00

$3,899.00

Coupon

Price with $400 promo code APINSIDER. Add AppleCare for $299 ($80 off) with the same code! As always, if you have any issues, you can reach out to us at [email protected] and we'll try and help.

$4,299.00

$3,990.00

n/a

n/a

n/a

n/a
$400.00
16" 8C (2.3GHz, 64GB, 1TB, 5600M) Silver

$4,299.00

$3,899.00

Coupon

Price with $400 promo code APINSIDER. Add AppleCare for $299 ($80 off) with the same code! As always, if you have any issues, you can reach out to us at [email protected] and we'll try and help.

$4,299.00

n/a

n/a

n/a

n/a

n/a
$400.00
16" 8C (2.3GHz, 64GB, 2TB, 5500M 4GB) Gray

$3,999.00

$3,699.00

Coupon

Price with $300 promo code APINSIDER. If you have any issues, you can reach out to us at [email protected] and we'll try and help.

$3,999.00

$3,715.00

n/a

n/a

n/a

n/a
$300.00
16" 8C (2.3GHz, 64GB, 2TB, 5500M 4GB) Silver

$3,999.00

$3,799.00

Coupon

Price with $200 promo code APINSIDER. As always, if you have any issues, you can reach out to us at [email protected] and we'll try and help.

$3,999.00

n/a

n/a

n/a

n/a

n/a
$200.00
16" 8C (2.3GHz, 64GB, 2TB, 5500M 8GB) Gray

$4,099.00

$3,799.00

Coupon

Price with $300 promo code APINSIDER. If you have any issues, you can reach out to us at [email protected] and we'll try and help.

$4,099.00

$3,805.00

n/a

n/a

n/a

n/a
$300.00
16" 8C (2.3GHz, 64GB, 2TB, 5500M 8GB) Silver

$4,099.00

$3,799.00

Coupon

Price with $300 promo code APINSIDER. If you have any issues, you can reach out to us at [email protected] and we'll try and help.

$4,099.00

n/a

n/a

n/a

n/a

n/a
$300.00
16" 8C (2.3GHz, 64GB, 2TB, 5600M) Gray

$4,699.00

$4,299.00

Coupon

Price with $400 promo code APINSIDER. Add AppleCare for $299 ($80 off) with the same code! As always, if you have any issues, you can reach out to us at [email protected] and we'll try and help.

$4,699.00

$4,365.00

n/a

n/a

n/a

n/a
$400.00
16" 8C (2.3GHz, 64GB, 2TB, 5600M) Silver

$4,699.00

$4,299.00

Coupon

Price with $400 promo code APINSIDER. Add AppleCare for $299 ($80 off) with the same code! As always, if you have any issues, you can reach out to us at [email protected] and we'll try and help.

$4,699.00

n/a

n/a

n/a

n/a

n/a
$400.00
16" 8C (2.3GHz, 64GB, 4TB, 5500M 4GB) Gray

$4,599.00

$4,225.00

Coupon

Price with $374 promo code APINSIDER. Plus, save $70 on AppleCare with the same code. If you have any issues, you can reach out to us at [email protected] and we'll try and help.

$4,599.00

$4,270.00

n/a

n/a

n/a

n/a
$374.00
16" 8C (2.3GHz, 64GB, 4TB, 5500M 4GB) Silver

$4,599.00

$4,299.00

Coupon

Price with $300 promo code APINSIDER. If you have any issues, you can reach out to us at [email protected] and we'll try and help.

$4,599.00

n/a

n/a

n/a

n/a

n/a
$300.00
16" 8C (2.3GHz, 64GB, 4TB, 5500M 8GB) Gray

$4,699.00

$4,325.00

Coupon

Price with $374 promo code APINSIDER. Plus, save $70 on AppleCare with the same code. If you have any issues, you can reach out to us at [email protected] and we'll try and help.

$4,699.00

$4,365.00

n/a

n/a

n/a

n/a
$374.00
16" 8C (2.3GHz, 64GB, 4TB, 5500M 8GB) Silver

$4,699.00

$4,399.00

Coupon

Price with $300 promo code APINSIDER. If you have any issues, you can reach out to us at [email protected] and we'll try and help.

$4,699.00

n/a

n/a

n/a

n/a

n/a
$300.00
16" 8C (2.3GHz, 64GB, 4TB, 5600M) Gray

$5,299.00

$4,799.00

Coupon

Price with $500 promo code APINSIDER. Add AppleCare for $299 ($80 off) with the same code! As always, if you have any issues, you can reach out to us at [email protected] and we'll try and help.

$5,299.00

$4,920.00

n/a

n/a

n/a

n/a
$500.00
16" 8C (2.3GHz, 64GB, 4TB, 5600M) Silver

$5,299.00

$4,799.00

Coupon

Price with $500 promo code APINSIDER. Add AppleCare for $299 ($80 off) with the same code! As always, if you have any issues, you can reach out to us at [email protected] and we'll try and help.

$5,299.00

n/a

n/a

n/a

n/a

n/a
$500.00
16" 8C (2.3GHz, 64GB, 8TB, 5500M 4GB) Gray

$5,799.00

$5,349.00

Coupon

Price with $450 promo code APINSIDER. Plus, save $70 on AppleCare with the same code. If you have any issues, you can reach out to us at [email protected] and we'll try and help.

$5,799.00

$5,385.00

n/a

n/a

n/a

n/a
$450.00
16" 8C (2.3GHz, 64GB, 8TB, 5500M 4GB) Silver

$5,799.00

$5,499.00

Coupon

Price with $300 promo code APINSIDER. If you have any issues, you can reach out to us at [email protected] and we'll try and help.

$5,799.00

n/a

n/a

n/a

n/a

n/a
$300.00
16" 8C (2.3GHz, 64GB, 8TB, 5500M 8GB) Gray

$5,899.00

$5,449.00

Coupon

Price with $450 promo code APINSIDER. Plus, save $70 on AppleCare with the same code. If you have any issues, you can reach out to us at [email protected] and we'll try and help.

$5,899.00

$5,480.00

n/a

n/a

n/a

n/a
$450.00
16" 8C (2.3GHz, 64GB, 8TB, 5500M 8GB) Silver

$5,899.00

$5,599.00

Coupon

Price with $300 promo code APINSIDER. If you have any issues, you can reach out to us at [email protected] and we'll try and help.

$5,899.00

n/a

n/a

n/a

n/a

n/a
$300.00
16" 8C (2.3GHz, 64GB, 8TB, 5600M) Gray

$6,499.00

$5,899.00

Coupon

Price with $600 promo code APINSIDER. As always, if you have any issues, you can reach out to us at [email protected] and we'll try and help.

$6,499.00

$6,035.00

n/a

n/a

n/a

n/a
$600.00
16" 8C (2.3GHz, 64GB, 8TB, 5600M) Silver

$6,499.00

$5,899.00

Coupon

Price with $600 promo code APINSIDER. As always, if you have any issues, you can reach out to us at [email protected] and we'll try and help.

$6,499.00

n/a

n/a

n/a

n/a

n/a
$600.00
16" 8C (2.4GHz, 16GB, 512GB, 5300M) Gray

$2,699.00

$2,549.00

Coupon

Price with $150 promo code APINSIDER. Add AppleCare for $299 with same code ($80 off retail). As always, if you have any issues, you can reach out to us at [email protected] and we'll try and help.

$2,699.00

n/a

n/a

n/a

n/a

$2,699.00
$150.00
16" 8C (2.4GHz, 16GB, 512GB, 5300M) Silver

$2,699.00

$2,549.00

Coupon

Price with $150 promo code APINSIDER. Add AppleCare for $299 with same code ($80 off retail). As always, if you have any issues, you can reach out to us at [email protected] and we'll try and help.

$2,699.00

n/a

n/a

n/a

n/a

n/a
$150.00
16" 8C (2.4GHz, 16GB, 512GB, 5500M 4GB) Gray

$2,799.00

$2,649.00

Coupon

Price with $150 promo code APINSIDER. Add AppleCare for $299 with same code ($80 off retail). As always, if you have any issues, you can reach out to us at [email protected] and we'll try and help.

$2,799.00

n/a

n/a

n/a

n/a

n/a
$150.00
16" 8C (2.4GHz, 16GB, 512GB, 5500M 4GB) Silver

$2,799.00

$2,649.00

Coupon

Price with $150 promo code APINSIDER. Add AppleCare for $299 with same code ($80 off retail). As always, if you have any issues, you can reach out to us at [email protected] and we'll try and help.

$2,799.00

n/a

n/a

n/a

n/a

n/a
$150.00
16" 8C (2.4GHz, 16GB, 512GB, 5500M 8GB) Gray

$2,899.00

$2,699.00

Coupon

Price with $200 promo code APINSIDER. As always, if you have any issues, you can reach out to us at [email protected] and we'll try and help.

$2,899.00

n/a

n/a

n/a

n/a

n/a
$200.00
16" 8C (2.4GHz, 16GB, 512GB, 5500M 8GB) Silver

$2,899.00

$2,749.00

Coupon

Price with $150 promo code APINSIDER. Add AppleCare for $299 with same code ($80 off retail). As always, if you have any issues, you can reach out to us at [email protected] and we'll try and help.

$2,899.00

n/a

n/a

n/a

n/a

n/a
$150.00
16" 8C (2.4GHz, 16GB, 512GB, 5600M) Gray

$3,499.00

$3,199.00

Coupon

Price with $300 promo code APINSIDER. If you have any issues, you can reach out to us at [email protected] and we'll try and help.

$3,499.00

n/a

n/a

n/a

n/a

n/a
$300.00
16" 8C (2.4GHz, 16GB, 512GB, 5600M) Silver

$3,499.00

$3,199.00

Coupon

Price with $300 promo code APINSIDER. If you have any issues, you can reach out to us at [email protected] and we'll try and help.

$3,499.00

n/a

n/a

n/a

n/a

n/a
$300.00
16" 8C (2.4GHz, 16GB, 1TB, 5300M) Gray

$2,899.00

$2,749.00

Coupon

Price with $150 promo code APINSIDER. Add AppleCare for $299 with same code ($80 off retail). As always, if you have any issues, you can reach out to us at [email protected] and we'll try and help.

$0.00

n/a

n/a

n/a

n/a

n/a
$150.00
16" 8C (2.4GHz, 16GB, 1TB, 5300M) Silver

$2,899.00

$2,749.00

Coupon

Price with $150 promo code APINSIDER. Add AppleCare for $299 with same code ($80 off retail). As always, if you have any issues, you can reach out to us at [email protected] and we'll try and help.

$0.00

n/a

n/a

n/a

n/a

n/a
$150.00
16" 8C (2.4GHz, 16GB, 1TB, 5500M 4GB) Gray

$2,999.00

$2,749.00

Coupon

Price with $250 promo code APINSIDER. As always, if you have any issues, you can reach out to us at [email protected] and we'll try and help.

$2,999.00

$2,785.00

n/a

n/a

n/a

n/a
$250.00
16" 8C (2.4GHz, 16GB, 1TB, 5500M 4GB) Silver

$2,999.00

$2,849.00

Coupon

Price with $150 promo code APINSIDER. Add AppleCare for $299 with same code ($80 off retail). As always, if you have any issues, you can reach out to us at [email protected] and we'll try and help.

$2,999.00

n/a

n/a

n/a

n/a

n/a
$150.00
16" 8C (2.4GHz, 16GB, 1TB, 5500M 8GB) Gray

$3,099.00

$2,849.00

Coupon

Price with $250 promo code APINSIDER. As always, if you have any issues, you can reach out to us at [email protected] and we'll try and help.

$3,099.00

$2,879.00

n/a

n/a

n/a

n/a
$250.00
16" 8C (2.4GHz, 16GB, 1TB, 5500M 8GB) Silver

$3,099.00

$2,899.00

Coupon

Price with $200 promo code APINSIDER. As always, if you have any issues, you can reach out to us at [email protected] and we'll try and help.

$3,099.00

n/a

n/a

n/a

n/a

n/a
$200.00
16" 8C (2.4GHz, 16GB, 1TB, 5600M) Gray

$3,699.00

$3,399.00

Coupon

Price with $300 promo code APINSIDER. If you have any issues, you can reach out to us at [email protected] and we'll try and help.

$3,699.00

$3,435.00

n/a

n/a

n/a

n/a
$300.00
16" 8C (2.4GHz, 16GB, 1TB, 5600M) Silver

$3,699.00

$3,399.00

Coupon

Price with $300 promo code APINSIDER. If you have any issues, you can reach out to us at [email protected] and we'll try and help.

$3,699.00

n/a

n/a

n/a

n/a

n/a
$300.00
16" 8C (2.4GHz, 16GB, 2TB, 5300M) Gray

$3,299.00

$3,099.00

Coupon

Price with $200 promo code APINSIDER. As always, if you have any issues, you can reach out to us at [email protected] and we'll try and help.

$3,299.00

n/a

n/a

n/a

n/a

n/a
$200.00
16" 8C (2.4GHz, 16GB, 2TB, 5300M) Silver

$3,299.00

$3,099.00

Coupon

Price with $200 promo code APINSIDER. As always, if you have any issues, you can reach out to us at [email protected] and we'll try and help.

$3,299.00

n/a

n/a

n/a

n/a

n/a
$200.00
16" 8C (2.4GHz, 16GB, 2TB, 5500M 4GB) Gray

$3,399.00

$3,125.00

Coupon

Price with $274 promo code APINSIDER. Plus, save $70 on AppleCare with the same code. If you have any issues, you can reach out to us at [email protected] and we'll try and help.

$3,399.00

$3,159.00

n/a

n/a

n/a

n/a
$274.00
16" 8C (2.4GHz, 16GB, 2TB, 5500M 4GB) Silver

$3,399.00

$3,199.00

Coupon

Price with $200 promo code APINSIDER. As always, if you have any issues, you can reach out to us at [email protected] and we'll try and help.

$3,399.00

n/a

n/a

n/a

n/a

n/a
$200.00
16" 8C (2.4GHz, 16GB, 2TB, 5500M 8GB) Gray

$3,499.00

$3,225.00

Coupon

Price with $274 promo code APINSIDER. Plus, save $70 on AppleCare with the same code. If you have any issues, you can reach out to us at [email protected] and we'll try and help.

$3,499.00

$3,250.00

n/a

n/a

n/a

n/a
$274.00
16" 8C (2.4GHz, 16GB, 2TB, 5500M 8GB) Silver

$3,499.00

$3,299.00

Coupon

Price with $200 promo code APINSIDER. As always, if you have any issues, you can reach out to us at [email protected] and we'll try and help.

$3,499.00

n/a

n/a

n/a

n/a

n/a
$200.00
16" 8C (2.4GHz, 16GB, 2TB, 5600M) Gray

$4,099.00

$3,699.00

Coupon

Price with $400 promo code APINSIDER. Add AppleCare for $299 ($80 off) with the same code! As always, if you have any issues, you can reach out to us at [email protected] and we'll try and help.

$4,099.00

$3,800.00

n/a

n/a

n/a

n/a
$400.00
16" 8C (2.4GHz, 16GB, 2TB, 5600M) Silver

$4,099.00

$3,699.00

Coupon

Price with $400 promo code APINSIDER. Add AppleCare for $299 ($80 off) with the same code! As always, if you have any issues, you can reach out to us at [email protected] and we'll try and help.

$4,099.00

n/a

n/a

n/a

n/a

n/a
$400.00
16" 8C (2.4GHz, 16GB, 4TB, 5300M) Gray

$3,899.00

$3,699.00

Coupon

Price with $200 promo code APINSIDER. As always, if you have any issues, you can reach out to us at [email protected] and we'll try and help.

$3,899.00

n/a

n/a

n/a

n/a

n/a
$200.00
16" 8C (2.4GHz, 16GB, 4TB, 5300M) Silver

$3,899.00

$3,699.00

Coupon

Price with $200 promo code APINSIDER. As always, if you have any issues, you can reach out to us at [email protected] and we'll try and help.

$3,899.00

n/a

n/a

n/a

n/a

n/a
$200.00
16" 8C (2.4GHz, 16GB, 4TB, 5500M 4GB) Gray

$3,999.00

$3,699.00

Coupon

Price with $300 promo code APINSIDER. If you have any issues, you can reach out to us at [email protected] and we'll try and help.

$3,999.00

$3,715.00

n/a

n/a

n/a

n/a
$300.00
16" 8C (2.4GHz, 16GB, 4TB, 5500M 4GB) Silver

$3,999.00

$3,799.00

Coupon

Price with $200 promo code APINSIDER. As always, if you have any issues, you can reach out to us at [email protected] and we'll try and help.

$3,999.00

n/a

n/a

n/a

n/a

n/a
$200.00
16" 8C (2.4GHz, 16GB, 4TB, 5500M 8GB) Gray

$4,099.00

$3,799.00

Coupon

Price with $300 promo code APINSIDER. If you have any issues, you can reach out to us at [email protected] and we'll try and help.

$4,099.00

$3,800.00

n/a

n/a

n/a

n/a
$300.00
16" 8C (2.4GHz, 16GB, 4TB, 5500M 8GB) Silver

$4,099.00

$3,799.00

Coupon

Price with $300 promo code APINSIDER. If you have any issues, you can reach out to us at [email protected] and we'll try and help.

$4,099.00

n/a

n/a

n/a

n/a

n/a
$300.00
16" 8C (2.4GHz, 16GB, 4TB, 5600M) Gray

$4,699.00

$4,299.00

Coupon

Price with $400 promo code APINSIDER. Add AppleCare for $299 ($80 off) with the same code! As always, if you have any issues, you can reach out to us at [email protected] and we'll try and help.

$4,699.00

$4,360.00

n/a

n/a

n/a

n/a
$400.00
16" 8C (2.4GHz, 16GB, 4TB, 5600M) Silver

$4,699.00

$4,299.00

Coupon

Price with $400 promo code APINSIDER. Add AppleCare for $299 ($80 off) with the same code! As always, if you have any issues, you can reach out to us at [email protected] and we'll try and help.

$4,699.00

n/a

n/a

n/a

n/a

n/a
$400.00
16" 8C (2.4GHz, 16GB, 8TB, 5300M) Gray

$5,099.00

$4,799.00

Coupon

Price with $300 promo code APINSIDER. If you have any issues, you can reach out to us at [email protected] and we'll try and help.

$5,099.00

n/a

n/a

n/a

n/a

n/a
$300.00
16" 8C (2.4GHz, 16GB, 8TB, 5300M) Silver

$5,099.00

$4,799.00

Coupon

Price with $300 promo code APINSIDER. If you have any issues, you can reach out to us at [email protected] and we'll try and help.

$5,099.00

n/a

n/a

n/a

n/a

n/a
$300.00
16" 8C (2.4GHz, 16GB, 8TB, 5500M 4GB) Gray

$5,199.00

$4,799.00

Coupon

Price with $400 promo code APINSIDER. Add AppleCare for $299 with same code ($80 off retail). As always, if you have any issues, you can reach out to us at [email protected] and we'll try and help.

$5,199.00

$4,829.00

n/a

n/a

n/a

n/a
$400.00
16" 8C (2.4GHz, 16GB, 8TB, 5500M 4GB) Silver

$5,199.00

$4,899.00

Coupon

Price with $300 promo code APINSIDER. If you have any issues, you can reach out to us at [email protected] and we'll try and help.

$5,199.00

n/a

n/a

n/a

n/a

n/a
$300.00
16" 8C (2.4GHz, 16GB, 8TB, 5500M 8GB) Gray

$5,299.00

$4,899.00

Coupon

Price with $400 promo code APINSIDER. Add AppleCare for $299 ($80 off) with the same code! As always, if you have any issues, you can reach out to us at [email protected] and we'll try and help.

$5,299.00

$4,919.00

n/a

n/a

n/a

n/a
$400.00
16" 8C (2.4GHz, 16GB, 8TB, 5500M 8GB) Silver

$5,299.00

$4,999.00

Coupon

Price with $300 promo code APINSIDER. If you have any issues, you can reach out to us at [email protected] and we'll try and help.

$5,299.00

n/a

n/a

n/a

n/a

n/a
$300.00
16" 8C (2.4GHz, 16GB, 8TB, 5600M) Gray

$5,899.00

$5,399.00

Coupon

Price with $500 promo code APINSIDER. Add AppleCare for $299 ($80 off) with the same code! As always, if you have any issues, you can reach out to us at [email protected] and we'll try and help.

$5,899.00

$5,479.00

n/a

n/a

n/a

n/a
$500.00
16" 8C (2.4GHz, 32GB, 512GB, 5300M) Gray

$3,099.00

$2,769.00

Coupon

Price with $200 promo code APINSIDER. As always, if you have any issues, you can reach out to us at [email protected] and we'll try and help.

$3,099.00

n/a

n/a

n/a

n/a

n/a
$330.00
16" 8C (2.4GHz, 16GB, 8TB, 5600M) Silver

$5,899.00

$5,399.00

Coupon

Price with $500 promo code APINSIDER. Add AppleCare for $299 ($80 off) with the same code! As always, if you have any issues, you can reach out to us at [email protected] and we'll try and help.

$5,899.00

n/a

n/a

n/a

n/a

n/a
$500.00
16" 8C (2.4GHz, 32GB, 1TB, 5300M) Gray

$3,299.00

$3,099.00

Coupon

Price with $200 promo code APINSIDER. As always, if you have any issues, you can reach out to us at [email protected] and we'll try and help.

$3,299.00

n/a

n/a

n/a

n/a

n/a
$200.00
16" 8C (2.4GHz, 32GB, 1TB, 5300M) Silver

$3,299.00

$3,099.00

Coupon

Price with $200 promo code APINSIDER. As always, if you have any issues, you can reach out to us at [email protected] and we'll try and help.

$3,299.00

n/a

n/a

n/a

n/a

n/a
$200.00
16" 8C (2.4GHz, 32GB, 1TB, 5500M 4GB) Gray

$3,399.00

$3,125.00

Coupon

Price with $274 promo code APINSIDER. Plus, save $70 on AppleCare with the same code. If you have any issues, you can reach out to us at [email protected] and we'll try and help.

$3,399.00

$3,159.00

n/a

n/a

n/a

n/a
$274.00
16" 8C (2.4GHz, 32GB, 1TB, 5500M 4GB) Silver

$3,399.00

$3,199.00

Coupon

Price with $200 promo code APINSIDER. As always, if you have any issues, you can reach out to us at [email protected] and we'll try and help.

$3,399.00

n/a

n/a

n/a

n/a

n/a
$200.00
16" 8C (2.4GHz, 32GB, 1TB, 5500M 8GB) Gray

$3,499.00

$3,199.00

Coupon

Price with $100 promo code APINSIDER. As always, if you have any issues, you can reach out to us at [email protected] and we'll try and help.

$3,499.00

$3,249.00

n/a

n/a

n/a

n/a
$300.00
16" 8C (2.4GHz, 32GB, 1TB, 5500M 8GB) Silver

$3,499.00

$3,299.00

Coupon

Price with $200 promo code APINSIDER. As always, if you have any issues, you can reach out to us at [email protected] and we'll try and help.

$3,499.00

n/a

n/a

n/a

n/a

n/a
$200.00
16" 8C (2.4GHz, 32GB, 1TB, 5600M) Gray

$4,099.00

$3,699.00

Coupon

Price with $400 promo code APINSIDER. Add AppleCare for $299 ($80 off) with the same code! As always, if you have any issues, you can reach out to us at [email protected] and we'll try and help.

$4,099.00

$3,805.00

n/a

n/a

n/a

n/a
$400.00
16" 8C (2.4GHz, 32GB, 1TB, 5600M) Silver

$4,099.00

$3,699.00

Coupon

Price with $400 promo code APINSIDER. Add AppleCare for $299 ($80 off) with the same code! As always, if you have any issues, you can reach out to us at [email protected] and we'll try and help.

$4,099.00

n/a

n/a

n/a

n/a

n/a
$400.00
16" 8C (2.4GHz, 32GB, 2TB, 5300M) Gray

$3,699.00

$3,499.00

Coupon

Price with $200 promo code APINSIDER. As always, if you have any issues, you can reach out to us at [email protected] and we'll try and help.

$3,699.00

n/a

n/a

n/a

n/a

n/a
$200.00
16" 8C (2.4GHz, 32GB, 2TB, 5300M) Silver

$3,699.00

$3,499.00

Coupon

Price with $200 promo code APINSIDER. As always, if you have any issues, you can reach out to us at [email protected] and we'll try and help.

$3,699.00

n/a

n/a

n/a

n/a

n/a
$200.00
16" 8C (2.4GHz, 32GB, 2TB, 5500M 4GB) Gray

$3,799.00

$3,499.00

Coupon

Price with $300 promo code APINSIDER. If you have any issues, you can reach out to us at [email protected] and we'll try and help.

$3,799.00

$3,529.00

n/a

n/a

n/a

n/a
$300.00
16" 8C (2.4GHz, 32GB, 2TB, 5500M 4GB) Silver

$3,799.00

$3,599.00

Coupon

Price with $200 promo code APINSIDER. As always, if you have any issues, you can reach out to us at [email protected] and we'll try and help.

$3,799.00

n/a

n/a

n/a

n/a

n/a
$200.00
16" 8C (2.4GHz, 32GB, 2TB, 5500M 8GB) Gray

$3,899.00

$3,599.00

Coupon

Price with $300 promo code APINSIDER. If you have any issues, you can reach out to us at [email protected] and we'll try and help.

$3,899.00

$3,619.00

n/a

n/a

n/a

n/a
$300.00
16" 8C (2.4GHz, 32GB, 2TB, 5500M 8GB) Silver

$3,899.00

$3,699.00

Coupon

Price with $200 promo code APINSIDER. As always, if you have any issues, you can reach out to us at [email protected] and we'll try and help.

$3,899.00

n/a

n/a

n/a

n/a

n/a
$200.00
16" 8C (2.4GHz, 32GB, 2TB, 5600M) Gray

$4,499.00

$4,099.00

Coupon

Price with $400 promo code APINSIDER. Add AppleCare for $299 ($80 off) with the same code! As always, if you have any issues, you can reach out to us at [email protected] and we'll try and help.

$4,499.00

$4,179.00

n/a

n/a

n/a

n/a
$400.00
16" 8C (2.4GHz, 32GB, 2TB, 5600M) Silver

$4,499.00

$4,099.00

Coupon

Price with $400 promo code APINSIDER. Add AppleCare for $299 ($80 off) with the same code! As always, if you have any issues, you can reach out to us at [email protected] and we'll try and help.

$4,499.00

n/a

n/a

n/a

n/a

n/a
$400.00
16" 8C (2.4GHz, 32GB, 4TB, 5300M) Gray

$4,299.00

$3,999.00

Coupon

Price with $300 promo code APINSIDER. If you have any issues, you can reach out to us at [email protected] and we'll try and help.

$4,299.00

n/a

n/a

n/a

n/a

n/a
$300.00
16" 8C (2.4GHz, 32GB, 4TB, 5300M) Silver

$4,299.00

$3,999.00

Coupon

Price with $300 promo code APINSIDER. If you have any issues, you can reach out to us at [email protected] and we'll try and help.

$4,299.00

n/a

n/a

n/a

n/a

n/a
$300.00
16" 8C (2.4GHz, 32GB, 4TB, 5500M 4GB) Gray

$4,399.00

$4,079.00

Coupon

Price with $320 promo code APINSIDER. Same code knocks $70 off AppleCare. If you have any issues, please reach out to us at [email protected] and we'll try and help.

$4,399.00

$4,085.00

n/a

n/a

n/a

n/a
$320.00
16" 8C (2.4GHz, 32GB, 4TB, 5500M 4GB) Silver

$4,399.00

$4,099.00

Coupon

Price with $300 promo code APINSIDER. If you have any issues, you can reach out to us at [email protected] and we'll try and help.

$4,399.00

n/a

n/a

n/a

n/a

n/a
$300.00
16" 8C (2.4GHz, 32GB, 4TB, 5500M 8GB) Gray

$4,499.00

$4,149.00

Coupon

Price with $350 promo code APINSIDER. Plus, save $70 on AppleCare with the same code. If you have any issues, you can reach out to us at [email protected] and we'll try and help.

$4,499.00

$4,179.00

n/a

n/a

n/a

n/a
$350.00
16" 8C (2.4GHz, 32GB, 4TB, 5500M 8GB) Silver

$4,499.00

$4,199.00

Coupon

Price with $300 promo code APINSIDER. If you have any issues, you can reach out to us at [email protected] and we'll try and help.

$4,499.00

n/a

n/a

n/a

n/a

n/a
$300.00
16" 8C (2.4GHz, 32GB, 4TB, 5600M) Gray

$5,099.00

$4,599.00

Coupon

Price with $500 promo code APINSIDER. Add AppleCare for $299 ($80 off) with the same code! As always, if you have any issues, you can reach out to us at [email protected] and we'll try and help.

$5,099.00

$4,735.00

n/a

n/a

n/a

n/a
$500.00
16" 8C (2.4GHz, 32GB, 4TB, 5600M) Silver

$5,099.00

$4,599.00

Coupon

Price with $500 promo code APINSIDER. Add AppleCare for $299 ($80 off) with the same code! As always, if you have any issues, you can reach out to us at [email protected] and we'll try and help.

$5,099.00

n/a

n/a

n/a

n/a

n/a
$500.00
16" 8C (2.4GHz, 32GB, 512GB, 5300M) Silver

$3,099.00

$2,899.00

Coupon

Price with $200 promo code APINSIDER. As always, if you have any issues, you can reach out to us at [email protected] and we'll try and help.

$3,099.00

n/a

n/a

n/a

n/a

n/a
$200.00
16" 8C (2.4GHz, 32GB, 512GB, 5500M 4GB) Gray

$3,199.00

$2,999.00

Coupon

Price with $200 promo code APINSIDER. As always, if you have any issues, you can reach out to us at [email protected] and we'll try and help.

$3,199.00

n/a

n/a

n/a

n/a

n/a
$200.00
16" 8C (2.4GHz, 32GB, 512GB, 5500M 4GB) Silver

$3,199.00

$2,899.00

Coupon

Price with $200 promo code APINSIDER. As always, if you have any issues, you can reach out to us at [email protected] and we'll try and help.

$3,199.00

n/a

n/a

n/a

n/a

n/a
$300.00
16" 8C (2.4GHz, 32GB, 512GB, 5500M 8GB) Gray

$3,299.00

$3,099.00

Coupon

Price with $200 promo code APINSIDER. As always, if you have any issues, you can reach out to us at [email protected] and we'll try and help.

$3,299.00

n/a

n/a

n/a

n/a

n/a
$200.00
16" 8C (2.4GHz, 32GB, 512GB, 5500M 8GB) Silver

$3,299.00

$3,099.00

Coupon

Price with $200 promo code APINSIDER. As always, if you have any issues, you can reach out to us at [email protected] and we'll try and help.

$3,299.00

n/a

n/a

n/a

n/a

n/a
$200.00
16" 8C (2.4GHz, 32GB, 512GB, 5600M) Gray

$3,899.00

$3,599.00

Coupon

Price with $300 promo code APINSIDER. If you have any issues, you can reach out to us at [email protected] and we'll try and help.

$3,899.00

n/a

n/a

n/a

n/a

n/a
$300.00
16" 8C (2.4GHz, 32GB, 512GB, 5600M) Silver

$3,899.00

$3,599.00

Coupon

Price with $300 promo code APINSIDER. If you have any issues, you can reach out to us at [email protected] and we'll try and help.

$3,899.00

n/a

n/a

n/a

n/a

n/a
$300.00
16" 8C (2.4GHz, 32GB, 8TB, 5300M) Gray

$5,499.00

$5,199.00

Coupon

Price with $300 promo code APINSIDER. If you have any issues, you can reach out to us at [email protected] and we'll try and help.

$5,499.00

n/a

n/a

n/a

n/a

n/a
$300.00
16" 8C (2.4GHz, 32GB, 8TB, 5300M) Silver

$5,499.00

$5,199.00

Coupon

Price with $300 promo code APINSIDER. If you have any issues, you can reach out to us at [email protected] and we'll try and help.

$5,499.00

n/a

n/a

n/a

n/a

n/a
$300.00
16" 8C (2.4GHz, 32GB, 8TB, 5500M 4GB) Gray

$5,599.00

$5,149.00

Coupon

Price with $450 promo code APINSIDER. Plus, save $70 on AppleCare with the same code. If you have any issues, you can reach out to us at [email protected] and we'll try and help.

$5,599.00

$5,199.00

n/a

n/a

n/a

n/a
$450.00
16" 8C (2.4GHz, 32GB, 8TB, 5500M 4GB) Silver

$5,599.00

$5,299.00

Coupon

Price with $300 promo code APINSIDER. If you have any issues, you can reach out to us at [email protected] and we'll try and help.

$5,599.00

n/a

n/a

n/a

n/a

n/a
$300.00
16" 8C (2.4GHz, 32GB, 8TB, 5500M 8GB) Gray

$5,699.00

$5,250.00

Coupon

Price with $449 promo code APINSIDER. As always, if you have any issues, you can reach out to us at [email protected] and we'll try and help.

$5,699.00

$5,299.00

n/a

n/a

n/a

n/a
$449.00
16" 8C (2.4GHz, 32GB, 8TB, 5500M 8GB) Silver

$5,699.00

$5,399.00

Coupon

Price with $300 promo code APINSIDER. If you have any issues, you can reach out to us at [email protected] and we'll try and help.

$5,699.00

n/a

n/a

n/a

n/a

n/a
$300.00
16" 8C (2.4GHz, 32GB, 8TB, 5600M) Gray

$6,299.00

$5,699.00

Coupon

Price with $600 promo code APINSIDER. As always, if you have any issues, you can reach out to us at [email protected] and we'll try and help.

$6,299.00

$5,850.00

n/a

n/a

n/a

n/a
$600.00
16" 8C (2.4GHz, 32GB, 8TB, 5600M) Silver

$6,299.00

$5,699.00

Coupon

Price with $600 promo code APINSIDER. As always, if you have any issues, you can reach out to us at [email protected] and we'll try and help.

$6,299.00

n/a

n/a

n/a

n/a

n/a
$600.00
16" 8C (2.4GHz, 64GB, 1TB, 5300M) Gray

$3,699.00

$3,499.00

Coupon

Price with $200 promo code APINSIDER. As always, if you have any issues, you can reach out to us at [email protected] and we'll try and help.

$3,699.00

n/a

n/a

n/a

n/a

n/a
$200.00
16" 8C (2.4GHz, 64GB, 1TB, 5300M) Silver

$3,699.00

$3,499.00

Coupon

Price with $200 promo code APINSIDER. As always, if you have any issues, you can reach out to us at [email protected] and we'll try and help.

$3,699.00

n/a

n/a

n/a

n/a

n/a
$200.00
16" 8C (2.4GHz, 64GB, 1TB, 5500M 4GB) Gray

$3,799.00

$3,499.00

Coupon

Price with $300 promo code APINSIDER. If you have any issues, you can reach out to us at [email protected] and we'll try and help.

$3,799.00

$3,529.00

n/a

n/a

n/a

n/a
$300.00
16" 8C (2.4GHz, 64GB, 1TB, 5500M 4GB) Silver

$3,799.00

$3,599.00

Coupon

Price with $200 promo code APINSIDER. As always, if you have any issues, you can reach out to us at [email protected] and we'll try and help.

$3,799.00

n/a

n/a

n/a

n/a

n/a
$200.00
16" 8C (2.4GHz, 64GB, 1TB, 5500M 8GB) Gray

$3,899.00

$3,599.95

Coupon

Price with $100 promo code APINSIDER. As always, if you have any issues, you can reach out to us at [email protected] and we'll try and help.

$3,899.00

$3,620.00

n/a

n/a

n/a

n/a
$299.05
16" 8C (2.4GHz, 64GB, 1TB, 5500M 8GB) Silver

$3,899.00

$3,699.00

Coupon

Price with $200 promo code APINSIDER. As always, if you have any issues, you can reach out to us at [email protected] and we'll try and help.

$3,899.00

n/a

n/a

n/a

n/a

n/a
$200.00
16" 8C (2.4GHz, 64GB, 1TB, 5600M) Gray

$4,499.00

$4,099.00

Coupon

Price with $400 promo code APINSIDER. Add AppleCare for $299 ($80 off) with the same code! As always, if you have any issues, you can reach out to us at [email protected] and we'll try and help.

$4,499.00

$5,850.00

n/a

n/a

n/a

n/a
$400.00
16" 8C (2.4GHz, 64GB, 1TB, 5600M) Silver

$4,499.00

$4,099.00

Coupon

Price with $400 promo code APINSIDER. Add AppleCare for $299 ($80 off) with the same code! As always, if you have any issues, you can reach out to us at [email protected] and we'll try and help.

$4,499.00

n/a

n/a

n/a

n/a

n/a
$400.00
16" 8C (2.4GHz, 64GB, 2TB, 5300M) Gray

$4,099.00

$3,799.00

Coupon

Price with $300 promo code APINSIDER. If you have any issues, you can reach out to us at [email protected] and we'll try and help.

$4,099.00

n/a

n/a

n/a

n/a

n/a
$300.00
16" 8C (2.4GHz, 64GB, 2TB, 5300M) Silver

$4,099.00

$3,799.00

Coupon

Price with $300 promo code APINSIDER. If you have any issues, you can reach out to us at [email protected] and we'll try and help.

$4,099.00

n/a

n/a

n/a

n/a

n/a
$300.00
16" 8C (2.4GHz, 64GB, 2TB, 5500M 4GB) Gray

$4,199.00

$3,899.00

Coupon

Price with $300 promo code APINSIDER. If you have any issues, you can reach out to us at [email protected] and we'll try and help.

$4,199.00

$3,900.00

n/a

n/a

n/a

n/a
$300.00
16" 8C (2.4GHz, 64GB, 2TB, 5500M 4GB) Silver

$4,199.00

$3,899.00

Coupon

Price with $300 promo code APINSIDER. If you have any issues, you can reach out to us at [email protected] and we'll try and help.

$4,199.00

n/a

n/a

n/a

n/a

n/a
$300.00
16" 8C (2.4GHz, 64GB, 2TB, 5500M 8GB) Gray

$4,299.00

$3,899.00

Coupon

Price with $200 promo code APINSIDER. As always, if you have any issues, you can reach out to us at [email protected] and we'll try and help.

$4,299.00

$3,990.00

n/a

n/a

n/a

n/a
$400.00
16" 8C (2.4GHz, 64GB, 2TB, 5500M 8GB) Silver

$4,299.00

$3,999.00

Coupon

Price with $300 promo code APINSIDER. If you have any issues, you can reach out to us at [email protected] and we'll try and help.

$4,299.00

n/a

n/a

n/a

n/a

n/a
$300.00
16" 8C (2.4GHz, 64GB, 2TB, 5600M) Gray

$4,899.00

$4,499.00

Coupon

Price with $400 promo code APINSIDER. Add AppleCare for $299 ($80 off) with the same code! As always, if you have any issues, you can reach out to us at [email protected] and we'll try and help.

$4,899.00

$4,550.00

n/a

n/a

n/a

n/a
$400.00
16" 8C (2.4GHz, 64GB, 2TB, 5600M) Silver

$4,899.00

$4,499.00

Coupon

Price with $400 promo code APINSIDER. Add AppleCare for $299 ($80 off) with the same code! As always, if you have any issues, you can reach out to us at [email protected] and we'll try and help.

$4,899.00

n/a

n/a

n/a

n/a

n/a
$400.00
16" 8C (2.4GHz, 64GB, 4TB, 5300M) Gray

$4,699.00

$4,399.00

Coupon

Price with $300 promo code APINSIDER. If you have any issues, you can reach out to us at [email protected] and we'll try and help.

$4,699.00

n/a

n/a

n/a

n/a

n/a
$300.00
16" 8C (2.4GHz, 64GB, 4TB, 5300M) Silver

$4,699.00

$4,399.00

Coupon

Price with $300 promo code APINSIDER. If you have any issues, you can reach out to us at [email protected] and we'll try and help.

$4,699.00

n/a

n/a

n/a

n/a

n/a
$300.00
16" 8C (2.4GHz, 64GB, 4TB, 5500M 4GB) Gray

$4,799.00

$4,425.00

Coupon

Price with $374 promo code APINSIDER. Plus, save $70 on AppleCare with the same code. If you have any issues, you can reach out to us at [email protected] and we'll try and help.

$4,799.00

$4,450.00

n/a

n/a

n/a

n/a
$374.00
16" 8C (2.4GHz, 64GB, 4TB, 5500M 4GB) Silver

$4,799.00

$4,499.00

Coupon

Price with $300 promo code APINSIDER. If you have any issues, you can reach out to us at [email protected] and we'll try and help.

$4,799.00

n/a

n/a

n/a

n/a

n/a
$300.00
16" 8C (2.4GHz, 64GB, 4TB, 5500M 8GB) Gray

$4,899.00

$4,399.00

Coupon

Price with $300 promo code APINSIDER. If you have any issues, you can reach out to us at [email protected] and we'll try and help.

$4,899.00

$4,550.00

n/a

n/a

n/a

n/a
$500.00
16" 8C (2.4GHz, 64GB, 4TB, 5500M 8GB) Silver

$4,899.00

$4,599.00

Coupon

Price with $300 promo code APINSIDER. If you have any issues, you can reach out to us at [email protected] and we'll try and help.

$4,899.00

n/a

n/a

n/a

n/a

n/a
$300.00
16" 8C (2.4GHz, 64GB, 4TB, 5600M) Gray

$5,499.00

$4,999.00

Coupon

Price with $500 promo code APINSIDER. Add AppleCare for $299 ($80 off) with the same code! As always, if you have any issues, you can reach out to us at [email protected] and we'll try and help.

$5,499.00

$5,105.00

n/a

n/a

n/a

n/a
$500.00
16" 8C (2.4GHz, 64GB, 4TB, 5600M) Silver

$5,499.00

$4,999.00

Coupon

Price with $500 promo code APINSIDER. Add AppleCare for $299 ($80 off) with the same code! As always, if you have any issues, you can reach out to us at [email protected] and we'll try and help.

$5,499.00

n/a

n/a

n/a

n/a

n/a
$500.00
16" 8C (2.4GHz, 64GB, 512GB, 5300M) Gray

$3,499.00

$3,299.00

Coupon

Price with $200 promo code APINSIDER. As always, if you have any issues, you can reach out to us at [email protected] and we'll try and help.

$3,499.00

n/a

n/a

n/a

n/a

n/a
$200.00
16" 8C (2.4GHz, 64GB, 512GB, 5300M) Silver

$3,499.00

$3,299.00

Coupon

Price with $200 promo code APINSIDER. As always, if you have any issues, you can reach out to us at [email protected] and we'll try and help.

$3,499.00

n/a

n/a

n/a

n/a

n/a
$200.00
16" 8C (2.4GHz, 64GB, 512GB, 5500M 4GB) Gray

$3,599.00

$3,399.00

Coupon

Price with $200 promo code APINSIDER. As always, if you have any issues, you can reach out to us at [email protected] and we'll try and help.

$3,599.00

n/a

n/a

n/a

n/a

n/a
$200.00
16" 8C (2.4GHz, 64GB, 512GB, 5500M 4GB) Silver

$3,599.00

$3,399.00

Coupon

Price with $200 promo code APINSIDER. As always, if you have any issues, you can reach out to us at [email protected] and we'll try and help.

$3,599.00

n/a

n/a

n/a

n/a

n/a
$200.00
16" 8C (2.4GHz, 64GB, 512GB, 5500M 8GB) Gray

$3,699.00

$3,499.00

Coupon

Price with $200 promo code APINSIDER. As always, if you have any issues, you can reach out to us at [email protected] and we'll try and help.

$3,699.00

n/a

n/a

n/a

n/a

n/a
$200.00
16" 8C (2.4GHz, 64GB, 512GB, 5500M 8GB) Silver

$3,699.00

$3,499.00

Coupon

Price with $200 promo code APINSIDER. As always, if you have any issues, you can reach out to us at [email protected] and we'll try and help.

$3,699.00

n/a

n/a

n/a

n/a

n/a
$200.00
16" 8C (2.4GHz, 64GB, 512GB, 5600M) Gray

$4,299.00

$3,899.00

Coupon

Price with $400 promo code APINSIDER. Add AppleCare for $299 ($80 off) with the same code! As always, if you have any issues, you can reach out to us at [email protected] and we'll try and help.

$4,299.00

n/a

n/a

n/a

n/a

n/a
$400.00
16" 8C (2.4GHz, 64GB, 512GB, 5600M) Silver

$4,299.00

$3,899.00

Coupon

Price with $400 promo code APINSIDER. Add AppleCare for $299 ($80 off) with the same code! As always, if you have any issues, you can reach out to us at [email protected] and we'll try and help.

$4,299.00

n/a

n/a

n/a

n/a

n/a
$400.00
16" 8C (2.4GHz, 64GB, 8TB, 5300M) Gray

$5,899.00

$5,599.00

Coupon

Price with $300 promo code APINSIDER. If you have any issues, you can reach out to us at [email protected] and we'll try and help.

$5,899.00

n/a

n/a

n/a

n/a

n/a
$300.00
16" 8C (2.4GHz, 64GB, 8TB, 5300M) Silver

$5,899.00

$5,599.00

Coupon

Price with $300 promo code APINSIDER. If you have any issues, you can reach out to us at [email protected] and we'll try and help.

$5,899.00

n/a

n/a

n/a

n/a

n/a
$300.00
16" 8C (2.4GHz, 64GB, 8TB, 5500M 4GB) Gray

$5,999.00

$5,549.00

Coupon

Price with $450 promo code APINSIDER. Plus, save $70 on AppleCare with the same code. If you have any issues, you can reach out to us at [email protected] and we'll try and help.

$5,999.00

$5,570.00

n/a

n/a

n/a

n/a
$450.00
16" 8C (2.4GHz, 64GB, 8TB, 5500M 4GB) Silver

$5,999.00

$5,699.00

Coupon

Price with $300 promo code APINSIDER. If you have any issues, you can reach out to us at [email protected] and we'll try and help.

$5,999.00

n/a

n/a

n/a

n/a

n/a
$300.00
16" 8C (2.4GHz, 64GB, 8TB, 5500M 8GB) Gray

$6,099.00

$5,649.00

Coupon

Price with $450 promo code APINSIDER. Plus, save $70 on AppleCare with the same code. If you have any issues, you can reach out to us at [email protected] and we'll try and help.

$6,099.00

$5,665.00

n/a

n/a

n/a

n/a
$450.00
16" 8C (2.4GHz, 64GB, 8TB, 5500M 8GB) Silver

$6,099.00

$5,699.00

Coupon

Price with $400 promo code APINSIDER. Add AppleCare for $299 with same code ($80 off retail). As always, if you have any issues, you can reach out to us at [email protected] and we'll try and help.

$6,099.00

n/a

n/a

n/a

n/a

n/a
$400.00
16" 8C (2.4GHz, 64GB, 8TB, 5600M) Gray

$6,699.00

$6,099.00

Coupon

Price with $600 promo code APINSIDER. As always, if you have any issues, you can reach out to us at [email protected] and we'll try and help.

$6,699.00

$6,220.00

n/a

n/a

n/a

n/a
$600.00
16" 8C (2.4GHz, 64GB, 8TB, 5600M) Silver

$6,699.00

$6,099.00

Coupon

Price with $600 promo code APINSIDER. As always, if you have any issues, you can reach out to us at [email protected] and we'll try and help.

$6,699.00

n/a

n/a

n/a

n/a

n/a
$600.00
Additional deals on Apple hardware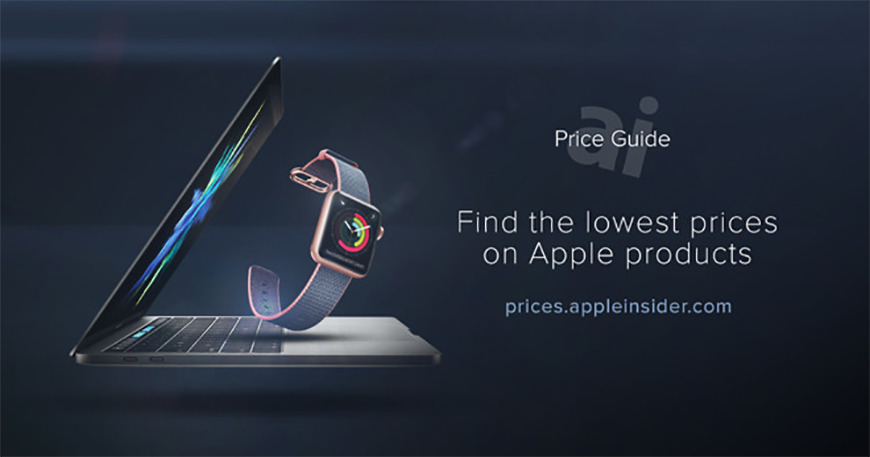 AppleInsider and Apple Authorized Resellers are also running additional exclusive discounts on other Apple hardware that will not only deliver the lowest prices on many of the items, but also throw in bonus savings on AppleCare, software and more. Here are some of the promotions: