BenQ EW3270U 31.5-inch display review: a good value for a basic 4K HDR screen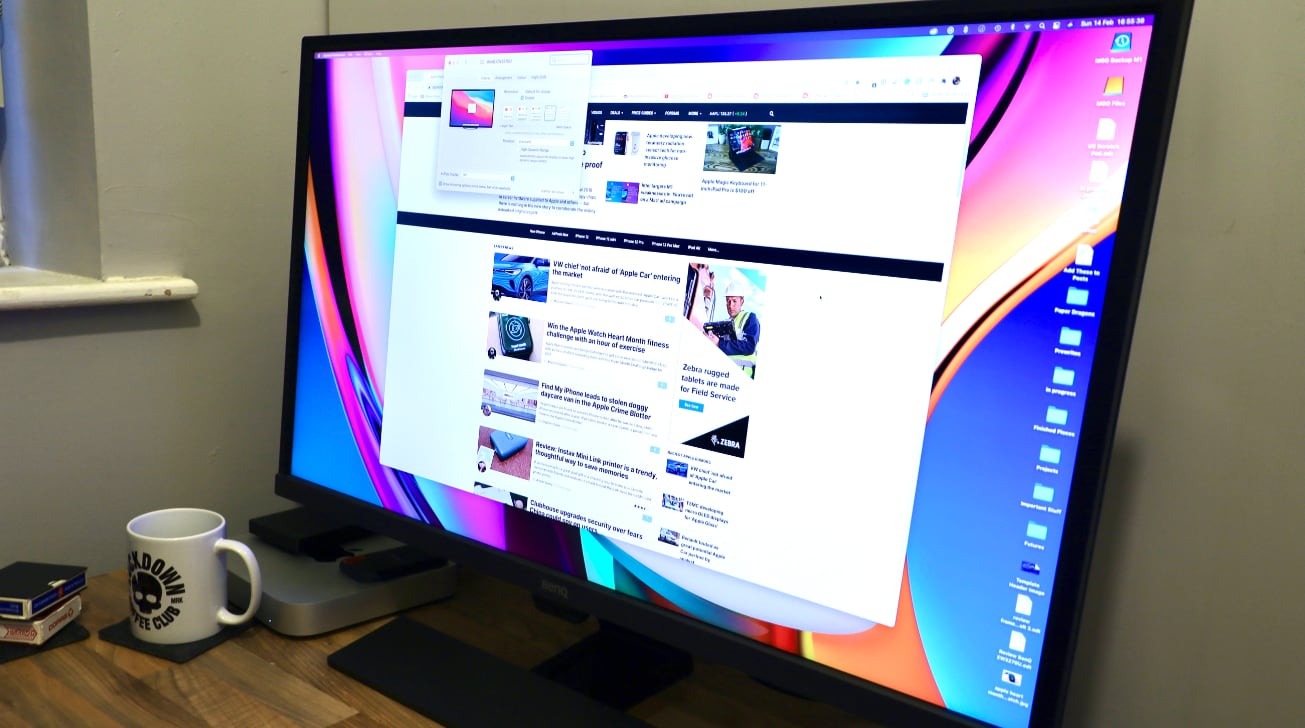 The BenQ EW3270U is a 31.5-inch 4K-resolution display for your Mac that attempts to offer high quality at a reasonable price, a feat it just manages to accomplish.
As computer users demand higher-resolution displays and larger sizes, it becomes challenging for display producers to give them what they want. It's even more difficult to do the same thing while also pricing the display low.
In the EW3270U, BenQ tried to meet both elements with a single display. One boasting high-end technologies like HDR and 4K while not being too painful for the wallet.
The result is a screen that certainly meets the brief, but not without offering up a few foibles of its own.
Key specs
31.5-inch display
3,840x2,160 resolution, 60Hz, 16:9
3000:1 native contrast, 20 million:1 dynamic contrast ratio
4ms response time
1.07 billion colors, 95% DCI-P3 color gamut
Brightness Intelligence Plus
Low Blue Light
2x HDMI, DisplayPort 1.4, USB-C
2W stereo speakers
Headphone jack
No-frills design
At face value, the BenQ EW3270U isn't a barnstormer of a monitor. It's quite sizable with a 31.5-inch screen, so it certainly has a presence, but it doesn't seem to be anything special on appearances alone.
The bezels aren't thin, as you would expect from a premium display. At 0.6 inches to the sides and top and 0.8 inches for the chin, they're also not that thick.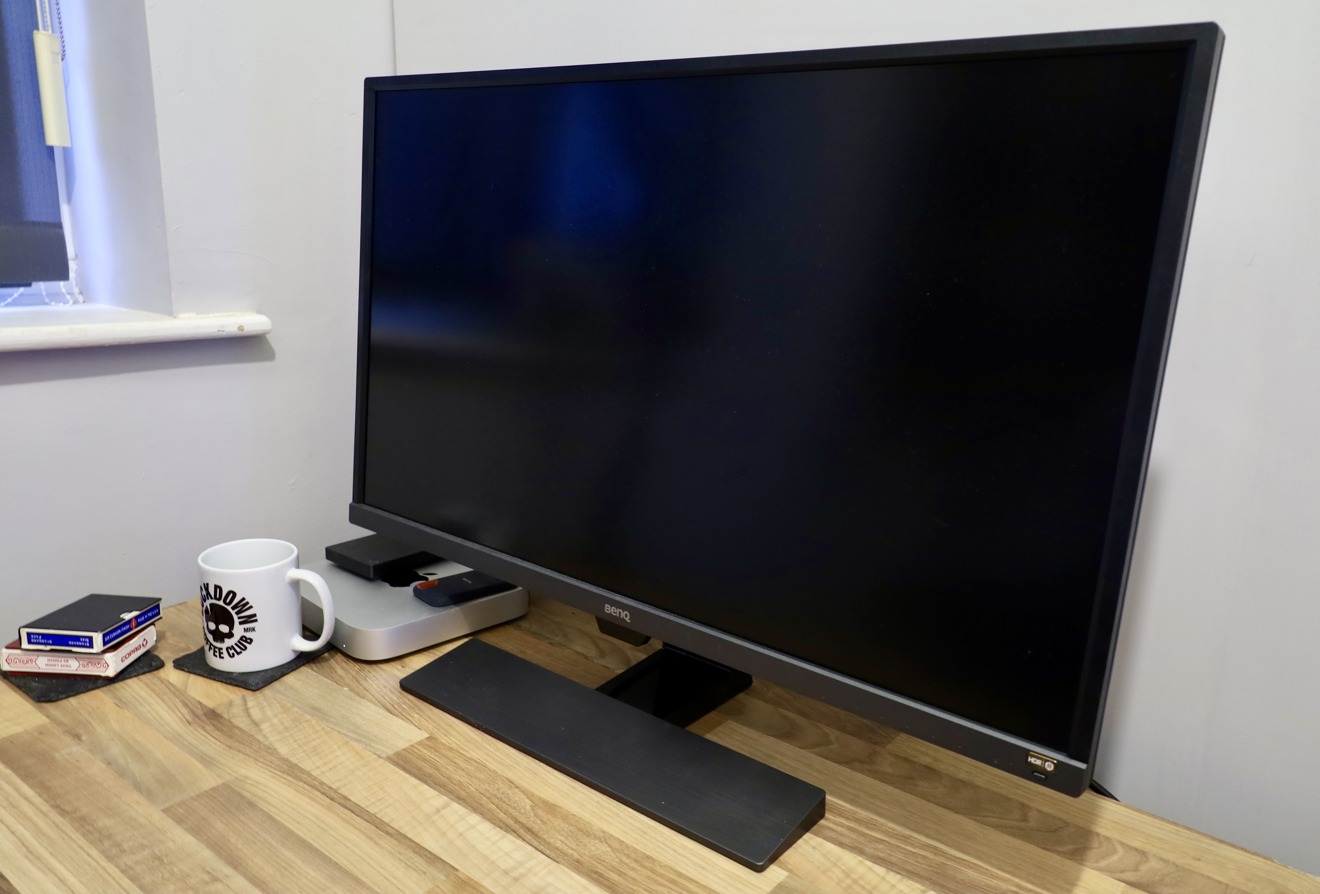 You're not going to see much in the way of premium materials being used either, with a plastic casing used throughout. The unit under review is certainly well put together despite the choice of material, and there's a satisfying heft to the entire assembly.
The stand you get with the unit has a wide plastic front foot and takes the form of an inverted number 7 in terms of appearance. Fitting into the display quite easily, the stand offers quite a sturdy mount for the screen, with relatively little wobble observed.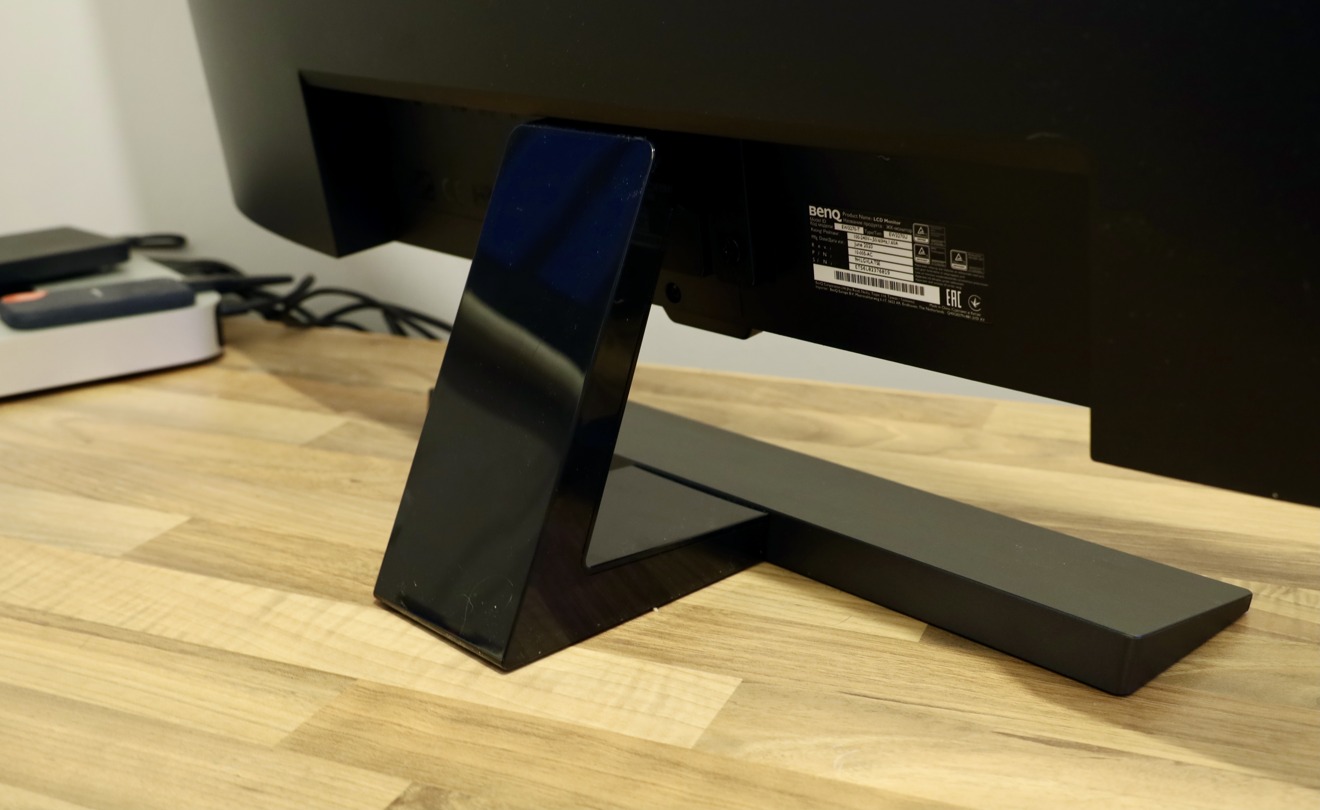 Unfortunately, the stand's sturdiness is partly due to how limited you are in what you can actually do with it. You have a tilt range of 5 degrees down and 15 degrees up, but no way to rotate or tilt sideways without moving the stand itself.
The stand does the job, but there's VESA mounting holes if you want to use something with a bit more freedom, or something that doesn't take up as much desk space.
While constructed to a budget, there are still some premium-looking elements on show. The HDR button has a metallic badge above it, and the controls are hidden away under the right-hand side, along with a decently-sized glowing power button.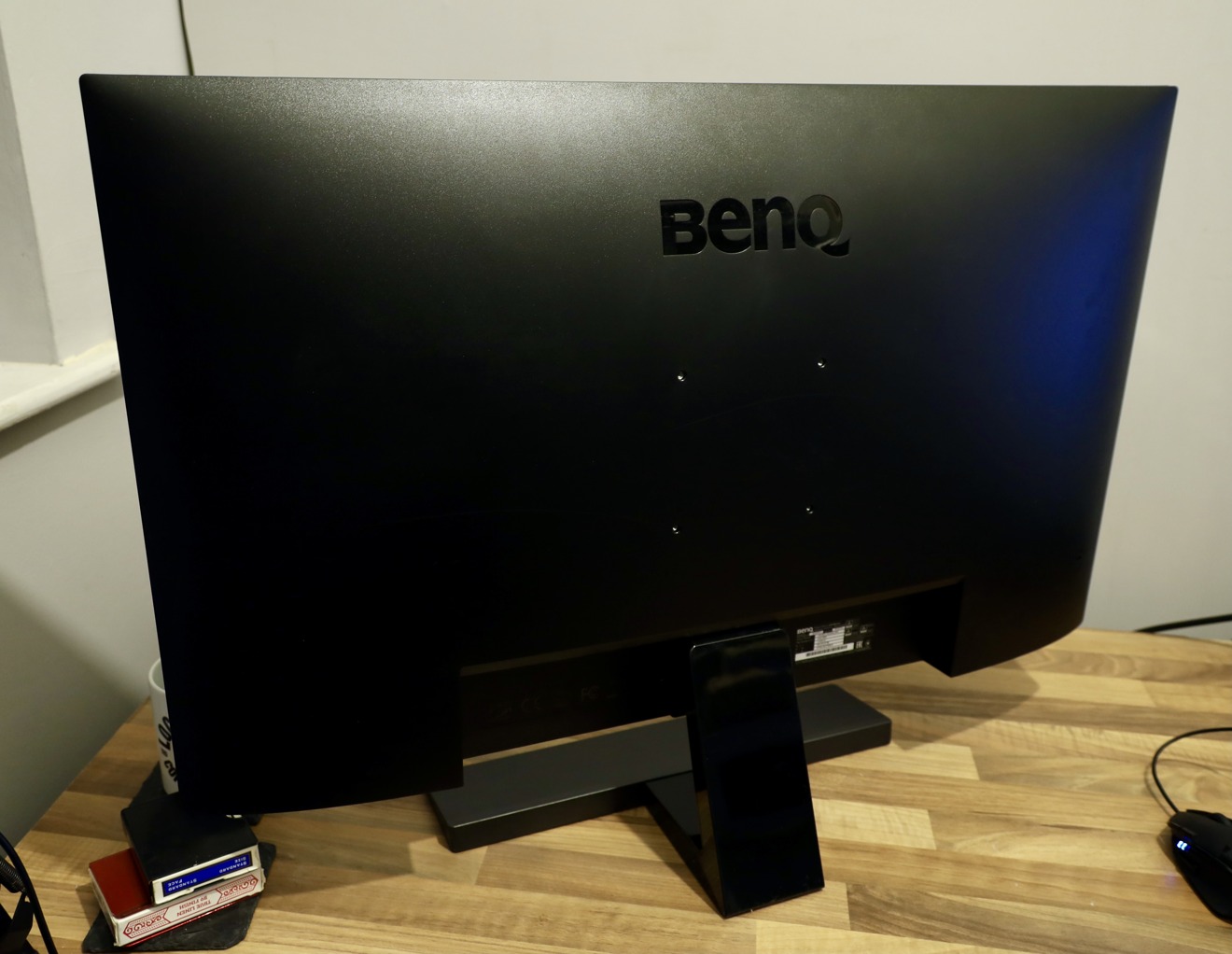 Though it certainly isn't the thinnest screen on the market, the tapering to the back does a good job at giving the impression it could fit in well in that market.
Basic but usable video connectivity
Around the back of the display, you will find the array of video connections pointing down towards the base, on the left-hand side. On the right is the power connection.
The ports are a useful selection, including a pair of HDMI 2.0 connections, as well as one DisplayPort 1.4, and a USB-C port. While the latter is extremely useful for MacBook Pro owners, and for iPad Pro users wanting a second screen, it's not all plain sailing.
In this particular instance, the USB-C is only used as a video input, as there are no extra USB ports or other data connectivity options, so you can't plug in other accessories like a keyboard and mouse. The USB-C also doesn't provide power delivery, so no recharging a connected MacBook Pro or other hardware.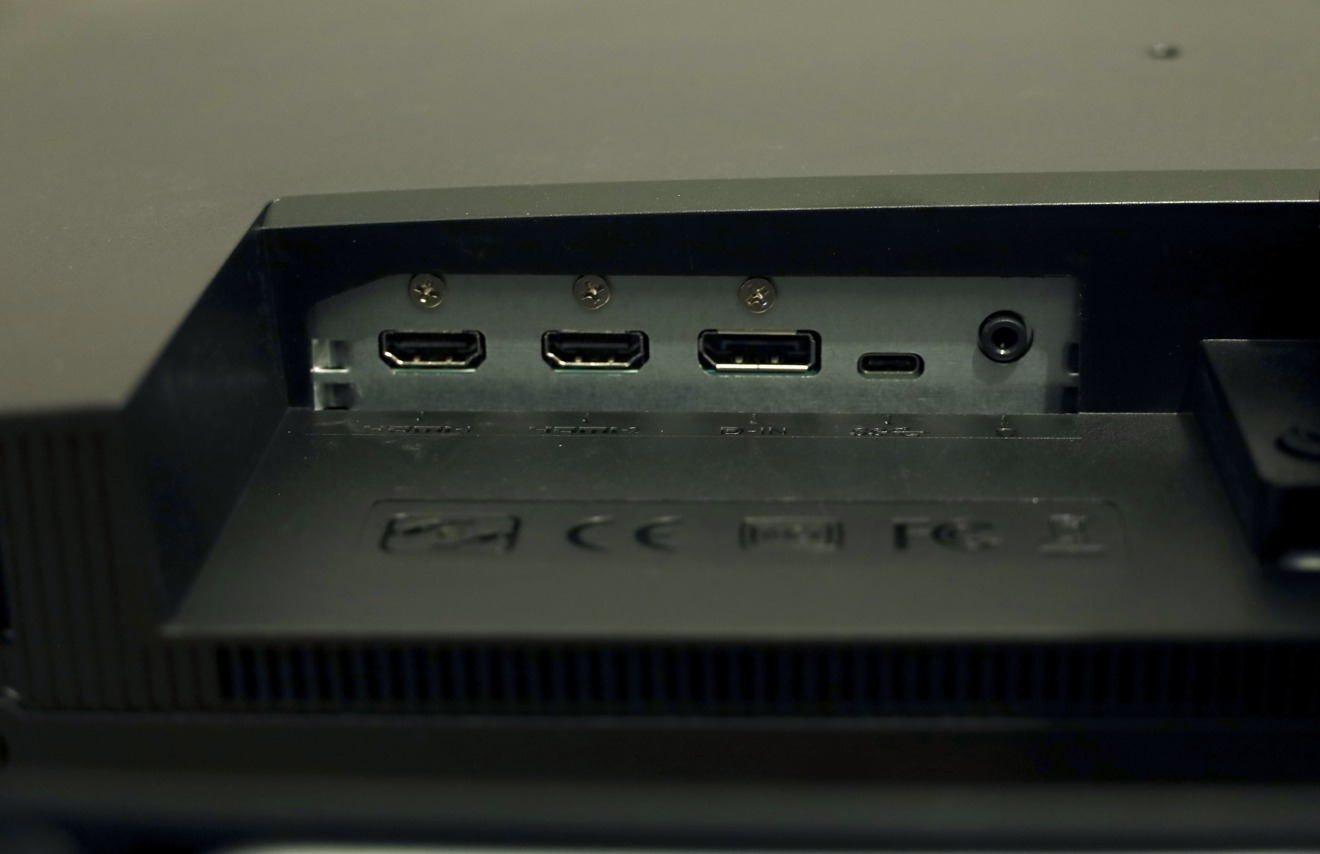 This effectively rules out the chance of using the display as part of a single-cable docking setup in its own right, which is a disappointment.
Rounding out the connectivity list is the 3.5mm headphone jack, which uses the audio from the video connections as its source. The location is tough to reach from the front without some hand contortions and blind grabbing, but it is a handy inclusion none the less.
There's also a pair of 2-watt speakers firing into the desk, but the audio quality isn't that great. Useful in a pinch, but you're better off using your Mac's speakers if you can.
Good visual performance
As a 16:9, 4K display, it has a native resolution of 3,840 by 2,160 pixels, which at its size gives it a pixel density of 140 pixels per inch. This is the same as the LG UltraFine Ergo, another 32-inch display with the same resolution.
This isn't quite as high as the 218ppi of Apple's Pro Display XDR, or the 227ppi of the 13-inch MacBook Pro. At 140ppi, the BenQ is more than usable without worrying about seeing the pixels.
Its native contrast of 3,000:1 and 300 nits of brightness are good enough for everyday usage. Meanwhile, the 4ms response rate and 60Hz maximum refresh rate aren't going to worry the monitor market's premium end too much.
More handily, it claims HDR10 support and a dynamic contrast ratio of 20 million:1, which is a step in the right direction. It also supports 1.07 billion colors, and more importantly, covers 95% of the DCI-P3 color space.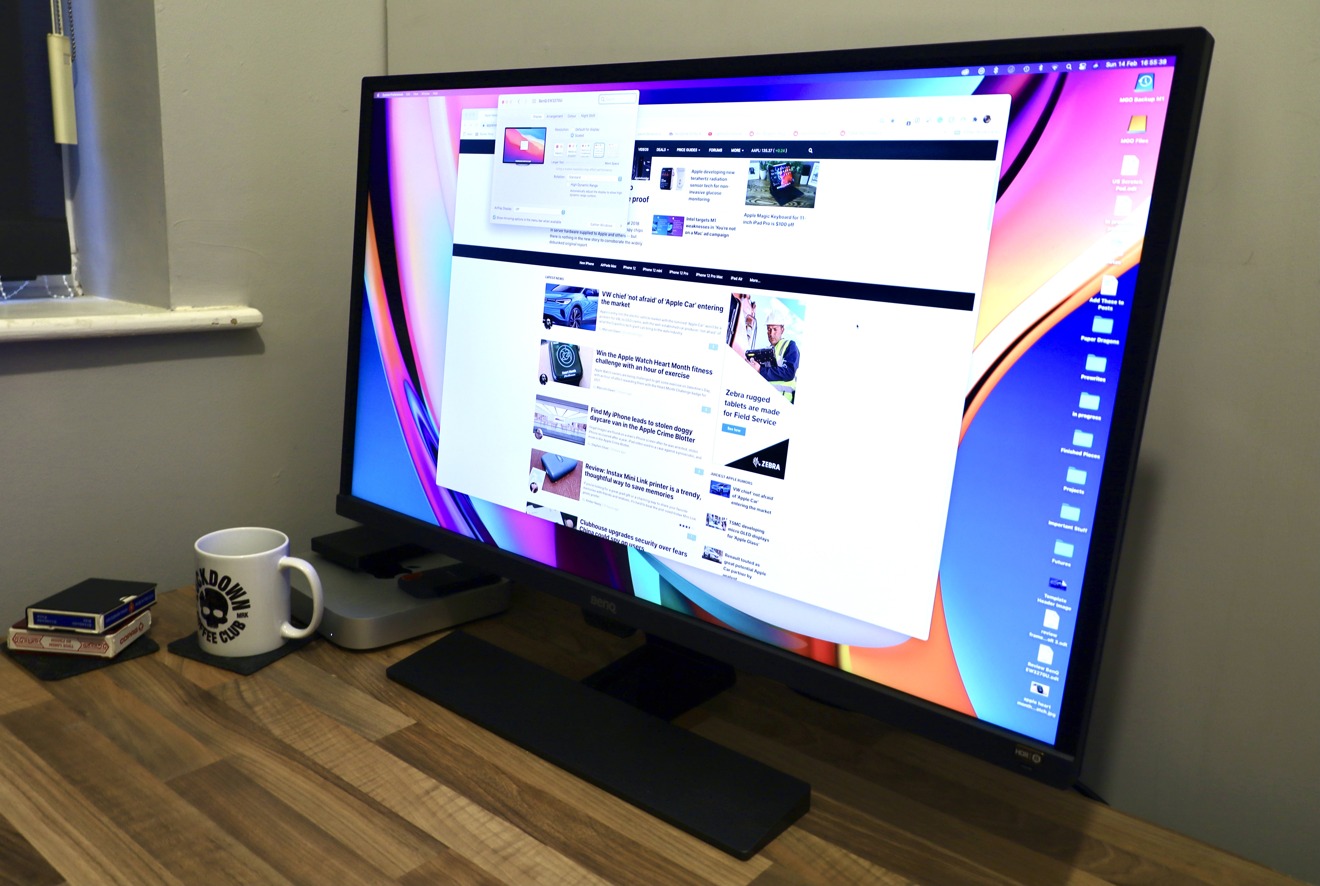 These last points result in very good color accuracy, even though it's not an IPS monitor. For photo editors and video producers who don't want to fork out too much for a high-end but almost perfectly color-accurate monitor, such as the Pro Display XDR, this could be a reasonably low-cost alternative.
The HDR10 support is claimed, but it's far from the 1,000 nits of peak brightness the standard ideally wants Given it's a monitor with an assumed shorter viewing distance than an HDR television, and that HDR10 is meant for televisions primarily, it's not a deal-breaker.
You also have excellent viewing angles for the screen. This is a good thing for those going down the vertical display route with the VESA mount.
Menus, modes, and brightness quirks
A total of seven buttons are accessible from the front to control the monitor's settings, consisting of five menu buttons and the power button on the bottom edge, and a seventh button in the bottom right corner.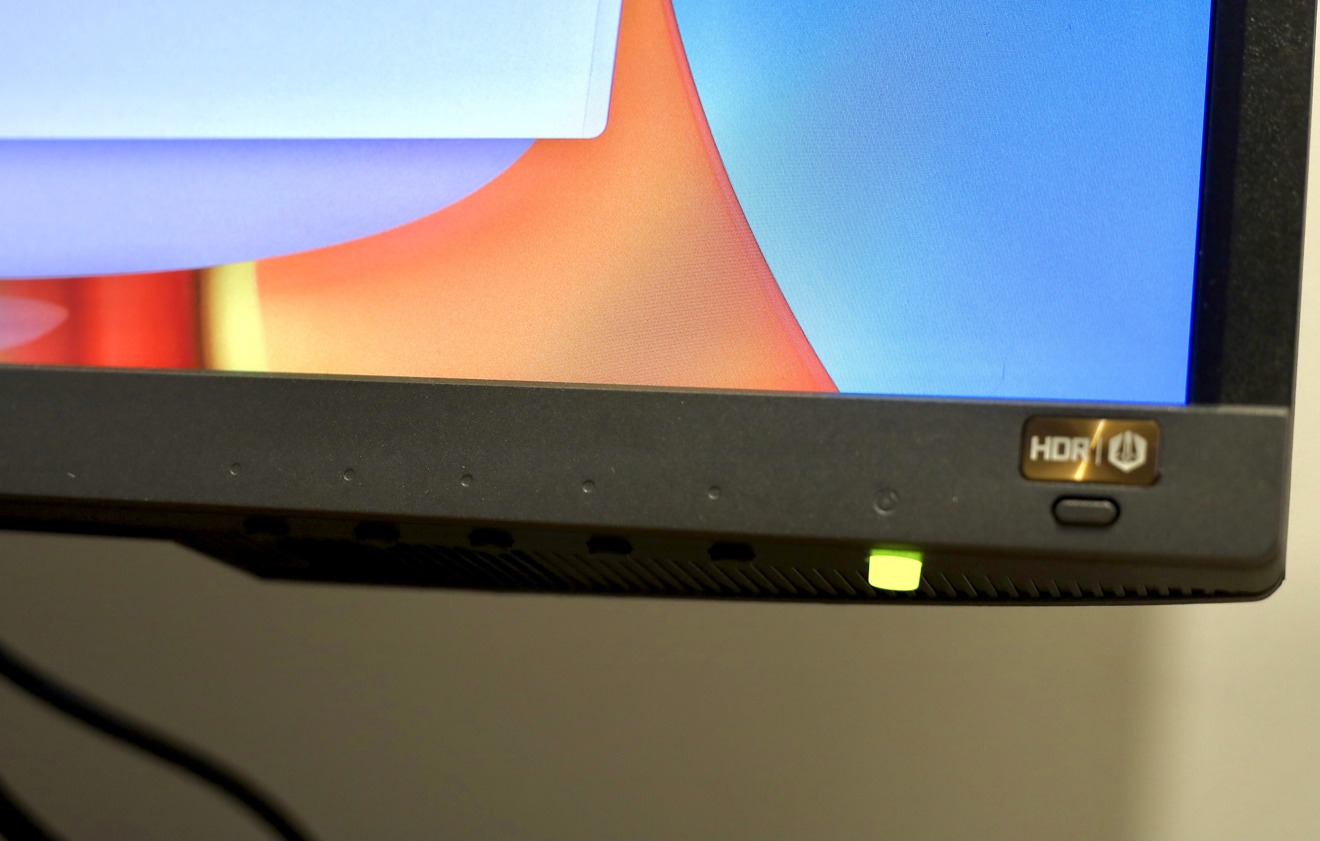 When pressed, the buttons bring up the control icons on the screen in line with their physical positions, making it easier to navigate without trying to remember what button does what action.
The menu offers quite a few options, including many basic controls such as the video source, the brightness, contrast, sharpness, gamma, color temperature, hue, saturation, and volume.
Advanced menus also add in extras, such as varying picture modes, Super Resolution upscaling controls, and a Smart Focus section that keeps an area of the screen bright while dimming the rest.
The modes also include some options for specific situations, such as Low Blue Light Plus to minimize the amount of blue light emitted. An M-Book mode is also offered to minimize the difference between the monitor and a MacBook's display.
The HDR and Cinema HDR modes are naturally employed when the Mac is set to output an HDR signal. Cinema HDR offers better color matching than HDR, but a seemingly darker image overall.
Enabling HDR also eliminates the ability to manually change some settings, including the brightness, contrast, and color temperature.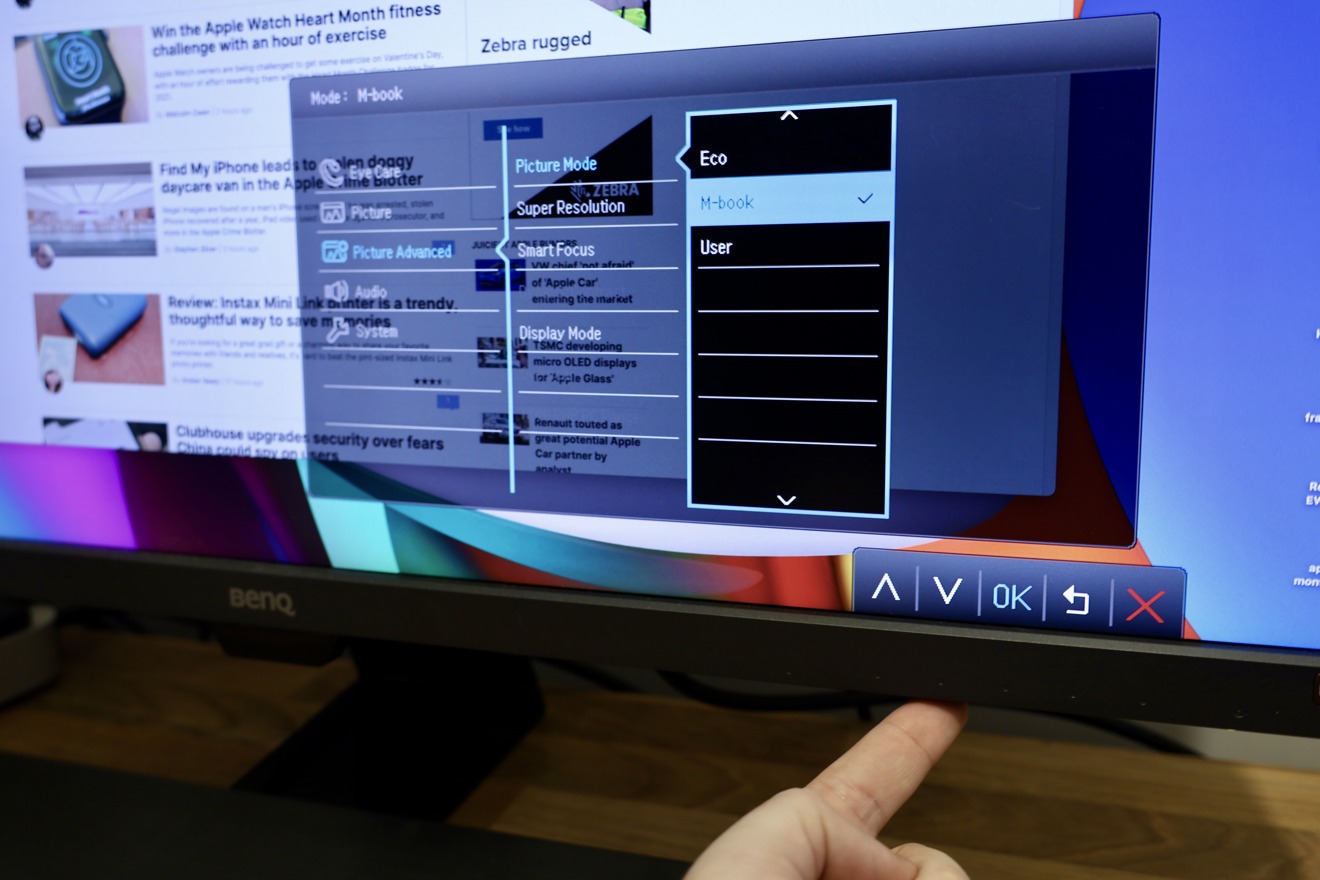 If you enable one of the HDR modes while the Mac is outputting a standard video feed instead of an HDR-specific one, the monitor will instead use an emulated HDR. In our opinion, it is certainly brighter than the real HDR video, but the colors of the real thing are far better.
An extra feature titled Bright Intelligence Plus (BI+) employs a light sensor at the bottom of the display to detect the ambient light available in the room. Using the sensor data, BI+ then works to keep the brightness, contrast, and color temperature at a comfortable level, despite environmental light changes.
While this is a nice thing to include, we found that it hampered more than it helped as there's no way to override the brightness dimming too much in HDR and some other modes if BI+ is enabled, short of shutting it off. In our case, enabling it dimmed the display too far, making it much harder to view.
There are options in the menu to change the sensor's sensitivity, but it did not seem to make that much of a difference in preventing it from getting a bit too dim. It is possible that the lighting setup in the fairly small room was causing problems with the sensor, but it seems unlikely.
Luckily, the seventh front button is used to switch between different combinations of BI+ and HDR being enabled or disabled so that it can be quickly and temporarily negated. This extra button is convenient in that sort of situation.
An entrypoint to 4K, but not without its quirks
The BenQ EW3270U is one of those monitors that aims high and actually provides what it promises. For the most part.
If we're talking just the display quality, it certainly meets expectations. It would be hard to find many who would be unhappy with the images you can produce on this screen, especially at this sort of cost.
While the core functionality is certainly there, some may look at its shortcomings and find it wanting. The poor audio, the lack of extra USB ports, the nonexistent USB-C power delivery.
These are all elements that aren't present in the display, but could be in one that's more expensive. That there is a key consideration, and one that could be easily worked around or overlooked.
Sure, you will have to deal with an extra dock if you want to have a single-cable MacBook Pro setup with this display for power delivery and additional connectivity. Want better audio? Put headphones on or invest in speakers.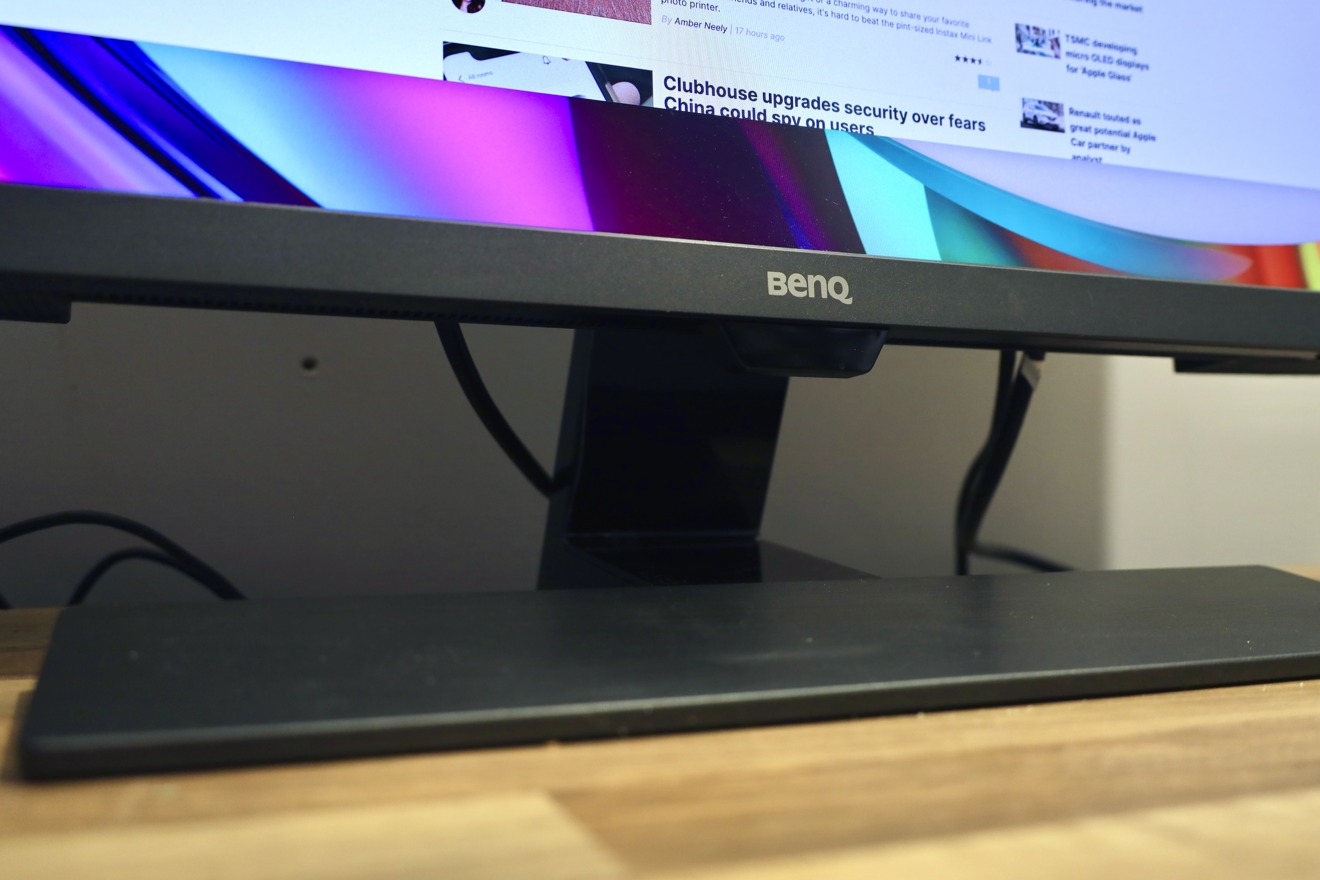 Replace the stand with a VESA mount from Amazon if better options for viewing angles are needed. Fussier users may also wrestle with the BI+ feature and the menu a little bit if they want more control over how the viewing modes actually look.
For the most part, these are things that can be improved via alternate methods. But bear in mind that they all surround a fundamentally solid workhorse display that can give more expensive counterparts a run for their money.
BenQ made a good monitor but didn't add all the frills, bells, and whistles that you may expect. If you're keen to save money on a monitor purchase, that's probably an acceptable cost for something that will simply do the job.
4K resolution and HDR of a sort
Good color coverage
Decent size and viewing angles
Reasonably priced
Overzealous BI+ feature
Lack of premium features (USB ports, USB-C power delivery)
Basic stand with minimal adjustment options.
Where to buy