Apple celebrates Women's History Month with apps, podcasts, music, and more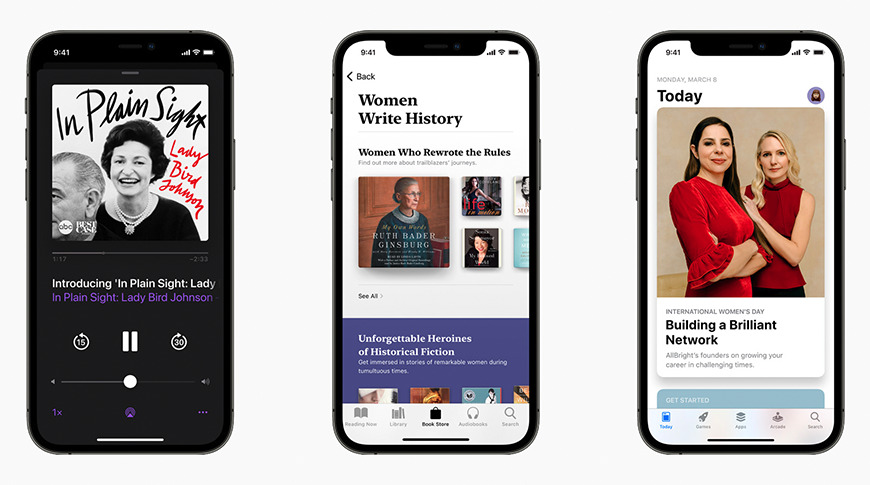 To commemorate Women's History Month in March, Apple is shining a light on female creators and stories with a collection of inspiring stories and female-created media across its services, including Apple Books, Apple TV, Apple Music, and others.
March Women's History Month and Apple will be celebrating by highlighting all things women across Apple services. Here's a look at some of the things Apple is doing during the month of March.
Apple will be hosting women-run virtual Today at Apple sessions, allowing users to pick up new skills from female creators. Those who subscribe to Apple Fitness+ can take part in inspiring workouts on International Women's Day.
The App Store will feature new stories that highlight women who challenge themselves to create new ways of working. The stories will include exclusive interviews from female developers, and viewers can browse the curated "Apps Made by Women" collection. Every day in March, Apple will feature App of the Day and Game of the Day from a woman creator, and Apple Arcade will showcase a collection of games with female protagonists.
Apple Music will showcase works from female artists and provide new playlists from "Visionary Women," which will include artists and influencers worldwide. Apple Music radio and Apple Music TV will feature an all-woman lineup for a full 24 hours, back-to-back, on March 8.
Apple Books will provide curated collections by country that feature woman-written books in every field. The Cupertino-based tech giant will provide a selection of biographies and memoirs of notable women and highlight newcomers in fiction writing.
On March 1, ABC News will launch a new podcast on Apple Podcasts titled "In Plain Sight: Lady Bird Johnson." The podcast looks at the life and works of former First Lady Claudia Alta Johnson and will feature never-before-released recordings from over 123 Horus of her White House Audio.
Apple News will provide curated topic groups that showcase inspiring female figures, lesser-known stories about women's history, and journalism centered around women's issues. On International Women's Day, Apple News will feature a Spotlight collection of articles that celebrate contemporary leaders around the globe.
Even Apple Maps is joining the celebration, as Apple provides new curated guides in collaboration with Altas Obscura, Complex, Michelin Guide, HER, and Street Art Cities. These guides will feature monuments and statues dedicated to women, women-run businesses, restaurants staffed with Michelin-starred female chefs, and street art by female artists.