Connectivity issues continue to plague Apple Fitness+ workouts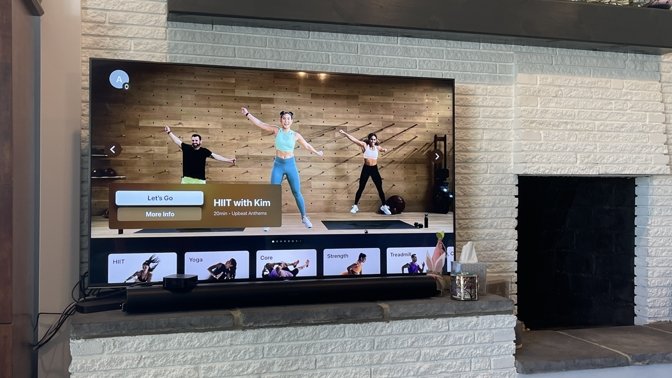 Apple Fitness+ is an outstanding workout service that has incredible value for its users, but the constant disconnections between Apple Watch and Apple TV are ruining the experience.
My wife and I were excited for Apple Fitness+ to launch. We had both tried a number of different fitness platforms in the past, from walkthrough apps, to Jillian Michaels, to just going it on our own, but none of them really stuck with us.
Apple Fitness+ looked to be different. It was easy to access on all of our devices, regardless of where we were. It was bundled in with all of our other subscriptions in Apple One. Even the trainers seemed genuinely fun.
Perhaps most enticing of all was the unique ability to see our Apple Watch rings and heart rate on the TV while we worked out. No other service could offer that.
Closing our Apple Watch rings has been a habit for both of us for quite some time. My wife's racked up well over a thousand Move goals in a row, and I'm not far behind her.
It's no surprise that we were quick to sign up and try out Apple Fitness+ at launch, sampling an ever-expanding list of classes. We were very quickly hooked by the fantastic music and the outstanding instructors. To us, it offered the best workout classes we've tried.
But then, we started having issues. Or rather, one issue multiple times.
Not just us
During a workout, the Apple TV would lose connection with my Apple Watch without warning. When it disconnects, Apple Fitness+ doesn't allow you to finish the workout or reconnect your watch. Instead, it just errors and ends unceremoniously.
This fires off a notification to all friends and family you share your activity rings progress with, letting them know you've finished part of a workout.
Then, when you go to try to go back to the workout you were just kicked from, Apple Fitness+ doesn't allow you to pick up from where you left off, or even to fast forward to the right place. It makes you start back at the beginning of the workout.
This isn't too much of a problem if you're going through a brief 10-minute session. If you're doing a 30 or 45-minute workout, this can be infuriating and demoralizing.
A quick polling of Twitter to see if anyone else was experiencing a similar issue quickly revealed others had the same problem.
This is not ok #AppleFitnessPlus. Users aren't going to stick around if this continues happening and offers no way to reconnect the watch, finish, or fast forward workouts. I've heard so many others complain of this issue. It's not uncommon. pic.twitter.com/fKpyLgJa3O

— Andrew O'Hara (@Andrew_OSU) February 3, 2021
A quick search uncovered more who voiced their own dissatisfaction and frustration over the situation. Hundreds of people have also joined in voicing their experience with the same issue over on Apple's discussion forums.
Some potential solutions were suggested, ranging from the obvious restarting of the Apple TV itself, to moving the Apple TV to a new location and checking for any possible interference from other devices. My wife and I tried all of them without a solution.
Eventually, as the issue happened more and more, a pattern started to emerge.
It seemed to happen most frequently on the first workout of the day. Subsequent classes didn't experience the issues.
While this pattern does seem common among people experiencing the same issue, it doesn't help in any way to solve the problem.
A wait for a fix
Apple desperately needs to fix this issue before people are turned away from the service. Admittedly it isn't necessarily an easy fix, as it involves two different pieces of hardware and software working together, increasing the complexity.
However, Apple Watch already has the ability to pause workouts set from the wearable device. It would make sense that if a disconnection should occur, the workout could be paused on the TV and the Apple Watch at the same time.
Such a change could even give an opportunity to reconnect the Apple Watch to the Apple TV and to continue, before ending the workout entirely.
Months after launch, there doesn't appear to be a fix on the way.
Apple Fitness+ has continued to gain a following and has a mountain of potential to grow and expand. Despite this issue, we've still continued to use Apple Fitness+, but if a fix doesn't come soon, that may not always be the case.
We probably won't be the only ones to move on.