New iMac 24", M1 iPad Pro, Apple TV 4K are up to $167 off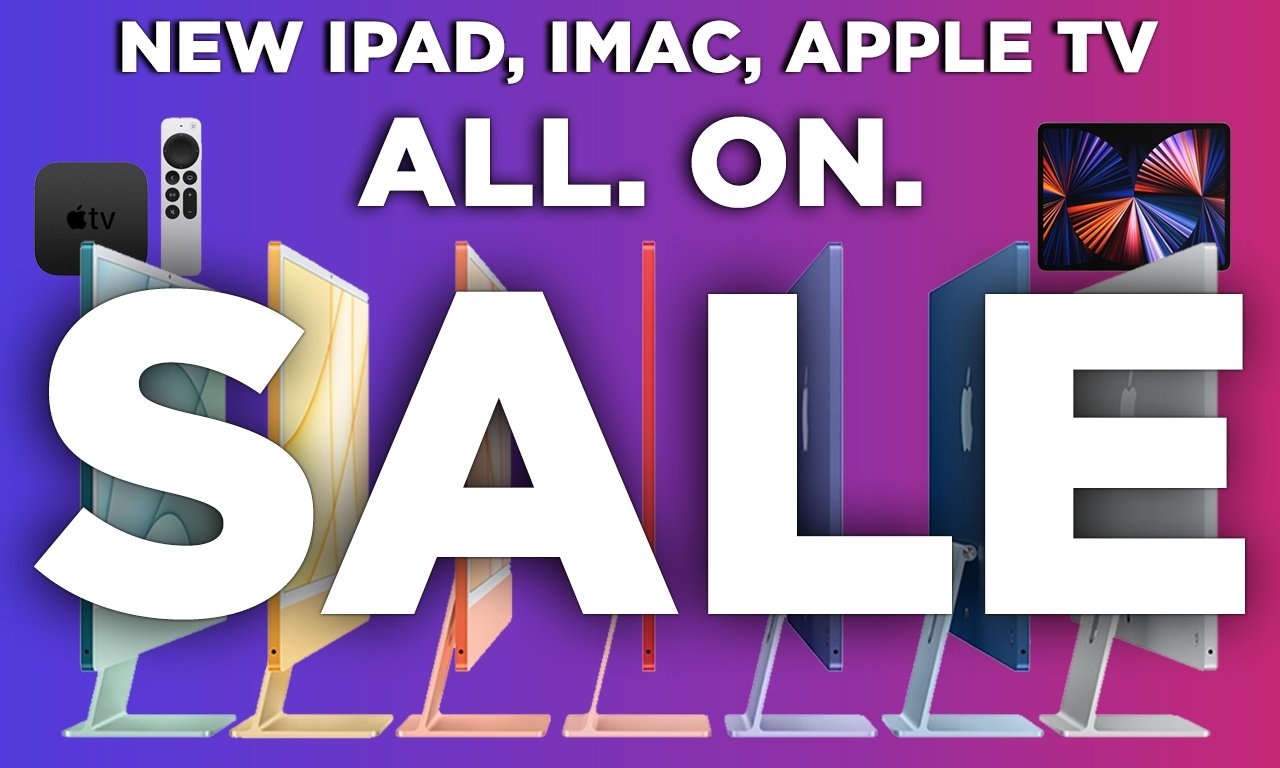 AppleInsider is supported by its audience and may earn commission as an Amazon Associate and affiliate partner on qualifying purchases. These affiliate partnerships do not influence our editorial content.
AppleInsider has rounded up the best preorder deals on the new M1 iPad Pro, iMac 24-inch and Apple TV 4K. Save up to $167 this Friday, with discounts on individual devices and AppleCare.
Preorder deals on new iMacs, iPads
The iPad Pro, Apple TV 4K and iMac sale is going on now at Apple Premier Partner Expercom, with cash discounts on every new configuration, from the 5G iPad Pro to the 2021 Apple TV 4K.
These deals deliver the cheapest prices available on the new M1 hardware, with triple-digit discounts a rarity on Apple hardware right off the bat.
To shop the steepest savings, be sure to bookmark the AppleInsider Apple Price Guide for the latest deals across top Apple resellers. And for a breakdown of Expercom's sale by category, check out the discounts below to save up to $147 on the new devices — or up to $167 on the hardware bundled with AppleCare.
M1 iMac 24-inch
M1 iPad Pro
11-inch iPad Pro with Apple M1: From $750

(Up to $128 off + $20 off AppleCare)

12.9-inch iPad Pro with Apple M1: From $1,032

(Up to $147 off + $20 off AppleCare)

- Sold out
Apple TV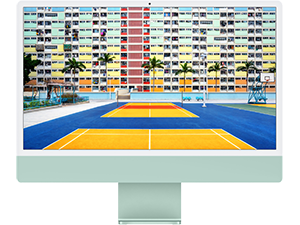 M1 iMac 24-inch Prices
AppleInsider may earn commission on products purchased through affiliate links.
---
Configurations
Discount
M1, 8GB, 256GB, 7-core GPU (Blue)

$1,299.00

Coupon

Price with $100 promo code APINSIDER. Plus, save $30 on AppleCare for iMac with the code. As always, if you have any issues, you can reach out to us at [email protected] and we'll try and help.

$100.00
M1, 8GB, 256GB, 7-core GPU (Green)

$1,299.00

Coupon

Price with $80 promo code APINSIDER. Plus, save $30 on AppleCare with the same code. As always, if you have any issues, you can reach out to us at [email protected] and we'll try and help.

$80.00
M1, 8GB, 256GB, 7-core GPU (Pink)

$1,299.00

Coupon

Price with $80 promo code APINSIDER. Plus, save $30 on AppleCare with the same code. As always, if you have any issues, you can reach out to us at [email protected] and we'll try and help.

$80.00
M1, 8GB, 256GB, 7-core GPU (Silver)

$1,299.00

Coupon

Price with $80 promo code APINSIDER. Plus, save $30 on AppleCare with the same code. As always, if you have any issues, you can reach out to us at [email protected] and we'll try and help.

$80.00
M1, 8GB, 512GB, 7-core GPU (Blue)

$1,499.00

Coupon

Price with $100 promo code APINSIDER. Plus, save $30 on AppleCare for iMac with the code. As always, if you have any issues, you can reach out to us at [email protected] and we'll try and help.

n/a

n/a

$100.00
M1, 8GB, 512GB, 7-core GPU (Green)

$1,499.00

Coupon

Price with $100 promo code APINSIDER. Plus, save $30 on AppleCare for iMac with the code. As always, if you have any issues, you can reach out to us at [email protected] and we'll try and help.

n/a

n/a

$100.00
M1, 8GB, 512GB, 7-core GPU (Pink)

$1,499.00

Coupon

Price with $100 promo code APINSIDER. Plus, save $30 on AppleCare for iMac with the code. As always, if you have any issues, you can reach out to us at [email protected] and we'll try and help.

n/a

n/a

$100.00
M1, 8GB, 512GB, 7-core GPU (Silver)

$1,499.00

Coupon

Price with $100 promo code APINSIDER. Plus, save $30 on AppleCare for iMac with the code. As always, if you have any issues, you can reach out to us at [email protected] and we'll try and help.

n/a

n/a

$100.00
M1, 8GB, 1TB, 7-core GPU (Blue)

$1,699.00

Coupon

Price with $100 promo code APINSIDER. Plus, save $30 on AppleCare for iMac with the code. As always, if you have any issues, you can reach out to us at [email protected] and we'll try and help.

n/a

n/a

$100.00
M1, 8GB, 1TB, 7-core GPU (Green)

$1,699.00

Coupon

Price with $100 promo code APINSIDER. Plus, save $30 on AppleCare for iMac with the code. As always, if you have any issues, you can reach out to us at [email protected] and we'll try and help.

n/a

n/a

$100.00
M1, 8GB, 1TB, 7-core GPU (Pink)

$1,699.00

Coupon

Price with $100 promo code APINSIDER. Plus, save $30 on AppleCare for iMac with the code. As always, if you have any issues, you can reach out to us at [email protected] and we'll try and help.

n/a

n/a

$100.00
M1, 8GB, 1TB, 7-core GPU (Silver)

$1,699.00

Coupon

Price with $100 promo code APINSIDER. Plus, save $30 on AppleCare for iMac with the code. As always, if you have any issues, you can reach out to us at [email protected] and we'll try and help.

n/a

n/a

$100.00
M1, 16GB, 256GB, 7-core GPU (Blue)

$1,499.00

Coupon

Price with $100 promo code APINSIDER. Plus, save $30 on AppleCare for iMac with the code. As always, if you have any issues, you can reach out to us at [email protected] and we'll try and help.

n/a

n/a

$100.00
M1, 16GB, 256GB, 7-core GPU (Green)

$1,499.00

Coupon

Price with $100 promo code APINSIDER. Plus, save $30 on AppleCare for iMac with the code. As always, if you have any issues, you can reach out to us at [email protected] and we'll try and help.

n/a

n/a

$100.00
M1, 16GB, 256GB, 7-core GPU (Pink)

$1,499.00

Coupon

Price with $100 promo code APINSIDER. Plus, save $30 on AppleCare for iMac with the code. As always, if you have any issues, you can reach out to us at [email protected] and we'll try and help.

n/a

n/a

$100.00
M1, 16GB, 256GB, 7-core GPU (Silver)

$1,499.00

Coupon

Price with $100 promo code APINSIDER. Plus, save $30 on AppleCare for iMac with the code. As always, if you have any issues, you can reach out to us at [email protected] and we'll try and help.

n/a

n/a

$100.00
M1, 16GB, 512GB, 7-core GPU (Blue)

$1,699.00

Coupon

Price with $100 promo code APINSIDER. Plus, save $30 on AppleCare for iMac with the code. As always, if you have any issues, you can reach out to us at [email protected] and we'll try and help.

n/a

n/a

$100.00
M1, 16GB, 512GB, 7-core GPU (Green)

$1,699.00

Coupon

Price with $100 promo code APINSIDER. Plus, save $30 on AppleCare for iMac with the code. As always, if you have any issues, you can reach out to us at [email protected] and we'll try and help.

n/a

n/a

$100.00
M1, 16GB, 512GB, 7-core GPU (Pink)

$1,699.00

Coupon

Price with $100 promo code APINSIDER. Plus, save $30 on AppleCare for iMac with the code. As always, if you have any issues, you can reach out to us at [email protected] and we'll try and help.

n/a

n/a

$100.00
M1, 16GB, 512GB, 7-core GPU (Silver)

$1,699.00

Coupon

Price with $100 promo code APINSIDER. Plus, save $30 on AppleCare for iMac with the code. As always, if you have any issues, you can reach out to us at [email protected] and we'll try and help.

n/a

n/a

$100.00
M1, 16GB, 1TB, 7-core GPU (Blue)

$1,899.00

Coupon

Price with $130 promo code APINSIDER. Plus, save $30 on AppleCare with the same code. If you have any issues, please reach out to us at [email protected] and we'll be happy to assist.

n/a

n/a

$130.00
M1, 16GB, 1TB, 7-core GPU (Green)

$1,899.00

Coupon

Price with $130 promo code APINSIDER. Plus, save $30 on AppleCare with the same code. If you have any issues, please reach out to us at [email protected] and we'll be happy to assist.

n/a

n/a

$130.00
M1, 16GB, 1TB, 7-core GPU (Pink)

$1,899.00

Coupon

Price with $100 promo code APINSIDER. Plus, save $30 on AppleCare for iMac with the code. As always, if you have any issues, you can reach out to us at [email protected] and we'll try and help.

n/a

n/a

$110.00
M1, 16GB, 1TB, 7-core GPU (Silver)

$1,899.00

Coupon

Price with $130 promo code APINSIDER. Plus, save $30 on AppleCare with the same code. If you have any issues, please reach out to us at [email protected] and we'll be happy to assist.

n/a

n/a

$130.00
M1, 8GB, 256GB, 8-core GPU (Blue)

$1,499.00

Coupon

Price with $100 promo code APINSIDER. Plus, save $30 on AppleCare for iMac with the code. As always, if you have any issues, you can reach out to us at [email protected] and we'll try and help.

$109.01
M1, 8GB, 256GB, 8-core GPU (Green)

$1,499.00

Coupon

Price with $100 promo code APINSIDER. Plus, save $30 on AppleCare for iMac with the code. As always, if you have any issues, you can reach out to us at [email protected] and we'll try and help.

$100.00
M1, 8GB, 256GB, 8-core GPU (Pink)

$1,499.00

Coupon

Price with $100 promo code APINSIDER. Plus, save $30 on AppleCare for iMac with the code. As always, if you have any issues, you can reach out to us at [email protected] and we'll try and help.

$100.00
M1, 8GB, 256GB, 8-core GPU (Silver)

$1,499.00

Coupon

Price with $100 promo code APINSIDER. Plus, save $30 on AppleCare for iMac with the code. As always, if you have any issues, you can reach out to us at [email protected] and we'll try and help.

$100.00
M1, 8GB, 256GB, 8-core GPU (Yellow)

$1,499.00

Coupon

Price with $100 promo code APINSIDER. Plus, save $30 on AppleCare for iMac with the code. As always, if you have any issues, you can reach out to us at [email protected] and we'll try and help.

n/a

$100.00
M1, 8GB, 256GB, 8-core GPU (Orange)

$1,499.00

Coupon

Price with $100 promo code APINSIDER. Plus, save $30 on AppleCare for iMac with the code. As always, if you have any issues, you can reach out to us at [email protected] and we'll try and help.

n/a

n/a

$100.00
M1, 8GB, 256GB, 8-core GPU (Purple)

$1,499.00

Coupon

Price with $100 promo code APINSIDER. Plus, save $30 on AppleCare for iMac with the code. As always, if you have any issues, you can reach out to us at [email protected] and we'll try and help.

n/a

n/a

$100.00
M1, 8GB, 512GB, 8-core GPU (Blue)

$1,699.00

Coupon

Price with $100 promo code APINSIDER. Plus, save $30 on AppleCare for iMac with the code. As always, if you have any issues, you can reach out to us at [email protected] and we'll try and help.

$100.00
M1, 8GB, 512GB, 8-core GPU (Green)

$1,699.00

Coupon

Price with $100 promo code APINSIDER. Plus, save $30 on AppleCare for iMac with the code. As always, if you have any issues, you can reach out to us at [email protected] and we'll try and help.

$100.00
M1, 8GB, 512GB, 8-core GPU (Pink)

$1,699.00

Coupon

Price with $100 promo code APINSIDER. Plus, save $30 on AppleCare for iMac with the code. As always, if you have any issues, you can reach out to us at [email protected] and we'll try and help.

$100.00
M1, 8GB, 512GB, 8-core GPU (Silver)

$1,699.00

Coupon

Price with $100 promo code APINSIDER. Plus, save $30 on AppleCare for iMac with the code. As always, if you have any issues, you can reach out to us at [email protected] and we'll try and help.

$100.00
M1, 8GB, 512GB, 8-core GPU (Yellow)

$1,699.00

Coupon

Price with $100 promo code APINSIDER. Plus, save $30 on AppleCare for iMac with the code. As always, if you have any issues, you can reach out to us at [email protected] and we'll try and help.

n/a

n/a

$100.00
M1, 8GB, 512GB, 8-core GPU (Orange)

$1,699.00

Coupon

Price with $100 promo code APINSIDER. Plus, save $30 on AppleCare for iMac with the code. As always, if you have any issues, you can reach out to us at [email protected] and we'll try and help.

n/a

n/a

$100.00
M1, 8GB, 512GB, 8-core GPU (Purple)

$1,699.00

Coupon

Price with $100 promo code APINSIDER. Plus, save $30 on AppleCare for iMac with the code. As always, if you have any issues, you can reach out to us at [email protected] and we'll try and help.

n/a

n/a

$100.00
M1, 8GB, 1TB, 8-core GPU (Blue)

$1,899.00

Coupon

Price with $130 promo code APINSIDER. Plus, save $30 on AppleCare with the same code. If you have any issues, please reach out to us at [email protected] and we'll be happy to assist.

n/a

n/a

$130.00
M1, 8GB, 1TB, 8-core GPU (Green)

$1,899.00

Coupon

Price with $130 promo code APINSIDER. Plus, save $30 on AppleCare with the same code. If you have any issues, please reach out to us at [email protected] and we'll be happy to assist.

n/a

n/a

$130.00
M1, 8GB, 1TB, 8-core GPU (Pink)

$1,899.00

Coupon

Price with $130 promo code APINSIDER. Plus, save $30 on AppleCare with the same code. If you have any issues, please reach out to us at [email protected] and we'll be happy to assist.

n/a

n/a

$130.00
M1, 8GB, 1TB, 8-core GPU (Silver)

$1,899.00

Coupon

Price with $130 promo code APINSIDER. Plus, save $30 on AppleCare with the same code. If you have any issues, please reach out to us at [email protected] and we'll be happy to assist.

n/a

n/a

$130.00
M1, 8GB, 1TB, 8-core GPU (Yellow)

$1,899.00

Coupon

Price with $130 promo code APINSIDER. Plus, save $30 on AppleCare with the same code. If you have any issues, please reach out to us at [email protected] and we'll be happy to assist.

n/a

n/a

$130.00
M1, 8GB, 1TB, 8-core GPU (Orange)

$1,899.00

Coupon

Price with $130 promo code APINSIDER. Plus, save $30 on AppleCare with the same code. If you have any issues, please reach out to us at [email protected] and we'll be happy to assist.

n/a

n/a

$130.00
M1, 8GB, 1TB, 8-core GPU (Purple)

$1,899.00

Coupon

Price with $130 promo code APINSIDER. Plus, save $30 on AppleCare with the same code. If you have any issues, please reach out to us at [email protected] and we'll be happy to assist.

n/a

n/a

$130.00
M1, 8GB, 2TB, 8-core GPU (Blue)

$2,299.00

Coupon

Price with $130 promo code APINSIDER. Plus, save $30 on AppleCare with the same code. If you have any issues, please reach out to us at [email protected] and we'll be happy to assist.

n/a

n/a

$130.00
M1, 8GB, 2TB, 8-core GPU (Green)

$2,299.00

Coupon

Price with $130 promo code APINSIDER. Plus, save $30 on AppleCare with the same code. If you have any issues, please reach out to us at [email protected] and we'll be happy to assist.

n/a

n/a

$130.00
M1, 8GB, 2TB, 8-core GPU (Pink)

$2,299.00

Coupon

Price with $130 promo code APINSIDER. Plus, save $30 on AppleCare with the same code. If you have any issues, please reach out to us at [email protected] and we'll be happy to assist.

n/a

n/a

$130.00
M1, 8GB, 2TB, 8-core GPU (Silver)

$2,299.00

Coupon

Price with $130 promo code APINSIDER. Plus, save $30 on AppleCare with the same code. If you have any issues, please reach out to us at [email protected] and we'll be happy to assist.

n/a

n/a

$130.00
M1, 8GB, 2TB, 8-core GPU (Yellow)

$2,299.00

Coupon

Price with $130 promo code APINSIDER. Plus, save $30 on AppleCare with the same code. If you have any issues, please reach out to us at [email protected] and we'll be happy to assist.

n/a

n/a

$130.00
M1, 8GB, 2TB, 8-core GPU (Orange)

$2,299.00

Coupon

Price with $130 promo code APINSIDER. Plus, save $30 on AppleCare with the same code. If you have any issues, please reach out to us at [email protected] and we'll be happy to assist.

n/a

n/a

$130.00
M1, 8GB, 2TB, 8-core GPU (Purple)

$2,299.00

Coupon

Price with $130 promo code APINSIDER. Plus, save $30 on AppleCare with the same code. If you have any issues, please reach out to us at [email protected] and we'll be happy to assist.

n/a

n/a

$130.00
M1, 16GB, 256GB, 8-core GPU (Blue)

$1,699.00

Coupon

Price with $100 promo code APINSIDER. Plus, save $30 on AppleCare for iMac with the code. As always, if you have any issues, you can reach out to us at [email protected] and we'll try and help.

n/a

n/a

$100.00
M1, 16GB, 256GB, 8-core GPU (Green)

$1,699.00

Coupon

Price with $100 promo code APINSIDER. Plus, save $30 on AppleCare for iMac with the code. As always, if you have any issues, you can reach out to us at [email protected] and we'll try and help.

n/a

n/a

$100.00
M1, 16GB, 256GB, 8-core GPU (Pink)

$1,699.00

Coupon

Price with $100 promo code APINSIDER. Plus, save $30 on AppleCare for iMac with the code. As always, if you have any issues, you can reach out to us at [email protected] and we'll try and help.

n/a

n/a

$100.00
M1, 16GB, 256GB, 8-core GPU (Silver)

$1,699.00

Coupon

Price with $100 promo code APINSIDER. Plus, save $30 on AppleCare for iMac with the code. As always, if you have any issues, you can reach out to us at [email protected] and we'll try and help.

n/a

n/a

$100.00
M1, 16GB, 256GB, 8-core GPU (Yellow)

$1,699.00

Coupon

Price with $100 promo code APINSIDER. Plus, save $30 on AppleCare for iMac with the code. As always, if you have any issues, you can reach out to us at [email protected] and we'll try and help.

n/a

n/a

$100.00
M1, 16GB, 256GB, 8-core GPU (Orange)

$1,699.00

Coupon

Price with $100 promo code APINSIDER. Plus, save $30 on AppleCare for iMac with the code. As always, if you have any issues, you can reach out to us at [email protected] and we'll try and help.

n/a

n/a

$100.00
M1, 16GB, 256GB, 8-core GPU (Purple)

$1,699.00

Coupon

Price with $100 promo code APINSIDER. Plus, save $30 on AppleCare for iMac with the code. As always, if you have any issues, you can reach out to us at [email protected] and we'll try and help.

n/a

n/a

$100.00
M1, 16GB, 512GB, 8-core GPU (Blue)

$1,899.00

Coupon

Price with $130 promo code APINSIDER. Plus, save $30 on AppleCare with the same code. If you have any issues, please reach out to us at [email protected] and we'll be happy to assist.

n/a

n/a

$130.00
M1, 16GB, 512GB, 8-core GPU (Green)

$1,899.00

Coupon

Price with $130 promo code APINSIDER. Plus, save $30 on AppleCare with the same code. If you have any issues, please reach out to us at [email protected] and we'll be happy to assist.

n/a

n/a

$130.00
M1, 16GB, 512GB, 8-core GPU (Pink)

$1,899.00

Coupon

Price with $130 promo code APINSIDER. Plus, save $30 on AppleCare with the same code. If you have any issues, please reach out to us at [email protected] and we'll be happy to assist.

n/a

n/a

$130.00
M1, 16GB, 512GB, 8-core GPU (Silver)

$1,899.00

Coupon

Price with $130 promo code APINSIDER. Plus, save $30 on AppleCare with the same code. If you have any issues, please reach out to us at [email protected] and we'll be happy to assist.

n/a

n/a

$130.00
M1, 16GB, 512GB, 8-core GPU (Yellow)

$1,899.00

Coupon

Price with $130 promo code APINSIDER. Plus, save $30 on AppleCare with the same code. If you have any issues, please reach out to us at [email protected] and we'll be happy to assist.

n/a

n/a

$130.00
M1, 16GB, 512GB, 8-core GPU (Orange)

$1,899.00

Coupon

Price with $130 promo code APINSIDER. Plus, save $30 on AppleCare with the same code. If you have any issues, please reach out to us at [email protected] and we'll be happy to assist.

n/a

n/a

$130.00
M1, 16GB, 512GB, 8-core GPU (Purple)

$1,899.00

Coupon

Price with $130 promo code APINSIDER. Plus, save $30 on AppleCare with the same code. If you have any issues, please reach out to us at [email protected] and we'll be happy to assist.

n/a

n/a

$130.00
M1, 16GB, 1TB, 8-core GPU (Blue)

$2,099.00

Coupon

Price with $130 promo code APINSIDER. Plus, save $30 on AppleCare with the same code. If you have any issues, please reach out to us at [email protected] and we'll be happy to assist.

n/a

n/a

$130.00
M1, 16GB, 1TB, 8-core GPU (Green)

$2,099.00

Coupon

Price with $130 promo code APINSIDER. Plus, save $30 on AppleCare with the same code. If you have any issues, please reach out to us at [email protected] and we'll be happy to assist.

n/a

n/a

$130.00
M1, 16GB, 1TB, 8-core GPU (Pink)

$2,099.00

Coupon

Price with $130 promo code APINSIDER. Plus, save $30 on AppleCare with the same code. If you have any issues, please reach out to us at [email protected] and we'll be happy to assist.

n/a

n/a

$130.00
M1, 16GB, 1TB, 8-core GPU (Silver)

$2,099.00

Coupon

Price with $130 promo code APINSIDER. Plus, save $30 on AppleCare with the same code. If you have any issues, please reach out to us at [email protected] and we'll be happy to assist.

n/a

n/a

$130.00
M1, 16GB, 1TB, 8-core GPU (Yellow)

$2,099.00

Coupon

Price with $130 promo code APINSIDER. Plus, save $30 on AppleCare with the same code. If you have any issues, please reach out to us at [email protected] and we'll be happy to assist.

n/a

n/a

$130.00
M1, 16GB, 1TB, 8-core GPU (Orange)

$2,099.00

Coupon

Price with $130 promo code APINSIDER. Plus, save $30 on AppleCare with the same code. If you have any issues, please reach out to us at [email protected] and we'll be happy to assist.

n/a

n/a

$130.00
M1, 16GB, 1TB, 8-core GPU (Purple)

$2,099.00

Coupon

Price with $130 promo code APINSIDER. Plus, save $30 on AppleCare with the same code. If you have any issues, please reach out to us at [email protected] and we'll be happy to assist.

n/a

n/a

$130.00
M1, 16GB, 2TB, 8-core GPU (Blue)

$2,499.00

Coupon

Price with $130 promo code APINSIDER. Plus, save $30 on AppleCare with the same code. If you have any issues, please reach out to us at [email protected] and we'll be happy to assist.

n/a

n/a

$130.00
M1, 16GB, 2TB, 8-core GPU (Green)

$2,499.00

Coupon

Price with $130 promo code APINSIDER. Plus, save $30 on AppleCare with the same code. If you have any issues, please reach out to us at [email protected] and we'll be happy to assist.

n/a

n/a

$130.00
M1, 16GB, 2TB, 8-core GPU (Pink)

$2,499.00

Coupon

Price with $130 promo code APINSIDER. Plus, save $30 on AppleCare with the same code. If you have any issues, please reach out to us at [email protected] and we'll be happy to assist.

n/a

n/a

$130.00
M1, 16GB, 2TB, 8-core GPU (Silver)

$2,499.00

Coupon

Price with $130 promo code APINSIDER. Plus, save $30 on AppleCare with the same code. If you have any issues, please reach out to us at [email protected] and we'll be happy to assist.

n/a

n/a

$130.00
M1, 16GB, 2TB, 8-core GPU (Yellow)

$2,499.00

Coupon

Price with $130 promo code APINSIDER. Plus, save $30 on AppleCare with the same code. If you have any issues, please reach out to us at [email protected] and we'll be happy to assist.

n/a

n/a

$130.00
M1, 16GB, 2TB, 8-core GPU (Orange)

$2,499.00

Coupon

Price with $130 promo code APINSIDER. Plus, save $30 on AppleCare with the same code. If you have any issues, please reach out to us at [email protected] and we'll be happy to assist.

n/a

n/a

$130.00
M1, 16GB, 2TB, 8-core GPU (Purple)

$2,499.00

Coupon

Price with $130 promo code APINSIDER. Plus, save $30 on AppleCare with the same code. If you have any issues, please reach out to us at [email protected] and we'll be happy to assist.

n/a

n/a

$130.00
Additional Apple deals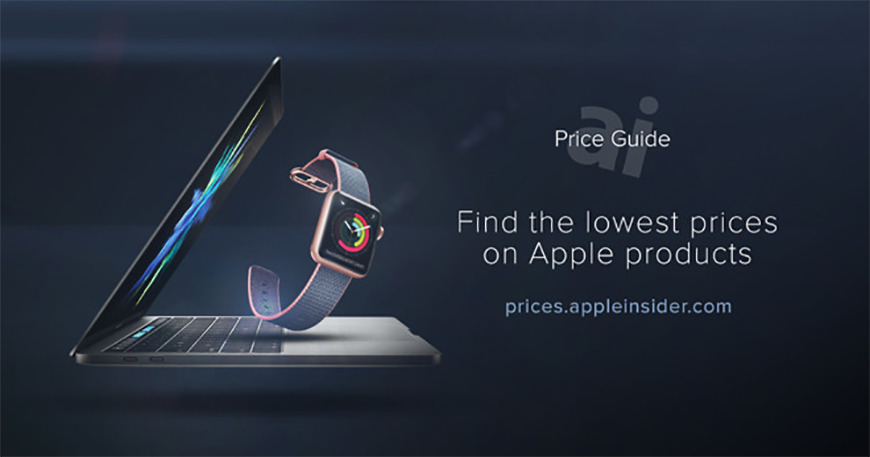 AppleInsider and Apple Authorized Resellers are also running additional exclusive deals on Apple devices that will not only deliver the lowest prices on many of the items, but also throw in bonus savings on AppleCare, peripherals and more. Here are just a few of the promotions: