Deals: Amazon launches iMac 27-inch sale, save $200 instantly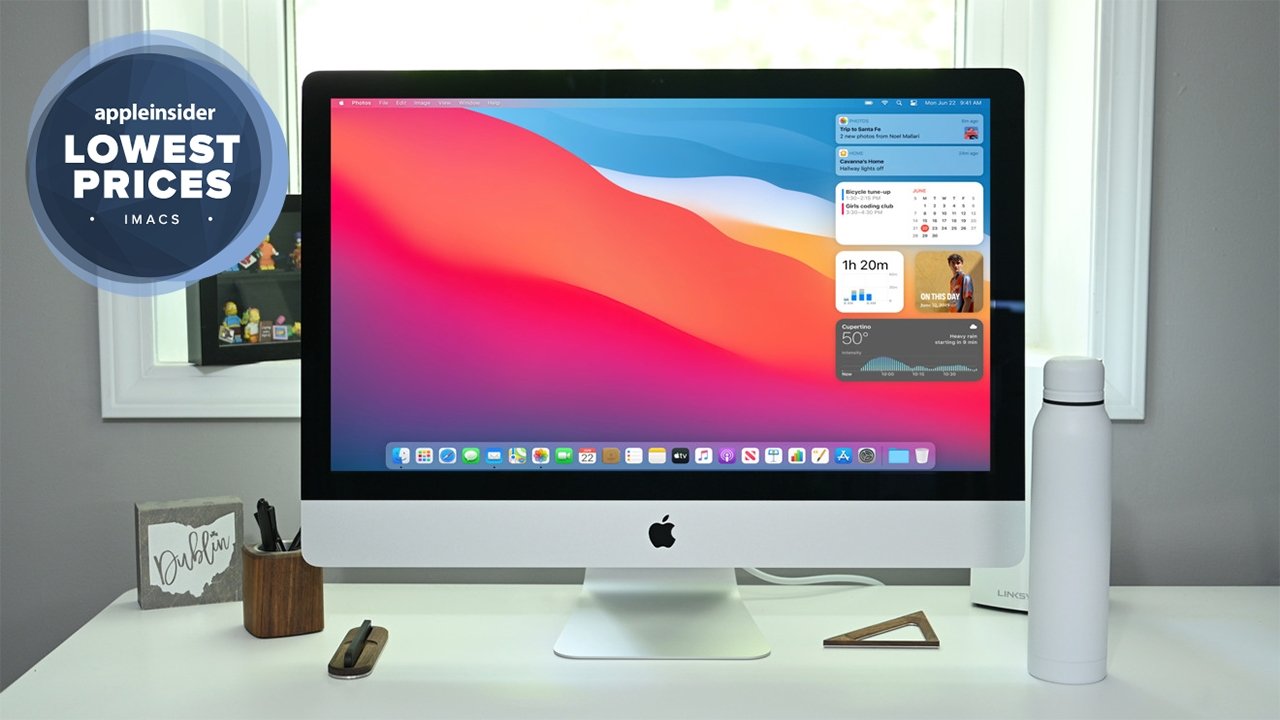 Amazon's latest Apple sale offers bonus in-cart savings on top of cash rebates on iMac 27-inch models, with prices starting at $1,599.
New iMac deals
Those looking for additional storage can also save $200 on the 3.3GHz Core i5 config with 8GB of memory and a 512GB SSD thanks to a $140 instant rebate stacked with a $59.01 in-cart discount.
At press time, both models are in stock and ready to ship for fast delivery to your door.
For the cheapest 27-inch iMac prices on upgraded models, including those with 64GB of RAM, be sure to check out the AppleInsider 27-inch iMac Price Guide.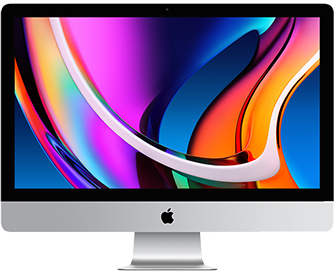 27-inch iMac with Retina 5K display (Mid 2020)
---
Configurations
Discount
27" iMac 6C (3.1, 8GB, 256GB, 5300)

$1,799.00

$1,649.00

Coupon

Price with $50 promo code APINSIDER. As always, if you have any issues, you can reach out to us at [email protected] and we'll try and help.

$1,699.00

$1,699.00

$1,749.00

$1,799.99

$1,799.00

$1,708.00
$150.00
27" iMac 6C (3.1, 16GB, 256GB, 5300)

$1,999.00

$1,899.00

Coupon

Price with $100 promo code APINSIDER. As always, if you have any issues, you can reach out to us at [email protected] and we'll try and help.

n/a

$1,999.00

n/a

n/a

n/a

$1,896.00
$103.00
27" iMac 6C (3.1, 32GB, 256GB, 5300)

$2,399.00

$2,199.00

Coupon

Price with $200 promo code APINSIDER. As always, if you have any issues, you can reach out to us at [email protected] and we'll try and help.

n/a

$2,399.00

n/a

n/a

n/a

$2,265.00
$200.00
27" iMac 6C (3.1, 64GB, 256GB, 5300)

$2,799.00

$2,599.00

Coupon

Price with $200 promo code APINSIDER. As always, if you have any issues, you can reach out to us at [email protected] and we'll try and help.

n/a

$2,799.00

n/a

n/a

n/a

n/a
$200.00
27" iMac 6C (3.1, 128GB, 256GB, 5300)

$4,399.00

$3,999.00

Coupon

Price with $400 promo code APINSIDER. As always, if you have any issues, you can reach out to us at [email protected] and we'll try and help.

n/a

$4,399.00

n/a

n/a

n/a

n/a
$400.00
27" iMac 6C (3.3, 8GB, 512GB, 5300)

$1,999.00

$1,849.00

Coupon

Price with $50 promo code APINSIDER. As always, if you have any issues, you can reach out to us at [email protected] and we'll try and help.

$1,899.00

$1,899.00

$1,899.00

n/a

$1,994.00

$1,899.00
$150.00
27" iMac 6C (3.3, 8GB, 1TB, 5300)

$2,199.00

$1,999.00

Coupon

Price with $200 promo code APINSIDER. As always, if you have any issues, you can reach out to us at [email protected] and we'll try and help.

n/a

$2,199.00

n/a

n/a

n/a

$2,199.00
$200.00
27" iMac 6C (3.3, 8GB, 2TB, 5300)

$2,599.00

$2,399.00

Coupon

Price with $200 promo code APINSIDER. As always, if you have any issues, you can reach out to us at [email protected] and we'll try and help.

n/a

$2,599.00

n/a

n/a

n/a

$2,599.00
$200.00
27" iMac 6C (3.3, 16GB, 512GB, 5300)

$2,199.00

$1,999.00

Coupon

Price with $200 promo code APINSIDER. As always, if you have any issues, you can reach out to us at [email protected] and we'll try and help.

n/a

$2,199.00

n/a

n/a

n/a

n/a
$200.00
27" iMac 6C (3.3, 16GB, 1TB, 5300)

$2,399.00

$2,199.00

Coupon

Price with $200 promo code APINSIDER. As always, if you have any issues, you can reach out to us at [email protected] and we'll try and help.

n/a

$2,399.00

n/a

n/a

n/a

n/a
$200.00
27" iMac 6C (3.3, 16GB, 2TB, 5300)

$2,799.00

$2,599.00

Coupon

Price with $200 promo code APINSIDER. As always, if you have any issues, you can reach out to us at [email protected] and we'll try and help.

n/a

$2,799.00

n/a

n/a

n/a

n/a
$200.00
27" iMac 6C (3.3, 32GB, 512GB, 5300)

$2,599.00

$2,399.00

Coupon

Price with $200 promo code APINSIDER. As always, if you have any issues, you can reach out to us at [email protected] and we'll try and help.

n/a

$2,599.00

n/a

n/a

n/a

n/a
$200.00
27" iMac 6C (3.3, 32GB, 1TB, 5300)

$2,799.00

$2,599.00

Coupon

Price with $200 promo code APINSIDER. As always, if you have any issues, you can reach out to us at [email protected] and we'll try and help.

n/a

$2,799.00

n/a

n/a

n/a

n/a
$200.00
27" iMac 6C (3.3, 32GB, 2TB, 5300)

$3,199.00

$2,899.00

Coupon

Price with $300 promo code APINSIDER. As always, if you have any issues, you can reach out to us at [email protected] and we'll try and help.

n/a

$3,199.00

n/a

n/a

n/a

n/a
$300.00
27" iMac 6C (3.3, 64GB, 512GB, 5300)

$2,999.00

$2,799.00

Coupon

Price with $200 promo code APINSIDER. As always, if you have any issues, you can reach out to us at [email protected] and we'll try and help.

n/a

$2,999.00

n/a

n/a

n/a

n/a
$200.00
27" iMac 6C (3.3, 64GB, 1TB, 5300)

$3,199.00

$2,899.00

Coupon

Price with $300 promo code APINSIDER. As always, if you have any issues, you can reach out to us at [email protected] and we'll try and help.

n/a

$3,199.00

n/a

n/a

n/a

n/a
$300.00
27" iMac 6C (3.3, 64GB, 2TB, 5300)

$3,599.00

$3,299.00

Coupon

Price with $300 promo code APINSIDER. As always, if you have any issues, you can reach out to us at [email protected] and we'll try and help.

n/a

$3,599.00

n/a

n/a

n/a

n/a
$300.00
27" iMac 6C (3.3, 128GB, 512GB, 5300)

$4,599.00

$4,199.00

Coupon

Price with $400 promo code APINSIDER. As always, if you have any issues, you can reach out to us at [email protected] and we'll try and help.

n/a

$4,599.00

n/a

n/a

n/a

n/a
$400.00
27" iMac 6C (3.3, 128GB, 1TB, 5300)

$4,799.00

$4,399.00

Coupon

Price with $400 promo code APINSIDER. As always, if you have any issues, you can reach out to us at [email protected] and we'll try and help.

n/a

$4,799.00

n/a

n/a

n/a

n/a
$400.00
27" iMac 6C (3.3, 128GB, 2TB, 5300)

$5,199.00

$4,799.00

Coupon

Price with $400 promo code APINSIDER. As always, if you have any issues, you can reach out to us at [email protected] and we'll try and help.

n/a

$5,199.00

n/a

n/a

n/a

n/a
$400.00
27" iMac 8C (3.8, 8GB, 512GB, 5500 XT)

$2,299.00

$2,149.00

Coupon

Price with $50 promo code APINSIDER. As always, if you have any issues, you can reach out to us at [email protected] and we'll try and help.

$2,189.00

$2,199.00

$2,199.00

$2,299.99

n/a

n/a
$150.00
27" iMac 8C (3.8, 8GB, 1TB, 5500 XT)

$2,499.00

$2,299.00

Coupon

Price with $200 promo code APINSIDER. As always, if you have any issues, you can reach out to us at [email protected] and we'll try and help.

n/a

$2,499.00

n/a

n/a

n/a

n/a
$200.00
27" iMac 8C (3.8, 8GB, 2TB, 5500 XT)

$2,899.00

$2,699.00

Coupon

Price with $200 promo code APINSIDER. As always, if you have any issues, you can reach out to us at [email protected] and we'll try and help.

n/a

$2,899.00

n/a

n/a

n/a

n/a
$200.00
27" iMac 8C (3.8, 8GB, 4TB, 5500 XT)

$3,499.00

$3,194.00

Coupon

Price with $300 promo code APINSIDER. As always, if you have any issues, you can reach out to us at [email protected] and we'll try and help.

n/a

$3,499.00

n/a

n/a

n/a

n/a
$305.00
27" iMac 8C (3.8, 8GB, 8TB, 5500 XT)

$4,699.00

$4,299.00

Coupon

Price with $400 promo code APINSIDER. As always, if you have any issues, you can reach out to us at [email protected] and we'll try and help.

n/a

$4,699.00

n/a

n/a

n/a

n/a
$400.00
27" iMac 8C (3.8, 16GB, 512GB, 5500 XT)

$2,499.00

$2,299.00

Coupon

Price with $200 promo code APINSIDER. As always, if you have any issues, you can reach out to us at [email protected] and we'll try and help.

n/a

$2,499.00

n/a

n/a

n/a

n/a
$200.00
27" iMac 8C (3.8, 16GB, 1TB, 5500 XT)

$2,699.00

$2,499.00

Coupon

Price with $200 promo code APINSIDER. As always, if you have any issues, you can reach out to us at [email protected] and we'll try and help.

n/a

$2,699.00

n/a

n/a

n/a

n/a
$200.00
27" iMac 8C (3.8, 16GB, 2TB, 5500 XT)

$3,099.00

$2,799.00

Coupon

Price with $300 promo code APINSIDER. As always, if you have any issues, you can reach out to us at [email protected] and we'll try and help.

n/a

$3,099.00

n/a

n/a

n/a

n/a
$300.00
27" iMac 8C (3.8, 16GB, 4TB, 5500 XT)

$3,699.00

$3,399.00

Coupon

Price with $300 promo code APINSIDER. As always, if you have any issues, you can reach out to us at [email protected] and we'll try and help.

n/a

$3,699.00

n/a

n/a

n/a

n/a
$300.00
27" iMac 8C (3.8 16GB, 8TB, 5500 XT)

$4,899.00

$4,499.00

Coupon

Price with $400 promo code APINSIDER. As always, if you have any issues, you can reach out to us at [email protected] and we'll try and help.

n/a

$4,899.00

n/a

n/a

n/a

n/a
$400.00
27" iMac 8C (3.8, 32GB, 512GB, 5500 XT)

$2,899.00

$2,699.00

Coupon

Price with $200 promo code APINSIDER. As always, if you have any issues, you can reach out to us at [email protected] and we'll try and help.

n/a

$2,899.00

n/a

n/a

n/a

n/a
$200.00
27" iMac 8C (3.8, 32GB, 1TB, 5500 XT)

$3,099.00

$2,799.00

Coupon

Price with $300 promo code APINSIDER. As always, if you have any issues, you can reach out to us at [email protected] and we'll try and help.

n/a

$3,099.00

n/a

n/a

n/a

n/a
$300.00
27" iMac 8C (3.8, 32GB, 2TB, 5500 XT)

$3,499.00

$3,199.00

Coupon

Price with $300 promo code APINSIDER. As always, if you have any issues, you can reach out to us at [email protected] and we'll try and help.

n/a

$3,499.00

n/a

n/a

n/a

n/a
$300.00
27" iMac 8C (3.8, 32GB, 4TB, 5500 XT)

$4,099.00

$3,699.00

Coupon

Price with $400 promo code APINSIDER. As always, if you have any issues, you can reach out to us at [email protected] and we'll try and help.

n/a

$4,099.00

n/a

n/a

n/a

n/a
$400.00
27" iMac 8C (3.8, 32GB, 8TB, 5500 XT)

$5,299.00

$4,899.00

Coupon

Price with $400 promo code APINSIDER. As always, if you have any issues, you can reach out to us at [email protected] and we'll try and help.

n/a

$5,299.00

n/a

n/a

n/a

n/a
$400.00
27" iMac 8C (3.8, 64GB, 512GB, 5500 XT)

$3,299.00

$2,999.00

Coupon

Price with $300 promo code APINSIDER. As always, if you have any issues, you can reach out to us at [email protected] and we'll try and help.

n/a

$3,299.00

n/a

n/a

n/a

n/a
$300.00
27" iMac 8C (3.8, 64GB, 1TB, 5500 XT)

$3,499.00

$3,199.00

Coupon

Price with $300 promo code APINSIDER. As always, if you have any issues, you can reach out to us at [email protected] and we'll try and help.

n/a

$3,499.00

n/a

n/a

n/a

n/a
$300.00
27" iMac 8C (3.8, 64GB, 2TB, 5500 XT)

$3,899.00

$3,599.00

Coupon

Price with $300 promo code APINSIDER. As always, if you have any issues, you can reach out to us at [email protected] and we'll try and help.

n/a

$3,899.00

n/a

n/a

n/a

n/a
$300.00
27" iMac 8C (3.8, 64GB, 4TB, 5500 XT)

$4,499.00

$4,099.00

Coupon

Price with $400 promo code APINSIDER. As always, if you have any issues, you can reach out to us at [email protected] and we'll try and help.

n/a

$4,499.00

n/a

n/a

n/a

n/a
$400.00
27" iMac 8C (3.8, 64GB, 8TB, 5500 XT)

$5,699.00

$5,299.00

Coupon

Price with $400 promo code APINSIDER. As always, if you have any issues, you can reach out to us at [email protected] and we'll try and help.

n/a

$5,699.00

n/a

n/a

n/a

n/a
$400.00
27" iMac 8C (3.8, 128GB, 512GB, 5500 XT)

$4,899.00

$4,499.00

Coupon

Price with $400 promo code APINSIDER. As always, if you have any issues, you can reach out to us at [email protected] and we'll try and help.

n/a

$4,899.00

n/a

n/a

n/a

n/a
$400.00
27" iMac 8C (3.8, 128GB, 1TB, 5500 XT)

$5,099.00

$4,699.00

Coupon

Price with $400 promo code APINSIDER. As always, if you have any issues, you can reach out to us at [email protected] and we'll try and help.

n/a

$5,099.00

n/a

n/a

n/a

n/a
$400.00
27" iMac 8C (3.8, 128GB, 2TB, 5500 XT)

$5,499.00

$5,099.00

Coupon

Price with $400 promo code APINSIDER. As always, if you have any issues, you can reach out to us at [email protected] and we'll try and help.

n/a

$5,499.00

n/a

n/a

n/a

n/a
$400.00
27" iMac 8C (3.8, 128GB, 4TB, 5500 XT)

$6,099.00

$5,699.00

Coupon

Price with $400 promo code APINSIDER. As always, if you have any issues, you can reach out to us at [email protected] and we'll try and help.

n/a

$6,099.00

n/a

n/a

n/a

n/a
$400.00
27" iMac 8C (3.8, 128GB, 8TB, 5500 XT)

$7,299.00

$6,889.00

Coupon

Price with $400 promo code APINSIDER. As always, if you have any issues, you can reach out to us at [email protected] and we'll try and help.

n/a

$7,299.00

n/a

n/a

n/a

n/a
$410.00
27" iMac 8C (3.8, 8GB, 512GB, 5700)

$2,599.00

$2,399.00

Coupon

Price with $200 promo code APINSIDER. As always, if you have any issues, you can reach out to us at [email protected] and we'll try and help.

n/a

$2,599.00

n/a

n/a

n/a

n/a
$200.00
27" iMac 8C (3.8, 8GB, 1TB, 5700)

$2,799.00

$2,599.00

Coupon

Price with $200 promo code APINSIDER. As always, if you have any issues, you can reach out to us at [email protected] and we'll try and help.

n/a

$2,799.00

n/a

n/a

n/a

n/a
$200.00
27" iMac 8C (3.8, 8GB, 2TB, 5700)

$3,199.00

$2,899.00

Coupon

Price with $300 promo code APINSIDER. As always, if you have any issues, you can reach out to us at [email protected] and we'll try and help.

n/a

$3,199.00

n/a

n/a

n/a

n/a
$300.00
27" iMac 8C (3.8, 8GB, 4TB, 5700)

$3,799.00

$3,499.00

Coupon

Price with $300 promo code APINSIDER. As always, if you have any issues, you can reach out to us at [email protected] and we'll try and help.

n/a

$3,799.00

n/a

n/a

n/a

n/a
$300.00
27" iMac 10C (3.6, 128GB, 8TB, 5700 XT)

$8,199.00

$7,789.00

Coupon

Price with $400 promo code APINSIDER. As always, if you have any issues, you can reach out to us at [email protected] and we'll try and help.

n/a

$8,199.00

n/a

n/a

n/a

n/a
$410.00
27" iMac 8C (3.8, 8GB, 8TB, 5700)

$4,999.00

$4,599.00

Coupon

Price with $400 promo code APINSIDER. As always, if you have any issues, you can reach out to us at [email protected] and we'll try and help.

n/a

$4,999.00

n/a

n/a

n/a

n/a
$400.00
27" iMac 8C (3.8, 16GB, 512GB, 5700)

$2,799.00

$2,599.00

Coupon

Price with $200 promo code APINSIDER. As always, if you have any issues, you can reach out to us at [email protected] and we'll try and help.

n/a

$2,799.00

n/a

n/a

n/a

n/a
$200.00
27" iMac 8C (3.8, 16GB, 1TB, 5700)

$2,999.00

$2,799.00

Coupon

Price with $200 promo code APINSIDER. As always, if you have any issues, you can reach out to us at [email protected] and we'll try and help.

n/a

$2,999.00

n/a

n/a

n/a

n/a
$200.00
27" iMac 8C (3.8, 16GB, 2TB, 5700)

$3,399.00

$3,099.00

Coupon

Price with $300 promo code APINSIDER. As always, if you have any issues, you can reach out to us at [email protected] and we'll try and help.

n/a

$3,399.00

n/a

n/a

n/a

n/a
$300.00
27" iMac 8C (3.8, 16GB, 4TB, 5700)

$3,999.00

$3,699.00

Coupon

Price with $300 promo code APINSIDER. As always, if you have any issues, you can reach out to us at [email protected] and we'll try and help.

n/a

$3,999.00

n/a

n/a

n/a

n/a
$300.00
27" iMac 8C (3.8, 16GB, 8TB, 5700)

$5,199.00

$4,799.00

Coupon

Price with $400 promo code APINSIDER. As always, if you have any issues, you can reach out to us at [email protected] and we'll try and help.

n/a

$5,199.00

n/a

n/a

n/a

n/a
$400.00
27" iMac 8C (3.8, 32GB, 512GB, 5700)

$3,199.00

$2,899.00

Coupon

Price with $300 promo code APINSIDER. As always, if you have any issues, you can reach out to us at [email protected] and we'll try and help.

n/a

$3,199.00

n/a

n/a

n/a

n/a
$300.00
27" iMac 8C (3.8, 32GB, 1TB, 5700)

$3,399.00

$3,099.00

Coupon

Price with $300 promo code APINSIDER. As always, if you have any issues, you can reach out to us at [email protected] and we'll try and help.

n/a

$3,399.00

n/a

n/a

n/a

n/a
$300.00
27" iMac 8C (3.8, 32GB, 2TB, 5700)

$3,799.00

$3,499.00

Coupon

Price with $300 promo code APINSIDER. As always, if you have any issues, you can reach out to us at [email protected] and we'll try and help.

n/a

$3,799.00

n/a

n/a

n/a

n/a
$300.00
27" iMac 8C (3.8, 32GB, 4TB, 5700)

$4,399.00

$3,999.00

Coupon

Price with $400 promo code APINSIDER. As always, if you have any issues, you can reach out to us at [email protected] and we'll try and help.

n/a

$4,399.00

n/a

n/a

n/a

n/a
$400.00
27" iMac 8C (3.8, 32GB, 8TB, 5700)

$5,599.00

$5,199.00

Coupon

Price with $400 promo code APINSIDER. As always, if you have any issues, you can reach out to us at [email protected] and we'll try and help.

n/a

$5,599.00

n/a

n/a

n/a

n/a
$400.00
27" iMac 8C (3.8, 64GB, 512GB, 5700)

$3,599.00

$3,299.00

Coupon

Price with $300 promo code APINSIDER. As always, if you have any issues, you can reach out to us at [email protected] and we'll try and help.

n/a

$3,599.00

n/a

n/a

n/a

n/a
$300.00
27" iMac 8C (3.8, 64GB, 1TB, 5700)

$3,799.00

$3,499.00

Coupon

Price with $300 promo code APINSIDER. As always, if you have any issues, you can reach out to us at [email protected] and we'll try and help.

n/a

$3,799.00

n/a

n/a

n/a

n/a
$300.00
27" iMac 8C (3.8, 64GB, 2TB, 5700)

$4,199.00

$3,799.00

Coupon

Price with $400 promo code APINSIDER. As always, if you have any issues, you can reach out to us at [email protected] and we'll try and help.

n/a

$4,199.00

n/a

n/a

n/a

n/a
$400.00
27" iMac 8C (3.8, 64GB, 4TB, 5700)

$4,799.00

$4,399.00

Coupon

Price with $400 promo code APINSIDER. As always, if you have any issues, you can reach out to us at [email protected] and we'll try and help.

n/a

$4,799.00

n/a

n/a

n/a

n/a
$400.00
27" iMac 8C (3.8, 64GB, 8TB, 5700)

$5,999.00

$5,599.00

Coupon

Price with $400 promo code APINSIDER. As always, if you have any issues, you can reach out to us at [email protected] and we'll try and help.

n/a

$5,999.00

n/a

n/a

n/a

n/a
$400.00
27" iMac 8C (3.8, 128GB, 512GB, 5700)

$5,199.00

$4,799.00

Coupon

Price with $400 promo code APINSIDER. As always, if you have any issues, you can reach out to us at [email protected] and we'll try and help.

n/a

$5,199.00

n/a

n/a

n/a

n/a
$400.00
27" iMac 8C (3.8, 128GB, 1TB, 5700)

$5,399.00

$4,999.00

Coupon

Price with $400 promo code APINSIDER. As always, if you have any issues, you can reach out to us at [email protected] and we'll try and help.

n/a

$5,399.00

n/a

n/a

n/a

n/a
$400.00
27" iMac 8C (3.8, 128GB, 2TB, 5700)

$5,799.00

$5,399.00

Coupon

Price with $400 promo code APINSIDER. As always, if you have any issues, you can reach out to us at [email protected] and we'll try and help.

n/a

$5,799.00

n/a

n/a

n/a

n/a
$400.00
27" iMac 8C (3.8, 128GB, 4TB, 5700)

$6,399.00

$5,999.00

Coupon

Price with $400 promo code APINSIDER. As always, if you have any issues, you can reach out to us at [email protected] and we'll try and help.

n/a

$6,399.00

n/a

n/a

n/a

n/a
$400.00
27" iMac 8C (3.8, 128GB, 8TB, 5700)

$7,599.00

$7,189.00

Coupon

Price with $400 promo code APINSIDER. As always, if you have any issues, you can reach out to us at [email protected] and we'll try and help.

n/a

$7,599.00

n/a

n/a

n/a

n/a
$410.00
27" iMac 8C (3.8, 8GB, 512GB, 5700XT)

$2,799.00

$2,599.00

Coupon

Price with $200 promo code APINSIDER. As always, if you have any issues, you can reach out to us at [email protected] and we'll try and help.

n/a

$2,799.00

n/a

n/a

n/a

n/a
$200.00
27" iMac 8C (3.8, 8GB, 1TB, 5700 XT)

$2,999.00

$2,799.00

Coupon

Price with $200 promo code APINSIDER. As always, if you have any issues, you can reach out to us at [email protected] and we'll try and help.

n/a

$2,999.00

n/a

n/a

n/a

n/a
$200.00
27" iMac 8C (3.8, 8GB, 2TB, 5700 XT)

$3,399.00

$3,099.00

Coupon

Price with $300 promo code APINSIDER. As always, if you have any issues, you can reach out to us at [email protected] and we'll try and help.

n/a

$3,399.00

n/a

n/a

n/a

n/a
$300.00
27" iMac 8C (3.8, 8GB, 4TB, 5700 XT)

$3,999.00

$3,699.00

Coupon

Price with $300 promo code APINSIDER. As always, if you have any issues, you can reach out to us at [email protected] and we'll try and help.

n/a

$3,999.00

n/a

n/a

n/a

n/a
$300.00
27" iMac 8C (3.8, 8GB, 8TB, 5700 XT)

$5,199.00

$4,799.00

Coupon

Price with $400 promo code APINSIDER. As always, if you have any issues, you can reach out to us at [email protected] and we'll try and help.

n/a

$5,199.00

n/a

n/a

n/a

n/a
$400.00
27" iMac 8C (3.8, 16GB, 512GB, 5700 XT)

$2,999.00

$2,799.00

Coupon

Price with $200 promo code APINSIDER. As always, if you have any issues, you can reach out to us at [email protected] and we'll try and help.

n/a

$2,999.00

n/a

n/a

n/a

n/a
$200.00
27" iMac 8C (3.8, 16GB, 1TB, 5700 XT)

$3,199.00

$2,899.00

Coupon

Price with $300 promo code APINSIDER. As always, if you have any issues, you can reach out to us at [email protected] and we'll try and help.

n/a

$3,199.00

n/a

n/a

n/a

n/a
$300.00
27" iMac 8C (3.8, 16GB, 2TB, 5700 XT)

$3,599.00

$3,299.00

Coupon

Price with $300 promo code APINSIDER. As always, if you have any issues, you can reach out to us at [email protected] and we'll try and help.

n/a

$3,599.00

n/a

n/a

n/a

n/a
$300.00
27" iMac 8C (3.8, 16GB, 4TB, 5700 XT)

$4,199.00

$3,799.00

Coupon

Price with $400 promo code APINSIDER. As always, if you have any issues, you can reach out to us at [email protected] and we'll try and help.

n/a

$4,199.00

n/a

n/a

n/a

n/a
$400.00
27" iMac 8C (3.8, 16GB, 8TB, 5700 XT)

$5,399.00

$4,992.20

Coupon

Price with $400 promo code APINSIDER. As always, if you have any issues, you can reach out to us at [email protected] and we'll try and help.

n/a

$5,399.00

n/a

n/a

n/a

n/a
$406.80
27" iMac 8C (3.8, 32GB, 512GB, 5700 XT)

$3,399.00

$3,099.00

Coupon

Price with $300 promo code APINSIDER. As always, if you have any issues, you can reach out to us at [email protected] and we'll try and help.

n/a

$3,399.00

n/a

n/a

n/a

n/a
$300.00
27" iMac 8C (3.8, 32GB, 1TB, 5700 XT)

$3,599.00

$3,299.00

Coupon

Price with $300 promo code APINSIDER. As always, if you have any issues, you can reach out to us at [email protected] and we'll try and help.

n/a

$3,599.00

n/a

n/a

n/a

n/a
$300.00
27" iMac 8C (3.8, 32GB, 2TB, 5700 XT)

$3,999.00

$3,699.00

Coupon

Price with $300 promo code APINSIDER. As always, if you have any issues, you can reach out to us at [email protected] and we'll try and help.

n/a

$3,999.00

n/a

n/a

n/a

n/a
$300.00
27" iMac 8C (3.8, 32GB, 4TB, 5700 XT)

$4,599.00

$4,199.00

Coupon

Price with $400 promo code APINSIDER. As always, if you have any issues, you can reach out to us at [email protected] and we'll try and help.

n/a

$4,599.00

n/a

n/a

n/a

n/a
$400.00
27" iMac 8C (3.8, 32GB, 8TB, 5700 XT)

$5,799.00

$5,399.00

Coupon

Price with $400 promo code APINSIDER. As always, if you have any issues, you can reach out to us at [email protected] and we'll try and help.

n/a

$5,799.00

n/a

n/a

n/a

n/a
$400.00
27" iMac 8C (3.8, 64GB, 512GB, 5700 XT)

$3,799.00

$3,499.00

Coupon

Price with $300 promo code APINSIDER. As always, if you have any issues, you can reach out to us at [email protected] and we'll try and help.

n/a

$3,799.00

n/a

n/a

n/a

n/a
$300.00
27" iMac 8C (3.8, 64GB, 1TB, 5700 XT)

$3,999.00

$3,699.00

Coupon

Price with $300 promo code APINSIDER. As always, if you have any issues, you can reach out to us at [email protected] and we'll try and help.

n/a

$3,999.00

n/a

n/a

n/a

n/a
$300.00
27" iMac 8C (3.8, 64GB, 2TB, 5700 XT)

$4,399.00

$3,999.00

Coupon

Price with $400 promo code APINSIDER. As always, if you have any issues, you can reach out to us at [email protected] and we'll try and help.

n/a

$4,399.00

n/a

n/a

n/a

n/a
$400.00
27" iMac 8C (3.8, 64GB, 4TB, 5700 XT)

$4,999.00

$4,599.00

Coupon

Price with $400 promo code APINSIDER. As always, if you have any issues, you can reach out to us at [email protected] and we'll try and help.

n/a

$4,999.00

n/a

n/a

n/a

n/a
$400.00
27" iMac 8C (3.8, 64GB, 8TB, 5700 XT)

$6,199.00

$5,799.00

Coupon

Price with $400 promo code APINSIDER. As always, if you have any issues, you can reach out to us at [email protected] and we'll try and help.

n/a

$6,199.00

n/a

n/a

n/a

n/a
$400.00
27" iMac 8C (3.8, 128GB, 512GB, 5700 XT)

$5,399.00

$4,992.20

Coupon

Price with $400 promo code APINSIDER. As always, if you have any issues, you can reach out to us at [email protected] and we'll try and help.

n/a

$5,399.00

n/a

n/a

n/a

n/a
$406.80
27" iMac 8C (3.8, 128GB, 1TB, 5700 XT)

$5,599.00

$5,199.00

Coupon

Price with $400 promo code APINSIDER. As always, if you have any issues, you can reach out to us at [email protected] and we'll try and help.

n/a

$5,599.00

n/a

n/a

n/a

n/a
$400.00
27" iMac 8C (3.8, 128GB, 2TB, 5700 XT)

$5,999.00

$5,599.00

Coupon

Price with $400 promo code APINSIDER. As always, if you have any issues, you can reach out to us at [email protected] and we'll try and help.

n/a

$5,999.00

n/a

n/a

n/a

n/a
$400.00
27" iMac 8C (3.8, 128GB, 4TB, 5700 XT)

$6,599.00

$6,199.00

Coupon

Price with $400 promo code APINSIDER. As always, if you have any issues, you can reach out to us at [email protected] and we'll try and help.

n/a

$6,599.00

n/a

n/a

n/a

n/a
$400.00
27" iMac 8C (3.8, 128GB, 8TB, 5700 XT)

$7,799.00

$7,389.00

Coupon

Price with $400 promo code APINSIDER. As always, if you have any issues, you can reach out to us at [email protected] and we'll try and help.

n/a

$7,799.00

n/a

n/a

n/a

n/a
$410.00
27" iMac 10C (3.6, 8GB, 512GB, 5300)

$2,499.00

$2,299.00

Coupon

Price with $200 promo code APINSIDER. As always, if you have any issues, you can reach out to us at [email protected] and we'll try and help.

n/a

$2,499.00

n/a

n/a

n/a

$2,499.00
$200.00
27" iMac 10C (3.6, 8GB, 1TB, 5300)

$2,699.00

$2,499.00

Coupon

Price with $200 promo code APINSIDER. As always, if you have any issues, you can reach out to us at [email protected] and we'll try and help.

n/a

$2,699.00

n/a

n/a

n/a

n/a
$200.00
27" iMac 10C (3.6, 8GB, 2TB, 5300)

$3,099.00

$2,799.00

Coupon

Price with $300 promo code APINSIDER. As always, if you have any issues, you can reach out to us at [email protected] and we'll try and help.

n/a

$3,099.00

n/a

n/a

n/a

n/a
$300.00
27" iMac 10C (3.6, 16GB, 512GB, 5300)

$2,699.00

$2,499.00

Coupon

Price with $200 promo code APINSIDER. As always, if you have any issues, you can reach out to us at [email protected] and we'll try and help.

n/a

$2,699.00

n/a

n/a

n/a

n/a
$200.00
27" iMac 10C (3.6, 16GB, 1TB, 5300)

$2,899.00

$2,699.00

Coupon

Price with $200 promo code APINSIDER. As always, if you have any issues, you can reach out to us at [email protected] and we'll try and help.

n/a

$2,899.00

n/a

n/a

n/a

n/a
$200.00
27" iMac 10C (3.6, 16GB, 2TB, 5300)

$3,299.00

$2,999.00

Coupon

Price with $300 promo code APINSIDER. As always, if you have any issues, you can reach out to us at [email protected] and we'll try and help.

n/a

$3,299.00

n/a

n/a

n/a

n/a
$300.00
27" iMac 10C (3.6, 32GB, 512GB, 5300)

$3,099.00

$2,799.00

Coupon

Price with $300 promo code APINSIDER. As always, if you have any issues, you can reach out to us at [email protected] and we'll try and help.

n/a

$3,099.00

n/a

n/a

n/a

n/a
$300.00
27" iMac 10C (3.6, 32GB, 1TB, 5300)

$3,299.00

$3,099.00

Coupon

Price with $200 promo code APINSIDER. As always, if you have any issues, you can reach out to us at [email protected] and we'll try and help.

n/a

$3,299.00

n/a

n/a

n/a

n/a
$200.00
27" iMac 10C (3.6, 32GB, 2TB, 5300)

$3,699.00

$3,399.00

Coupon

Price with $300 promo code APINSIDER. As always, if you have any issues, you can reach out to us at [email protected] and we'll try and help.

n/a

$3,699.00

n/a

n/a

n/a

n/a
$300.00
27" iMac 10C (3.6, 64GB, 512GB, 5300)

$3,499.00

$3,199.00

Coupon

Price with $300 promo code APINSIDER. As always, if you have any issues, you can reach out to us at [email protected] and we'll try and help.

n/a

$3,499.00

n/a

n/a

n/a

n/a
$300.00
27" iMac 10C (3.6, 64GB, 1TB, 5300)

$3,699.00

$3,399.00

Coupon

Price with $300 promo code APINSIDER. As always, if you have any issues, you can reach out to us at [email protected] and we'll try and help.

n/a

$3,499.00

n/a

n/a

n/a

n/a
$300.00
27" iMac 10C (3.6, 64GB, 2TB, 5300)

$4,099.00

$3,699.00

Coupon

Price with $400 promo code APINSIDER. As always, if you have any issues, you can reach out to us at [email protected] and we'll try and help.

n/a

$4,099.00

n/a

n/a

n/a

n/a
$400.00
27" iMac 10C (3.6, 128GB, 512GB, 5300)

$5,099.00

$4,699.00

Coupon

Price with $400 promo code APINSIDER. As always, if you have any issues, you can reach out to us at [email protected] and we'll try and help.

n/a

$5,099.00

n/a

n/a

n/a

n/a
$400.00
27" iMac 10C (3.6, 128GB, 1TB, 5300)

$5,299.00

$4,899.00

Coupon

Price with $400 promo code APINSIDER. As always, if you have any issues, you can reach out to us at [email protected] and we'll try and help.

n/a

$5,299.00

n/a

n/a

n/a

n/a
$400.00
27" iMac 10C (3.6, 128GB, 2TB, 5300)

$5,699.00

$5,299.00

Coupon

Price with $400 promo code APINSIDER. As always, if you have any issues, you can reach out to us at [email protected] and we'll try and help.

n/a

$5,699.00

n/a

n/a

n/a

n/a
$400.00
27" iMac 10C (3.6, 8GB, 512GB, 5500 XT)

$2,699.00

$2,499.00

Coupon

Price with $200 promo code APINSIDER. As always, if you have any issues, you can reach out to us at [email protected] and we'll try and help.

n/a

$2,699.00

n/a

n/a

n/a

n/a
$200.00
27" iMac 10C (3.6, 8GB, 1TB, 5500 XT)

$2,899.00

$2,699.00

Coupon

Price with $200 promo code APINSIDER. As always, if you have any issues, you can reach out to us at [email protected] and we'll try and help.

n/a

$2,899.00

n/a

n/a

n/a

n/a
$200.00
27" iMac 10C (3.6, 8GB, 2TB, 5500 XT)

$3,299.00

$2,999.00

Coupon

Price with $300 promo code APINSIDER. As always, if you have any issues, you can reach out to us at [email protected] and we'll try and help.

n/a

$3,299.00

n/a

n/a

n/a

n/a
$300.00
27" iMac 10C (3.6, 8GB, 4TB, 5500 XT)

$3,899.00

$3,599.00

Coupon

Price with $300 promo code APINSIDER. As always, if you have any issues, you can reach out to us at [email protected] and we'll try and help.

n/a

$3,899.00

n/a

n/a

n/a

n/a
$300.00
27" iMac 10C (3.6, 8GB, 8TB, 5500 XT)

$5,099.00

$4,699.00

Coupon

Price with $400 promo code APINSIDER. As always, if you have any issues, you can reach out to us at [email protected] and we'll try and help.

n/a

$5,099.00

n/a

n/a

n/a

n/a
$400.00
27" iMac 10C (3.6, 16GB, 512GB, 5500 XT)

$2,899.00

$2,699.00

Coupon

Price with $200 promo code APINSIDER. As always, if you have any issues, you can reach out to us at [email protected] and we'll try and help.

n/a

$2,899.00

n/a

n/a

n/a

n/a
$200.00
27" iMac 10C (3.6, 16GB, 1TB, 5500 XT)

$3,099.00

$2,799.00

Coupon

Price with $300 promo code APINSIDER. As always, if you have any issues, you can reach out to us at [email protected] and we'll try and help.

n/a

$3,099.00

n/a

n/a

n/a

n/a
$300.00
27" iMac 10C (3.6, 16GB, 2TB, 5500 XT)

$3,499.00

$3,199.00

Coupon

Price with $300 promo code APINSIDER. As always, if you have any issues, you can reach out to us at [email protected] and we'll try and help.

n/a

$3,499.00

n/a

n/a

n/a

n/a
$300.00
27" iMac 10C (3.6, 16GB, 4TB, 5500XT)

$4,099.00

$3,699.00

Coupon

Price with $400 promo code APINSIDER. As always, if you have any issues, you can reach out to us at [email protected] and we'll try and help.

n/a

$4,099.00

n/a

n/a

n/a

n/a
$400.00
27" iMac 10C (3.6, 16GB, 8TB, 5500XT)

$5,299.00

$4,899.00

Coupon

Price with $400 promo code APINSIDER. As always, if you have any issues, you can reach out to us at [email protected] and we'll try and help.

n/a

$5,299.00

n/a

n/a

n/a

n/a
$400.00
27" iMac 10C (3.6, 32GB, 512GB, 5500 XT)

$3,299.00

$3,099.00

Coupon

Price with $200 promo code APINSIDER. As always, if you have any issues, you can reach out to us at [email protected] and we'll try and help.

n/a

$3,299.00

n/a

n/a

n/a

n/a
$200.00
27" iMac 10C (3.6, 32GB, 1TB, 5500 XT)

$3,499.00

$3,199.00

Coupon

Price with $300 promo code APINSIDER. As always, if you have any issues, you can reach out to us at [email protected] and we'll try and help.

n/a

$3,499.00

n/a

n/a

n/a

n/a
$300.00
27" iMac 10C (3.6, 32GB, 2TB, 5500 XT)

$3,899.00

$3,599.00

Coupon

Price with $300 promo code APINSIDER. As always, if you have any issues, you can reach out to us at [email protected] and we'll try and help.

n/a

$3,899.00

n/a

n/a

n/a

n/a
$300.00
27" iMac 10C (3.6, 32GB, 4TB, 5500 XT)

$4,499.00

$4,099.00

Coupon

Price with $400 promo code APINSIDER. As always, if you have any issues, you can reach out to us at [email protected] and we'll try and help.

n/a

$4,499.00

n/a

n/a

n/a

n/a
$400.00
27" iMac 10C (3.6, 32GB, 8TB, 5500 XT)

$5,699.00

$5,299.00

Coupon

Price with $400 promo code APINSIDER. As always, if you have any issues, you can reach out to us at [email protected] and we'll try and help.

n/a

$5,699.00

n/a

n/a

n/a

n/a
$400.00
27" iMac 10C (3.6, 64GB, 512GB, 5500 XT)

$3,699.00

$3,399.00

Coupon

Price with $300 promo code APINSIDER. As always, if you have any issues, you can reach out to us at [email protected] and we'll try and help.

n/a

$3,699.00

n/a

n/a

n/a

n/a
$300.00
27" iMac 10C (3.6, 64GB, 1TB, 5500 XT)

$3,899.00

$3,599.00

Coupon

Price with $300 promo code APINSIDER. As always, if you have any issues, you can reach out to us at [email protected] and we'll try and help.

n/a

$3,899.00

n/a

n/a

n/a

n/a
$300.00
27" iMac 10C (3.6, 64GB, 2TB, 5500 XT)

$4,299.00

$3,899.00

Coupon

Price with $400 promo code APINSIDER. As always, if you have any issues, you can reach out to us at [email protected] and we'll try and help.

n/a

$4,299.00

n/a

n/a

n/a

n/a
$400.00
27" iMac 10C (3.6, 64GB, 4TB, 5500 XT)

$4,899.00

$4,499.00

Coupon

Price with $400 promo code APINSIDER. As always, if you have any issues, you can reach out to us at [email protected] and we'll try and help.

n/a

$4,899.00

n/a

n/a

n/a

n/a
$400.00
27" iMac 10C (3.6, 64GB, 8TB, 5500 XT)

$6,099.00

$5,699.00

Coupon

Price with $400 promo code APINSIDER. As always, if you have any issues, you can reach out to us at [email protected] and we'll try and help.

n/a

$6,099.00

n/a

n/a

n/a

n/a
$400.00
27" iMac 10C (3.6, 128GB, 512GB, 5500 XT)

$5,299.00

$4,899.00

Coupon

Price with $400 promo code APINSIDER. As always, if you have any issues, you can reach out to us at [email protected] and we'll try and help.

n/a

$5,299.00

n/a

n/a

n/a

n/a
$400.00
27" iMac 10C (3.6, 128GB, 1TB, 5500 XT)

$5,499.00

$5,099.00

Coupon

Price with $400 promo code APINSIDER. As always, if you have any issues, you can reach out to us at [email protected] and we'll try and help.

n/a

$5,499.00

n/a

n/a

n/a

n/a
$400.00
27" iMac 10C (3.6, 128GB, 2TB, 5500 XT)

$5,899.00

$5,499.00

Coupon

Price with $400 promo code APINSIDER. As always, if you have any issues, you can reach out to us at [email protected] and we'll try and help.

n/a

$5,899.00

n/a

n/a

n/a

n/a
$400.00
27" iMac 10C (3.6, 128GB, 4TB, 5500 XT)

$6,499.00

$6,099.00

Coupon

Price with $400 promo code APINSIDER. As always, if you have any issues, you can reach out to us at [email protected] and we'll try and help.

n/a

$6,499.00

n/a

n/a

n/a

n/a
$400.00
27" iMac 10C (3.6, 128GB, 8TB, 5500 XT)

$7,699.00

$7,289.00

Coupon

Price with $400 promo code APINSIDER. As always, if you have any issues, you can reach out to us at [email protected] and we'll try and help.

n/a

$7,699.00

n/a

n/a

n/a

n/a
$410.00
27" iMac 10C (3.6, 8GB, 512GB, 5700)

$2,999.00

$2,799.00

Coupon

Price with $200 promo code APINSIDER. As always, if you have any issues, you can reach out to us at [email protected] and we'll try and help.

n/a

$2,999.00

n/a

n/a

n/a

n/a
$200.00
27" iMac 10C (3.6, 8GB, 1TB, 5700)

$3,199.00

$2,899.00

Coupon

Price with $300 promo code APINSIDER. As always, if you have any issues, you can reach out to us at [email protected] and we'll try and help.

n/a

$3,199.00

n/a

n/a

n/a

n/a
$300.00
27" iMac 10C (3.6, 8GB, 2TB, 5700)

$3,599.00

$3,299.00

Coupon

Price with $300 promo code APINSIDER. As always, if you have any issues, you can reach out to us at [email protected] and we'll try and help.

n/a

$3,599.00

n/a

n/a

n/a

n/a
$300.00
27" iMac 10C (3.6, 8GB, 4TB, 5700)

$4,199.00

$3,799.00

Coupon

Price with $400 promo code APINSIDER. As always, if you have any issues, you can reach out to us at [email protected] and we'll try and help.

n/a

$4,199.00

n/a

n/a

n/a

n/a
$400.00
27" iMac 10C (3.6, 8GB, 8TB, 5700)

$5,399.00

$4,992.20

Coupon

Price with $400 promo code APINSIDER. As always, if you have any issues, you can reach out to us at [email protected] and we'll try and help.

n/a

$5,399.00

n/a

n/a

n/a

n/a
$406.80
27" iMac 10C (3.6, 16GB, 512GB, 5700)

$3,199.00

$2,899.00

Coupon

Price with $300 promo code APINSIDER. As always, if you have any issues, you can reach out to us at [email protected] and we'll try and help.

n/a

$3,199.00

n/a

n/a

n/a

n/a
$300.00
27" iMac 10C (3.6, 16GB, 1TB, 5700)

$3,399.00

$3,099.00

Coupon

Price with $300 promo code APINSIDER. As always, if you have any issues, you can reach out to us at [email protected] and we'll try and help.

n/a

$3,399.00

n/a

n/a

n/a

n/a
$300.00
27" iMac 10C (3.6, 16GB, 2TB, 5700)

$3,799.00

$3,599.00

Coupon

Price with $200 promo code APINSIDER. As always, if you have any issues, you can reach out to us at [email protected] and we'll try and help.

n/a

$3,799.00

n/a

n/a

n/a

n/a
$200.00
27" iMac 10C (3.6, 16GB, 4TB, 5700)

$4,399.00

$3,999.00

Coupon

Price with $400 promo code APINSIDER. As always, if you have any issues, you can reach out to us at [email protected] and we'll try and help.

n/a

$4,399.00

n/a

n/a

n/a

n/a
$400.00
27" iMac 10C (3.6, 16GB, 8TB, 5700)

$5,599.00

$5,199.00

Coupon

Price with $400 promo code APINSIDER. As always, if you have any issues, you can reach out to us at [email protected] and we'll try and help.

n/a

$5,599.00

n/a

n/a

n/a

n/a
$400.00
27" iMac 10C (3.6, 32GB, 512GB, 5700)

$3,599.00

$3,299.00

Coupon

Price with $300 promo code APINSIDER. As always, if you have any issues, you can reach out to us at [email protected] and we'll try and help.

n/a

$3,599.00

n/a

n/a

n/a

n/a
$300.00
27" iMac 10C (3.6, 32GB, 1TB, 5700)

$3,799.00

$3,499.00

Coupon

Price with $300 promo code APINSIDER. As always, if you have any issues, you can reach out to us at [email protected] and we'll try and help.

n/a

$3,799.00

n/a

n/a

n/a

n/a
$300.00
27" iMac 10C (3.6, 32GB, 2TB, 5700)

$4,199.00

$3,799.00

Coupon

Price with $400 promo code APINSIDER. As always, if you have any issues, you can reach out to us at [email protected] and we'll try and help.

n/a

$4,199.00

n/a

n/a

n/a

n/a
$400.00
27" iMac 10C (3.6, 32GB, 4TB, 5700)

$4,799.00

$4,399.00

Coupon

Price with $400 promo code APINSIDER. As always, if you have any issues, you can reach out to us at [email protected] and we'll try and help.

n/a

$4,799.00

n/a

n/a

n/a

n/a
$400.00
27" iMac 10C (3.6, 32GB, 8TB, 5700)

$5,999.00

$5,599.00

Coupon

Price with $400 promo code APINSIDER. As always, if you have any issues, you can reach out to us at [email protected] and we'll try and help.

n/a

$5,999.00

n/a

n/a

n/a

n/a
$400.00
27" iMac 10C (3.6, 64GB, 512GB, 5700)

$3,999.00

$3,699.00

Coupon

Price with $300 promo code APINSIDER. As always, if you have any issues, you can reach out to us at [email protected] and we'll try and help.

n/a

$3,999.00

n/a

n/a

n/a

n/a
$300.00
27" iMac 10C (3.6, 64GB, 1TB, 5700)

$4,199.00

$3,799.00

Coupon

Price with $400 promo code APINSIDER. As always, if you have any issues, you can reach out to us at [email protected] and we'll try and help.

n/a

$4,199.00

n/a

n/a

n/a

n/a
$400.00
27" iMac 10C (3.6, 64GB, 2TB, 5700)

$4,599.00

$4,199.00

Coupon

Price with $400 promo code APINSIDER. As always, if you have any issues, you can reach out to us at [email protected] and we'll try and help.

n/a

$4,599.00

n/a

n/a

n/a

n/a
$400.00
27" iMac 10C (3.6, 64GB, 4TB, 5700)

$5,199.00

$4,799.00

Coupon

Price with $400 promo code APINSIDER. As always, if you have any issues, you can reach out to us at [email protected] and we'll try and help.

n/a

$5,199.00

n/a

n/a

n/a

n/a
$400.00
27" iMac 10C (3.6, 64GB, 8TB, 5700)

$6,399.00

$5,999.00

Coupon

Price with $400 promo code APINSIDER. As always, if you have any issues, you can reach out to us at [email protected] and we'll try and help.

n/a

$6,399.00

n/a

n/a

n/a

n/a
$400.00
27" iMac 10C (3.6, 128GB, 512GB, 5700)

$5,599.00

$5,199.00

Coupon

Price with $400 promo code APINSIDER. As always, if you have any issues, you can reach out to us at [email protected] and we'll try and help.

n/a

$5,599.00

n/a

n/a

n/a

n/a
$400.00
27" iMac 10C (3.6, 128GB, 1TB, 5700)

$5,799.00

$5,399.00

Coupon

Price with $400 promo code APINSIDER. As always, if you have any issues, you can reach out to us at [email protected] and we'll try and help.

n/a

$5,799.00

n/a

n/a

n/a

n/a
$400.00
27" iMac 10C (3.6, 128GB, 2TB, 5700)

$6,199.00

$5,799.00

Coupon

Price with $400 promo code APINSIDER. As always, if you have any issues, you can reach out to us at [email protected] and we'll try and help.

n/a

$6,199.00

n/a

n/a

n/a

n/a
$400.00
27" iMac 10C (3.6, 128GB, 4TB, 5700)

$6,799.00

$6,399.00

Coupon

Price with $400 promo code APINSIDER. As always, if you have any issues, you can reach out to us at [email protected] and we'll try and help.

n/a

$6,799.00

n/a

n/a

n/a

n/a
$400.00
27" iMac 10C (3.6, 128GB, 8TB, 5700)

$7,999.00

$7,589.00

Coupon

Price with $400 promo code APINSIDER. As always, if you have any issues, you can reach out to us at [email protected] and we'll try and help.

n/a

$7,999.00

n/a

n/a

n/a

n/a
$410.00
27" iMac 10C (3.6, 8GB, 512GB, 5700 XT)

$3,199.00

$2,899.00

Coupon

Price with $300 promo code APINSIDER. As always, if you have any issues, you can reach out to us at [email protected] and we'll try and help.

n/a

$3,199.00

n/a

n/a

n/a

n/a
$300.00
27" iMac 10C (3.6, 8GB, 1TB, 5700 XT)

$3,399.00

$3,099.00

Coupon

Price with $300 promo code APINSIDER. As always, if you have any issues, you can reach out to us at [email protected] and we'll try and help.

n/a

$3,399.00

n/a

n/a

n/a

n/a
$300.00
27" iMac 10C (3.6, 8GB, 2TB, 5700 XT)

$3,799.00

$3,499.00

Coupon

Price with $300 promo code APINSIDER. As always, if you have any issues, you can reach out to us at [email protected] and we'll try and help.

n/a

$3,799.00

n/a

n/a

n/a

n/a
$300.00
27" iMac 10C (3.6, 8GB, 4TB, 5700 XT)

$4,399.00

$3,999.00

Coupon

Price with $400 promo code APINSIDER. As always, if you have any issues, you can reach out to us at [email protected] and we'll try and help.

n/a

$4,399.00

n/a

n/a

n/a

n/a
$400.00
27" iMac 10C (3.6, 8GB, 8TB, 5700 XT)

$5,599.00

$5,199.00

Coupon

Price with $400 promo code APINSIDER. As always, if you have any issues, you can reach out to us at [email protected] and we'll try and help.

n/a

$5,599.00

n/a

n/a

n/a

n/a
$400.00
27" iMac 10C (3.6, 16GB, 512GB, 5700 XT)

$3,399.00

$3,099.00

Coupon

Price with $300 promo code APINSIDER. As always, if you have any issues, you can reach out to us at [email protected] and we'll try and help.

n/a

$3,399.00

n/a

n/a

n/a

n/a
$300.00
27" iMac 10C (3.6, 16GB, 1TB, 5700 XT)

$3,599.00

$3,299.00

Coupon

Price with $300 promo code APINSIDER. As always, if you have any issues, you can reach out to us at [email protected] and we'll try and help.

n/a

$3,599.00

n/a

n/a

n/a

n/a
$300.00
27" iMac 10C (3.6, 16GB, 2TB, 5700 XT)

$3,999.00

$3,699.00

Coupon

Price with $300 promo code APINSIDER. As always, if you have any issues, you can reach out to us at [email protected] and we'll try and help.

n/a

$3,999.00

n/a

n/a

n/a

n/a
$300.00
27" iMac 10C (3.6, 16GB, 4TB, 5700 XT)

$4,599.00

$4,199.00

Coupon

Price with $400 promo code APINSIDER. As always, if you have any issues, you can reach out to us at [email protected] and we'll try and help.

n/a

$4,599.00

n/a

n/a

n/a

n/a
$400.00
27" iMac 10C (3.6, 16GB, 8TB, 5700 XT)

$5,799.00

$5,399.00

Coupon

Price with $400 promo code APINSIDER. As always, if you have any issues, you can reach out to us at [email protected] and we'll try and help.

n/a

$5,799.00

n/a

n/a

n/a

n/a
$400.00
27" iMac 10C (3.6, 32GB, 512GB, 5700 XT)

$3,799.00

$3,499.00

Coupon

Price with $300 promo code APINSIDER. As always, if you have any issues, you can reach out to us at [email protected] and we'll try and help.

n/a

$3,799.00

n/a

n/a

n/a

n/a
$300.00
27" iMac 10C (3.6, 32GB, 1TB, 5700 XT)

$3,999.00

$3,699.00

Coupon

Price with $300 promo code APINSIDER. As always, if you have any issues, you can reach out to us at [email protected] and we'll try and help.

n/a

$3,999.00

n/a

n/a

n/a

n/a
$300.00
27" iMac 10C (3.6, 32GB, 2TB, 5700 XT)

$4,399.00

$3,999.00

Coupon

Price with $400 promo code APINSIDER. As always, if you have any issues, you can reach out to us at [email protected] and we'll try and help.

n/a

$4,399.00

n/a

n/a

n/a

n/a
$400.00
27" iMac 10C (3.6, 32GB, 4TB, 5700 XT)

$4,999.00

$4,599.00

Coupon

Price with $400 promo code APINSIDER. As always, if you have any issues, you can reach out to us at [email protected] and we'll try and help.

n/a

$4,999.00

n/a

n/a

n/a

n/a
$400.00
27" iMac 10C (3.6, 32GB, 8TB, 5700 XT)

$6,199.00

$5,799.00

Coupon

Price with $400 promo code APINSIDER. As always, if you have any issues, you can reach out to us at [email protected] and we'll try and help.

n/a

$6,199.00

n/a

n/a

n/a

n/a
$400.00
27" iMac 10C (3.6, 64GB, 512GB, 5700 XT)

$4,199.00

$3,799.00

Coupon

Price with $400 promo code APINSIDER. As always, if you have any issues, you can reach out to us at [email protected] and we'll try and help.

n/a

$4,199.00

n/a

n/a

n/a

n/a
$400.00
27" iMac 10C (3.6, 64GB, 1TB, 5700 XT)

$4,399.00

$3,999.00

Coupon

Price with $400 promo code APINSIDER. As always, if you have any issues, you can reach out to us at [email protected] and we'll try and help.

n/a

$4,399.00

n/a

n/a

n/a

n/a
$400.00
27" iMac 10C (3.6, 64GB, 2TB, 5700 XT)

$4,799.00

$4,399.00

Coupon

Price with $400 promo code APINSIDER. As always, if you have any issues, you can reach out to us at [email protected] and we'll try and help.

n/a

$4,799.00

n/a

n/a

n/a

n/a
$400.00
27" iMac 10C (3.6, 64GB, 4TB, 5700 XT)

$5,399.00

$4,999.00

Coupon

Price with $400 promo code APINSIDER. As always, if you have any issues, you can reach out to us at [email protected] and we'll try and help.

n/a

$5,399.00

n/a

n/a

n/a

n/a
$400.00
27" iMac 10C (3.6, 64GB, 8TB, 5700 XT)

$6,599.00

$6,199.00

Coupon

Price with $400 promo code APINSIDER. As always, if you have any issues, you can reach out to us at [email protected] and we'll try and help.

n/a

$6,599.00

n/a

n/a

n/a

n/a
$400.00
27" iMac 10C (3.6, 128GB, 512GB, 5700 XT)

$5,799.00

$5,399.00

Coupon

Price with $400 promo code APINSIDER. As always, if you have any issues, you can reach out to us at [email protected] and we'll try and help.

n/a

$5,799.00

n/a

n/a

n/a

n/a
$400.00
27" iMac 10C (3.6, 128GB, 1TB, 5700 XT)

$5,999.00

$5,599.00

Coupon

Price with $400 promo code APINSIDER. As always, if you have any issues, you can reach out to us at [email protected] and we'll try and help.

n/a

$5,999.00

n/a

n/a

n/a

n/a
$400.00
27" iMac 10C (3.6, 128GB, 2TB, 5700 XT)

$6,399.00

$5,999.00

Coupon

Price with $400 promo code APINSIDER. As always, if you have any issues, you can reach out to us at [email protected] and we'll try and help.

n/a

$6,399.00

n/a

n/a

n/a

n/a
$400.00
27" iMac 10C (3.6, 128GB, 4TB, 5700 XT)

$6,999.00

$6,599.00

Coupon

Price with $400 promo code APINSIDER. As always, if you have any issues, you can reach out to us at [email protected] and we'll try and help.

n/a

$6,999.00

n/a

n/a

n/a

n/a
$400.00
Additional Apple deals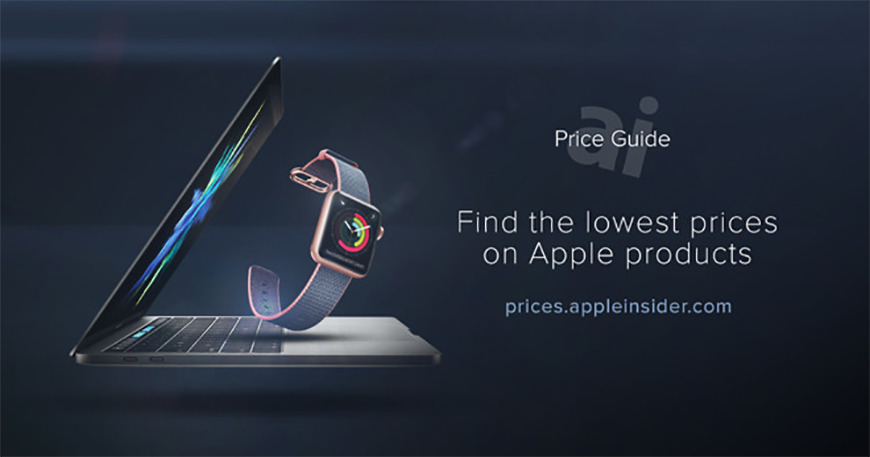 AppleInsider and Apple Authorized Resellers are also running additional exclusive deals on Apple devices that will not only deliver the lowest prices on many of the items, but also throw in bonus savings on accessories and more. Here are just a few of the promotions running this May: