2021 Apple TV 4K Review: Seeking a blockbuster, given a Band-Aid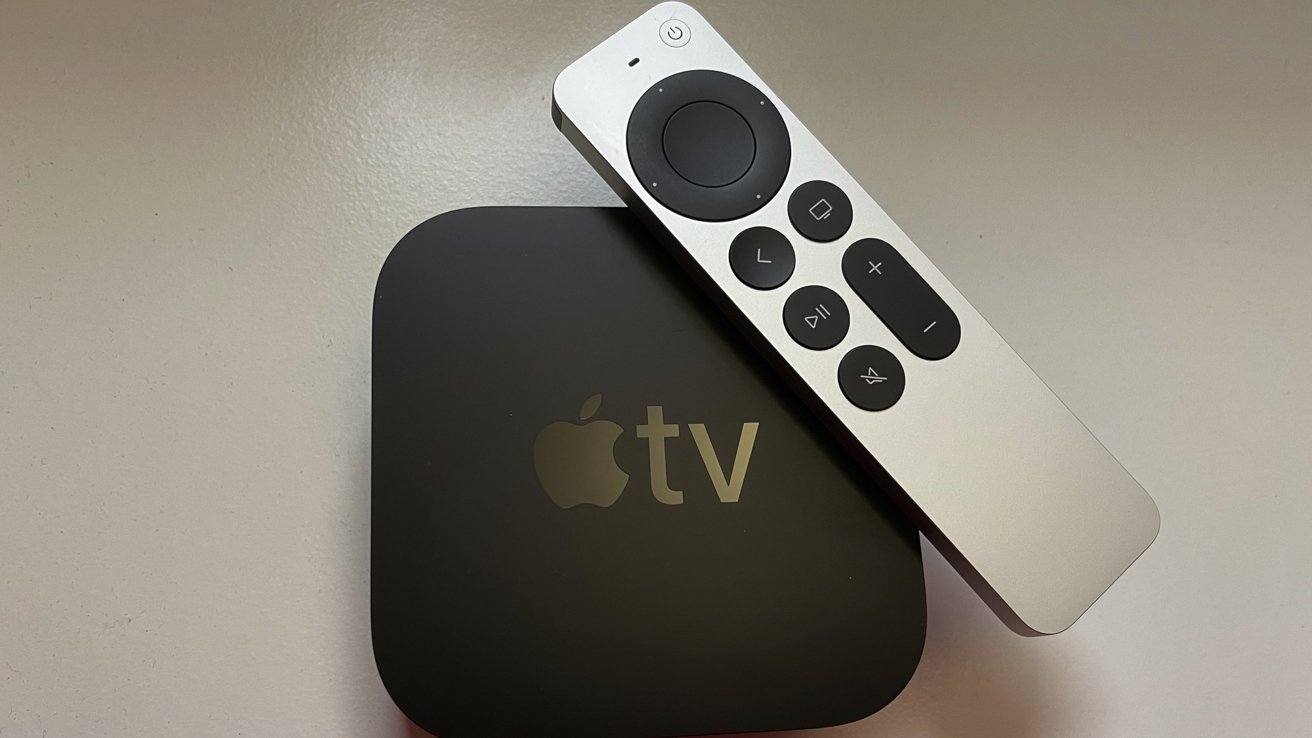 ---
AppleInsider may earn an affiliate commission on purchases made through links on our site.
Too expensive to compete with streaming sticks, and not powerful enough to take on the likes of full-fledged game consoles, the 2021 revision of the Apple TV 4K is a competent product that continues to serve a niche market within the Apple ecosystem, but won't win over any converts.
Aside from the revamped Siri Remote, which we will cover more extensively in a separate review dedicated to that product, the main addition to the 2021 Apple TV 4K set-top box is an updated processor, jumping from the A10X to the A12 Bionic. This sounds on paper like it could be a big deal (it does have Bionic in the name, after all), but the reality is far less exciting — the A12 Bionic debuted in 2018, and in at least some past hardware configurations, the graphics performance in the A12 is actually worse than the A10.
Why did Apple go with the A12 Bionic and not, say, a newer chip like the A14 that powers the latest iPhone models? It's clearly meant as a cost saving measure for a device that starts at $179.
But we also have our suspicions that Apple simply didn't want to keep manufacturing the A10X chip from the last Apple TV, as no other devices in the company's lineup continue to use it. The A12, meanwhile, is still being manufactured and used in the latest entry-level iPad and iPad mini.
It all raises a very important question: Who is this new Apple TV meant for? Is it a much-awaited performance boost? Or is it just a way for Apple to continue selling the Apple TV while consolidating its supply chain production? After testing the new Apple TV 4K, we feel pretty confident that the answer is the latter.
2021 Apple TV 4K - Just a minor spec bump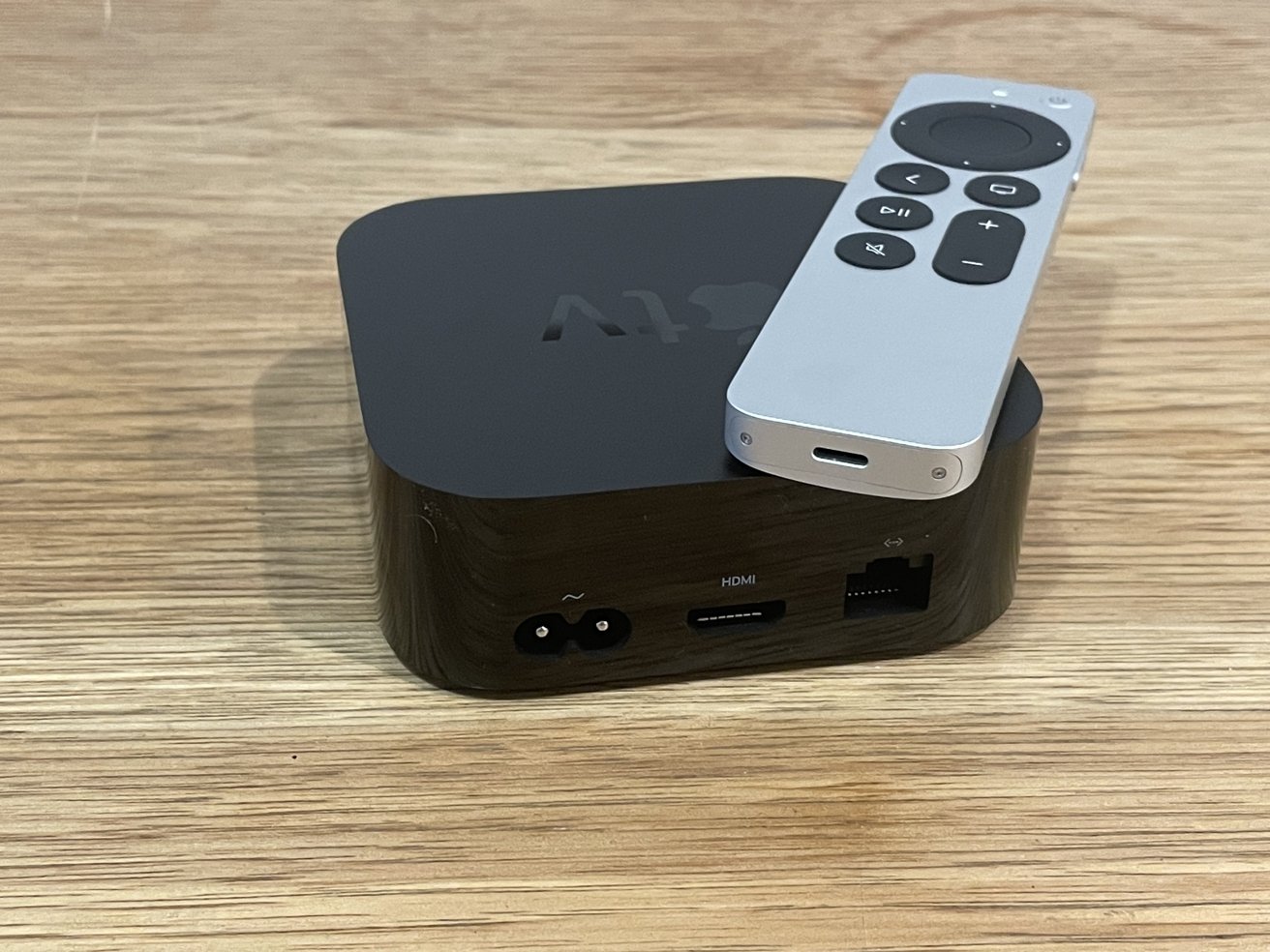 It's difficult to quantify the difference between the previous Apple TV 4K and its A10 chip with the new A12 model, mostly because benchmarking apps like Geekbench aren't allowed on the tvOS App Store. Things certainly feel snappier, including launching apps, playing games, and even rebooting the system.
There are plenty of benchmarks available for iPhone and iPad devices that run the A12, but relying on those to gauge the performance of the new Apple TV is unfair, because the Apple TV CPU is actively cooled with a fan, and doesn't need to worry about extending battery life like a phone or tablet because it is always plugged in to a socket.
There is also a question of what developers will be able to get out of the new chip, which will take some time for apps to be updated.
On the 2017 version of the Apple TV 4K, playing NBA 2K21 Arcade Edition as part of an Apple Arcade subscription, textures on the player's jerseys are so low resolution that I'm convinced it must be a bug of sorts. Upon setting up the new 2021 Apple TV 4K, I launched NBA 2K21 Arcade Edition to see if there were any improvements. The menu and game seemed to load faster, but those low-res eyesore textures were still there.
What on earth is going on with these super-low-res jersey textures in NBA 2K21 Arcade Edition on Apple TV 4K? Is anyone else experiencing this or is it just my setup? I realize an Apple TV is not a gaming powerhouse, but yikes. Must be a bug (I hope). pic.twitter.com/tjLtjza0QQ

— Neil Hughes (@thisisneil) April 29, 2021
The Pathless — another Apple Arcade game — is also available on PlayStation 5. Obviously it's downscaled quite a bit to work on tvOS. It still looks far more beautiful on my iPhone and iPad, which have more horsepower and push fewer pixels than my Sony 4K TV.
Whether or not titles like these will be updated for the A12 CPU remains to be seen. But for anyone who has the 2017 model, you probably don't need to jump in for the 2021 refresh, particularly if you're looking for a major performance boost.
2021 Apple TV 4K - Other upgrades
The new Apple TV 4K adds Wi-Fi 6, a welcome addition that should improve streaming quality for those who depend on Wi-Fi. Our Apple TV lives right next to our router and has been hardwired. Ethernet speeds on the newest model remain the same.
One area where Wi-Fi 6 does improve things is AirPlay and Apple Fitness+. Some users have had issues getting Apple Fitness+ to connect to their Apple Watch when using the 2017 Apple TV. While we never experienced these issues, we can say that our Apple Fitness+ tests found the Apple Watch connected every time with no issues.
AirPlay also works as expected, and users can now stream 4K HDR content at 60 frames per second from their iPhone or iPad to the Apple TV.
We did run into an odd AirPlay 2 quirk while testing the new Apple TV 4K, but it's difficult to say if this is related to the new hardware or simply a software bug. A few times, the Apple TV would stutter or freeze temporarily while streaming music, which took the audio out of sync with the HomePods we were also using. Attempts to stop the Apple TV from playing music failed — it just kept on playing and wouldn't stop. A forced restart on the Apple TV fixed the issue, but it is noteworthy because this did happen to us twice.
Beyond Wi-Fi improvements, the 2021 Apple TV 4K also adds support for Thread, a new peer-to-peer wireless networking protocol for smart home devices. I use a rather extensive HomeKit setup and like knowing that my Apple TV, which serves as a home hub, is future-proof, but at the moment there isn't much else to say or test regarding Thread support.
The full-size HDMI port on the back of the 2021 Apple TV 4K has also been updated to HDMI 2.1, which offers bandwidth of up to 48 gigabits per second. HDMI 2.1 allows features like 120 frames per second with 4K content, but it's unclear whether the A12 Bionic in the new Apple TV would even be capable of this.
The HDMI port also includes ARC support for taking external devices — like a Blu-ray player, or an Xbox or PlayStation — and streaming the audio to a wireless HomePod. This works very well for modern non-interactive devices, like that Blu-ray player or a cable box we spoke about, and can be your solution for a receiver-less life in your living room, if you were so inclined.
But for console games, that's a different story. There is enough lag introduced by the Wi-Fi connection to the HomePods to cause a problem. The action on the screen and the audio is just not in sync. This obviously varies on a number of factors, but in our reviewer's network, even isolating the Apple TV and the HomePods to its own network, the sync for games just wasn't there, and given the laws of physics and the non-zero time it takes to process that audio in the A8 processor in the HomePod, it won't ever be there.
And so the HomePod connectivity for external devices is a "nice to have" feature, but aside from a cable box (which can be replaced by an app) or a Blu-ray (which can be replaced by a 4K stream), it's unclear how big of a market there is for HomePod users looking to get connected to their non-Apple TV entertainment devices.
In a completely baffling move, the new 2021 Apple TV 4K does not include support for spatial audio with the AirPods Max or AirPods Pro. This seems like a no-brainer of an inclusion, as it would allow content on the Apple TV to simulate 7.1 surround sound with headphones, enabling late night movie watching without annoying your neighbors or spouse. We remain hopeful that Apple will be able to add spatial audio to its set-top box in a forthcoming software update to tvOS.
And that's really it. The device still comes in capacities of 32 and 64 gigabytes, the external design is the same, and the tvOS interface is the same. Aside from the new Siri Remote, most who already had the 2017 Apple TV 4K can, again, safely pass on this model.
2021 Apple TV 4K - New Siri Remote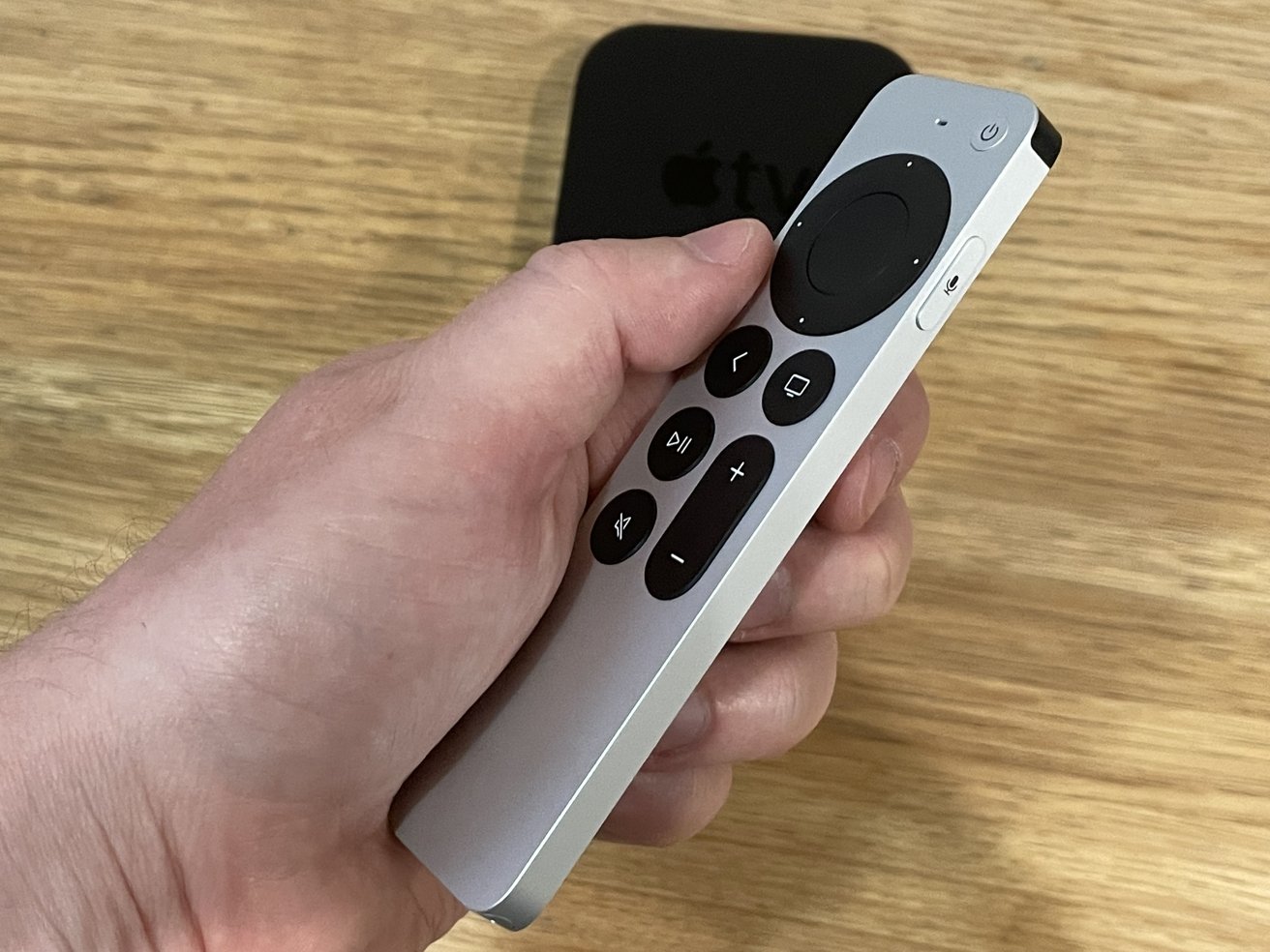 Frankly, the new Siri Remote is the star of the show with the new Apple TV. And for those who own the previous-generation 2017 Apple TV 4K, the new Siri Remote is sold separately, for $59. Most users would be best suited taking this approach, particularly if they hate the old Siri Remote.
The remote is thicker, so Apple says that it's less likely to be lost in your couch — but we'll see about that. It also adds a dedicated mute button, and it renames the confusing "Menu" button to a back arrow. A dedicated Siri button remains, but has been cleverly moved to the right side of the device
In a brilliant design choice and compromise between old and newer Apple remotes, the 2021 Siri Remote has a touchpad that serves as both a directional clickpad and a touch surface. This means that for those who preferred swiping on the much-maligned Siri remote, you can still do that. And if you want to click, that works too.
Notably, the touchpad — even though it is smaller — still supports multi-touch. This allows for two-finger scrolling if you're using your remote as a trackpad for a remote desktop client, like Moonlight.
One small quirk with the Siri Remote is a very brief learning curve associated with the new iPod-like scrub wheel. Much as the old iPod interface worked, users can slide their finger around the outer edge of the touch ring to scroll forward and back when watching content — a method that works better than the somewhat jumpy method of sliding your finger left to right on the touchpad.
It took me a few tries to figure it out, as I would try using the scroll wheel without pausing and holding my finger on the wheel. This led to an odd back-and-forth yo-yo, where instead of scrolling in one direction, the content was swiping back and forth in time. Similar complaints and issues with this have been expressed on Twitter since the Siri remote launched.
The truth is, once you figure out that you need to hold your finger on the wheel for a half-step before the scrub UI element shows up on the screen, the action becomes second nature. As with all new hardware and interfaces, you'll need to learn a new trick, but in typical Apple style, it's simple and intuitive.
As before, the new Siri Remote will control other devices in your entertainment center, such as a receiver with volume controls. And it charges via a Lightning cable, which ships in the box with the Apple TV 4K.
The new 2021 Siri Remote is an improvement in almost every way, addressing most — if not all — of the complaints about the previous model, without sacrificing some of the functionality that made the previous model unique and intuitive. For more, see our separate review of the 2021 Siri Remote.
Did Apple just run out of A10X chips, forcing this "upgrade?"
I really like my Apple TV. I use it literally every day with Hulu Live, NHL.tv, Apple TV+, HBO Max, Showtime, Peacock, Netflix, and a host of other streaming services. I play Apple Arcade games on it with an Xbox controller. I stream Windows PC games to it with Moonlight. It ties into my AirPlay 2 setup with two HomePods, a HomePod mini, and a Sonos One.
I use it every day because I'm deeply embedded in the Apple ecosystem, and it serves the needs I have at a good price point.
It's not a device that I'm excited about, though. It does its job and nothing more. Apple doesn't aspire to make it anything else.
Apple executives have famously referred to the Apple TV as a "hobby," and they have certainly lived up to that low bar with the 2021 update. We were looking for a Hollywood blockbuster, but instead it's a Blockbuster Video.
Scoring the new Apple TV 4K is complex. The hardware is better than every other set-top box on the market, and it has a price to prove it. It's not an exciting box, and Apple continues with it's hobbyist stance — and so many years after the last update, it could have done so much more with it.
If you're in the market for a set-top box that doesn't commercialize your viewing information for anybody that wants to buy it, we still recommend it. At the same time, we're disappointed by very little of any real appeal being added to the device after all this time.
If you're new to the Apple TV platform or haven't updated in 5+ years, the 2021 refresh is fine. Everyone else can buy the new Siri Remote for $59 and hope that this hobby someday turns into a passion.
Score: 2.5 out of 5