Deals: M1 MacBook Air with 512GB SSD on sale for $1099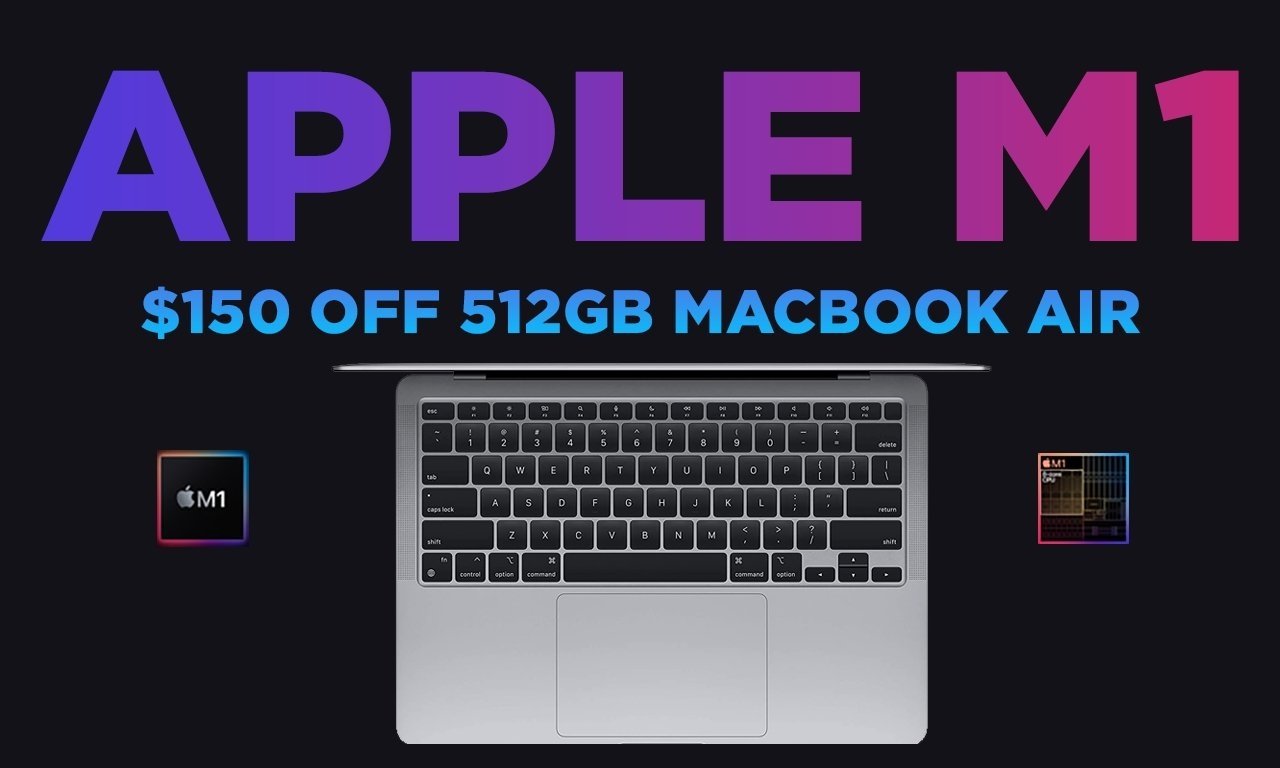 Apple discounts on the latest hardware continue to offer triple-digit savings on M1 models, with the current MacBook Air on sale for $1,099 ($150 off) at multiple retailers.
Month-end MacBook Air discounts
The triple-digit discount at Amazon is in the form of a $100 instant markdown on the M1 MacBook Air stacked with an additional $49.01 off during checkout. In addition to the M1 Apple Silicon chip, this configuration is equipped with 8GB of memory and a 512GB SSD (the 512GB SSD offers double the amount of storage as the standard MacBook Air). At press time, all three finishes are in stock and eligible for the discount.
If you're in the market for an Air with 16GB of RAM, for instance, there are exclusive promo code deals on every single configuration, so it's worth checking out the price comparison guide before purchasing a new Mac for college, work or home use.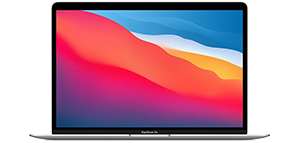 M1 MacBook Air Prices
AppleInsider may earn commission on products purchased through affiliate links.
---
Configurations
Discount
M1, 8GB, 256GB, 7-core GPU Space Gray

$999.00

$895.00

Coupon

Price with $54 promo code APINSIDER. Same code takes $40 off AppleCare. As always, if you have any issues, you can reach out to us at [email protected] and we'll try and help.

$999.00
$849.99
$999.00
$849.99
$929.00
$998.99
$149.01
M1, 8GB, 256GB, 7-core GPU) Silver

$999.00

$941.00

Coupon

Price with $54 promo code APINSIDER. Same code takes $40 off AppleCare. As always, if you have any issues, you can reach out to us at [email protected] and we'll try and help.

$999.00
$849.99
$999.00
$849.99
$929.00
$994.00
$149.01
MacBook Air (M1, 8GB, 256GB, 7-core GPU) Gold

$999.00

$929.00

Coupon

Price with $70 promo code APINSIDER. Plus, save $40 on AppleCare with the same code. As always, if you have any issues, you can reach out to us at [email protected] and we'll try and help.

$999.00
$849.99
$999.00
$849.99
$929.00
$994.00
$149.01
MacBook Air (M1, 8GB, 512GB, 8-core GPU) Space Gray

$1,249.00

$1,085.00

Coupon

Price with $64 promo code APINSIDER. Plus, save $40 on AppleCare with the same code. As always, if you have any issues, you can reach out to us at [email protected] and we'll try and help.

$1,249.00
$1,099.99
$1,249.00
$1,099.99
$1,162.00
$1,244.00
$164.00
MacBook Air (M1, 8GB, 512GB, 8-core GPU) Silver

$1,249.00

$1,135.99

Coupon

Price with $64 promo code APINSIDER. Plus, save $40 on AppleCare with the same code. As always, if you have any issues, you can reach out to us at [email protected] and we'll try and help.

$1,249.00
$1,099.99
$1,249.00
$1,099.99
$1,162.00
$1,244.00
$149.01
MacBook Air (M1, 8GB, 512GB, 8-core GPU) Gold

$1,249.00

$1,099.00

Coupon

Price with $50 promo code APINSIDER. Plus, save $40 on AppleCare with the same code. As always, if you have any issues, you can reach out to us at [email protected] and we'll try and help.

$1,249.00
$1,099.99
$1,249.00
$1,099.99
$1,162.00
$1,244.00
$150.00
MacBook Air (M1, 8GB, 512GB, 7-core GPU) Space Gray

$1,199.00

$1,119.00

Coupon

Price with $80 promo code APINSIDER. Plus, save $40 on AppleCare with the same code. As always, if you have any issues, you can reach out to us at [email protected] and we'll try and help.

$1,199.00

n/a

$1,199.00

n/a

n/a

n/a

$80.00
MacBook Air (M1, 8GB, 512GB, 7-core GPU) Silver

$1,199.00

$1,119.00

Coupon

Price with $80 promo code APINSIDER. Plus, save $40 on AppleCare with the same code. As always, if you have any issues, you can reach out to us at [email protected] and we'll try and help.

$1,199.00

n/a

$1,199.00

n/a

n/a

n/a

$80.00
M1, 8GB, 512GB, 7-core GPU Gold

$1,199.00

$1,149.00

Coupon

Price with $50 promo code APINSIDER. Plus, save $40 on AppleCare with the same code. As always, if you have any issues, you can reach out to us at [email protected] and we'll try and help.

$1,199.00

n/a

$1,199.00

n/a

n/a

n/a

$50.00
MacBook Air (M1, 8GB, 1TB, 7-core GPU) Space Gray

$1,399.00

$1,349.00

Coupon

Price with $50 promo code APINSIDER. Plus, save $40 on AppleCare with the same code. As always, if you have any issues, you can reach out to us at [email protected] and we'll try and help.

$1,399.00

n/a

$1,399.00

n/a

n/a

n/a

$50.00
MacBook Air (M1, 8GB, 1TB, 7-core GPU) Silver

$1,399.00

$1,349.00

Coupon

Price with $50 promo code APINSIDER. Plus, save $40 on AppleCare with the same code. As always, if you have any issues, you can reach out to us at [email protected] and we'll try and help.

$1,399.00

n/a

$1,399.00

n/a

n/a

n/a

$50.00
MacBook Air (M1, 8GB, 1TB, 7-core GPU) Gold

$1,399.00

$1,349.00

Coupon

Price with $50 promo code APINSIDER. Plus, save $40 on AppleCare with the same code. As always, if you have any issues, you can reach out to us at [email protected] and we'll try and help.

$1,399.00

n/a

$1,399.00

n/a

n/a

n/a

$50.00
MacBook Air (M1, 8GB, 2TB, 7-core GPU) Space Gray

$1,799.00

$1,749.00

Coupon

Price with $50 promo code APINSIDER. Plus, save $40 on AppleCare with the same code. As always, if you have any issues, you can reach out to us at [email protected] and we'll try and help.

$1,799.00

n/a

$1,799.00

n/a

n/a

n/a

$50.00
MacBook Air (M1, 8GB, 2TB, 7-core GPU) Silver

$1,799.00

$1,749.00

Coupon

Price with $50 promo code APINSIDER. Plus, save $40 on AppleCare with the same code. As always, if you have any issues, you can reach out to us at [email protected] and we'll try and help.

$1,799.00

n/a

$1,799.00

n/a

n/a

n/a

$50.00
MacBook Air (M1, 8GB, 2TB, 7-core GPU) Gold

$1,799.00

$1,749.00

Coupon

Price with $50 promo code APINSIDER. Plus, save $40 on AppleCare with the same code. As always, if you have any issues, you can reach out to us at [email protected] and we'll try and help.

$1,799.00

n/a

$1,799.00

n/a

n/a

n/a

$50.00
MacBook Air (M1, 16GB, 256GB, 7-core GPU) Space Gray

$1,199.00

$1,099.00

Coupon

Price with $100 promo code APINSIDER. Plus, save $40 on AppleCare with the same code. If you have any issues, you can reach out to us at [email protected] and we'll try and help.

$1,199.00

n/a

$1,199.00

n/a

n/a

n/a

$100.00
MacBook Air (M1, 16GB, 256GB, 7-core GPU) Silver

$1,199.00

$1,149.00

Coupon

Price with $50 promo code APINSIDER. Plus, save $40 on AppleCare with the same code. As always, if you have any issues, you can reach out to us at [email protected] and we'll try and help.

$1,199.00

n/a

$1,199.00

n/a

n/a

n/a

$50.00
MacBook Air (M1, 16GB, 256GB, 7-core GPU) Gold

$1,199.00

$1,149.00

Coupon

Price with $50 promo code APINSIDER. Plus, save $40 on AppleCare with the same code. As always, if you have any issues, you can reach out to us at [email protected] and we'll try and help.

$1,199.00

n/a

$1,199.00

n/a

n/a

n/a

$50.00
MacBook Air (M1, 16GB, 512GB, 7-core GPU) Space Gray

$1,399.00

$1,299.00

Coupon

Price with $100 promo code APINSIDER. Plus, save $40 on AppleCare with the same code. If you have any issues, you can reach out to us at [email protected] and we'll try and help.

$1,399.00

n/a

$1,399.00

n/a

n/a

n/a

$100.00
M1, 16GB, 512GB, 7-core GPU Silver

$1,399.00

$1,289.00

Coupon

Price with $110 promo code APINSIDER. Plus, save $40 on AppleCare with the same code. As always, if you have any issues, you can reach out to us at [email protected] and we'll try and help.

$1,399.00

n/a

$1,399.00

n/a

n/a

n/a

$110.00
MacBook Air (M1, 16GB, 512GB, 7-core GPU) Gold

$1,399.00

$1,299.00

Coupon

Price with $100 promo code APINSIDER. Plus, save $40 on AppleCare with the same code. If you have any issues, you can reach out to us at [email protected] and we'll try and help.

$1,399.00

n/a

$1,399.00

n/a

n/a

n/a

$100.00
MacBook Air (M1, 16GB, 1TB, 7-core GPU) Space Gray

$1,599.00

$1,549.00

Coupon

Price with $50 promo code APINSIDER. Plus, save $40 on AppleCare with the same code. As always, if you have any issues, you can reach out to us at [email protected] and we'll try and help.

$1,599.00

n/a

$1,599.00

n/a

n/a

n/a

$50.00
MacBook Air (M1, 16GB, 1TB, 7-core GPU) Silver

$1,599.00

$1,549.00

Coupon

Price with $50 promo code APINSIDER. Plus, save $40 on AppleCare with the same code. As always, if you have any issues, you can reach out to us at [email protected] and we'll try and help.

$1,599.00

n/a

$1,599.00

n/a

n/a

n/a

$50.00
MacBook Air (M1, 16GB, 1TB, 7-core GPU) Gold

$1,599.00

$1,549.00

Coupon

Price with $50 promo code APINSIDER. Plus, save $40 on AppleCare with the same code. As always, if you have any issues, you can reach out to us at [email protected] and we'll try and help.

$1,599.00

n/a

$1,599.00

n/a

n/a

n/a

$50.00
MacBook Air (M1, 16GB, 2TB, 7-core GPU) Space Gray

$1,999.00

$1,949.00

Coupon

Price with $50 promo code APINSIDER. Plus, save $40 on AppleCare with the same code. As always, if you have any issues, you can reach out to us at [email protected] and we'll try and help.

$1,999.00

n/a

$1,999.00

n/a

n/a

n/a

$50.00
MacBook Air (M1, 16GB, 2TB, 7-core GPU) Silver

$1,999.00

$1,949.00

Coupon

Price with $50 promo code APINSIDER. Plus, save $40 on AppleCare with the same code. As always, if you have any issues, you can reach out to us at [email protected] and we'll try and help.

$1,999.00

n/a

$1,999.00

n/a

n/a

n/a

$50.00
MacBook Air (M1, 16GB, 2TB, 7-core GPU) Gold

$1,999.00

$1,949.00

Coupon

Price with $50 promo code APINSIDER. Plus, save $40 on AppleCare with the same code. As always, if you have any issues, you can reach out to us at [email protected] and we'll try and help.

$1,999.00

n/a

$1,999.00

n/a

n/a

n/a

$50.00
MacBook Air (M1, 8GB, 1TB, 8-core GPU) Space Gray

$1,449.00

$1,399.00

Coupon

Price with $50 promo code APINSIDER. Plus, save $40 on AppleCare with the same code. As always, if you have any issues, you can reach out to us at [email protected] and we'll try and help.

$1,449.00

n/a

$1,449.00

n/a

n/a

n/a

$50.00
MacBook Air (M1, 8GB, 1TB, 8-core GPU) Silver

$1,449.00

$1,399.00

Coupon

Price with $50 promo code APINSIDER. Plus, save $40 on AppleCare with the same code. As always, if you have any issues, you can reach out to us at [email protected] and we'll try and help.

$1,449.00

n/a

$1,449.00

n/a

n/a

n/a

$50.00
MacBook Air (M1, 8GB, 1TB, 8-core GPU) Gold

$1,449.00

$1,399.00

Coupon

Price with $50 promo code APINSIDER. Plus, save $40 on AppleCare with the same code. As always, if you have any issues, you can reach out to us at [email protected] and we'll try and help.

$1,449.00

n/a

$1,449.00

n/a

n/a

n/a

$50.00
MacBook Air (M1, 8GB, 2TB, 8-core GPU) Space Gray

$1,849.00

$1,799.00

Coupon

Price with $50 promo code APINSIDER. Plus, save $40 on AppleCare with the same code. As always, if you have any issues, you can reach out to us at [email protected] and we'll try and help.

$1,849.00

n/a

$1,849.00

n/a

n/a

n/a

$50.00
MacBook Air (M1, 8GB, 2TB, 8-core GPU) Silver

$1,849.00

$1,799.00

Coupon

Price with $50 promo code APINSIDER. Plus, save $40 on AppleCare with the same code. As always, if you have any issues, you can reach out to us at [email protected] and we'll try and help.

$1,849.00

n/a

$1,849.00

n/a

n/a

n/a

$50.00
MacBook Air (M1, 8GB, 2TB, 8-core GPU) Gold

$1,849.00

$1,799.00

Coupon

Price with $50 promo code APINSIDER. Plus, save $40 on AppleCare with the same code. As always, if you have any issues, you can reach out to us at [email protected] and we'll try and help.

$1,849.00

n/a

$1,849.00

n/a

n/a

n/a

$50.00
M1, 16GB, 512GB, 8-core GPU Space Gray

$1,449.00

$1,349.00

Coupon

Price with $100 promo code APINSIDER. Plus, save $40 on AppleCare with the same code. If you have any issues, you can reach out to us at [email protected] and we'll try and help.

$1,449.00

n/a

$1,449.00

n/a

n/a

n/a

$100.00
MacBook Air (M1, 16GB, 512GB, 8-core GPU) Silver

$1,449.00

$1,349.00

Coupon

Price with $100 promo code APINSIDER. Plus, save $40 on AppleCare with the same code. If you have any issues, you can reach out to us at [email protected] and we'll try and help.

$1,449.00

n/a

$1,449.00

n/a

n/a

n/a

$100.00
MacBook Air (M1, 16GB, 512GB, 8-core GPU) Gold

$1,449.00

$1,349.00

Coupon

Price with $100 promo code APINSIDER. Plus, save $40 on AppleCare with the same code. If you have any issues, you can reach out to us at [email protected] and we'll try and help.

$1,449.00

n/a

$1,449.00

n/a

n/a

n/a

$100.00
M1, 16GB, 1TB, 8-core GPU Space Gray

$1,649.00

$1,599.00

Coupon

Price with $50 promo code APINSIDER. Plus, save $40 on AppleCare with the same code. As always, if you have any issues, you can reach out to us at [email protected] and we'll try and help.

$1,649.00

n/a

$1,649.00

n/a

n/a

n/a

$50.00
MacBook Air (M1, 16GB, 1TB, 8-core GPU) Silver

$1,649.00

$1,599.00

Coupon

Price with $50 promo code APINSIDER. Plus, save $40 on AppleCare with the same code. As always, if you have any issues, you can reach out to us at [email protected] and we'll try and help.

$1,649.00

n/a

$1,649.00

n/a

n/a

n/a

$50.00
MacBook Air (M1, 16GB, 1TB, 8-core GPU) Gold

$1,649.00

$1,599.00

Coupon

Price with $50 promo code APINSIDER. Plus, save $40 on AppleCare with the same code. As always, if you have any issues, you can reach out to us at [email protected] and we'll try and help.

$1,649.00

n/a

$1,649.00

n/a

n/a

n/a

$50.00
MacBook Air (M1, 16GB, 2TB, 8-core GPU) Space Gray

$2,049.00

$1,899.00

Coupon

Price with $150 promo code APINSIDER. Plus, save $40 on AppleCare with the same code. As always, if you have any issues, you can reach out to us at [email protected] and we'll try and help.

$2,049.00

n/a

$2,049.00

n/a

n/a

n/a

$150.00
MacBook Air (M1, 16GB, 2TB, 8-core GPU) Silver

$2,049.00

$1,999.00

Coupon

Price with $50 promo code APINSIDER. Plus, save $40 on AppleCare with the same code. As always, if you have any issues, you can reach out to us at [email protected] and we'll try and help.

$2,049.00

n/a

$2,049.00

n/a

n/a

n/a

$50.00
M1 (16GB, 2TB, 8-core GPU) Gold

$2,049.00

$1,999.00

Coupon

Price with $50 promo code APINSIDER. Plus, save $40 on AppleCare with the same code. As always, if you have any issues, you can reach out to us at [email protected] and we'll try and help.

$2,049.00

n/a

$2,049.00

n/a

n/a

n/a

$50.00
Additional Apple deals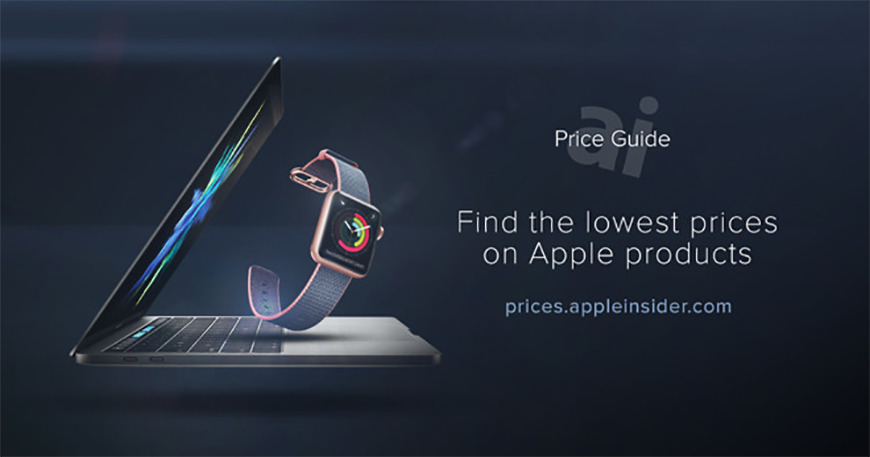 AppleInsider and Apple Authorized Resellers are also running additional exclusive deals on additional devices that will not only deliver the lowest prices on many of the items, but also throw in bonus savings on software, peripherals and more. Here are just a few of the specials running this summer: